13 Best Clarifying Shampoos For Color-Treated Hair – 2022
Thoroughly cleanse your hair and preserve its color using these gentle clarifying shampoos.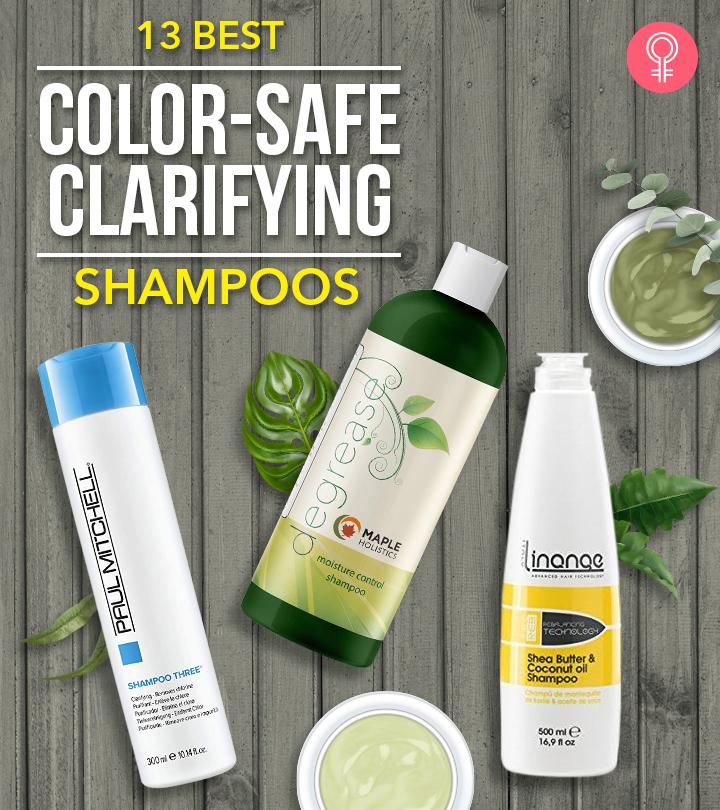 Rigorous chemical treatments done to your hair, conditioner applied to them frequently, and regular use of styling products can lead to the accumulation of remnants on the scalp. And if your hair is color-treated, the damage is more. This is why you need the best clarifying shampoo for color-treated hair that can not only remove the excess sebum present on the hair shaft but also prevents your hair from feeling dull, dehydrated, and flat. These shampoos can eliminate all the build-up from various styling products and cleanse the whole of your hair correctly. They also take away the excess oil and dirt from the hair without causing any harm to the hair color. And this is precisely why you must try the 13 best options listed below.
13 Best Clarifying Shampoos For Color-Treated Hair
The Neutrogena Anti-residue Clarifying Shampoo cleanses your hair and scalp properly by removing 90% of the dulling residue. It is infused with glycerin, hydrogenated castor oil, and clarifying ingredients that provide gentle cleansing and helps boost volume instantly. Use this anti-residue shampoo once a week along with your regular shampoo to protect hair color and remove the heavy build-up. If you need more convincing, feel free to take a look at this YouTuber's video on the merits and demerits of the product.
Key Ingredients: Glycerin
Pros
No added dyes and colorants
Non-irritating
Boosts hair volume
Gentle and mild formula
Easy to use
Suitable for thin hair
Cons
Strong fragrance
May not suit sensitive scalp
If you are tired of washing your oily locks, The Maple Holistics Degrease Moisture Control Shampoo could be ideal. It not only clarifies and makes your scalp oil-free but also provides a shield of protection to colored strands. It is infused with botanical extracts that nourish and hydrate dry, dehydrated, and frizzy locks. It also contains peach kernel oil that is light, rich in antioxidants and vitamins and protects locks from environmental aggressors. It also adds bounce to dull, limp hair.
Rosemary, basil, and cypress oil extract improve blood circulation. They also supply nutrients to hair follicles, promote hair growth, and minimize scalp pore size to control hair loss and shedding. Lemon oil extract removes excess oil from the scalp and leaves your hair with an invigorating sense of freshness. This regenerating shampoo with botanical keratin is safe and gentle and effective for smooth, soft hair.
Key Ingredients: Rosemary, basil, cypress oil
Pros
Non-greasy
Paraben-free
Cruelty-free
Natural ingredients
Safe and gentle
Suitable for sensitive scalp
Reduces pore size
Controls excess oil secretion
Stimulates hair growth
Tames frizz
Adds instant volume
Cons
None
The Shampoo Three from Paul Mitchell keeps your hair from turning green. It is ideal for swimmers. It is a clarifying shampoo that deep cleanses hair and removes chlorine, iron, and minerals. The clarifying formula helps minimize the oiliness on your scalp and increases hair volume. It strikes the perfect balance by controlling oil production on your scalp and keeping the moisture levels intact. The wheat extracts deeply condition your hair. The shampoo strengthens hair strands and minimizes build-up. It is best used before any deep conditioning treatment. It is ideal for all hair types and is color-safe.
Key Ingredients: Clarifying ingredients
Pros
Paraben-free
100% vegan
Does not weigh down hair strands
Tames frizz
Removes waxy films
Removes green tones from colored locks
Cons
The Honeydew Tea Tree Peppermint Shampoo is infused with 100% pure, therapeutic-grade essential tea tree, rosemary, and peppermint oils that rejuvenate and nourish hair and scalp. Tea tree is antibacterial and anti-inflammatory and soothes scalp pimples. It also sloughs off dead skin, dandruff, and flaking. It adds life to limp, dull hair.
Rosemary oil extract stimulates blood circulation, boosts hair growth, unclogs hair follicles, and prevents dandruff. It also moisturizes and hydrates the dry, flaky scalp. Peppermint essential oil provides a refreshing and pleasant fragrance. This gentle, safe shampoo is suitable for all hair types, sensitive scalp, and color-treated hair.
Key Ingredients: Tea tree, rosemary, peppermint essential oils
Pros
Eco-friendly
Cruelty-free
Natural botanical extracts
Hypoallergenic
Suitable for all hair types
Reduces dandruff
Pleasant aroma
Cons
Not ideal for cleansing long hair
The Kenra Clarifying Shampoo contains extracts of grapefruit and witch hazel with amino acid chelators (binders) that eliminate deposits and impurities. This shampoo is popular among swimmers as it removes hard water and chlorine remnants from your hair and scalp. It adds radiance to dull and limp hair. The Kenra Clarifying Shampoo can also be used as a color enhancer to brighten gray, bleached, or highlighted hair. It is a go-to product for those who suffer from the accumulation of hard water deposits on their scalp.
Key Ingredients: Grapefruit and witch hazel extract, amino acid chelators
Pros
Gentle on hair strands
Suitable for swimmers
Suitable for daily use
Adds shine
Makes hair soft and smooth
Cons
The SofN'free GroHealthy Nothing But Clarifying Shampoo is formulated with clarifying ingredients that cleanse the scalp and soothe scalp irritation. The antioxidants and citrus fruit extracts remove oil build-up, control excess sebum formation, and keep hair intensely moisturized. The shampoo also cleanses and clarifies the deeply settled chlorine and other contaminants. The linalool in the shampoo has stress-reducing properties and a floral aroma that instantly enhance your mood.
Key Ingredients: Clarifying ingredients, citrus fruit extract
Pros
No harmful chemicals
Natural cleansing ingredients
Paraben-free
Sulfate-free
Ideal for most hair types
Makes hair manageable
Gentle and safe
Refreshing fragrance
Cons
May not suit extremely dry hair
The Moroccanoil Clarifying Shampoo revitalizes, nourishes, and rejuvenates limp and lifeless colored hair. It washes away everyday build-up from chlorine, hard water, mineral deposits, dirt, and pollution. It is infused with a deep cleansing and invigorating blend of argan oil, avocado oil, and lavender, chamomile, and jojoba extracts. Argan and avocado oil contain fatty acids (linoleic and oleic acid) that act as a protective shield to retain moisture, hydrate the scalp, improve scalp health, and protect each hair strand from the damaging effects of chemicals.
The chamomile, lavender, and jojoba extracts provide intense nourishment to hair and leave it feeling weightless. The signature Moroccan fragrance and exotic blends of floral extracts uplift and rejuvenate your mood. This amber-colored color-protecting shampoo will leave your hair smelling great, shiny, bouncy, and feeling soft and silky to the touch.
Key Ingredients: Argan and avocado oils
Pros
Protects hair strands
Keeps hair and scalp weightless
Retains moisture
Keratin-enriched
Paraben-free
Sulfate-free
Phosphate-free
Smells exotic
Cons
Expensive
Not suitable for dry hair
The Redken Hair Cleansing Cream Clarifying Shampoo has a detox formula suitable for all hair types and textures. This pH-balanced shampoo is made with an AHA cleansing complex that thoroughly cleanses your hair and scalp. It removes hard water minerals, product build-up, and excess oils, leaving your hair healthy and soft. It strengthens your hair cuticles and adds a shine to your color-treated hair. If you want a detailed review of the product, make sure to take a look at this video.
Key Ingredients: Redken Cleansing Complex
Pros
Non-greasy
Paraben-free
Suitable for all hair types and textures
Pleasant scent
Climate Pledge Friendly
Cons
The Aquableu Deep Cleansing Shampoo is rich in vitamins and minerals for healthy hair. It is formulated with apple cider vinegar, papaya, green coconut, jojoba, sweet almond, avocado oil, shea butter, pomegranate, and hibiscus flower extract. Apple cider vinegar is rich in vitamins B and C, and alpha-hydroxy acids (AHA) that deeply nourish and cleanse the scalp. They also rebalance the scalp pH and remove excess build-up to retain hair shine. The shampoo's anti-inflammatory properties protect the hair strands from dandruff.
The formulation of virgin coconut and avocado oil rejuvenates weak, thin, dull, and damaged hair. It offers protection to each hair strand and keeps hair strong, smooth, and shiny. The combination of essential oils with vitamin E promotes blood circulation to the hair follicles and stimulates hair regrowth. The chemical-free formula is safe and gentle for daily use.
Key Ingredients: Apple cider vinegar, jojoba, almond, avocado oil, shea butter
Pros
Paraben-free
Sulfate-free
Cruelty-free
Gluten-free
Silicone-free
Soothing fragrances
100% natural and organic
Strengthens hair roots
Protects hair from aggressors
Cons
The GIOVANNI 50:50 Balanced Hydrating-Clarifying Shampoo features its trademark Eco Chic Technology that is a blend of vitamins, nutrients, and proteins. This technology strengthens and protects over-processed, color-treated hair to retain its natural color and shine. Aloe vera, rosemary, and other botanical extracts clarify scalp and hair thoroughly, moisturize it, while leaving your hair soft and manageable. It is suitable for normal to dry hair and is gentle enough for everyday use. You can also check this YouTuber's detailed review to know more about the results after using this product.
Key Ingredients: Aloe vera, lavender extract, rosemary extract, thyme extract
Pros
Lauryl and laureth sulfate-free
Goodness of natural botanical extracts
pH-balanced
Anti-frizz
Suitable for normal to dry hair
Vegan
Color-safe
Cruelty-free
Cons
None
The Acure Curiously Clarifying Shampoo contains organic extracts of pomegranate, calendula, argan oil, and lemongrass that help remove dirt and oils from the scalp. Since it contains natural ingredients, it does not dry your hair out. This shampoo works best on oily scalps and scalps with excess deposits. It also keeps your hair soft and light without weighing it down. The shampoo does not dry hair ends.
Key Ingredients: Argan oil
Pros
Paraben-free
Sulfate-free
Silicone-free
Phthalate-free
Cruelty-free
Improves scalp health
Suitable for all hair types
Leaves a glossy look
Long-lasting effects
Cons
Aloxxi Clarifying Shampoo is created with ColourCare Complex and Detox Blend that removes build-up from the scalp and hair without stripping off the hair's natural moisture. It also contains chelating agents that remove hard water residue and daily pollutants from the hair to maintain its overall health. This nourishing hair shampoo leaves your hair feeling soft, smooth, and purified.
Key Ingredients: ColorCare Complex and Detox Blend
Pros
Gentle formula
Sulfate-free
Paraben-free
Phthalate-free
Gluten-free
Cons
None
The By The Way Clarifying Shampoo nourishes and rejuvenates chemically-treated and processed hair. It keeps hair from shedding. The shampoo is infused with oat proteins, vegetable glycerin, panthenol, bladderwrack extract, yellow dock root extract, and aloe vera that gently remove build-up resulting from various styling products. The oat proteins and amino acids deeply penetrate the hair shaft and leave hair feeling soft and well moisturized. Bladderwrack extract boosts hair with vitamins and minerals and prevents hair breakage. The shampoo is gentle on the hair. It leaves hair cleaner, shinier, suppler, and smoother.
Key Ingredients: Oat proteins, panthenol, aloe vera extract
Pros
Paraben-free
Sulfate-free
Phthalate-free
No synthetic chemicals
Softens hair
Non-irritating fragrance
Lightweight
Safe for all hair types
Cons
None
These are the 13 best clarifying shampoos meant for color-treated hair. In the upcoming sections, we have further discussed clarifying shampoos.
What Is A Clarifying Shampoo?
A clarifying shampoo is specifically designed to remove excess build-up, clear excess oil formation, and to absorb dirt and impurities for a healthy scalp. It also removes the residue left behind by hard water and chlorine water. Unlike a regular shampoo that is primarily used to moisturize the scalp, a clarifying shampoo is often formulated for deeper cleansing and to strip excess oil without shedding hair (1).
The next section illustrates the uses of a clarifying shampoo.
Uses Of A Clarifying Shampoo
It helps absorb gunk, oil, dirt, and impurities from the scalp developed from excessive pollution or environmental aggressors.
It offers deep cleansing without stripping natural oils or shedding hair.
It softens and smoothens hair strands when matched with a good conditioner.
Here are the factors you should look for before you buy the right clarifying shampoo for your color-treated hair.
Choosing The Best Clarified Shampoo For Color-Treated Hair
Check the label of a color-safe shampoo. Color-safe shampoos are specifically formulated to treat dry, damaged hair and also to prevent the stripping of color.
A clarifying shampoo should contain natural ingredients like tea tree and other essential oils, oat proteins, etc. that remove excess build-up of chemical treatments, hard water, and chlorine water.
It should be able to hydrate, moisturize, and soften the hair. It also should be able to add instant volume to flat, limp hair.
It should be free from all harmful toxins and chemicals.
Regular shampoos may not effectively remove chemical build-up. A clarifying shampoo achieves this without stripping your hair color. It also keeps your hair from shedding. The shampoo nourishes, moisturizes, and rejuvenates hair strands and adds instant bounce. With these clarifying shampoos, clean and healthy hair is just a click away! Choose your pick from this list today.
Frequently Asked Questions
What can I use instead of a clarifying shampoo?
A clarifying shampoo is the best option to remove excess build-up from your hair and scalp. Do not replace it with any other shampoo.
Is baking soda safe on color-treated hair?
No, baking soda is not safe on color-treated hair. Refrain from using it.
Recommended Articles