12 Best Lotions For Crepey Skin – 2023
Nourish, hydrate, and repair loose, sagging skin with these carefully crafted products.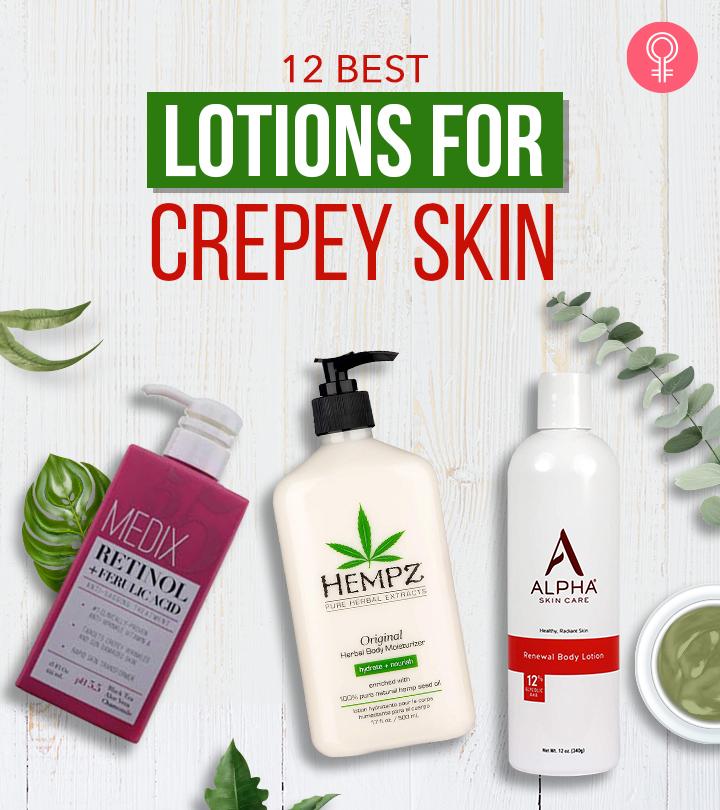 'Crepey' skin is a term used to describe loose skin that has lost elasticity and collagen. Does this skin condition have a solution? Continue reading to learn about the best lotions for crepey skin. Your skin loses its elasticity and collagen as it ages. It may also become loose early on because of excess sun exposure and sudden weight gain or loss. If you have a very light complexion, you can notice crepey skin easily.
Scroll down to learn a little more about this skin condition and which firming lotions you should be using to help manage it.
What Is Crepey Skin?
Crepey skin looks very similar to the crepe paper used in crafting. It looks thin and saggy due to loss of elasticity and collagen. Creping might happen due to the natural process of aging. Too much exposure to sunlight or an extremely fair skin tone can also cause premature creping. Crepey skin usually affects those areas where the skin is relatively thin and fragile, like the neck region, above the knees, or the upper part of your inner arms. These areas of your body are more prone to wrinkles and creases.
If you want to solve this skin issue, check out our list of the best lotions for crepey skin treatment in the next section!
12 Best Body Lotions For Crepey Skin
Hempz Original Herbal Body Moisturizer is created with a formula rich in omega-6 and omega-3 fatty acids. It is useful for calming atopic dermatitis. It has a crisp and clean fragrance of aromatic flowers and bananas. This dermatologically tested gentle lotion is also free from harsh chemicals. The shea butter in it protects your skin from the sun and provides excellent hydration. Vitamins A, C, and E act as a shield and protect your skin from damage-causing oxidants. This soothing lotion is also an all-in-one solution for dryness during the winters and flaky skin problems. Click on the video if you want to know more about the tester's experience of using Hempz Original Herbal Body Moisturizer, .
Pros
Treats atopic dermatitis
Prevents skin damage
Refreshing fragrance
Reduces dryness and flakiness
Offers intense hydration
No harsh chemicals
Cons
Not suitable for sensitive skin
Price at the time of publication: $15.93
Adamia Therapeutic Repair Lotion is formulated with macadamia nut oil and omega-7 fatty acid that visibly reduce the appearance of crepey skin, fine lines, and wrinkles. This clinically-proven lotion has soothing and moisturizing properties. It has a non-greasy formula that is vegan, paraben-free, cruelty-free, and free of added artificial fragrances. If you have thin and loose skin, this is the lotion that you should go for. It is an award-winning moisturizing lotion that is trusted by customers and recommended by dermatologists. Check the review of the Adamia Therapeutic Repair Lotion to know more about a reviewer's experience of using the product and to learn about its benefits.
Pros
Clinically-proven
No synthetic fragrances
Vegan
Hypoallergenic
Paraben-free
Cruelty-free
Does not leave a greasy residue
Cons
Price at the time of publication: $9.97
The gradual process of aging is one of the prime causes of crepey skin. Try out this anti-aging lotion that shows visible results within a few days. Alpha Skin Care Renewal Body Lotion is infused with 12% glycolic AHA, an ingredient that boosts collagen and reduces fine lines and wrinkles on different parts of your body. This collagen-boosting lotion helps in maintaining the pH level of your skin. Its formula has a unique combination of anti-aging ingredients, well-chosen vitamins, and nutrients that encourage healthy and radiant-looking skin from within. Though the revitalizing lotion has a thick consistency, it spreads and gets absorbed easily, with visible results noted by reviewers. The presence of active ingredients naturally enhances your skin, giving it a subtle dewy complexion. It effectively treats sun damage and helps get rid of all the dead skin cells.
Pros
Reduces visible fine lines and wrinkles
Maintains the pH level of the skin
Boosts collagen production
Promotes healthy skin
Fast-absorbing
Cons
Price at the time of publication: $17.99
Medix Retinol + Ferulic Acid Retinol Anti-Sagging Treatment comes in a beautiful rose pink bottle. Retinol helps boost collagen production, reduces the visible signs of aging, lightens dark spots, and improves skin complexion and elasticity. It protects the skin from sun damage in combination with the anti-aging and antioxidant properties of ferulic acid. The elastin-enhancing lotion also contains natural ingredients like black tea, chamomile, aloe vera, shea butter, and natural extracts of sunflower, rosemary, and apple extract that keep your skin moisturized. This clinically-tested toning lotion is free from parabens, alcohol, mineral oil, and sulfates. It is also vegan and cruelty-free. It maintains a pH level of 5.5 and protects your overall skin. In this video, you will find a detailed review of the tester's experience of using the Medix Retinol + Ferulic Acid Retinol Anti-Sagging Treatment.
Pros
Boosts collagen production
Reduces fine lines and wrinkles
Lightens dark spots
Moisturizes the skin
No added preservatives
Paraben-free
Sulfate-free
Vegan
Cruelty-free
Maintains the pH level of the skin
Cons
Thick consistency
Unsatisfactory dispenser
Price at the time of publication: $15.62
Are you looking for the ultimate solution to crepey and thinning skin? You have it right here. The Gold Bond Ultimate Strength & Resilience Skin Therapy Lotion has a rich blend of seven plumping moisturizers and three vitamins along with vital proteins and lipids that replenish the moisture in your skin. The plumping lotion provides 24-hour moisturization, and it is dermatologist-tested, hypoallergenic, and non-comedogenic. This budget-friendly hydrating lotion restores elasticity and treats irritation, inflammation, and dehydration. Several users swear by this revitalizing product as it is known to improve your skin texture and offer visible results in less than a week.
Pros
Long-lasting moisturization
Dermatologist-tested
Hypoallergenic
Non-comedogenic
Restores skin elasticity
Budget-friendly
Improves skin texture
Cons
Not suitable for oily skin
Price at the time of publication: $17.07
The Advanced Clinicals Retinol Advanced Firming Cream is suitable for the body and face and works on sagging, wrinkly, and sun-damaged skin. This wrinkle-smoothing lotion is infused with clinically-proven retinol which increases the production of collagen that helps firm the skin. It also contains hyaluronic acid which plumps the skin with extra hydration, giving it a fuller and healthier look. Vitamin C, glycolic acid, and salicylic acid in the repairing lotion also work as a perfect blend for skin tightening and fighting aging signs. The strengthening formula includes aloe vera and chamomile which have antibacterial and anti-inflammatory properties. They reduce infections, redness, and irritations on the skin. Green tea in this renewing formula protects the skin against environmental aggressors and minimizes puffiness. The skin is left looking radiant and younger with this firming cream that has received multiple positive reviews online.
Pros
Boosts collagen production
Offers anti-aging benefits
Restores moisture barrier
Paraben-free
Cruelty-free
Dermatologist-recommended
Allergy-tested
Fragrance-free
Cons
Price at the time of publication: $25.99
If you are looking for a great restorative body lotion for aging skin, pick the Osea Malibu Anti-Aging Body Balm. The hydrating formula combines the goodness of an elastin-enhancing lotion and reparative serum. Formulated with alaria seaweed and essential oils of coconut, passion fruit, and babassu, the nourishing formula makes the skin softer and tighter. It increases skin elasticity and reduces the appearance of wrinkles and fine age-lines with visible results after 4 weeks of use. The collagen-boosting body balm is enriched with vitamin E and has a subtle fragrance of citrus, geranium, and jasmine. Give yourself glowing, youthful, firmer skin with regular use of this renewing body balm.
Pros
Nourishing formula
Anti-aging benefits
Increases skin elasticity
Convenient pump
Pleasant smell
Cons
Price at the time of publication: $70
Natural Escapes Lavender & Ylang Ylang Hand & Body Lotion is made of organic ingredients that provide the skin with deep hydration. The powerful formula of this fragrance-free lotion is enriched with antioxidant-rich aloe vera which combats free radicals and is loved by reviewers online. It helps increase oxygen levels in the skin and also acts as an intense moisturizer. Organic essential oils like coconut oil in the renewing lotion provide proteins, antioxidants, and fatty acids to nourish the skin. It moisturizes the skin, curbs cracks, and reduces wrinkles. Olive oil and lavender oil supply carotenoids, vitamin E, Vitamin K, and Omega 3 and 6 to the skin. These ingredients offer nourishment and help in softening and rejuvenating dull skin. Avocado oil present in the repairing formula provides vitamins A, B, D, and E along with potassium and sterolins. This potent blend helps in reducing scars, sun damages and age marks. It also increases collagen production while improving skin elasticity. Ylang ylang is an anti-aging essential oil which regenerates skin cells with extra moisturization. It helps remodel damaged tissues and encourages skin healing.
Pros
Organic formula
Petroleum-free
Paraben-free
Phthalates-free
Sulfate-free
Glycol-free
Synthetic fragrance-free
Vegan
Cons
Thick consistency
Overwhelming smell
Price at the time of publication: $19.99
Are you facing problems like crepey skin, chicken skin, dry skin, wrinkles, and sagging skin? Then, go for Reshape+ Crepey Skin Wrinkle Smoothing Cream, which has collagen and its trademark Aquasphere technology as a solution to all your problems. The collagen in the formula stimulates elastic production that repairs sagging and dimpled skin, firms, and tightens it. Hyaluronic acid, aloe vera, and shea butter deeply hydrate the skin, smooth wrinkles and fine lines, giving you nourished and healthy skin, while borage seed oil soothes inflamed skin. This clinically-tested sagging skin lotion works for all skin types to give smooth firmer-looking skin, with visible results noticed by online reviewers.
Pros
 Lightweight
 Suits all skin types
 Cruelty-free
 Vegan
 Toxin-free
 Pleasant scent
Dermatologically tested
Allergy tested
Cons
Price at the time of publication: $14.99
The AmLactin Rapid Relief Restoring Body Lotion is mostly effective for dry and sensitive skin. This dermatologist-recommended lotion is formulated with 15% lactic acid (AHA) and three ceramides which lock in moisture and improve the health of the natural protective barrier of the skin. The 2-in-1 formula gently exfoliates dead skin cells and boosts skin renewal. It keeps the skin moisturized and hydrated, making it soft and toned. This smoothing lotion offers 24-hour relief from dry, flaky skin with a strong Alpha Hydroxy therapy, with visible results seen by online reviewers. It also helps in treating skin conditions like keratosis pilaris. It gives the skin an instant, youthful, and vibrant look.
Pros
Non-greasy formula
Hydrating formula
Paraben-free
Fragrance-free
Dermatologist-recommended
Suitable for dry, flaky skin
Suitable for sensitive skin
Cons
Price at the time of publication: $14.99
The RD Alchemy Natural & Organic Firming Body Lotion is created with herbal extracts which are especially good for firming the skin and cellulite reduction. Regular use of this restorative lotion tightens the skin and reduces crepey wrinkles. The 'orange peel' effect and dimples due to loose skin add ages to the face. This lightweight, fast-absorbing lotion moisturizes the cells while hydrating and softening the skin. It minimizes the appearance of imperfections, such as spider veins, stretch marks, and cellulite, and gives the skin an even texture. Formulated with essential oils, firming algae, and botanical extracts rich in antioxidants, and astringents, this cellulite-reducing body lotion is non-toxic and safe for the skin.
Pros
Organic formula
Lightweight
Paraben-free
Sulfate-free
Fragrance-free
Cruelty-free
Cons
Price at the time of publication: $36
We all know that crepey skin usually appears on your body. The Perricone MD Cold Plasma Plus Fragile Skin Therapy Treatment is a multi-tasking body lotion. It focuses on your skin's fragile areas. Its formula is loaded with age-defying ingredients like retinol, peptide, and hyaluronic acid that hydrate your skin and fight the visible signs of aging like fine lines, wrinkles, and dark spots.
Pros
Reduces fine lines and wrinkles
Locks in moisture
Suitable for sensitive skin
Cons
Price at the time of publication: $49.0
Octavia Lewis, a Master Esthetician, says, "If you want to enhance the effect of these lotions, try Red Light Therapy alongside to get exceptional results for flaccid skin." If you want to know which lotion will work the best on your crepey skin, take look into a few things that you need to keep in mind before purchasing one.
How To Choose The Best Lotion For Crepey Skin
Moisturization: Lack of moisture often exacerbates crepey skin. So, it is vital to ensure that your lotion has good moisturizing and hydrating properties. Pick a cream that has ingredients like hyaluronic acid, retinol, aloe vera, and glycerin.
Collagen: Loss of collagen leads to loss of skin elasticity. Look for a lotion that contains collagen. It is beneficial for crepey skin and for improving skin elasticity and firmness.
Exfoliation: Exfoliation is mandatory for removing the dead skin cells that make your skin look dull. Gentle exfoliants like glycolic acid and lactic acid remove the dead skin cells. These ingredients, when infused in a moisturizer, works well on crepey skin.
Antioxidants: Are you aware that the presence of free radicals in your skin causes skin damage and premature aging? To get rid of these free radicals, you need a lotion that is enriched with antioxidants like vitamins C and E. Green tea extracts are also beneficial for reducing skin damage and irritation.
Price: Keep the price in check. There are many brands out there that offer affordable body lotions to help you with crepey skin problems. It's not necessary to go for an expensive one.
Have you ever tried out to find out the causes of having crepey skin? Let's find out in the next section!
Causes Of Crepey Skin
The gradual process of aging is a preliminary cause of creepiness. The thinning of the epidermis causes the skin to become more fragile.
Sunlight is the biggest culprit. The harmful effects of the UV rays penetrate deep into your skin, resulting in collagen and elastin loss. This makes your skin wrinkled and saggy.
Lack of moisture, inflammation, skin irritation, and excessive weight loss can also cause crepey skin.
Certain ingredients work very well to prevent crepey skin. Check them out below!
Ingredients To Look For To Prevent Crepey Skin
If wrinkles are your prime concern, choose a renewing lotion with niacinamide, which is popularly known as vitamin B3. It is known for reducing the visible signs of aging and hyperpigmentation.
Your skin needs antioxidants like vitamin C, retinol, and niacinamide. Vitamin C boosts collagen production and improves skin elasticity. It also helps in reducing dark spots.
Retinol fights premature aging. It is derived from vitamin A, and its tiny molecules penetrate deep into your skin to even out the fine lines and wrinkles.
AHAs are found in many beauty products, and they are beneficial for exfoliating and brightening your skin. Just like antioxidants, they also reduce the visible signs of aging. AHAs like glycolic acid and lactic acid treat acne and protect your skin from sun damage and environmental aggressors.
Salicylic acid penetrates deep into your skin and repairs it from within. If you have acne-prone skin, then any strengthening lotion infused with salicylic acid will benefit your skin. It gently exfoliates your skin, diminishes wrinkles, treats acne, and prevents further breakouts.  
Why Trust StyleCraze?
Oyendrila Kanjilal is a certified skin care coach. She firmly believes that using the best lotion for crepey skin can help manage this skin concern. She has conducted thorough research and read thousands of reviews and user feedback to pick the best lotions to tackle this skin concern effectively.
Frequently Asked Questions
Is there anything that works for crepey skin?
Products with lactic acid, glycolic acid, hyaluronic acid, salicylic acid, and antioxidants work well for crepey skin.
Can crepey skin be reversed?
Crepey skin can be treated with moisturization and hydration. Use products enriched with ingredients that beneficial for treating crepey skin. Topical creams infused with retinol restore skin elasticity and boost collagen.
Will building muscle get rid of Crepey skin?
Weight training, building muscles, and gaining mass can help improve the appearance of loose and saggy skin.
Is hyaluronic acid a right solution for crepey skin?
Hyaluronic acid plumps up your skin and improves the overall appearance of crepey skin.
Are lotions for crepey skin safe?
Yes, they are safe or skin-friendly and work to improve skin texture.
What is the best lotion for crepey skin on arms and legs?
The Adamia Therapeutic Repair Lotion is one of the best products for crepey skin. It is enriched with macadamia nut oil and omega-7 fatty acids that help diminish wrinkles and fine lines.
Can lotion for crepey skin cause breakouts?
Yes, crepey skin lotion can cause breakouts if the formulation is not hypoallergenic and non-comedogenic.
Recommended Articles