12 Best MARY KAY Skin Care Products You Must Try In 2022
Grab these must-have Mary Kay products to have healthy, moisturized, and glowing skin.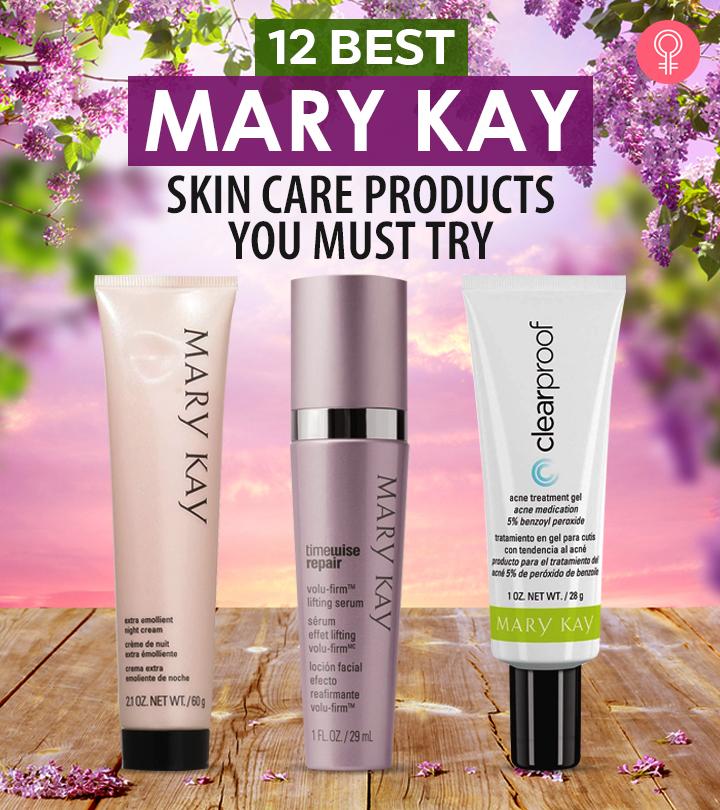 Mary Kay Ash started MARY KAY® in the early 1960s as a luxury skin care line. The brand offers a wide range of products for all skin types, from serums and moisturizers to face masks and eye gels. Here, we have listed the best MARY KAY skin care products available online.
Products from MARY KAY are mild and contain only natural components. In addition, they oppose animal testing and provide effective skin care products using well-researched ingredients and advanced technology. So, what are you waiting for? Let's take a look.
The Top 12 MARY KAY Skincare Products Of 2022
The MARY KAY Extra Emollient Night Cream locks the natural moisture of your skin. It hydrates dry patches on your face, hands, knees, elbows, and feet. This night cream contains petrolatum that soothes and heals scars, sunburns, and dryness, particularly in winters. It is clinically tested for hypersensitivity and skin irritation on all skin types. This lightweight formula is non-comedogenic and does not clog your skin pores. Watch this video to know more about Mary Kay's popular night cream.
Key Ingredients: Petrolatum
Pros
Lightweight
Mild scent
Non-comedogenic
Soothes the skin
Clinically tested
Heals sunburns
Long-lasting
Allergen-free
Cons
Not suitable for sensitive skin
The MARY KAY Timewise® Firming Eye Cream works on the thinnest and most delicate skin around the eyes. This area is most often affected by sun exposure, aging, and pollution. The eye cream counteracts this damage and brightens the porous area. It is ophthalmologically tested to suit different skin types and tones.
This eye cream is enriched with aloe extracts and building blocks of collagen. These ingredients improve skin elasticity around the eyes and minimize the appearance of fine lines and hyperpigmentation. The collagen-enhancing peptides revitalize the skin and reduce puffiness and wrinkles. They restore moisture to give the eyes a younger and well-rested look. The soothing botanical extracts help moisturize the skin around the eyes and even out the skin tone.
Key Ingredients: Palmitoyl tetrapeptide-3, Palmitoyl oligopeptide, and Aloe leaf extract
Pros
Brightens the under-eye area
Ophthalmologist-tested
Reduces fine lines and puffiness
Hypoallergenic
Affordable
Suitable for contact lens wearers
Cons
The MARY KAY Intense Moisturizing Cream is a luxurious, nourishing cream that moisturizes dry skin instantly. It adds radiance and keeps the skin smooth and supple for up to 10 hours. The active ingredients like vitamin E, algae extract, and glycerine repair and restore the moisture barrier without clogging the skin pores. This clinically tested, fragrance-free moisturizer is ideal for extremely dry and sensitive skin. It is an excellent skin care staple if your skin cracks, flakes, or bleeds during the winter months.
Key Ingredients: Algae extract, Glycerin, and Vitamin E
Pros
Non-comedogenic
Clinically-tested
Fragrance-free
Long-lasting
10-hour hydration
Adds subtle shimmer
Cons
The MARY KAY Clear Proof® Acne Treatment Gel helps clear pimples and prevents the formation of new ones. It helps reduce the redness and size of pimples. This therapeutic gel also clears blemishes, acne spots, and blackheads without irritating the skin. It uses a combination of salicylic acid and benzoyl peroxide to kill acne-causing bacteria (P. acnes) growing in the clogged pores.
Key Ingredients: Benzoyl peroxide and Salicylic acid
Pros
Reduces acne scars
Suitable for daily use
Gentle formula
Soothes redness and inflammation
Cons
The MARY KAY Indulge® Soothing Eye Gel contains botanical extracts of green tea, dog rose, and cucumber that calm the sensitive area around the eyes. It helps reduce puffiness and dark circles. Green tea extract help protect the skin from the effects of free radicals and dog rose fruit extract helps soften and smoothen the skin.
The cooling ingredients hydrate, tone, and rejuvenate tired skin around your eyes. This soothing gel enhances skin moisturization by 130% and brightens and firms the under-eye area. It is dermatologist and clinically tested and can be used as a leave-on gel. This cooling eye gel can be a great addition to your skincare routine. Check out this video to know more.
Key Ingredients: Green tea extract, Dog rose fruit extract, and Cucumber extract
Pros
Dermatologist-tested
Clinically-tested
Fragrance-free
Can be used as a leave-on gel
Reduces puffiness and dark circles
Cons
The MARY KAY TimeWise® Microdermabrasion Set improves the skin texture and gives you blemish-less, clear, and glossy complexion. The MARY KAY TimeWise® Microdermabrasion Refine has alumina, a mild yet effective exfoliant. It removes dead cells and grime from your face and neck.
The MARY KAY TimeWise® Pore Minimizer contains Persian silk tree bark and soybean extract. These components tighten the skin and improve its overall integrity. This set makes fine lines and wrinkles less visible and reduces the size of open pores.
Key Ingredients: Alumina, Soybean extract, and Persian silk tree bark
Pros
Non-comedogenic
Oil-free
Clinically-tested
Affordable
No breakouts
Long-lasting
Cons
Takes time to show results
The MARY KAY Clear Proof® Deep-Cleansing Charcoal Mask controls oil secretion from the skin. It contains botanical extracts that clear clogged pores and cleanse the settled impurities. This mask is formulated with potent ingredients, such as activated charcoal, kaolin, bentonite clay, navy bean, and honeysuckle extracts. These elements enhance the absorption and spreadability of the mask.
The honeysuckle and navy bean extracts address skin discoloration. The rosemary and peppermint extracts deliver a refreshing scent that awakens your senses. This triple-action mask strips the excess oils and makes your skin smooth and less clogged. It reduces shine, imparts a matte finish, and targets signs of skin aging. You can check this video out for a detailed review of this product.
Key Ingredients: Activated charcoal, Kaolin, Bentonite clay, Honeysuckle extract, and Navy bean extract
Pros
Absorbed quickly
Smoothens the skin
Gentle formula
Clinically tested
Long-lasting
Clears clogged pores
Evens out the skin tone
Cons
The MARY KAY TimeWise Repair® Volu-Firm® Lifting Serum protects the skin from damages caused by daily exposure to UVA and UVB rays. It has a broad-spectrum, photostable SPF 30, which maintains its activity after being exposed to sunlight, unlike other sunscreens. This serum calms irritated and sunburned skin. It contains plant stem cells, tripeptide 1, and a skin-volume supporting peptide – potent skin-renewal agents.
These ingredients restore moisture and minimize the skin's reaction to irritants. This serum softens fine lines, wrinkles, and crepiness on the neck. It promotes skin resilience, helps enhance the production of collagen VII, and reduces the activity of enzymes that can destroy collagen and elastin.
Key Ingredients: Plant stem cells and Tripeptide 1
Pros
Fragrance-free
Lightweight
Non-comedogenic
Fragrance-free
Oil-free
Safe for contact lens wearers
Cons
The MARY KAY Clear Proof® Clarifying Cleansing Gel removes dust, excess oil, and complexion-dulling impurities from the skin. It penetrates the skin easily and opens clogged pores to let the skin breathe and heal.
The active ingredient, salicylic acid, an exfoliant, gets rid of dead skin cells and prevents oil buildup in the pores. This cleansing gel restricts the growth and spread of acne-causing bacteria. It smoothens and conditions the skin with a matte finish. The oil-free formula does not strip your skin's natural moisture and leaves no residue.
Key Ingredients: 2% salicylic acid
Pros
Non-comedogenic
Oil-free
Smoothens the skin
No breakouts
Gentle formula
Leaves no residue
Cons
None
The MARY KAY Botanical Effects® Mask Formula 2 gently removes impurities from dry, combination, and sensitive skin types. Its antioxidant-rich complex contains silymarin (milk thistle), Luo Han Guo fruit, water lily, and frangipani extracts. The botanical complex helps fight environmental and free radical damage to the skin. This mask restores the skin's moisture balance and imparts a subtle radiance.
Key Ingredients: Frangipani flower extract and Water lily extract
Pros
Hypoallergenic
Gentle formula
Eco-friendly packaging
No synthetic dyes
Fragrance-free
Cons
The MARY KAY Timewise® Vitamin C Activating Squares are a highly effective and stable way to use vitamin C on the skin. Pure vitamin C degrades and loses its power over time when exposed to air, light, or water. But the activating squares solve this issue by using innovative technology.
Each square dissolves on the palm and transforms into a fresh and potent vitamin C elixir that enhances the effect of your serum. The vitamin activating squares make your skin even-toned, radiant, and young-looking. They reduce the appearance of fine lines, wrinkles, crow's feet, and other aging signs.
Key Ingredients: Vitamin C
Pros
Long-lasting
Reduce crow's feet
Add radiance
Absorbed quickly
Cons
None
The MARY KAY Naturally Nourishing Oil revitalizes and hydrates your skin. At least 90% of its ingredients are derived from natural sources following third-party (COSMOS) standards. This ultra-pure nourishing oil is free of parabens, phthalates, SLS, SLES, synthetic dye, fragrance, silicones, mineral oil, alcohol, or genetically modified ingredients. It is lightweight, gentle on normal-dry skin, and restores the skin's natural moisture barrier.
This non-comedogenic oil is absorbed easily and makes your skin supple and soft. It contains a blend of sweet almond, olive, and sesame oils that moisturizes the skin. Squalane helps reduce skin dryness, and vitamin E (tocopherol) protects the skin against free radicals and environmental damage. You can add this product to your day or night-time skin care routine as the components are photostable.
Key Ingredients: Plant and fruit essential oils
Pros
Paraben-free
Phthalate-free
Lightweight
Dermatologist-tested
Non-comedogenic
Absorbed easily
SLS-free
SLES-free
Synthetic dye-free
Fragrance-free
Silicone-free
Mineral oil-free
Alcohol-free
Cons
What Are The Key Ingredients In MARY KAY Cosmetics?
Vitamins C and E are the central ingredients in most of the MARY KAY skin care products. Salicylic acid and benzoyl peroxide form the base of their acne treatment products. Natural extracts of milk thistle, honeysuckle, frangipani, aloe leaf, seaweed, water lily, navy beans, green tea, and cucumber are used in the moisturizing and deep cleansing cosmetics.
MARY KAY anti-aging, sun blocking, and skin-tightening products contain shea butter, plant stem cells, kaolin, bentonite clay, Luo Han Guo fruit, dog rose extract, palmitoyl tetrapeptides, tripeptide 1, plant essential oils, and similar botanical additives.
The cosmetics line of this brand contains antioxidant-rich, nourishing components like niacinamides, emollients, beeswax, silymarin extracts, mica, glycerine, silica, and minerals with other safe, biological, and chemical equivalents.
MARY KAY skin care and cosmetics have evolved with the changing needs of their customers. The skin care line uses ethically sourced, sustainably grown, and skin-friendly ingredients that yield super-effective results. Explore the above list and order your favorite MARY KAY product right away!
Why Trust StyleCraze?
Oyendrila Kanjilal is a certified skin care coach. Mary Kay is one of her favorites among the many luxury skin care brands. She has prepared this list of the best Mary Kay products for those into luxury skin care. She has gone through multiple online reviews and user feedback to pick the best products for her readers.
Frequently Asked Questions
How does Mary Kay skin care rank?
Mary Kay skin care products rank in the top 20s worldwide for their benefits and effectiveness.
Is Mary Kay a good brand?
Mary Kay is one of the most popular skin care brands worldwide, providing high-quality products for the last decade.
Are Mary Kay products toxic?
No, Mary Kay products are non-toxic and safe for every skin type.
Is Mary Kay considered high-end?
Yes. Mary Kay's skin care products are very effective but costly as they use high-quality ingredients for targeted results.
Recommended Articles