13 Best Face Washes For Large Pores In 2023 To Tone Your Skin
Cleanse and tighten your pores with organic face washes for healthy-looking skin.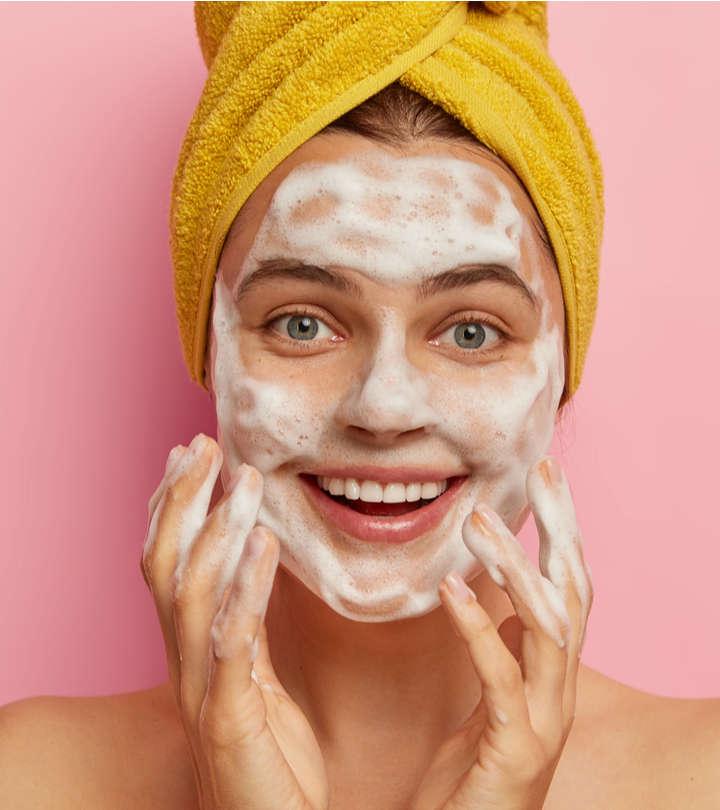 Large pores are the storehouse for dirt and foreign particles that damage your skin instead of maintaining the tone. It is essential to consider switching to the best face wash for large pores specially formulated for deep cleansing when that happens. It is sad to see uneven craters on your skin when it can be a smooth and seamless surface. To get that soft skin, the first step is to stop stressing or giving up and instead invest in products that will help minimize the appearance of your pores.
It is usually the case for those who have very oily skin. Since the oil on your face starts accumulating and settling down along with the dirt it attracts, all of it starts solidifying and turning into acne, or worse, making your pores more prominent. You can feel the struggle, especially when applying makeup, and the result is far from smooth or flawless. Here's a list of the best face washes for your skin type to bid goodbye to these multiple skin issues. So, pick one and show your skin some love.
13 Best Face Washes For Large Pores In 2023
Here is a weapon for the skin to fight acne, oil, and comedones. The bareMinerals Poreless Clay Cleanser is formulated with clay that absorbs oil and fights acne and blackheads. When all the dirt and sediments are extracted from the pores, the extracts of superfruits like bilberry, noni fruit, orange, and lemons minimize the appearance of pores. This cleanser for large pores also has nutrient-rich prebiotics like sugarcane and sugar maple extracts rich in antioxidants and flavonoids. They protect skin from UV rays and prevent other damage. If you need further convincing, check out this YouTuber's review out.
Pros
Sulfate-free
Non-comedogenic
Suitable for sensitive, oily, and acne-prone skin
Vegan
Dermatologist tested
Results in 1 week
Cons
 Some may find the consistency runny
Price at the time of publication: $15.75
Dirt and oil accumulation in your pores can result in acne breakouts, making the pores enlarged. This product is formulated with natural charcoal and 1% salicylic acid and keeps your skin clean and healthy. Natural charcoal can pull out dirt and oil by deeply penetrating into the large pores. The 1% salicylic acid gently works on the skin to heal it and prevents future acne breakouts. With this treatment, you will have oil-free skin in 2 days.
Also Recommended By: Allure has also listed Bioré Charcoal Acne Clearing Cleanser in their top 10.[1]19 Best Face Washes for Acne-Prone Skin That Dermatologists Actually Recommend. Allure. https://www.allure.com/gallery/best-face-washes-for-acne/
Pros
 Clears acne from the skin's surface in just 2 days
 Salicylic acid treatment
 Prevents acne breakouts
 Non-comedogenic
 Dermatologist-tested
 Cruelty-Free
 Vegan
Cons
 Not recommended for dry skin
Price at the time of publication: $7.99
The Caudalie Vinopure Purifying Gel Face Wash is probably the best face wash for oily skin and large pores as it offers natural cleansing and healing properties. The face wash is formulated with grape water, 100% natural salicylic acid, and a complex of essential oils. The salicylic acid cleanses sebum and blackheads to tighten the pores. Organic grape water derived from grape seed is a powerful antioxidant and soothes and hydrates the skin. Your skin will have a blemish-free even tone — thanks to essential oils that include rosemary, lavender, lemongrass, geranium, lemon balm, and peppermint. In this YouTube video, you will find a detailed review of the Caudalie Vinopure Purifying Gel Face Wash.
Pros
 Tightens skin pores
 Reduces blemishes
 Soothes skin
 Reduces oil
Cons
Price at the time of publication: $28.0
Common skin issues begin with clogged pores and the Derma E Acne Deep Pore Cleansing Face Wash is probably the best cleanser for pores and skin that is prone to acne and comedones. The 2% activated salicylic acid penetrates deep into the pores to cleanse oil and dirt, fight acne, and shrink it. This face wash is infused with an anti-blemish complex comprising tea tree oil, chamomile, lavender, rosewood, and other natural ingredients that fades blemishes to even your skin tone. The product is free from mineral oils, sulfates, GMO and gluten, and is suitable for oily and dry skin. Check out the review of Derma E Acne Deep Pore Cleansing Wash for more information.
Pros
 Deep cleansing for clean skin
 Blemish treatment
 Free of sulfates
 Pore cleansing formula
Vegan
Cons
 Some may find the fragrance overwhelming
Price at the time of publication: $12.19
The Japanese are the best at testing skincare botanicals and using them to reap the maximum benefits. The DHC Pore Face Wash is one such foaming face wash formulated using Japanese Skincare Technology and is infused with alpha-hydroxy acids that gently and thoroughly exfoliates the skin without stripping it. It contains olive leaf extract that is rich in antioxidants, and hydrates the skin, along with horsetail kelp extract and calendula to soothe it. One might even consider it the best face wash for acne and large pores owing to its anti-acne and pore-tightening properties.
Dr. Patricia Gaile Espinosa, MD, Philippine Dermatological Society, says, "Products with exfoliants like alpha-hydroxy acids can cause discoloration instead of skin lightening if you don't protect your skin. It can make your skin sensitive and prone to UV damage. Always use sunscreen daily to prevent any pigmentation from sun exposure. Also, although AHA is good for acne, you should also watch out for redness or itching when used too much. Know when to lessen the frequency of its use".
Pros
 Japanese skincare technology
 Tightens pores for clearer skin
 Prevents acne breakouts
 Natural peachy fragrance
Cons
 Might not suit sensitive skin
Price at the time of publication: $18
Blackheads are formed when the pores are clogged, while acne appears when there is a bacterial infestation in these clogged pores. The ability to control acne and cleanse the pores makes the First Aid Beauty Pure Skin Deep Cleanser the best face wash for blackheads and large pores. One of the essential ingredients in this face wash is red clay that thoroughly absorbs impurities from the pores and purifies the skin. The face wash is infused with rosemary oil that offers antibacterial properties to fight acne. Licorice root, white tea extracts, and feverfew form the First Aid Beauty antioxidant booster to avert skin damage caused by environmental aggressors.
Pros
 Deep pore cleansing
 Acne healing for healthier-looking skin
 Skin protection
 Skin hydration
Cons
 The face wash does not exfoliate the skin.
Price at the time of publication: $24
Rebalance your skin's surface environment with the cellular water technology of the Institut Esthederm Osmoclean Gentle Deep Pore Cleanser. This product is a gentle deep pore cleanser that penetrates into the pores to remove impurities and while cellular water optimizes the cell's functions. You will have skin free of makeup, sebum, and pollution when you use this. You need to use it on dry skin and massage it all over your face in circular motions. Use this twice or thrice a week for best results.
Pros
 Cellular water technology
 Grain-free texture
 Enhances the cell function
 Soft and radiant skin complexion
Cons
 Not recommended for daily use
Price at the time of publication: $43
The Luxiny Naturally Luxurious Glycolic Acid Cleanser is more than just a face wash. Along with cleansing action, it provides the best skincare for large pores and aging skin. Glycolic acid infused in the cleanser exfoliates the skin and tightens the pores. The antioxidants from seaweed extracts fight free radicals to plump the skin and reduce signs of aging. Acne breakouts can be prevented and healed by soothing and repairing tea tree oil and jojoba seed oil that curbs bacterial growth in the skin pores. Your skin heals naturally with the goodness of aloe juice and cucumber extracts in the cleanser. This is a good face wash for large pores and wrinkles.
Pros
 Shrinks pores
 Promotes cell growth
 Natural exfoliation
 Soft and firm skin
Cons
 The pH of the cleanser is 2.2 and might not suit very sensitive skin.
Price at the time of publication: $25.99
Extracts of a lotus flower and konjac are the two key ingredients that make this the best facial cleanser for large pores. The lotus extracts have lotus cationic polymer complexes that act as magnets to pull out 98.8% impurities from your skin pores. Konjac extracts infused in the face wash cleanses excess oil without preventing the skin from ultimately going dry. It gently exfoliates without stripping off your skin cells and neutralizes excess acidity of the skin.
Pros
 Balances skin acidity
 Refines complexion
 Mild and weightless
 Vegan and cruelty-free
 Suitable for daily use
Cons
 It may not remove waterproof makeup
Price at the time of publication: $18
Brighten and tighten your skin each day with the Hero Clear Collective Exfoliating Jelly Cleanser. It contains a natural formulation of glycolic and mandelic acid (AHAs) that dissolve dead skin cells, gluconolactone (PHA) that gently exfoliates the skin and evens out skin tone, and willow bark extract (BHA) that naturally unclogs pores. The cleanser is infused with tiny konjac jelly crystals that dissolve into a rich foaming cleanser to exfoliate the pores and tighten them up.
Pros
 Dissolves impurities
 Exfoliates
 Natural formulation
 Free of artificial colors
Cons
Price at the time of publication: $12.99
This pore-reducing face wash is a soap-free formula and has glycolic acid along with alpha and beta hydroxy acids infused in it. Your pores get thoroughly cleansed and reduce to half their size with the cleansing and toning properties of alpha and beta hydroxy acids. Glycolic acid infused in it gently exfoliates your skin to remove dead skin cells from the surface and provide an even skin tone. You can see visible results in only a week of using it.
Pros
 Exfoliates dead cells
 Shrinks pores to half their size
 Soap-free formula
 Evens skin tone
Cons
 Alpha hydroxy acid can make the skin prone to suntan and UV damage.
Price at the time of publication: $32.99
Cleanse your skin and defeat acne with the 90% naturally-formulated Neutrogena Naturals Purifying Face Cleanser. This is one of the best cleansers for large pores that contains 100% natural salicylic acid along with willow bark bio-nutrients that removes impurities from the pores and detoxifies them to prevent acne burst outs. After a deep treatment such as this, your skin feels fresh and looks bright right from the first use of this cleanser. You can add this cleanser to your daily skincare routine as it is free from sulfates, parabens, and other skin-damaging ingredients.
Pros
 Detoxifies skin
 Deep cleansing action
 Increase skin complexion
 Vegan
 Cruelty-free
 Non-comedogenic
Cons
 May take a lot of water to wash off
Price at the time of publication: $18.99
Keep your pores free of oil and acne-causing impurities with this dermatologically-tested face wash for large pores and oily skin. Saw palmetto is one of the best skin care products for large pores that comes packed with essential fatty acids to nourish your skin thoroughly. It reduces acne inflammation and cleanses impurities from the pores.Mint — the other essential ingredient infused in the face wash reduces aging signs like dark circles, fine lines, and age spots. Use this foaming face wash at night and moisturize it well for soft and nourished skin.
Pros
 Foams well
 Minty fragrance
 Cools and soothes skin
 It deeply clears oil from pores.
Cons
 The face wash may further dry out dry skin types.
Price at the time of publication: $39.9
Now that we've looked at the 13 best face washes for large pores in 2023, here are some tips to help you choose one for yourself.
Why Do Pores Become Enlarged?
Your skin is susceptible to a lot of natural and environmental changes and such changes enlarge your skin pores. Here are some factors that may enlarge your pores:
 Thick hair follicles – Thick hair follicles on your skin often get accumulated with dead skin cells that harden up. This eventually increases the size of your pores.
 Aging – When you age, the skin loses its elasticity and becomes wrinkled. The pores on saggy skin are more prominent than the ones on plump skin.
Sebum secretion – The sebaceous glands that are found beneath the skin layer produce sebum to keep your skin soft and nourished. Excessive production of sebum makes your skin oily and may harden and clog the pores, thereby increasing their size.
Sun exposure – Ultraviolet rays from the sun can damage your skin's collagen and elastin and dries out your skin.The cells shrink because of this and the pores become visible.
 Improper makeup removal – It is advisable to cleanse your face and remove all makeup before you go to bed. Sometimes, the makeup seeps into your pore and gets accumulated. This solidifies and makes your pores large.
How To Choose The Right Face Wash For Large Pores
Those with normal skin are blessed and can choose any ingredient they want. But, if you have dry skin, you need to pick up a face wash that gently cleanses your pores without completely drying your skin. A face wash with konjac extracts, aloe vera, hyaluronic acid, and glycerin gently cleanses the pores without stripping off the skin's natural oils. Oily skin types that are prone to large pores need thorough cleansing with face washes that include ingredients like retinol, salicylic acid, glycolic acid, clay, and grapeseed oil. These infusions cleanse clogged pores and balance oil secretion. Ceramides, hyaluronic acid, and ingredients with antioxidant and anti-inflammatory properties work well for sensitive and irritated skin. Ingredients
A natural face wash for large pores is any day better than chemically-formulated ones. Some face washes have naturally derived salicylic acid (obtained from willow bark) and glycolic acid (obtained from sugar cane and papaya) that thoroughly cleans your skin and shrinks pores. Face washes formulated with essential oils like mint, lemongrass, lavender, and chamomile enhance the skin's texture. The other natural ingredients that you can look out for in face washes are aloe vera and cucumber extracts that soothe inflamed skin and pores. Those with extremely sensitive skin should stay away from chemical exfoliants and face washes with harsh chemicals.
Some face washes have the goodness of vitamins B,C, and E and offer a mild cleanse without stripping off healthy skin cells. They can be used daily to keep your skin healthy and tight. If you are picking up a cleanser with AHA (alpha hydroxy acid), use it only at night because AHA makes your skin prone to sun damage during the day. Face washes that come with exfoliating ingredients need to be used only once or twice a week to prevent skin damage.
How To Get Rid Of Large Pores
You can shrink your skin pores and get smooth-looking skin if you follow the right cleansing process. Here is a step-by-step guide to effectively shrink your pores.
 Step 1: Start by removing your makeup using micellar water.
 Step 2: Thoroughly massage your face with a deep cleansing face wash that shrinks pores.
 Step 3: Use a toner spray with cucumber or tea tree extracts to keep your skin hydrated. You can also use a rose mist as an alternative.
 Step 4: Once the toner dries, use a good moisturizer to keep your skin hydrated.
 Step 5: If you have a jadestone face roller, massage your skin with it after moisturization to shrink pores and make your skin youthful.
Why Trust Stylecraze?
Vaishnavi Kothuri specializes in writing about products related to beauty, skincare, and wellness products. She is an English literature graduate and has vast experience working as an editor, a copywriter, and a translator. This article discusses the best face washes for large pores and offers detailed information about each one. Here are some tips and tricks on buying the best product, making it a wholesome guide.
Frequently Asked Questions
What is the best treatment for large pores?
Good exfoliation followed by good cleansing and toning can free clogged pores and make your skin look good.
What causes enlarged pores on your face?
Deposits of oil, dirt, makeup, and dead skin cells that solidify in the tiny pores enlarge them and make them visible.
How can I shrink my pores naturally?
Facial steam, clay masks, activated charcoal masks, natural salicylic acid face cleansers, and using rose water toning sprays can reduce your pores naturally.
How can I tighten my pores?
You can tighten the skin pores by thoroughly cleansing the clogged pores and keeping the skin well-moisturized always.
Recommended Articles: