Get Rid Of Dark Spots With The Top Face Cleansers Of 2023
Cleanse and hydrate your face while reducing dark spots and blemishes with each rinse.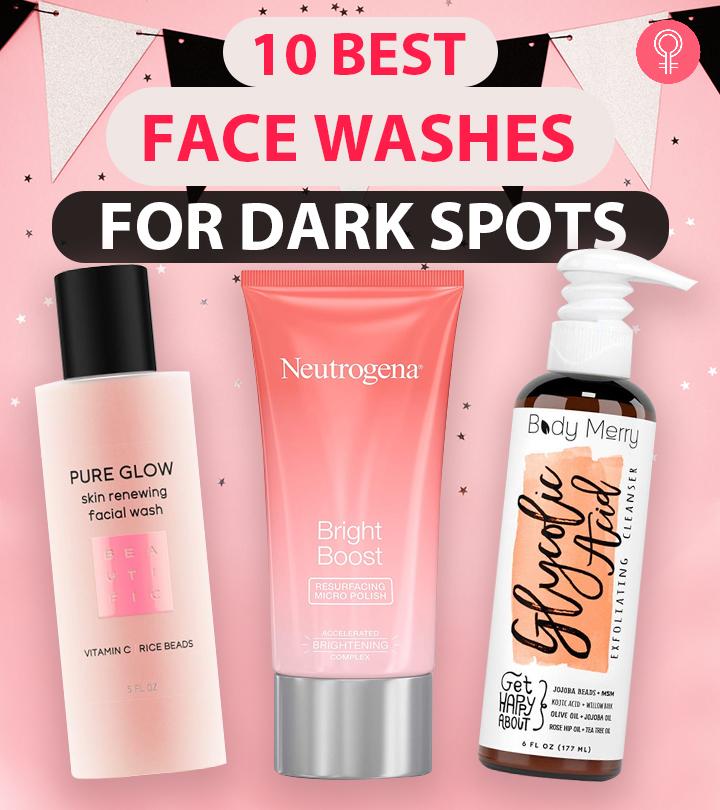 Dark spots are those frustrating blemishes on your face that do not disappear on their own. Fret not! Using the right face wash for hyperpigmentation can help. So, what are the best face washes for dark spots? In this article, we have put together a list of the 10 most effective face washes that can safely reduce dark spots and the appearance of hyperpigmentation and make your skin radiant. Keep scrolling to check them out.
10 Best Face Washes For Dark Spots
The Pure Glow Skin Renewing Facial wash is a gentle, daily use facial cleanser that renews and polishes the skin. It contains exfoliating rice particles to remove dead skin cells and tighten the skin. The vitamin C in this pore-minimizing face wash gives instant freshness to dull and tired skin. It also evens out the skin tone and fades dark spots to reveal a clearer complexion and brighter skin.
This face wash also contains coconut oil that moisturizes the skin while balancing its pH level. It is suitable for all skin types, including oily, dry, normal, and sensitive types. This clarifying face wash is a perfect solution to get rid of dullness and enlarged pores. It instantly brightens and energizes the skin.
Pros
Gel-based formula
Suitable for daily use
Suits all skin types
Non-drying
Leaves no residue
SLS/SLES-free
Microbeads-free
Cruelty-free
Cons
None

The Georgette Klinger Vitamin C Cleansing Gel provides luminosity to dull and lifeless skin. The skin-restoring formula of this effective cleanser is powered by vitamin C and other fruit extracts to deeply cleanse the skin, unclog pores, and remove dead skin cells. Vitamin C, along with potent antioxidants, combats free radicals, delays premature aging, and prevents issues like fine lines, dark spots, and wrinkles.
The skin-nourishing agents reduce dullness, uneven skin tone, puffiness, sagging, and roughness. This hydration boosting cleanser refines and rejuvenates the skin with natural moisture due to the presence of moisture-rich olive oil, vitamins, and antioxidants. It also eliminates post-acne hyperpigmentation and spots to leave your skin youthful and clean. The dark spot treatment face wash is formulated with lemon peel, orange, and grapefruit extracts that neutralize grease and oil from the skin. The exotic Kakadu plum essence supplies much-needed powerful antioxidants to the skin to soften it from within. The product is not subjected to any kind of animal test.
Pros
Non-comedogenic
Suits dry to combination skin
For morning and night use
Lightweight formula
Non-foaming
Paraben-free
Cons
None
Eliminate dark spots, aging signs, and acne from your skin with the Almond Clear Face & Body Wash. It has a gel-based gentle formula and contains healing botanicals like lemongrass, witch hazel, pomegranate, green tea, and mandelic acid. The formula clears the skin by removing dead skin cells, fighting bacteria, unclogging pores, and reducing the appearance of hyperpigmentation.
This face wash has antifungal properties that prevent fungal skin infections while reducing blemishes, whiteheads, blackheads, folliculitis, and pimples. Its antibacterial properties prevent inflammation and redness. This facial cleanser works by activating collagen production to give you firm skin, free of scars, sun damage, and hyperpigmentation. The non-drying formula of this effective cleanser works well for acne-prone skin. It can be used while shaving and waxing to prevent ingrown hair and bumps on soft and delicate areas. The product has not been tested on animals.
Pros
Non-comedogenic
For face and body
Sulfate-free
Dye-free
Paraben-free
Unscented
Cons
May not suit sensitive skin.
The NEOSTRATA ENLIGHTEN Ultra Brightening Cleanser removes dark spots, unclogs pores, and gets rid of makeup, dirt, oil, dark spots, and blackheads. This exfoliating face cleanser also moisturizes the skin and eliminates wrinkles and fine lines.
The creamy formula contains neoglucosamine, a hyaluronic acid compound that removes dead skin, reduces scars and dark spots, and prevents dullness and uneven skin tone. The skin-lightening cleanser is suitable for daily use and soothes the skin due to the presence of apricot extracts, hibiscus seed extracts, lavender extracts, and orange peel extracts. Watch this video to know the reviewer's experience and gather more information on the product.
Pros
Soap-free
Non-drying
Gentle
Suits all skin types
Dermatologist recommended
Cons
Get bright, blemish-free, and rejuvenated skin with the insta natural Vitamin C Cleanser. It is enriched with potent antioxidants, such as vitamin C, and organic aloe vera to nourish the skin. This gentle formula unclogs pores and prevents acne and blemishes. It deeply penetrates the dehydrated skin to boost hydration from within. The product claims to have ingredients that will offer visible results with consistent usage.
This face wash can be clubbed with an exfoliating face wash like a glycolic cleanser for anti-aging benefits and to restore the skin's youthfulness. It is packed with green tea, aloe, vitamin C, coconut water, and sugarcane extracts that keep your skin clean and fresh while fighting aging signs like dark spots, wrinkles, and fine lines. Click here to check out a detailed personal review of this spot corrector.
Pros
Non-comedogenic
Cruelty-free
Mineral oil-free
Paraben-free
Suits all skin types
No artificial scents
Allergy-tested
Cons
The Botanic Tree Glycolic Acid Exfoliating Cleanser removes oil, dirt, makeup, and buildup from the skin to leave it soft and hydrated. It contains glycolic acid that exfoliates the skin, and AHA extracts that brighten it.
This oily skin face wash works well for all, including teenagers dealing with cystic acne, without causing dryness. It contains shea butter, bamboo, willow bark, seaweed, and tea tree extracts that maintain oil production and cleanse the pores to prevent acne, blemishes, and redness. It also restores the skin texture to smoothen wrinkles, fine lines, dark spots, and other aging concerns. Further, you can include this product in your daily routine guilt-free as it was not tested on animals.
Pros
For all ages
Sulfate-free
Cruelty-free
Suits acne-prone, oily, and sensitive skin types
Paraben-free
Leaves no residue
Offers visible results
Cons
Brighten your skin instantly with the Neutrogena Bright Boost Resurfacing Micro Polish. This sensitive and mature skin face wash contains mandelic AHA and glycolic acid to provide dual-action exfoliation and reduce the signs of dullness caused by long hours of sun exposure.

It has three times more polishing power than a regular face scrub to boost skin radiance and gives you bright and even-toned skin. The unique formula contains natural skin smoothers with physical and chemical exfoliants that gently resurface the skin balance. The daily use of this clinically-proven face wash leads to a visible reduction in dark spots and pores with complete skin rejuvenation. This cleanser for hyperpigmentation can be used in combination with a skin brightening serum to enhance radiance. This video will give you a better insight into the qualities of the product.
Pros
For all skin tones
Oil-free
Alcohol-free
Non-comedogenic
Suits all skin types
Dermatologically-approved
Cons
The TruSkin Daily Facial Cleanser contains anti-aging antioxidants and blemish-preventing essential oils. The deep action formula comes with a lightweight texture that penetrates the skin to remove dirt and debris without stripping its natural oils. It also maintains the skin's natural barrier function. It refines skin tone and texture by boosting collagen production, hydration, and radiance.
The clinically-tested oil-control formula contains acne-fighting agents to reveal flawless looking skin. This mild face wash is formulated with skin benefitting ingredients, such as vitamin C, to prevent premature aging by fighting free radicals. Vitamin E protects the skin from harsh sun rays and environmental aggressors. Rosehip oil, rich in fatty acids, nourishes the skin and increases its elasticity, while tea tree essential oil prevents acne and breakouts. The product has not been tested on animals and it is recommended to do a patch test before usage for a safe and effective experience.
Pros
Lightweight
For all skin types
Gentle
Cruelty-free
Vegan
Paraben-free
Sulfate-free
Phthalate-free
PEG's free
Dermatologist-tested
Cons
Incorporate Body Merry Glycolic Acid Exfoliating Cleanser into your daily skin care regimen to exfoliate and refresh your skin. It contains 2.5% glycolic acid, jojoba beads, and willow bark to eliminate dead skin cells, dirt, oil, and buildup without unclogging the pores.
The deep penetrating formula contains kojic acid, jojoba oil, tea tree oil, rosehip oil, and olive oil to provide nourishing, smoothing, and softening benefits. This gentle face wash provides lasting benefits and reduces dark spots, age spots, and sunspots caused due to aging or excessive sun exposure. It also prevents acne, early aging, and discoloration. Use this face wash for acne in your daily routine and rub it in a circular motion to effectively draw out impurities and dirt from the pores.
Pros
Vegan
Cruelty-free
Gel-based formula
Non-drying
Cons
May not suit sensitive skin.
The VASANTI Brighten Up! Exfoliator fights dullness, acne scars, wrinkles, enlarged pores, and dark spots. The gentle yet powerful formula removes dead skin, impurities, and excess oil to give you bright and radiant complexion.
The triple-action scrub treatment gently exfoliates the skin to provide thorough cleansing while mimicking microdermabrasion to give you glowing skin with no irritation, redness, and sensitivity. This dermatologist-recommended product contains papaya enzymes that break the dead skin cells to be removed easily. They also smoothen the skin surface and impart a glow. The dermatological-grade microcrystals offer thorough exfoliation and the soothing properties of anti-inflammatory ingredients, like aloe vera, panthenol, and coconut, gently cleanse and soothe the skin. The product has received numerous positive reviews, however, we recommend you perform a patch test to avoid any potential reactions.
Pros
Suits all skin types
99% natural
Paraben-free
Gluten-free
Vegan
No plastic beads
Dermatologically-approved
Cons
*The prices provided in this article are based on the latest available information. However, they may vary due to changes in pricing by the seller and/or promotional offers.
These were some best face washes to reduce dark spots and brighten your skin. But before purchasing any of these, keep a few essential points in mind. 
Things To Consider Before Buying A Face Wash For Dark Spots
Look for a dark spot face wash that suits your skin type. If you have dry skin, avoid face washes containing alcohol. For oily and acne-prone skin, go for a face wash that has a low pH. For sensitive skin, go for a pH-balanced face wash that does not contain any additives or heavy fragrances.
A dark spot removal face cleanser made with all-natural and organic ingredients like tea tree, aloe vera, etc. Vitamin C can be an excellent ingredient as it functions both as exfoliator and brightener, helping clear skin discolorations while softening complexion texture. Natural ingredients are gentle and safe for the skin. Also, they don't cause irritation and redness.
Opting for a facial cleanser that has proven to deliver visible results with exfoliating capabilities is an excellent choice as it helps remove impurities, dirt, dead skin, and excess oil to reveal bright and radiant skin.
Go through reviews online to get a fair idea about the effectiveness and side effects of the face wash you want to buy. It is preferable to go for products that are either tested or recommended by dermatologists. People experience different reactions to each product, so ensure to do your own research and testing.
Why Trust Stylecraze
The author of this article, Shiboli Chakraborti, is a certified skin care coach. She curated this list of the best face washes to prevent dark spots after carefully researching, checking reviews online, and going through user feedback on multiple forums. Her well-researched article ensures that you get to pick from face washes that will help your skin look radiant.
Frequently Asked Questions
How long does it take for dark spots to fade?
Dark spots take a long time to fade. Some spots can fade on their own within a few months. Spots that are darker than your natural skin tone will take 6 to 12 months to fade. However, it may take years if the hyperpigmentation is deep-seated in your skin.
Is there any difference between face wash and cleanser?
Yes. A cleanser is meant to purify, nourish, and soothe your skin. A face wash is a formula that essentially removes the dirt from your pores. Cleansers are generally milder than face washes. However, often times, these two terms are used interchangeably.
Does face wash remove dark spots?
Yes. Face washes gently exfoliate your skin and get rid of dead skin cells. It also removes dirt and grime from your pores that develop dark spots. In this way, a face wash is essential to lighten your dark spots.
Recommended Articles