10 Best Makeup Brush Sets For Beginners – 2023 Reviews
Explore your desired makeup skills with the perfect set of tools by your side.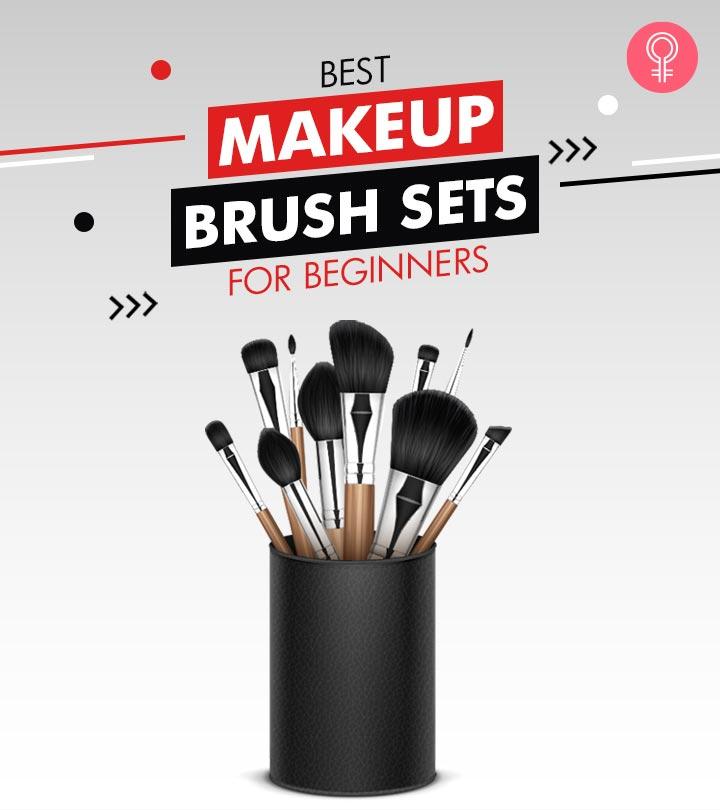 A makeup brush is a must-have tool in your arsenal, whether you want to create a chiseled look or smoldering smokey eyes! It blends your makeup evenly and offers a polished application. However, adding the best makeup brush sets to the beauty stash is not simple, especially for those who have recently dipped their toes into the makeup world. Since the market is overflowing with options, it is challenging for the novice to choose the brush that fits their makeup needs.  Therefore, we have compiled a list of the best makeup brush sets for beginners. You can choose the brush set that syncs well with your makeup routine and get a smooth application every time. Scroll down for more information.
Top Picks
10 Best Must-Have Makeup Brush Sets For Beginners
The BS-MALL Premium Makeup brush set is an 18-piece collection with all that you need for your beauty routine. The top-quality wood and alloy handles make these brushes durable, while the ultra-soft nylon bristles gently spread the makeup without irritating the skin. This set comes with a chic carrying stand that holds the makeup brushes conveniently. What makes this product an absolute steal is its low-price tag!
Pros
 Soft, dense bristles
 Sturdy handle
 Easy to clean
 Comes with a carry case
 Travel-friendly
 Pocket-friendly
Cons
Price at the time of publication: $11.99
The AMMIY Unicorn Makeup Brushes feature high-quality nylon bristles that feel gentle on the skin. This 10-piece collection has everything you might need for your makeup routine, including a flat brush, tapered brush, and long eye shadow brush. The long, slim handles come in a magical iridescent color, and their twisted design makes them easy to hold and use. The brushes are attached to a thick, durable aluminum tube that holds the nylon bristles tight. The bristles are soft, fine, and do not absorb your makeup. A beautiful and sturdy pink holographic carrying case is included in the package, making the brush set travel-friendly.
Pros
 Easy to clean
 Durable handle
 Cute design
 Lightweight
 Skin-friendly
 Budget-friendly
 Cruelty-free
Cons
Pros
 Sturdy wooden handle
 Durable aluminum ferrule
 Comes with a brush cleaner
 Travel-friendly
 Vegan
 Cruelty-free
 Instruction guide included
Cons
The 32-piece SOLVE Professional Makeup Brush Set is a comprehensive kit including an angled brush, tapered brush, round brush, small round brush, flat brush, flat-angled brush, small-angled brush, and many more. The black, birchwood handles with rose gold aluminum ferrule impart a classy look to these brushes, while its delicate, hypoallergenic bristles feel soft on the skin. Also, you get a carrying case to keep your brushes organized.
Pros
 Lightweight
 Durable birchwood handle
 Hypoallergenic bristles
 Aluminum ferrule
 Travel-friendly
 Vegan
 Cruelty-free
Cons
Price at the time of publication: $9.99
The Real Perfection 8-piece Makeup Brush Set comprises well-made, hand-crafted brushes with incredibly soft, irritation-free bristles made of synthetic fibers. The aluminum ferrule holds the bristles tightly, preventing shedding or fall-out during makeup application. Moreover, these are denser to hold makeup products well and thus avoid wastage. Plus, this set features high-quality and lightweight wooden handles that make them easy to carry.
Pros
 100% cruelty-free synthetic fibers
 Easy to clean
 Lightweight
 Dense, soft bristles
 Non-slippery handles
 Sturdy aluminum ferrule
 Comes with a leather pouch
Cons
The pink TEXAMO Makeup Brush set is widely appreciated for its excellent functionality and superior quality. This 10-piece collection includes all essentials, ranging from basics like a powder and an eye shadow brush to advanced-level concealer and contour brushes. These brushes are made up of soft, dense synthetic fibers that offer a silky feel and are ideal for all skins. They are ergonomically shaped and come with a wooden handle and an aluminum tube, making them sturdy and durable. Plus, this kit comes with a lightweight and foldable bag, making them easy to carry around.
Pros
 Smooth bristles
 Durable, lightweight handle
 Skin-friendly microfiber bristles
 Travel-friendly
 Budget-friendly
Cons
 Difficult to control movement
Price at the time of publication: $11.99
The BTYMS Makeup Brush Set is designed for seamless makeup application while being convenient to carry. It includes 12-multipurpose brushes of different shapes and sizes. These brushes are made of the finest quality synthetic fibers that do not feel harsh on the skin, making them ideal for studio and personal makeup. The sturdy wooden handles are easy to hold. What makes them worth buying is their pocket-friendly price tag.
Pros
 Lightweight
 Wallet-friendly
 Non-shedding bristles
 Non-slippery handles
Cons
 Takes time to blend the makeup
Price at the time of publication: $8.99
Gee-rgeous Professional Makeup Brush Set comes with a beautiful marble finish and consists of seven face makeup and five eye-makeup brushes. It has two-color bristles made of soft, synthetic fiber, making them feel luxurious and smooth against the skin. The delicately designed bristles' shape offers excellent coverage, providing easy application. All brushes comprise a white marble pattern with a PVC handle, making them sturdy and durable. These handles are designed according to the grip of the human palm structure to make them comfortable and easy to carry. This makeup kit comes with a lightweight marble-patterned bag to hold the brushes. It is fully functional and includes all essential brushes required by makeup artists.
Pros
 Premium fiber bristles
 Excellent grip
 Skin-friendly
 Compact design
 Blends products well
Cons
Price at the time of publication: $6.99
The Quivange Kabuki Makeup Brush Set includes five small brushes for highlighting, concealing, and eye shadow blending and five large brushes for applying foundation, bronzer, blush, and powder. The wooden handles with high-quality aluminum ferrule are labeled with the brush's name, making them ideal for beginners. This makeup kit features 100% vegan-friendly fibers that are super soft and safe to use. The bristles do not shed and carry the makeup products well to give a more defined and flawless finish. The premium wood material of handles ensures durability and makes them convenient to hold.
Pros
 Easy to clean
 No shedding
 Silky, soft bristles
 Cruelty-free
 Durable handle
 Sturdy ferrule
Cons
The Yuwaku Premium Kabuki Makeup Brush Set features 14 pieces, out of which five are basic kabuki brushes while nine are eye makeup brushes. It features a matte finish wooden handle, rose gold aluminium ferrule, and dark brown bristles. These brushes blend the makeup products well with the skin for a more polished and professional look. The bristles are made up of high-quality nylon fibers, which are non-irritating and suit even the most sensitive skin. The bushy synthetic hairs work great with powder and liquid makeup products and do not shed easily.
Pros
 Easy to clean
 Perfect grip to hold the brushes
 Fine and dense bristles
 Suitable for the sensitive skin
Cons
 The brushes are a bit smaller
Price at the time of publication: $25.99
Makeup brushes with good bristles are truly essential for makeup enthusiasts. Especially for beginners, choosing the right makeup brushes can be tough, but investing in the best makeup brush set might be useful in the long term. If you want to apply your makeup seamlessly, brushes with a fine grip can help you. Moreover, many makeup brushes available in the market are easier to clean and offer smooth application. You should always go for lightweight makeup brushes that come with non-shedding bristles.
Why Trust StyleCraze?
The author, Srijani Roy Chowdhury, is a certified makeup expert who keeps a keen check on the latest fashion and makeup trends. She has carefully curated a list of the top makeup brushes available in the market after browsing feedback and reviews on trusted e-commerce websites. These makeup brushes are skin-friendly and perfect for enthusiasts with sensitive skin.
Frequently Asked Questions
How do I choose the right makeup brush set?
Make sure your brush set has all the necessary brushes. Also, make sure your brushes are soft and flexible, so it is not hard to apply makeup.
How many makeup brushes do I need?
There are 6-7 makeup brushes for different purposes, and you need all of them.
How often should makeup brushes be cleaned?
You can clean your makeup brushes after every use.
Are synthetic brushes better than natural?
Yes. Synthetic brushes enable easier makeup application than natural brushes. They do not have cuticles like natural brushes and attract less dirt and bacteria.
Are makeup brushes easier to use than your fingers or a sponge?
Makeup brushes, fingers, and a sponge help you apply makeup in different ways. While makeup brushes are easier to use, a sponge or your fingers will help you to apply foundation or concealer evenly.
Recommended Articles
Best Makeup Brushes – Reviews And Buyer's Guide
Best Makeup Brushes To Add To Your Beauty Kit + Buying Guide
Best Foundation Brushes For An Even, Precise Makeup Finish
Best All In One Makeup Kits That You Must Get Your Hands-On