The 16 Best Racerback Bras Available In The Market – 2022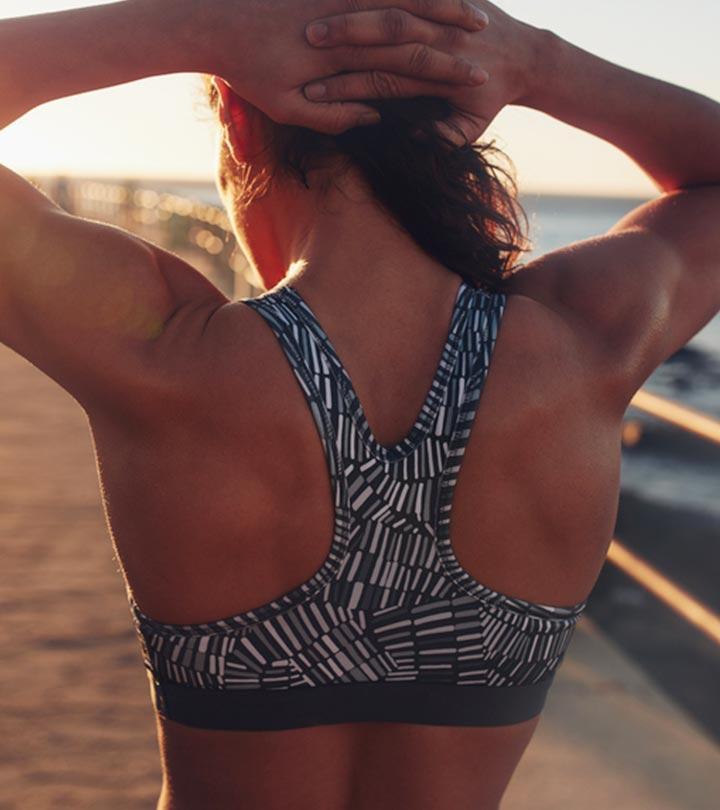 The best racerback bras not only give great support but are also a great option to spruce up your spaghetti-strapped and tank tops. Be it on a beach or at the gym, flaunting your racerback bras is always fun! They come in various colors and patterns and can go well with a variety of tops. If you're someone who doesn't feel comfortable with the clasp or hooks of your regular bras, you'd love racerback bras. Read on to check out our picks from some of the best racerback beauties out there.
Reebok is a brand that is associated with style and comfort. This wireless racerback bra from Reebok will definitely help you up to your game for workouts or other gym activities. Its bold design gives out a confident vibe along with tons of comfort. It is made with moisture-wicking fabric that is designed to keep you dry and sweat-free throughout the day.
[ Read: How To Measure Your Bra Size ]
Omantic Women's Racerback Sports Bra has a comfortable elastic closure. It has removable and breathable padded cups that provide excellent support to your breasts during any sports activity or workout. Its stretchy and soft fabric has a sheer mesh at the center of the back that keeps you cool. The wide racerback design provides good support and allows optimum air to flow. It is perfect for gym, yoga, running, or any kind of sports activity.
This crossed back bra particular piece from Wetopqueen is loved by many, and rightly so. It is a seamless sports bra with a tight fit for immense support and comfort. This racerback bra is perfect for workout sessions at the gym or lightweight exercises, such as jogging. This bra also has ventilation panels that allow your skin to breathe. The racerback design is shaped in an 'X' that looks super attractive and stylish. Its fabric is moisture- and sweat-absorbent, stretchy, and durable hence it is the most comfortable racerback bra.
Reebok's Medium Impact Seamless Workout Bralette provides support no matter what kind of rigorous physical activity or workout you do. It comes with removable pads and is suited for high, medium, and low activities. As this bra is wireless, it provides the maximum free motion as well as comfort while you work out. Its fabric is moisture-absorbent and durable, making it a complete "Worth it!" purchase.
[ Read: Best Comfortable Sports Bra And Brands ]
Hopgo's Zip Front Sports Bra is a unique bra that comes with zip closure. This bra is perfect for lightweight or medium physical and gym activities, such as hiking, jumping, and boxing. Its fabric is moisture-wicking and lets your skin breathe. It comes in multiple colors and all sizes. It is the best t strap bra with front zip.
Stay cool in hot summers with the Warner's Play It Cool Wire-Free Cooling Racerback Bra. This bra has a chill fx lining that keeps you cool by wicking away moisture quickly. The wire-free bra has a front hook and eye closure with flexible adjustable straps. The bra has a plunging neckline and light contour cups that support and shape your breasts perfectly.
This non-padded, ultra-thin racerback bra from CALVENA is amazing for daily wear. It is super supportive and offers ample comfort. This bra is smooth and made with a nylon/spandex blend that is stretchable.
Running Girl Women's Racerback Bra full figure comes in cute ombre colors that look super stylish and trendy. Its seamless design looks amazing over see-through tank tops, camis, and t-shirts. This bra comes with removable cups with a pullover style. The racerback feature offers easy arm movement along with non-slip straps. It is a wireless racerback sports bra with fabric that is super stretchy and sweat-absorbent.
Maidenform Girls' Seamless Racerback Bra is simple yet super-efficient. Its fabric is a durable combination of nylon and spandex. Not only is it stretchy enough for all kinds of workouts but also super comfortable. It is an easy wear for gym activities.
DELIMIRA's Non-Padded Racerback Bra comes with mesh wings to keep you cool and for a smooth effect. Its racerback straps are thick and tight to provide support and comfort. It comes in four beautiful feminine colors: beige, blue, black, and pink. These bras also help in slimming down your silhouette.
Maidenform's Pure Genius T-back Bra is soft, supportive, and comfortable to wear. It creates a slim fit effect under tank tops. Its straps are snug and comfortable and also prevent sagging of breasts. Its fabric is moisture-absorbent and durable.
Fruit of the Loom's Shirred Racerback Bra is perfect for everyday and casual wear. It is light, supportive, and comfortable. The fabric used to make it is durable and a good-quality blend of cotton and spandex. It comes in multiple colors and sizes. It is also easy to wash and maintain. In this racer back bras plus size is also available
[ Read: 9 Best Plus-Size Shelf Bras For Curvy Women ]
This racerback bra by Calvin Klein is perfect for casual wear. It looks sporty and is super comfortable and durable. This bra comes in multiple colors and all sizes. Its fabric is light on your skin and allows it to breathe. The best thing about it is that is is easy to wash and maintain.
This racerback bra is made of a combination of nylon and spandex with smoothly lined cups that have removable padding. It is lightweight and easy to wear. This bra is available in multiple colors and all sizes. It is also easy to wash and maintain.
[ Read: 10 Best Lingerie Brands In The World ]
This plus size racerback bra from MIRITY is perfect for high-pressure workouts. Its fabric is durable and sweat-absorbent. It also comes in several cool colors. Its racerback straps are broad, making it comfortable to wear.
This basic racerback padded bra from Hanes is made with a combination of nylon and spandex with hook-and-eye closures. It is moisture-absorbent and provides ample support and comfort. This bra is perfect for casual everyday use.
Racerback bras are great for working out and other physical activities, but also everyday wear. Which one of the ones listed above do you prefer? Let us know in the comments section below!
Why Trust StyleCraze?
The author, Pratima Ati, a fashion enthusiast, is a big fan of racerback bras for gyms or other workout activities. However, many products claim to be comfortable and stretchy, but one cannot blindly trust them. So, she came up with this impressive list of best racerback bras based on extensive research and thorough screening of reviews posted online. These bras are breathable, durable, and lightweight and do not compromise on fashion.
Recommended Articles