9 Best Plus-Size Shelf Bras For Curvy Women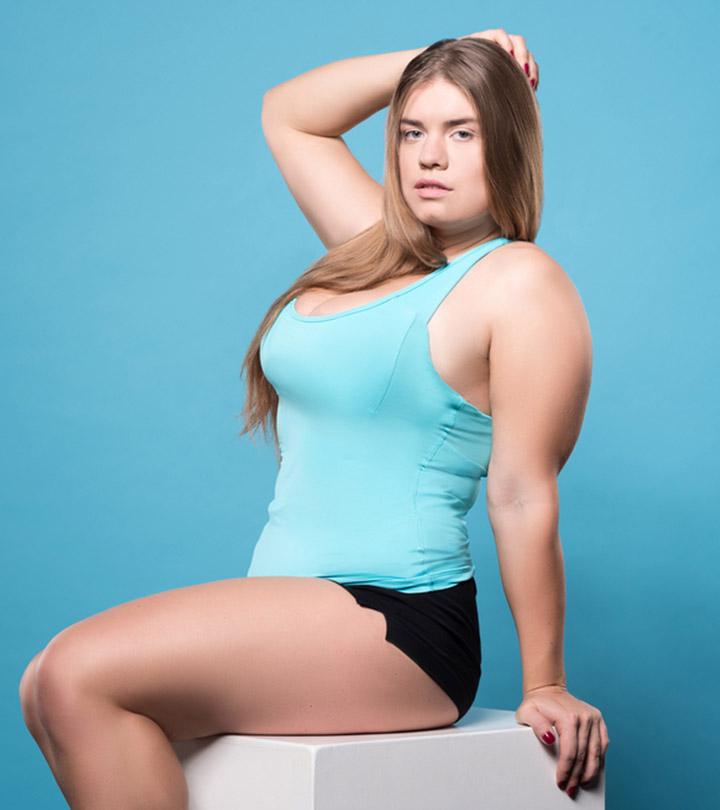 Bras are wardrobe staples. Push-up bras, t-shirt bras, lace bras, bralettes, backless bras, etc. – there are so many options! When it comes to plus-size bras, apart from these, there is a special bra that provides extra support, proper lift, and coverage – the shelf bra.
While push-up bras do the needful, they simply have extra layers of padding that make you look bustier. This is where shelf bras can help.
What is a shelf bra? Why is it important for plus-size women? Where do you buy them from? We have answered all these questions in this article. Keep scrolling for more information.
What Is A Shelf Bra?
Shelf bras are nothing but bras worn to give support and lift. They don't usually have much coverage but are one of the most comfortable ones for plus-size women. There are mainly two types of shelf bras:
a) Built-in Shelf Bras: If you are tired of wearing a padded or underwired bra every time you decide to wear a tank top, a built-in shelf bra can come to your rescue. It is a support camisole that has an elastic band where the underwire would be, which is firm and has a light padding to keep your breasts in place.
b) Quarter Cup Shelf Bras: Unlike camisole built-in shelf bras, quarter cup shelf bras give the least coverage. They are also known as cupless or platform bras. They are made of lace fabric that conceals your lower cup and has thin shoulder straps. They also have a stretchy elastic band under that serves as the underwire. Quarter cup shelf bras expose most part of your chest, unlike built-in shelf bras. They don't cover your nipples too as they work only to support and lift your breasts.
Why Is A Shelf Bra Important For Plus-Size Women?
Plus-size shelf bras are a boon for curvy women. If your cup sizes are C, D, E, and beyond, you should get yourself a shelf bra. Built-in shelf bras are crafted with structured cups built in the camisoles, and they go a long way in keeping your large breasts shaped and lifted all day long. Quarter cup or plus-size cupless shelf bras do an excellent job in preventing spillage. The thin strap that works as an underwire helps to give the desired lift and shape.
Where To Shop For The Best Plus-Size Shelf Bras
We have shortlisted 9 sexy and comfortable plus-size shelf bras for you. Check them out and shop from the links mentioned below for each product.
This built-in shelf bra for plus-sized women is a spaghetti strap tank top. It is stretchable and can be worn every day. It also comes with adjustable shoulder straps for comfort. The built-in shelf bra gives a refined and supported look to the spaghetti top. It is made of 95% cotton and 5% spandex. Above all, it comes in 25 wonderful colors to pick from.
The Queen Vintage Lace Shelf Bra comes in a beautiful baby pink color and is a Plus Size cupless bra. The quarter cup shelf bra supports your bust well and is made of a stretchable lace fabric that molds itself according to the contours of the bust. It comes with adjustable shoulder straps and hooks and eye back closure. The plus-size shelf bra comes in sizes 40, 42, and 44.
This super sexy lace bra in black is ultra-supportive. It is made of lace and satin with a foam-lined underwire that is very comfortable. The lace is very finely placed over the bust for a sexy and graceful appeal. It comes with a reinforced plastic side bone that ensures support and shape. Apart from this, there is a power mesh and stretchable lace along the back towards the hooks. It is the best Open Cup Bra For Large Breasts.
The Poppy Olivia Cupless Shelf Bra is sexy and comes in stunning red color. It has an underwire that is crafted with stretchable lace. It has a subtle lace and satin finish that is soft and comfortable on the skin. It comes with adjustable straps and gives perfect support and lift for plus-sized women.
These quarter cup bras plus size that has beautiful scalloped embroidery along the edges. It offers proper lift and support due to the underwire. It has a mix of mesh and lace and adjustable shoulder straps. The fabric is nylon and is comfortable to wear. It comes in four different colors – Black, White, Pink, and Red.
The stunning red chopper lace shelf bra from Diva is perfect for plus-sized women who love a well-structured shelf bra. The lace is strategically placed to give a firm lift to your breasts and enhance the curves. The elastic and adjustable shoulder straps are also made of stretchable lace and are soft and comfortable on the skin. It comes in sizes 40, 42, and 44.
Similar to the red chopper Diva shelf bra, this Plus Size open cup bras are comfortable and sexy. It sits perfectly along the bust, giving it the perfect lift. It also has a reinforced plastic side bone that ensures support and shape. The underwire is for light and comfortable support. It comes with adjustable straps.
This is one of the most stunning plus-size Pushup shelf bras from Mila. It is a strappy patterned bra that is quirky and sexy. The straps along the curves make sure to hold and support your breasts from all sides without being uncomfortable. The cups are lightly padded for proper and comfortable support for heavier busts. It has tiny little ribbon details along with a lace finish all over. It is made of nylon, lace, mesh, and spandex. It comes in three stunning colors – Black, Black with Mocha, and Merlot. It is the Best Shelf Bras for plus size ladies.
This built-in shelf bra for plus-sized women in a simple double strap camisole is a must-have. It is specially designed for heavier busts or post breast surgery. It is a comfortable, wire-free shelf bra that has a built-in foam line for super support. The camisole has double shoulder straps that are adjustable. This can be worn for yoga, pilates, or other light athletic sessions.
If you are a curvy woman, you investing in shelf bras are a good idea. They will not only support, lift, shape, and keep your curves in place but also keep you comfortable throughout the day. The built-in plus size shelf bra is comfortable and can be used on a daily basis, while the quarter cup bra is a bit sexier with less coverage.
Buy any of the above-mentioned plus-size shelf bras and experience ultra comfort. If you have any issues or questions, you can post them in the box below, and we'll get back to you.
Recommended Articles