11 Best Bras For Plus Size Women To Perk Up Your Breasts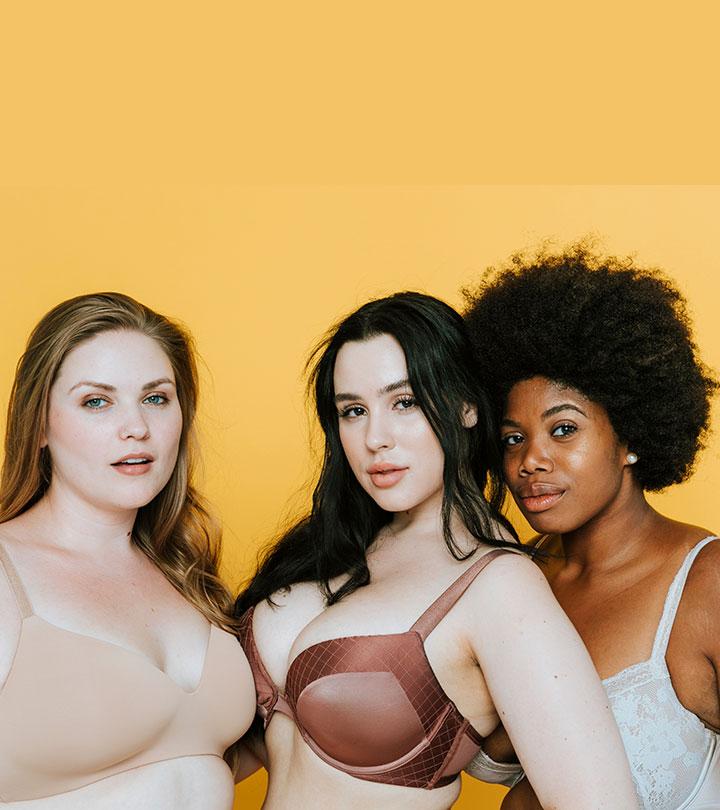 A common issue all of us women face is finding the perfect bra. Well-fitting bras are essential if you want support for your breasts while preventing sagging and back pain. Sagging is a natural process of our body and it happens over a long period of time, however there's no harm in wanting to keep your chest looking perky and to do that you just need to find the right bra! A bra that is fitted the right way also helps take the strain off your back, neck, and shoulders by distributing the weight evenly.
Sagging is also an issue if your chest is on the larger side. Plus sized women may find themselves with problems such as back pain and spine issues, and a well-fitted bra comes in handy to help avoid these. Bras also provide support, coverage, and comfort to sagging breasts and if you're in the market for a good plus size bra to help deal with saggy breasts, then check out our specially curated list of the 11 best bras for plus size saggy breasts to help you with your search for the perfect bra.
11 Bras For Plus-Sized Women To Prevent Sagging
One couldn't imagine a good support bra without a wire but Glamorise allows you to break free from the shackles of those pesky wires and instead has an inner-bust band that helps lift and support larger busts. This lace bra has a crisscrossed design that gives your breasts better support, along with adjustable extra-wide straps that are padded with a cushion to keep you comfortable and prevent breast sagging all day long. The cups are curve-contouring and provide coverage as well as shape to your chest.
Pros
Wire-free
Inner-bust band for support
Crisscrossed design
Adjustable extra wide straps
Cushioned straps
Curve-contouring cups
Provides coverage
Adjustable back hook-and-eye closure
Cons
Lining of the bra may be a bit thin
Cup your breasts with comfort with Elomi's underwire full-cup bra, which has a 3-piece cup with a side support panel, helping provide shape and support to your chest. The bra is also formulated with its back straps placed inward to prevent slippage of the strap. This bra for large sagging breasts of a full-figured woman has underwire for support and to lift larger breasts to prevent moderate sagging. The bra also has a full coverage cup which has no-show embroidery for design in a sheer top cup.
Pros
Underwire for support
Full coverage
Inward back straps
No-show embroidery
Hook-and-eye closure
Three-piece cup with side-support panel
Elasticated neck edge
Cons
Underwire may not last long for some
Pamper and shape your breasts with an Olga Women's plus-size underwire lace bra that contours and shapes your chest. Fabricated with a silky soft material with a lace neckline, the bra comes with comfortable back straps and extra fabric lining to prevent it from slipping off your shoulders, leaving you feeling comfortable all day. The bra is suited for low-cut tops as it has a plunging neckline, and it is also lightly padded to enhance your chest and prevent any nipple showing subtly.
Pros
Underwire for support
Comfort back straps to prevent slipping
Soft material
Plunge lace neckline
Lightly padded
Contouring
Cons
Straps may be tight around underarm and shoulder area
Going to the gym can be a hot and sweaty affair, especially when you're a girl since you will find yourself sweating in all sorts of places, including under your breasts. A good sports bra is essential to support your breasts while exercising and can help prevent any body-related problems. Anita Women's sports bra is made with net panels to regulate moisture levels and help the skin stay dry while also providing high levels of support and shape to your chest. Stay chafe-free with this supportive bra for sagging breasts as it has inner microfiber toweling and relief straps to give you comfort and support all day. It also provides you with a rounded shape, making it the perfect t-shirt bra.
Pros
Net panels regulate moisture
High support
Side support for shape
Chafe-free
Prevents back pain and related issues
Hook-and-eye closure
Cons
Material may be too thin for some
One way to deal with large, sagging breasts when going out is by wearing a push-up bra. Try on Smart & Sexy's perfect bra with a plunge feature, which lifts your breasts while it gives you plush padding at the same time. The bra has front adjustable and convertible straps for a secure hold. Underwire in the bra helps support and firm your chest, while the plunging neckline allows you to wear it with deep-necked tops and dresses for a night out.
Pros
Plunge neckline
Plush padding
Underwire for support
Push-up
Front adjustable and convertible straps
Cons
A delicate soft lace balconette bra without padding but still giving you a push-up effect is just what you need to treat yourself. A hidden sling gives the effect of a push-up without any lining or padding, while elastic underwire provides support to your breasts. The bra comes with adjustable straps and mesh wings for breathability so you can stay comfortable the entire day. The bra also has translucent double mesh layered cups with an eyelash lace trim which is extremely flattering.
Pros
Soft lace
No padding
No lining
Push-up effect
Mesh wings
Adjustable and convertible straps
Translucent double mesh layer
Balconette fit
Cons
Lace may show through thin clothes
For a bra that helps you shape and lift your breast, Curve Muse has one of the best bras for plus size saggy breasts. This bra has soft straps that don't pinch our skin and has an underwire to help support and give shape to your chest. The bra is unlined yet still lifts and supports your breasts naturally. The bra is semi-sheer and has scalloped hems, while shaping your breasts to give you a flattering look.
Pros
Underwire for support
Semi-sheer and has scalloped hems
Comes in a 3 pack
Soft straps
Unlined
Shapes breasts
Hook-and-eye closure
Lifts large sagging breasts
Cons
Wire may be uncomfortable after time
A minimizer bra is one that helps large-breasted women contain their chest if they want to. This minimizer bra is one of the best support bras for large sagging breasts and comes without a wire. This bra also has no padding which keeps you feeling light while causing no itching or scratches. The bra has full figure cups which hold your breasts in place and also has wide and adjustable shoulder straps for comfort.
Pros
Minimizing effect
No underwire
Non-padded
Full figure cups
Jacquard pattern
No itching
Wide and adjustable shoulder straps
Cons
Fit may not be comfortable for some
For a casual and comfortable bra that is unlined and wire-free, Curvy Couture has the best support bras for large sagging breasts. The bra is made up of breathable fabrics that help keep you cool and dry as they are moisture-wicking. The cups of the bra are double lined to lift your breasts and give you a flattering shape. The bra, which fits snug at first but will stretch a little through wear, has wide smoothing back wings to get rid of any back bulge.
Pros
Breathable fabric
Unlined
No wire
Keeps you cool and dry
Wide, smoothing back wings
Shapes breasts
Hook-and-eye closure
Lifts large sagging breasts
Double lined cups to lift
Cons
The lace may feel uncomfortable and itchy for some
If you're someone who prefers an underwire bra to lift and support your chest, the Wacoal Women's plus size bra is one of the best support bras for large sagging breasts. The full figure bra lifts the bust up to 1 inch and is lightweight with an elastic band between layers of material, keeping you comfortable. The bonded neckline will lie flat giving you a sleek look, while adjustable straps are available to give you the best and most comfortable fit.
Pros
Underwire for support
Lifts large sagging breasts
Lightweight
Lifts bust up to one inch
Adjustable straps
Bonded neckline will lie flat
Hook-and-eye closure
Cons
The band size may feel uncomfortable for some
Don't worry about your breasts holding you back from wearing deep or backless dresses, Titu brings you a sticky push-up plunge bra which is perfect for a cocktail night out. The bra stays in place using a self-adhesive gel and is invisible when you wear it, allowing you to pull off backless dresses or tops seamlessly. The plunge and push-up design allows you to wear deep clothing, while lifting saggy breasts. The silicone that the bra is made from is sticky and skin-friendly biological silicone, and the bra can be reused a number of times.
Pros
Sticky self-adhesive
Plunge bra
Push-up
Reusable
Lifts large sagging breasts
Invisible straps allow you to wear backless dresses
Cons
So, there you have the 11 best bras for plus size saggy breasts that you can find in 2021. If you're still finding it hard to pick the one most suited for you, here are some things that you can keep in mind while making your decision.
How To Choose The Best Bras For Plus Size Women
Underwire in bras are a way to provide extra support to your breasts as well as help lift them. If you're keen on extra support, go for an underwire bra. However, some find the underwire a little uncomfortable, so in that case you can opt for a wire-free bra that will still give you support while you stay comfortable.
Some bra styles are push-ups which lifts your breasts to a large extent when compared to most regular bras. If you have saggy breasts and not only want to support them, but give them an extra lift as well, you can go for a push-up bra, especially for dressy nights out.
Your straps hold the entire weight of your breasts, so if you want to distribute the weight for maximum comfort then make sure you get wider straps for ease of wear. Crisscross straps can also provide additional support and prevent back aches
With this collection of the 11 best bras for plus size saggy breasts, you don't have to worry about your breasts sagging when you go out or even stay at home. There are many different types of bras that you can opt for that provide you with comfort and support for your chest. They will help lift your breasts and prevent them from sagging. There are wire-free and wired options depending on your preference, and you can also pick different bras for different occasions be it staying at home, a casual lunch out, or a fancy cocktail dinner! Take your pick from these 11 bras that have been specially curated for plus sized people with saggy breasts.
Expert's Answers For Readers' Questions
Do push up bras help saggy breasts?
Yes, push-up bras provide an extra lift and support to your breasts making them not sag any more.
Can these bras change the shape of my breast?
Some bras help prevent breasts from sagging even further naturally. While wearing the bra, it will shape and lift your chest, giving you a more flattering look.
Is it dangerous to wear shapewear for too long?
Yes, if you wear shapewear that is very tight, it may constrict your body and you will feel uncomfortable. It may also cause some pain to your organs if it is extremely tight. It is advisable to not wear it for too long.
Can these bras affect the shape of my breasts indefinitely?
Bras generally can prevent your breasts from sagging further, but the shape of your breasts will largely stay the same.