5 Best Benzoyl Peroxide Bar Soaps To Prevent Breakouts Effectively
Deal with your acne in a smart way by applying this unique skincare formula.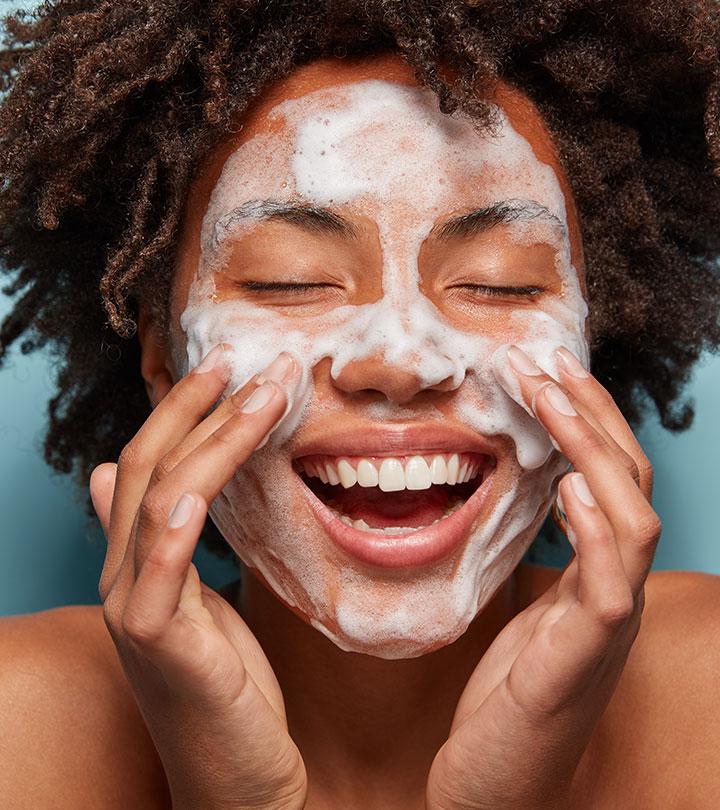 Whether it is hormones or just environmental stress, it takes a massive hit on our confidence whenever our skin breaks out. To give your ego a boost and rebuild broken confidence, you need the best benzoyl peroxide bar soap by your side. Benzoyl peroxide is a chemical compound used in skin care products to treat mild to moderate acne. When used on the skin, it dries and peels the surface layer, effectively reducing acne-causing bacteria. Not only can this miracle bar be used on the face, but you can also use it to treat acne that appears o your arms, legs, thighs, neck, or back. By ridding excessive oil and keeping the pores cleansed, you can be sure to bid goodbye to blemishes, dark spots, marks, or any other issues coming in the way of smooth skin with these bars.
If you can't wait to add this bar of soap to your skincare routine, keep reading. We've searched the far end of the Internet and combined a list of the best benzoyl peroxide bar soap available today. Just scroll through, and we're sure you'll find one that works well with your skin type.
Top Picks
5 Best Benzoyl Peroxide Bar Soaps For Beautiful Acne-free Skin
 Acne prone skin is very difficult to handle during summers. The heat and humidity makes acne all the more uncontrollable and tends to show up every now and then. Thankfully, this soap from 111MedCo exists, which helps treat acne effectively with the power of benzoyl peroxide. Just like acne medications, it smells medicinal and works on acne prone skin . This acne bar soap with benzoyl peroxide has amazing deep cleansing power which helps eliminate dirt and excess sebum secreted, usually responsible for acne. Not only this benzoyl peroxide formula helps clean the skin but clears dead skin and reduces skin irritation. Dr. Patricia Gaile Espinosa, MD, Philippine Dermatological Society, says, "Benzoyl peroxide reduces the Propionibacterium acnes on the skin, thereby lessening the inflammation in acne as well."



Pros
No dyes
No parabens
Triclocarban-free
Biodegradable formula
Cons
Might be slightly drying for the skin

Pro Tip
Before applying this soap, wash the area with a non-medicated soap or a gentle cleanser. Pat dry the area with a towel. Lather the benzoyl peroxide soap and gently massage it into the skin for 10 to 20 seconds before rinsing it off.

Price at the time of publication: $7.95
Neutrogena is a reliable brand from Johnson & Johnson Consumer Inc. that has been trusted for years. This brand offers a variety of amazing skincare products for your needs and this soap with benzoyl peroxide is one of them. With the presence of glycerine, this cleansing formula works effectively at not just reducing zits, but is also super gentle on the skin. Dr. Patricia Gaile Espinosa, MD, Philippine Dermatological Society, says, "Glycerin is classified as a humectant which allows the skin to retain moisture. It also improves skin texture."
This facial bar works effectively at keeping the skin hydrated and reducing excess oil from the skin without leaving any pore-clogged residue behind. It lathers up pretty well, cleanses oily skin and gives you a squeaky clean feel. When looking for a benzoyl peroxide soap to make your skin clear and healthy, this one is sure to work like a charm.
Pros
Hypoallergenic
No hardeners
Suitable for daily use
No harsh detergents
Cons
Price at the time of publication: $13.56
The perfect acne bar soap is one that cleanses skin, prevents clogging of pores, exfoliates and moisturizes at the same time. One such formula is from Asepxia. Enriched with the advanced hydro force formula, baking soda and salicylic acid, this soap bar helps in the treatment of acne and leaves your skin clear. The product is gentle enough to remove blemishes, pimples, whiteheads and blackheads without irritating your skin. For people who don't like to dry out their skin completely after washing, this is the appropriate product.
Pros
Mild for skin
Multipurpose
Travel-friendly
Has a clean smell
Cons
Might take some time in clearing skin

Caution
If you have sensitive skin, make sure to use the product only once a day or once every two days. Avoid using the soap completely if it causes stinging, burning, or itching.

Price at the time of publication: $22.49
The Natrulo 10% Sulfur Cleansing Soap Bar prevents, treats, and heals acne and other skin conditions like rosacea, eczema, and psoriasis. The formula of this soap bar is packed with ingredients like vitamin E which is non-comedogenic and offers hydration, tea tree oil which has anti-inflammatory and antimicrobial properties, lemongrass which acts as an astringent and shrinks pore size, coconut milk which is rich in vitamins, fades acne scars, and repairs damage, and sulfur which acts as a detox for clogged pores and draws out all impurities. Dr. Patricia Gaile Espinosa, MD, Philippine Dermatological Society, says, "Sulfur is known for its drying property. It can also serve as an antibacterial agent in acne. It can also be used for other diseases like seborrheic dermatitis and fungal disease." It reduces oiliness, keeps your skin blemish-free, shine-free, and slick-free.
Pros
Suitable for all skin types
No additives
No synthetic preservatives
100% natural
Cons
None
Price at the time of publication: $6.99
When looking for a teen-safe acne cleanser this one from Walgreens tops the chart. This is a great anti-acne soap with 10% strength of benzoyl peroxide. It helps reduce and prevent acne by cleaning the skin's pores deeply. From countering the acne forming bacteria to tackling the after acne blemishes, this benzoyl peroxide soap is good for all. The product can be trusted for its great action and does not cause any redness from benzoyl peroxide. It is recommended to be used carefully on sensitive skin. At an amazing affordable price, this soap helps you clear cystic acne, inflamed acne and soothes allergic reactions, irritated skin and redness of skin.
Pros
No gluten
Lasts long
Hypoallergenic
Free of parabens
Cons
Some may not like its fragrance
Price at the time of publication: $14.0
It surely is difficult to find out the best benzoyl peroxide bar soaps. But if this ingredient suits you, you must consider the following points before getting your hands on a great facial cleanser.
How To Choose Benzoyl Peroxide Bar Soap?
Consider the following points before buying a benzoyl peroxide bar soap-
Allergies or sensitive skin
First, check if you are allergic to benzoyl peroxide. In case you have sensitive skin that might react to benzoyl peroxide, do a patch test and only then move ahead with the regular use of a benzoyl peroxide soap.
Find soaps that contain at least 10% benzoyl peroxide, which is powerful enough to treat acne. Read the composition or key ingredients mentioned on the label of the soap.
For people who have dry skin type and wish to keep their skin soft, clear, and acne-free, using a soap with the combination of benzoyl peroxide and glycerine or other acne-fighting ingredients works well.
How Do You Use Benzoyl Peroxide Bars?
Wash your skin with water. Water makes the skin surface wet which helps in the building soap lather easily.
Apply the soap on the affected areas. Acne is more likely to occur in the t-zone if you have oily skin. Hormonal acne tends to appear on the back, chest and chin areas.
Rub the soap gently in circular motions.
Clean your face with water and pat dry.
You can even apply a toner after patting your skin dry.
Wait for a few seconds and moisturize your skin. This prevents any dryness caused by the benzoyl peroxide bar.
Uses Of Benzoyl Peroxide Bars
Treatment of mild to moderate acne
Dries out oily skin
Helps in skin peeling
Reduces acne causing bacteria on skin
Side Effects Of Benzoyl Peroxide Bars
People with sensitive skin might suffer from the side effects of benzoyl peroxide. That is why it is suggested to perform a patch test before using these bars on the face. Some of the common side effects of benzoyl peroxide bars are-
Skin rash
Swelling of face
Itching
Severe burning
Crusting
Reddening of skin
Increased sun sensitivity
Mild burning
Stinging sensation
Inflamed skin
Excessive oil can clog pores and cause acne on any body part. Benzoyl peroxide is used in skin care products to treat mild to moderate acne. These soaps effectively reduce acne-causing bacteria and also the appearance of blemishes and dark spots. They are paraben-free, hypoallergenic, and may take some time to clear the skin. Avoid soaps that dry out your skin. Do a patch test in case you have sensitive skin.
Why Trust Stylecraze
The author, Kirtana Divakar, is a skin care enthusiast and enjoys reviewing and recommending products to people. For this article, she has deeply studied benzoyl peroxide bar soaps that promise to reduce skin breakouts. These products have excellent user reviews and the author also checked the brand website to evaluate other specifications.
Frequently Asked Questions
Does Benzoyl Peroxide Soap Work?
Yes, benzoyl peroxide soap works.
Is Benzoyl Peroxide Soap Safe?
Yes, benzoyl peroxide soap is safe. However, if you have sensitive skin, try a patch test first.
How Often Should I Use Benzoyl Peroxide Wash?
You should use benzoyl peroxide wash once every day, until your skin gets used to the product. Once your skin is comfortable with the benzoyl peroxide formula, you can wash your face twice every day.
Does benzoyl peroxide soap help fungal acne?
No, benzoyl peroxide soap cannot treat fungal acne. On the contrary, benzoyl peroxide catalyzes the development of fungal acne.
How long does benzoyl peroxide soap take to work?
A benzoyl peroxide soap shows effective results after four weeks of use. However, it takes a few months to show its complete results.
Which is better, salicylic acid or benzoyl peroxide?
Salicylic acid works effectively against blackheads and whiteheads. On the other hand, benzoyl peroxide prevents papules or pustules from breaking out at the source. But, salicylic acid is better if you have sensitive skin with hormonal acne.
Recommended Articles