15 Best Waterproof Eyebrow Products In 2023
Achieve and protect perfectly sculpted eyebrows with these waterproof eyebrow products!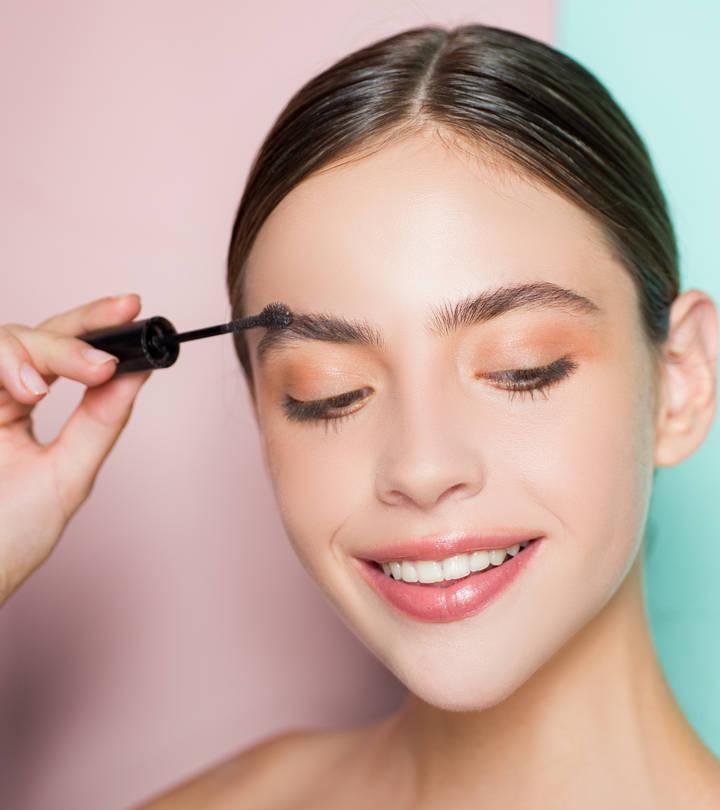 It's a shame to see all the effort you put into making your eyebrows perfect being washed away with just a splash of water. What you need are the best waterproof eyebrow products to ensure that this never happens again! Eyebrow products come in the form of pencils, gels, pomades, and powders that give you fuller, more defined brows and are stacked on beauty shelves. They are here to ensure symmetry and bring your makeup look together. If this was not all, these products are completely waterproof, so no ounce of water can quickly wear them off.
If you're unsure where to begin in your search for the best waterproof eyebrow products, might we suggest right here? We've looked for the top ones around the globe today and compiled a list to make it easy for you. Just browse through our top 15 favorites, and we're sure you'll find your brow match! What's more? You can jump into the waters at any time without a worry about your eyebrows being washed away!
Achieve Brow Symmetry With The 15 Best Waterproof Eyebrow Products
Pros
 Ultra-fine tip
 Suitable for sensitive eyes and contact lens wearers
 Comes with a spoolie brush
 Easy to comb brow hair
 Can be used for blending
 Ophthalmologist-tested
Cons
 Some might find the pencil to be dry
Price at the time of publication: $8.49
When you want to sport the best brows but also want to save time, try the waterproof eyebrow pen by iMethod! With an angled micro-fork tip applicator, this pen recreates the look of your brows for a natural look. As it is easy to draw hair-like strokes, you can effortlessly level up your brow shape for 24-hour smudge-proof wear. Filling in bald spots and darkening your brows can set you up for a killer brow. For a microblading effect without having to go to the salon, you can't go wrong with iMethod's Liquid Eyebrow Pen.
Pros
 Smudge-proof
 24-hour wear
 Angled micro-fork brush
 Offers a natural and microbladed look
 Saves time
 Cruelty-free
Cons
 Some may find the tip to be flimsy
Price at the time of publication: $11.87
Pros
Natural-looking finish
Long-lasting
Smudge-proof
Sweat-resistant
Spiral-tech tapered triangle brush
Lightweight
Fast drying
Available in 5 shades
Cruelty-free
Cons
None

Price at the time of publication: $15.99
Anastasia Beverly Hills offers a waterproof eyebrow pomade that helps with detailing for a bold look. Richly pigmented, the formula is buildable and allows you to customize definition for attention-worthy brows. DIPBROW Pomade glides on easily and can be blended before achieving a soft matte finish. As the creamy eyebrow pomade is highly versatile, you can mimic a natural hair-like texture or go dramatic on the filling. The Anastasia Beverly Hills brow pomade is a must-have when you want to level up your brows before grabbing some brunch with the girls. Here is an informative video that tells you more about the product.
Pros
 Creamy formula
 Buildable
 Easy to blend
 Budge-proof
 Offers a soft matte finish
 Cruelty-free and vegan
Cons
 Might not offer long-lasting wear
Price at the time of publication: $21.0
COVERGIRL's tinted volumizing eyebrow gel takes care of all your stray hairs and locks them in place. This waterproof brow makeup contains tiny fibers that adhere to your eyebrows and add a boost of volume. As the small applicator helps with precise application for a smooth arch, the formula stays put without fading or transferring. The COVERGIRL eyebrow gel is infused with argan oil that moisturizes and conditions along with biotin that helps strengthen brow hair. Healthy brows from the inside-out, here we come!
Pros
 24-hour wear
 Conditions and strengthens brows
 Helps with precise application
 Adds volume
 Richly tinted formula
 Cruelty-free
Cons
 Might have a sticky consistency
Price at the time of publication: $4.79
Lift your brows with this flexible micro-brush tip pen that can help you draw thin or thick lines! Allowing up to 16 hours of wear, the NYX Lift & Snatch! Brow Pen is all you need to fill in sparse areas, midday brow touch-ups, or create an eyebrow from scratch. Don't worry about smudging or transferring as the tinted and buildable, long-lasting eyebrow formula stays put and allows you to put your best brows forward.
Pros
 Smudge-proof
 Transfer-proof
 16-hour wear
 Micro-brush tip pen
 Buildable and tinted formula
 Cruelty-free and vegan
Cons
 Some may find it to be too pigmented
Price at the time of publication: $9.32
Stila's unique marker-inspired brush tip pen makes defining your brows a breeze. One of the best waterproof brow products to own, you can effortlessly create hair-like strokes for a fuller and natural look. The long-wearing formula glides on uber-smoothly and doesn't smudge or run. Infused with honey, aloe leaf, and chamomile leaf extracts, the Stay All Day Waterproof Brow Color also deeply conditions your brow hair and restores strength.Even oily skin types can avail the benefits of this handy eyebrow pen with no worries!
Pros
 Precise application
 Suited for long-wear
 Smudge-proof
 Deeply conditions brow hair
 Offers a matte finish
Cons
 Might be lightly pigmented
Price at the time of publication: $22
To sculpt the ultimate brow look, L.A Girl Cosmetics offers a Brow Pomade with a creamy consistency that glides on smoothly. With this eyebrow makeup that stays on an entire day, you needn't fret about smudging or fading. Fill in your brows or fix them in some places — this richly pigmented formula locks in your brows and helps keep them in tip-top shape. The natural finish looks flattering on its own, but you can also build on it if you want to make a stronger impact. Available in 5 tinted shades, you can easily find your one true hue!
Pros
 Creamy consistency
 Smudge-proof
 Fade-resistant
 Rich pigmented
 Buildable formula
 Glides on smoothly
Cons
 Some may find the pomade to be slightly oily
Price at the time of publication: $5.99
Pros
Ergonomic design
Lightweight
Travel-friendly
Disposable blades
Toxic-free materials
Offers extra precision
Multipurpose
Cons
None
Price at the time of publication: $9.96
Filling in your brows has never been easier with Skone Cosmetics' Brow Wand, as it is dual-ended for a naturally groomed look. The sharp triangle tip of the retractable pencil helps create hair-like strokes, and the creamy pigment is easy to blend in. With the spoolie brush, you can keep stray hairs in check as it is super convenient to use to give you proper symmetry. Just keep it stashed in your gym bag and use it for a quick touch-up before heading out to work.
Pros
 Creamy pigment
 Spoolie brush keeps stray hairs in place
 Smudge-proof
 Glides on easily
 Cruelty-free
Cons
 Might not offer long-lasting wear
Price at the time of publication: $20
Revlon's fiber-infused waterproof eyebrow filler gel offers up to 2 days of wear and gives an instantly fuller-looking brow. The tinted gel is full of brow-building fibers that adhere to the hairs and add definition. And to condition your eyebrows, the formula is enriched with avocado oil. A smudge-proof formula and buildable volume? We'll gladly take it, thank you! A few swipes are all you need to define, fill, or thicken your eyebrows as the 2-in-1 brush and comb applicator evenly distributes pigment.
Pros
 Lasts up to 2 days
 Evenly distributes pigment
 Buildable volume
 Smudge-proof
 Enriched with avocado oil
 2-in-1 brush and comb applicator
Cons
 Might not be resistant to clumping
Price at the time of publication: $1.99
NYX's waterproof eyebrow mascara is all you need to set, tame, and color your brows for a long-lasting look. You can easily achieve brow symmetry but still keep them soft, thanks to the dependable formula. It is possible to get rid of all your eyebrow concerns with a single product! The Tinted Brow Mascara keeps arches smooth while adding a terrific definition for a look filled with confidence. Keep your brows in place with no hardening or residue while sculpting them to make heads turn!
Pros
 Helps tame and set brows
 Keeps brow hairs soft
 Adds definition
 Doesn't harden
 Doesn't leave residue
 Cruelty-free and vegan
Cons
● Might not have a long staying power
Price at the time of publication: $8.5
You may want to cancel your next brow appointment as Urban Decay's got for you the best waterproof eyebrow product! The creamy, waterproof pencil on one side can be used to shade, fill, and shape an outline, while the ink stain brush is your best buddy for hair-like strokes that add more depth and definition. With this single dual-ended product, you can easily build your brows at home without resorting to permanent treatments like microblading. A stroke here and a swipe there, and your brows are ready to take on the world!
Pros
 Creamy pencil
 Brush helps add definition
 Can be used to shade, fill, and shape
 Cruelty-free and vegan
 Free of parabens, sulfates, and phthalates
 Ideal for on-the-go
Cons
 Might need frequent touch-ups
Price at the time of publication: $23.7
The ultimate arched brow look is now accessible to you with Ardell's Brow Defining Powder. With a concentrated pigment, the brush-on formula goes on easily with a slanted brush and adds dimension to your eyebrows. As the powder gives off a natural finish, no one's going to know you even have any product on! With long-staying power and ease of use, this waterproof brow powder deserves a permanent place in your makeup pouch.
Pros
 Adds dimension to brows
 Gives a natural look
 Easy to use
 Long staying power
 Made with concentrated pigments
Cons
 Some might find it to be too dark
Price at the time of publication: $7.82
Best Pigmented: Eyebrow Powder
BaeBlu
Pros
Long-lasting
Smudge-proof
Vegan
All-natural ingredients
Gluten-free
Paraben-free
Cruelty-free
No artificial colors
Fragrance-free
Preservative-free
Cons
Price at the time of publication: $19.19
An eyebrow product can totally change our look – it is a blessing for those of us who are born with sparse eyebrow hair. However, although picking out an eyebrow product can seem like a simple task, there are a number of criteria that must be met in order to find the "ideal" one for you. Everything depends on your eyebrow needs. Some points to bear in mind before purchasing an eyebrow product are listed below.
What To Look For When Buying A Waterproof Eyebrow Product
In order to avoid irritation in the sensitive skin around your eyes, look for products that are free of parabens, sulfates, phthalates, and sulfites. Go as natural as possible. If the product contains nourishing oils like avocado or coconut – even better! Bonus points if the product is ophthalmologist-tested.
There are too many eyebrow products available in the form of pencils, creams, and powders, so choose one that you are comfortable using. If you travel a lot, a pencil would be a better choice as there are less chances of spilling and damage. Also, it will take up barely any space. If you wear contacts or have sensitive eyes, choose a product that is formulated especially for you. Regular ones can cause redness in the eyes and itching. Newbies should go for either a pencil or those that come with a spoolie brush. They are easier to maneuver and apply. Those who have perfectly fine eyebrows but need just a quick 'fix-me-up', go for products that moisturize or nourish your brows.
Those with oily skin should stick to smudge-proof, transfer-resistant formulas. Avoid creamy products as they may run a lot. If you are planning to wear it through the day, choose a product that promises long-lasting results. People with extremely sparse eyebrows should choose an eyebrow product that is heavily pigmented and super buildable. One that adds volume is also a great option.
Why Trust Stylecraze?
The author, Chaitra Krishnan, is a makeup aficionado and takes pleasure in helping people pick the right beauty products through her well-researched reviews. For this article, she has screened many products and a large number of reviews posted by users to compile the list of best waterproof eyebrow products. These products do not wear away even when splashed with water and are ideal for getting well-defined eyebrows.
Frequently Asked Questions
What can I use to make my eyebrows waterproof?
• Use waterproof brow products to fill your brows.
• Set your brows with waterproof mascara for a sleek brow look.
• Add a few spritzes of finishing spray to your brows.
Is the Anastasia eyebrow pencil waterproof?
Yes. Anastasia eyebrow pencil is a water-resistant formula. It does not smudge away easily and stays in place for many hours.
Is an eyebrow tint waterproof?
No, an eyebrow tint smudges away easily when it comes in contact with water or sweat. It also might stain the skin around your brows as well.
How do you get an eyebrow pencil color to stay on?
• Dab some oil-absorbent-setting powder on your brows to absorb the excess oil.
• Fill the brow gaps with a waterproof eyebrow pencil.
• Add a few spritzes of the setting spray on your brows. You may also apply a tiny bit of hairspray.
How do you keep your eyebrows in place while swimming?
Use waterproof brow products to fill the brows or apply a layer of vaseline over the brows to create a layer between them and the chlorine water. This way you can keep your brows in shape.