10 Best Shoes For Walking On Ice And Snow (2023 Update)
Lightweight, waterproof, and anti-skid shoes that help you walk without the fear of slipping.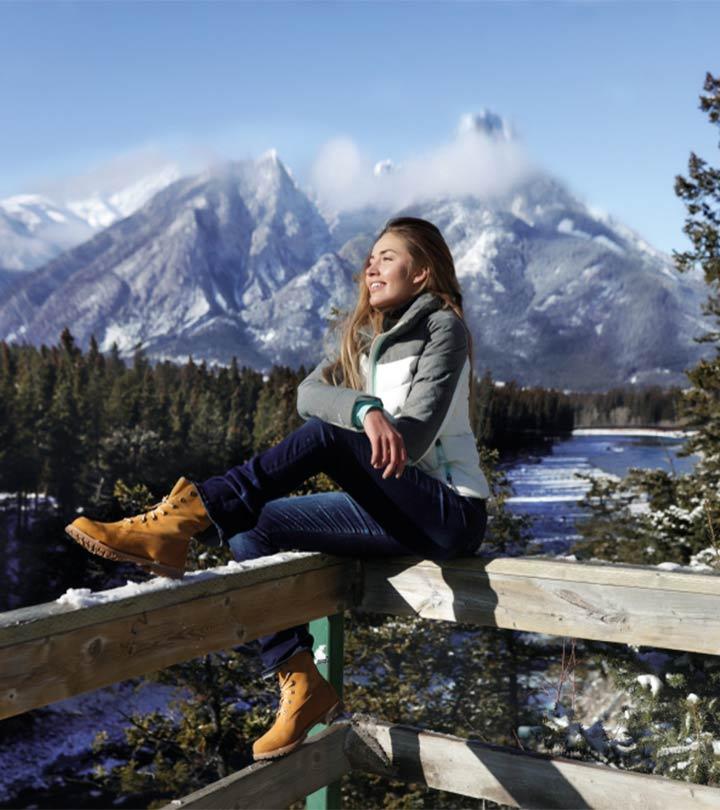 There is always a classy feel to a winter wardrobe like warm woolen overcoats, sweater coords, fashionable beanies, and other accessories. To top it all off, a pair of good boots or shoes will work as icing on the cake in the true sense of the word. But while you keep the fashion quotient in mind, don't forget about practicality and invest in anything but the best shoes for walking on ice. These will ensure you can walk on ice with ease and without having to fear you may slip or fall. They are made from good-quality, sturdy materials to ensure grip and are lightweight to ensure they do not leave you feeling weighed down. While you may think your regular leather boots or chunky sneakers may serve the purpose, you are wrong! These standard options are not capable of handling the problems that come with ice and may not give you the required comfort and support. To help you pick out the perfect pair, we've listed the best shoes for ice below. Our options check all boxes, including budget, fashion, and quality.
10 Best Shoes For Walking On Ice To Prevent Falls For 2023
These waterproof Ice Maiden winter boots by Columbia are crafted with water-resistant leather and textile. If you're someone who gets cold easily, fret not! This hiking boot is adequately insulated to keep you warm and dry to combat the cold weather. What makes this pick stand out? The ice slip resistant shoes feature Techlite, which is a lightweight midsole for long-lasting comfort, superior cushioning, and high-energy return. The cold weather footwear also has an Omni-Grip advanced traction rubber sole for slip-free movement. Blending in high performance with luxe, feminine aesthetic — these ice gripping shoes are bound to be a fail-proof and worthy investment!
Pros
Waterproof
Non-marking traction rubber
Lightweight
Insulated construction
Stylish
Variety of colors
Cons
Price at the time of publication: $59.99
If you're looking for snow shoes with an exceptional arch support sole, look no further than this one. These winter walking shoes for women are perfect for a myriad of activities like skiing, walking, fishing, or perhaps walking your dogs in the deep snow. Made with ultra-wear resistant polyurethane and waterproof oxford cloth, these shoes for walking safely on ice are non-slip and also comfortable enough for all-day wear. Available in 6 solid colors, trust this high-quality pair to seamlessly blend in with your bottoms — whether you're donning jeans or leggings! The best part about these boots for walking on ice? They have a high-quality elastic band, which makes it easier to wear and remove the snow boots without any deformation.
Pros
Available in multiple colors
Waterproof and shock-proof
Anti-skid
Comfy fur lining
Flexible
Ideal for all-day wear
Cons
May not be super waterproof
Price at the time of publication: $29.77
With a priority to provide you with comfort, unparalleled sartorial aesthetic and warmth — these shoes for walking in snow and ice by Mishansha are gender neutral and multifunctional snowshoes. One of the key features that contribute to the winter shoe's durability is the enhanced TPR toe cap. This addition adds an extra layer of protection and sturdiness to the front of the shoe, safeguarding your toes from collisions with various obstacles in snowy and icy environments. Also, other features like flexible EVA midsole and a non-skid rubber outsole protect your toes from collision, provide wear resistance and cushioned support. One of the best shoes for walking on ice, the boots feature high-quality materials for longevity and durability like a fleece-like inner lining to keep you warm and comfy. The sporty and edgy kicks also have a TPR outsole that is non-slip, abrasion-proof, and has a flexible response to various outdoor terrains. So, if you have a strong inclination towards trekking on snow-covered mountains or other outdoor winter activities, these shoes will be your knight in shining armor!
Pros
Non-slip
Anti-collision
Fleece lining
Water-resistant
Available in various colors and textures
Cons
Some may find it slightly bulky
Price at the time of publication: $49.99
From beige, white, grey, black, brown to khaki — these shoes made for walking on ice harbor an outdoorsy look of its own. Featuring an ultra faux fur lining, advanced traction rubber sole and a comfy insole for the ultimate support, the snow boots seem straight out of a Hollywood movie! Equal parts sleek, fuzzy, and bulky, the design of these ice walking shoes is just perfect. These preppy shoes with a lace-up closure also have a durable EVA rubber outsole with tread design, which delivers good traction. With a heel height of 0.75 inch, woven back panel, and dual adjustable buckle straps — consider these to be the best shoes for walking on ice.
Pros
Different color options
True to size
EVA rubber outsole
Comfortable
Cons
Might smell off-putting initially
Price at the time of publication: $64.99
Ideal for both indoor and outdoor activities like walking, lounging, or for running errands — these boots provide the best of both worlds. With a waterproof upper, full fur lining and an anti-slip rubber sole — the design of these shoes is minimal and sleek. If you love toned down colors, this pick from gracosy will not disappoint you. These shoes for walking on ice also have an elastic band on the side, which makes wearing and removing super convenient. The non-slip shoes for walking on ice are ankle-length and lend your outfit an undeniable modish touch without making you fall victim to the cold conditions.
Pros
Waterproof
Anti-slip
Comfortable
Multiple colors
Warm
Cons
Might not be true to size
Price at the time of publication: $45.98
Winter can be unpredictable and so it is essential to wear high-performance ice-proof shoes. If you've been scouring the Internet for the best shoes for walking on ice, we've done the homework for you. Featuring a neoprene inner boot layering with cozy fleece lining, these snow boots by Muck Boot lend the ultimate warmth in extreme conditions. With these boots, it's time to bid adieu to ill-fitting silhouettes as the stretch-fit top-line binding offers a snug fit. The Vibram arctic grip on the outsole of these boots is a new ground-breaking sole technology, which is engineered specifically to perform on ice. So, get ready to take on the snowiest ways with confidence!
Pros
Waterproof
Contrasting color options
Rubber exterior for protection
Comfy insole
Vibram arctic grip
Cons
Price at the time of publication: $189.95
Amalgamating colors with quirky patterns like snowflakes and leopard prints, these ASHION Outdoor Boots will help you channel your inner fashionista. Super versatile and stylish, these winter shoes feature a sturdy non-slip outsole, a highly efficient temperate lock to keep you warm and also a waterproof windproof PU upper. The interior of these snow boots is covered with thick fur and cotton insoles, which are certain to keep you warm and cozy through the winter. If you're worried about the shoes falling off, fret not! The non-slip shoes for walking on ice feature shoelace and a side zipper for adjustable and comfy secure fit. From skiing, hiking, mountaineering to trekking, these footwear for slippery conditions will be your ultimate BFF.
Pros
Water-resistant
Various color options
Classy design
Wind-proof
Comfortable
Easy to wear and remove
Warm and cozy
Ideal for wet conditions
Cons
May be hard to maintain owing to the white color
Price at the time of publication: $42.99
Available in millennial-friendly colors like pink, light brown, and black — these shoes for walking on ice have a PU leather upper and an anti-slip rubber outsole and ice while you're enjoying the snow. If you're looking for snow shoes that are also comfy, the TSIODFO Women's Hiking Boots should be your pick. These ice hiking shoes feature a shock-absorbing midsole to protect your feet from sudden jerks while keeping you super comfortable. The snowy weather shoes also have a faux fur lining that keeps you warm and dry throughout the winter.
Pros
Waterproof
Non-slip rubber outsole
Faux fur lining
Warm and cozy
Comfortable
Cons
Some may find the shoes stiff
Price at the time of publication: $19.9
Made with suede leather uppers, Qiucdzi's Women's Winter Snow Boots are lightweight, soft, and keep you comfortable all day. Featuring fashionable Velcro straps along with hook and loop closures for easy wearing and removing — the ice gripping shoes combine high performance and utility with top-notch sartorial sensibilities. If you're worried about slipping on a plain icy surface/sidewalks, these slip-resistant shoes for walking in snow and ice have got you covered. The TPR rubber soles in these shoes for icy sidewalks provide exceptional abrasion resistance and also a firm grip, allowing you to walk on smooth, snowy surfaces without any worry of falling!
Pros
Variety of colors
Slip-resistant
Comfortable
Ideal for daily wear
Lightweight
Anti-collision
Cons
Might be narrow at the toes
Price at the time of publication: $38.99
Looking for the best winter protection in a compact, sporty pair of shoes? These boots for walking on ice are made for you! Featuring a waterproof nylon and a winter-ready construction that is built to fight the frost, these winter boots will prove to be the best purchase. Packed with warm insulation and also a comfortable EVA footbed, these ice traction shoes for walking in snow and ice will be your perfect companion to embrace the winters. SOREL Women's Winter Boots also have PU-coated synthetic overlays, faux-fur cuffs, and microfleece lining, which promise to keep you warm and protected from the harsh outdoor snow and low temperatures.
Pros
Removable EVA footbed
Waterproof
Extra-grip traction
Dense insulation
Microfleece lining
Cons
Some may not like the tall soles
Price at the time of publication: $119.64
Now that you have a roster of the best shoes for walking on icy surfaces, we are coming to your rescue with more. Ahead, find out what you should keep in mind while choosing the best shoes for walking in snow and also some helpful precautions to take when walking in ice.
How To Choose The Best Shoes For Walking On Ice
When purchasing snow walking boots, it is important to invest in a pair that is waterproof. Such snow boots ensure that the shoes repel snow, ice, and water. This water-resistant property helps to keep your feet dry and warm throughout the winter season.
Since temperatures drop low during the colder months, it is imperative to buy shoes which are densely insulated. The best shoes for walking on ice come with a microfleece lining or are covered with faux fur. This helps provide warmth and comfort to your feet.
During the winter season, it is very easy to slip and fall when walking on ice. Hence, while buying ice walking shoes, ensure that the boots are slip resistant, have the Arctic Grip Technology or simply provide protection against water. This will help prevent unanticipated falls and slipping on ice.
Very often, winter walking gear is bulky and difficult to wear. So, before buying the boots, judge the lightweight warmth of the pair and invest in shoes which are sleek and compact. Such a lightweight design will help you walk through the snow hassle-free without the shoes weighing you down literally!
Helpful Precautions To Take When Walking on Ice And Snow
Walk slowly and take very small steps to avoid slipping.
Keep your hands free in order to maintain your balance.
Wear proper anti-skid winter footwear (boots) to combat the slippery ice.
Concentrate on the path and walk ahead with full attention on the road.
If needed, bend slightly forward and walk in order to maintain your center of gravity.
Keep your hands out of your pockets.
Why Trust StyleCraze?
The author of this article, Priyam Gupta, is a fashion lover and tries to experiment with the latest trending styles. However, she relies on products only after good research. Thus, she went through different forums to check the user feedback and hundreds of reviews. The best shoes for walking on ice are water-resistant and keep you warm and dry. Apart from the lightweight design, the shoes come with the anti-skid property.
Frequently Asked Questions
What soles are best for walking on ice?
Shoe soles made out of rubber or neoprene are ideal for walking on ice and snow. These soles help form a firm grip and hence, prevent slipping and falling.
How tall should my shoes be for walking on ice?
When looking for the best shoes for walking on ice, buy a pair that goes above your ankles. This prevents the snow from entering the boots. Hence, the snow walking shoes should be somewhere between 6 inch to 7 inch in height.
What kind of insulation should I look for in my shoes for walking on ice?
Microfleece or faux fur linings are the kind of insulation that you should look for in winter boots. They help keep the feet warm, dry and cozy.
Can you walk on ice with sneakers?
No, you cannot walk on ice with sneakers since the soles of sneakers can make you slip easily. Also, sneakers are not waterproof and so they might get drenched.
Are golf shoes good for walking on ice?
Since golf shoes come with spikes underneath the sole, they can be worn to walk on ice. However, it is not recommended to wear these shoes in such terrains.
What type of shoes not to wear on ice?
Do not wear stilettos, rain boots, suede shoes, and white shoes on ice.
Do socks over shoes stop you slipping on ice?
Yes, wearing socks over shoes is an effective way to stop slipping on ice.
Does hairspray make your shoes less slippery?
Yes, hairspray makes shoes less slippery as hairspray becomes sticky, enabling slippery feet to stick to your boots and prevent slipping.
What can I put on the bottom of my shoes to keep from slipping on ice?
Adding a grainy texture like a mixture of salt and rubber to the bottom of your shoes will aid traction and grip, preventing slipping on the ice.
Recommended Articles