10 Best Waterproof Eyeshadows We All Should Have
Forget about smeared and smudged eye makeup with these waterproof eyeshadows.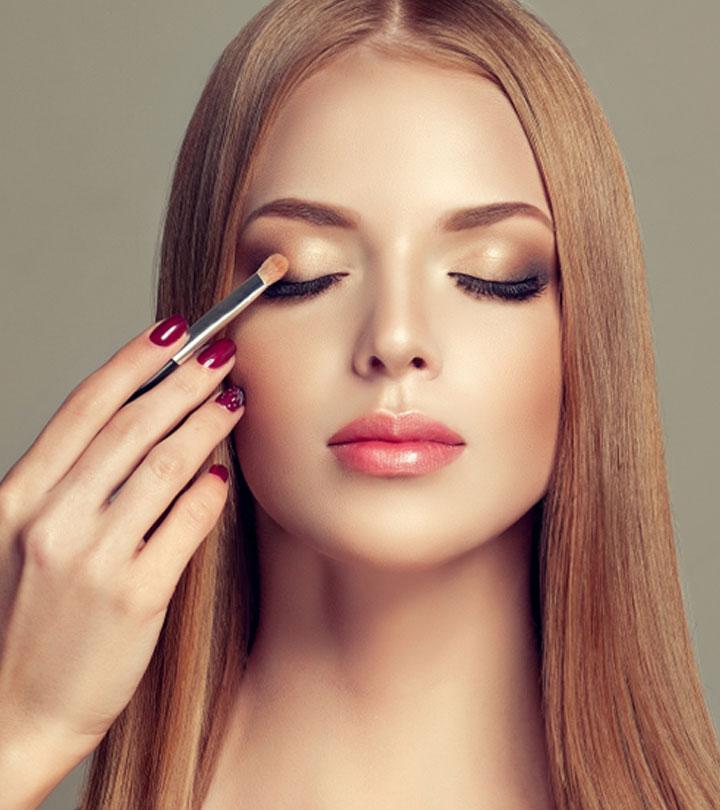 It's aptly said that eyes speak when your words don't suffice. That's why it's important to focus on your eye-makeup, to add charisma to your already beautiful personality. Using the best waterproof eyeshadow can enhance the look of your eyes to a great degree, and they make sure your eyes speak, come rain or shine. And who doesn't want to flaunt beautiful, appealing eyes that express? Eyeshadows give your eyes expression and beauty and make them absolutely charming.
So if you're looking for some of the best waterproof eyeshadows available in the market, and if you want to enhance the beauty of your eyes significantly, we have curated a list of a few such eyeshadows that you can check out. Scroll down to check out all options and then order the ones you love the most.
10 Best Waterproof Eyeshadows For Long wear
Long-lasting and intense is what L'Oreal Paris Infallible Eyeshadow is all about. L'Oreal Paris is famous in the beauty world for its great range of products. This amazing eyeshadow delivers on the brand name and does much more. The eyeshadow is ultra intense and fade proof which provides deep pigmentation to your eyes and stays there for a long time. It has a luxurious powder-cream formula which glides effortlessly and makes for a breeze to apply. The eyeshadow stays on well for more than 24 hours without creasing or fading so that you can enjoy the day without worrying about your makeup. For a more detailed review of this product, here's a video.
Pros
Fade proof
24 hr long-lasting stay
Luxurious powder-cream formula
Ultra intense color
Cons
Contains titanium dioxide
Price at the time of publication: $7.99
Nothing like a smoky look for all those clubbing days and to pull off a mean goth look. Embrace the look by turning your girls' night into a hot night with Julep Eyeshadow. Enriched with the benefits of vitamin C and vitamin E which boost the protection of skin against the sun, this popular eyeshadow is a great option for anyone. It has got an all-day-long protection against humidity and smudging with its creme-to-powder, crease-proof ability. The waterproof eyeshadow has rich and deep pigmentation and it comes with a spongy smudger to blend the colors easily. Get the nourishing waterproof eyeshadow for all your party days with Julep Eyeshadow. Know more about this product in this video.
Pros
Paraben-free
Crease-proof
Long-lasting
Vitamin C and vitamin E offer sun protection
Cons
Some may find its pigmentation too light
Price at the time of publication: $16
Need that great look for the upcoming wedding events? Nuonove Eyeshadow Stick Set of 10 colors is the right option for you. With its great color options, it allows you to experiment with different shades to find the perfect look for you. Its smooth texture makes for easy application and its long-lasting ability means that you don't have to worry about the makeup all through the day. The ingredients in the waterproof eyeshadow pallette set are safe and do not irritate the eyes. The waterproof makeup product with quick dry and smudge resistant properties is one of the best eyeshadows for you to get your hands on. Enhance your eyes and give them a creative, vibrant, and bright hue with this amazing set of quality eyeshadows.
Pros
Variety of shades
Safe
Quick dry
Waterproof
Cons
Some may find its texture a bit greasy
Price at the time of publication: $18.99
Need a long lasting eyeshadow which still makes your eyes sparkle? Maybelline's eyeshadow has got you covered. The eyeshadow is waterproof and sweat proof which keeps the eyeshadow in color during the humid days and your intense workout days. The eyeshadow is long lasting and comes with a creamy formula which gives your eyes that stunning look.  The eyeshadow has intense pigmentation and resists creasing or fading. Increase the appeal of your eyes for an all day beautiful look with this amazing eyeshadow. Learn more about this product in this video.
Pros
Crease resistant
Sweat proof
Does not fade
Deep pigmentation
Cons
Some may find its consistency to be a bit greasy
Price at the time of publication: $6.28
Eyeshadows are simple additions which make a world of difference. When done right, they make the eyes pop out and look glamorous. Golden Rose's Waterproof Eyeshadow Crayon in the shade 04 is just that simple and effective. Perfect for all your unplanned trips to the beach or pool, this crayon is simple-to-use and easy-to-apply. Don't let the simplicity of the packaging fool you though, this waterproof eyeshadow packs a punch with its luminous shade and creamy finish in addition to its waterproof abilities. The unique waterproof eyeshadow stick has got great deep pigmentation and easy blendability which makes it a useful waterproof eyeshadow stick in any makeup arsenal.
Pros
Dermatologically tested
Deep pigmentation
Paraben-free
Soft and creamy finish
Cons
The colors may not be attractive for everybody.
Price at the time of publication: $6.99
Easy to use and convenient to carry, this waterproof eyeshadow makes your life a little better. The unique hybrid formula makes this eyeshadow a breeze to apply as it glides over the skin. The powder-cream formula is crease resistant and waterproof which protects your makeup against unexpected splashes of water and the humidity. The eyeshadow comes with dual colors for instant gradient shading to give a natural, delicate look to your eyes. The nude shades are perfect for day time use and for that no-makeup effortless look. The highly-pigmented colors of the eyeshadow lasts up to 15 hours, which means no frequent trips to retouch your makeup. With its convenient packaging it makes for an ideal on-the-go makeup for casual use and for professional makeup.
Pros
Easy-to-apply
Exquisite pigmented colors
Convenient
Fade resistant
Cons
Some found the pigmentation a bit too light for their liking
Swim time and beach visits in your plans? A highly water resistant eyeshadow is the way to go. This lightweight eyeshadow by Cargo Cosmetics is ultra creamy with great coverage making it easy-to-apply and great to feel. The creamy formula is easy to blend with other colors and a great addition to your eye makeup routine along with mascara and eyeliner. The waterproof eyeshadow is strong and smudge proof and lasts through the toughest of swims, sweats, and tears. The rich colors brighten the eyes and can be used for beach parties or wedding events. This color wand is a great waterproof eyeshadow stick for any occasion.
Pros
Great coverage
Lightweight
Creamy texture
Long lasting colors
Cons
Some may find it a bit sticky
Contains titanium oxide
Price at the time of publication: $20
Beauty is omnipresent and so is the need to be beautiful. Few eyeshadows last through the workouts and swims, being just as beautiful at the end of the day as at the start. Beauty For Real Shadow STX 24-7 Waterproof Eyeshadow Stick is one such product which is long lasting beyond your expectations. Its creamy formula provides deep pigmentation and easy blendability which goes like a cream and sets like an immovable powder. The waterproof eyeshadow is infused with the goodness of meadowfoam seed oil which moisturizes the skin and reduces wrinkles and chamomile which rejuvenates skin, boosts its vitality, and gives you a youthful look. The Midnight Brown Marathon color makes light and dark colored eyes pop, giving you a unique and beautiful look. This Made-in-USA waterproof makeup product is cruelty-free and paraben-free. The waterproof eyeshadow stick looks great on all skin tones and it's the best waterproof shadow especially for its price and value proposition.
Pros
Paraben-free
Rejuvenates skin
Super long lasting
Chamomile and meadowfoam oil
Cruelty-free
Cons
Can get cakey and dry if the eyeshadow is not blended quickly
Limited choice of shades
Price at the time of publication: $19.0
The Waterproof Eyeshadow Palette Lipstick Set by GOGO TALES is the best waterproof eyeshadow with nine bright pigmented colors. They are perfect for everyday use and for special events like birthday parties or weddings. Available in a range of finishes from matte to satin, this eyeshadow set can be used for different looks like smokey eye, natural, nude, beige, etc., across different skin tones. It comes with an easy-to-use and portable, slim and lightweight design with a magnetic lid. The eyeshadow is made from high quality ingredients which are ultra micronized and with great staying power, blendability, and waterproof nature. These colors with great options and features makes for an amazing palette which will leave you wanting more.
Pros
Wide range of colors
Portable
Lightweight
Great blendability
Cons
Pigmentation of all colors aren't equally strong
Belle Beauty by Kim Gravel Shero Shadow Stick is one of the most stunning eyeshadow options you can get while shopping for eye makeup. Its rich colors are long lasting and highlights the eyes like no other. The formula is crease proof and provides easy blending without the need for an eyeshadow brush. The smudge-proof formula ensures all day beauty and that your eyes sparkle regardless of the humidity or water splashes. It is multi purpose and can be used as an eyeliner, highlighter, and eyeshadow. It is made from cruelty-free and paraben-free ingredients. It is THE waterproof eyeshadow stick to get if you need a high quality waterproof eyeshadow.
Pros
Cruelty-free
Long lasting
Deep pigmentation
Multi purpose
Cons
Contains titanium and iron oxides
Price at the time of publication: $23
Eyeshadows add depth and draw attention to our eyes. They are a must to enhance the eye makeup and make the eyes look fascinating. Here are a few things to consider before choosing the best waterproof eyeshadows to nail various eye makeup looks.
Things To Consider Before Choosing The Best Waterproof Eyeshadows
Color: with a wide variety of color options, it is difficult to choose the right color. But some tips might help. Neutral tones like coral, champagne, and gray-brown work best with blue eyes. Try smokey shades like misty grays or silvery blues that accentuate all eye colors. For green eyes, muted colors like dusty purple, plum, or brown work wonders.
Longevity: look for eyeshadows that do not fade easily and stay true to the color for a long time. Good quality eyeshadows hold for at least 24-hours. Choose products that are fade-proof, crease-proof, and sweat-proof.
Ingredients: the skin around the eyes is delicate and sensitive. Choose eyeshadows free from unwanted chemicals such as paraben, silicone, and propylparaben. These are harmful to the skin and also cause premature aging when used frequently. Instead, look for rich blends of natural ingredients such as castor oil, shea butter, and Vitamins C and E.
Pigmentation: look for colors with higher pigmentation since they will appear more vivid on the skin. Highly pigmented eyeshadow blends evenly while giving a bright and intense color pay-off. They can also be used as eyeliners and highlighters and stay for a long time.
Texture: choose soft and creamy formulations that blend perfectly with the skin without being dry or cakey. The creamy texture is lightweight, easy to apply, and blendable. It also gives efficient coverage and an effortless look with different makeup shades.
Why Trust StyleCraze?
Chaitra Krishnan, the author, has a deep interest in makeup and reviews different makeup products. After thorough research, she has provided a detailed list of the best waterproof eyeshadows for her readers. She went through numerous reviews and feedback on multiple online forums and brand websites to help you pick the best product that enhances the look of your eyes. The products in this post give your eyes expression and beauty and make them charming.
Frequently Asked Questions
Is there waterproof eyeshadow?
Yes. Waterproof eyeshadows help you avoid racoon eyes and protect your makeup from sweat. You can easily use one for your pool parties or wear it on rainy days. They work brilliantly when applied correctly.
Is waterproof makeup bad for you?
No. They are safe to use on skin and can be applied easily.
Does waterproof makeup really work?
Yes, they do. Using the makeup correctly as mentioned in its packaging will really prevent the damage caused by water to your makeup.
Can you wet eyeshadow and use it as eyeliner?
Yes, using wet eyeshadow as eyeliner is achievable and quite effective.
What is the difference between waterproof and water-resistant makeup?
Waterproof makeup will not get affected at any level, whereas water-resistant makeup products might fall prey to water penetration and breakdown.
What brands have waterproof eyeshadow?
L'Oreal, Maybelline, GOGO TALES, and Belle Beauty offer the most popular waterproof eyeshadows.
Does waterproof eyeshadow work?
Yes, waterproof eyeshadows work brilliantly and do not come off due to sweat.
Recommended Articles