8 Best Sage Green Nail Polish Colors For Older Hands – 2023 Reviews & Buying Guide
An evergreen color (quite literally, too) that will go well with most of your outfits.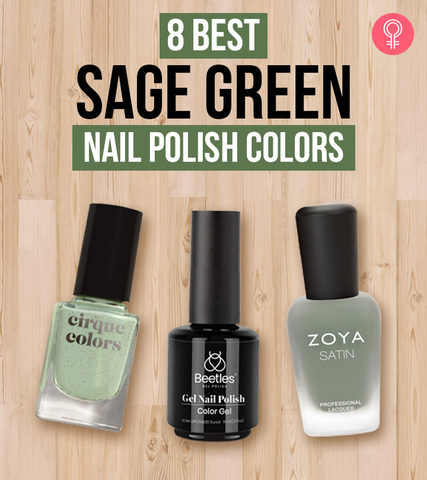 If you are looking for a classic manicure trend that will never go out of style, you should get your hands on the best sage green nail polish. This nail color is available in different shades and goes well with any outfit you might choose to wear. If you are in the mood to ditch usual nudes, reds, and glossy nail colors, then a sage green nail polish will be your right pick. You can play around with various color combinations and designs to enhance the look of your nails. In this article, we have curated a list of the best sage green nail colors out there. Keep scrolling!
8 Best Sage Green Nail Polish Colors
This gel-based, muted, forest-inspired nail polish from Beetles can last more than 21 days without losing its shine. The 9 toxin-free formula does not harm your nails. It has a low odor and promises good tenacity. Cecilia Sage is a warm khaki green shade that exudes earthy presence and makes your nails look gorgeous.

The product is GMP certified and has passed all tests related to toxic and heavy metals, which makes it safe for your nails. This delicate nature-inspired color requires both a top and base coat for long-lasting, perfect finish. The gel polish needs to be cured under a UV lamp for almost 2 minutes. It is easy to apply and gives a perfect glossy finish. If you want a matte finish, you can apply a matte top coat.
Finish Type: Glossy
Pros
9 toxin-free
Low odor
Safe for all skin types
Chip-resistant
Highly pigmented
Goes on smooth
Cons
None

Price at the time of publication: $6.99
Paloma is a dusty sage green shade with fine black specks that gives your nails a unique granite-textured look. This speckled nail polish is handmade in small batches with minty flake pigments to offer a unique opaque finish after two coats. The custom-made formula is intensely pigmented to pay off a serene color. The organic nail polish is created with a smudge-free formula that glides smoothly, dries quickly, and enhances the beauty of your hands. This video will provide you with added insights about the product.
Finish: Dusty gloss
Pros
10-free formula
Long-lasting
Pigmented
Vegan
Cruelty-free
Cons
Price at the time of publication: $14.5
This mossy sage shade from Zoya is a hybrid between matte and glossy that is to be worn without a top coat. The creamy texture of this nail polish makes it glide smoothly on your nails to deliver a satin finish. This is the best choice for women who are conscious about using non-toxic products, as it is free of a range of harmful ingredients. This sage green nail polish looks classy and suits any occasion. Take a look at this video to know more about the product.
Finish Type: Satin
Pros
10-free formula
Vegan
No streaking
Chip-resistant
Highly pigmented
Cons
Price at the time of publication: $10
Nail the perfect manicure every time by applying this pure sage shade from Rimmel London. It comes with an express brush that provides precise application in just one coat. The quick-dry nail polish gives high-impact color in just 60 seconds that can last up to 10 days. It helps in promoting healthy nails and it does not chip off easily.
Finish Type: Glossy
Pros
Long-lasting
Tranquil shade
Dries quickly
Good coverage
High precision brush
Chip-free
Easy to apply and remove
Cons
Price at the time of publication: $1.25
Add this soft and soothing shade to your summer look and flaunt your verdant nails like never before. It is a part of the Tropix collection from Maniology that is perfectly suited for stamping. The rich, creamy formula transfers beautifully on your nails and offers true color payoff. This elegant nail polish encourages you to be innovative with inspirational techniques. Use this light sage polish and start your creative journey by following the nail art guide. You may check more about this product in this video.
Finish Type: Creamy
Pros
5-free
Highly pigmented
Smudge-free
High-quality stamping
Cons
None
Price at the time of publication: $5.5
You can achieve professional salon-like results at home with the Sally Hansen Crackle Overcoat. This botanical green nail pain is designed with an innovative technology that creates a deconstructed crackle design over your favorite nail lacquer. It creates an edgy and bold statement to make your nails stand out in the crowd. The gel formula of the Sage Smash shade gives a glossy look to your nails.
Finish Type: Glittery
Pros
Fast-drying
Highly pigmented
3-free
No streaking
Cons
None
Price at the time of publication: $8.1
Step up your spring look with the ILNP Timeless Vow Sage Green Holographic Nail Polish that gives a royal finish to your nails. The gold flakes in the formula accentuate the look of your nails and deliver a high-quality shine when indoors. This sage-hued nail polish is created with a balanced formula of tiny holographic pigments that make the color shift in light and give your nails a rainbow effect. The cruelty-free formula is safe for people who believe in a sustainable world.
Finish Type: Holographic
Pros
Chip-free
Non-toxic
Fast-drying
Long-lasting
Cruelty-free
Vegan
Cons
None
Price at the time of publication: $10
This sage green nail polish from Color Club is one of the most sought-after this year and makes you stand out among a sea of pastels and nudes. This calming shade can be worn on other shades or alone.. The long-lasting nail polish goes super smooth on your nails and ends in a glossy finish.
Finish Type: Glossy
Pros
Long-lasting
High-impact gloss
Smooth application
FDA approved
Cons
Price at the time of publication: $9.18
Now that you know about the best sage green nail polish shades to try out this year, scroll down to know about the things to consider before buying one.
How To Choose The Best Sage Green Nail Polish Color
Skin Tone: Sage green color looks best on pale or light skin tones. Both matte and glossy finishes work for light skin tones. Choose matte finish for pale skin tones.
Pigment: Nail polishes that are rich in pigments deliver high color payoff and good coverage. Choose a nail polish that is highly pigmented, dries quickly, and does not streak or chip.
Review: Always go through the reviews of other buyers of the product. This will allow you to analyze its pros and cons and help you make an informed choice.
Ingredients: If you are an aware buyer and concerned about your health and that of the environment, always pick non-toxic nail polishes that are free of harmful chemicals, such as toluene, DBP, formaldehyde, parabens, etc.
Why Trust StyleCraze?
The author of this article, Baishali Bhattacharya, is certified in makeup artistry. She has curated this list of the best sage green nail polishes after carefully browsing through online reviews on several brand websites. Her list features long-lasting nail polishes that glide smoothly and are safe for every skin type. Not only are these polishes easy to apply, but they're also chemical-free and easy to remove.
Frequently Asked Questions
Does sage green nail polish make the hands look dark?
No, it does not make your hands look dark. In fact, it is a subtle shade that will enhance the beauty of your hands.
Is green nail polish trending?
Yes. Green has a variety of shades that trend all year round and are versatile enough for various occasions.
What nail color makes your hands look younger?
Shades of red, peach, and orange-beaded reds make the hands look younger.
What color nail polish goes with everything?
White and neutral colors are extremely versatile and go with everything.
How can I make my nail polish green without yellow?
Mix orange nail polish with a cool shade of blue to get green nail polish.
Recommended Articles