11 Best Green Color Correctors – 2023 Update
Cover spots, redness, and neutralize your skin tone to achieve an even-toned look.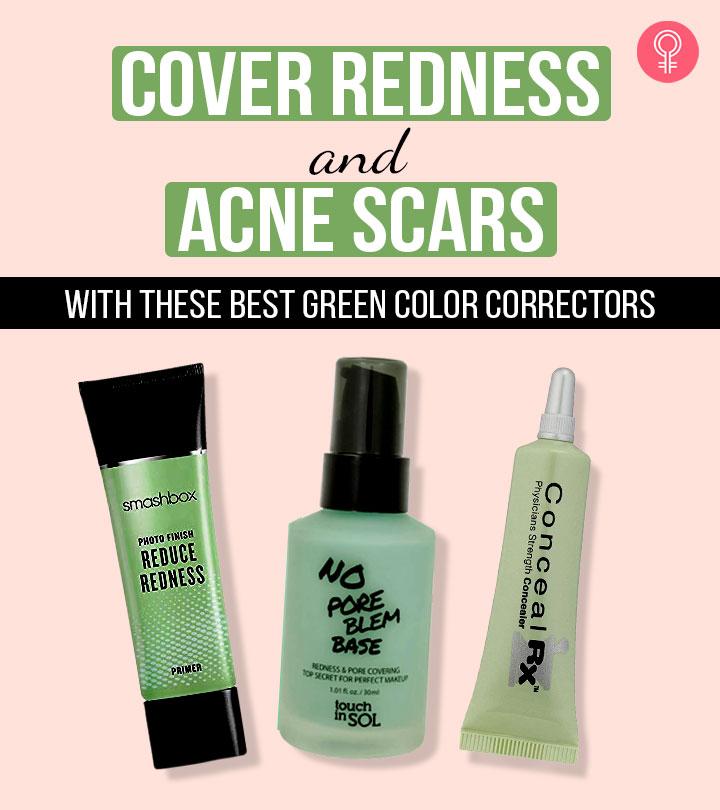 Redness can occur on your face due to acne, sunburns, rosacea, or chronic sensitivity, and using traditional makeup might not be enough to hide them. Sometimes, even the most heavy-duty concealers and high-coverage foundations struggle to contain the redness. Unfortunately, many trusted makeup artists are out there who solely rely on green color correctors to keep redness at bay. Green neutralizes the red color and helps you to achieve even-toned skin. In addition, it seamlessly blends into your skin and makes your skin appear brighter. This article has curated a list of the 11 best green color correctors that will camouflage your redness. Keep reading to know more!
What Are The Benefits Of Green Color Correctors?
They cover and neutralize redness on the skin caused by acne scars, blemishes, rosacea, sunburn, and inflammation.
They brighten the skin tone, giving a more natural tone and texture.
They camouflage breakouts and hide them under a thin layer to give a flawless and natural-looking finish.
Let's now take a look at the best green color correctors you can buy.
11 Best Green Color Correctors
The NYX Professional Makeup HD Studio Photogenic Concealer is a perfect choice for neutralizing redness, acne marks, or rosacea scars on your face like a pro. The concentrated, emollient-rich formula blends effortlessly and offers light to medium coverage with a natural finish. It is safe for all skin types and suitable for all skin tones. Check out the detailed review of the product in this video.
Pros
Lightweight
Easy to blend
Long-lasting
Buildable coverage
Vegan
Budget-friendly
Cons
Price at the time of publication: $4.97
A creamy, crease-resistant LA Girl Pro Conceal HD High Definition is packed with green pigment that balances out redness in the skin, leaving you with a natural skin tone. This long-wearing, color-correcting formula with medium coverage blends effortlessly into the skin. Since the corrector is crease-resistant, it does not settle into the fine lines around the eyes or nose. This must-have concealer includes a soft brush-tip for easy and convenient application. Watch this video of the product for more information.
Pros
Blendable
Buildable coverage
Lightweight
Easy to apply
Long-lasting
Cons
None
Price at the time of publication: $3.99
If you want to address skin concerns apart from redness, you need this primer. The long-wearing, color-correcting formula camouflages severe breakouts, skin discoloration, surgical scars, and redness on your face while creating an even, matte finish. This primer has a silky formula that fills fine lines and pores and creates a smooth base for the foundation. You can use your fingertips to blend it on your face. Go through this video review for a detailed understanding of the product.
Pros
Easy to blend
Lightweight
Goes on smooth
A little goes a long way
Vegan
Budget-friendly
Cons
Price at the time of publication: $13.35
This product from Touch In Sol is color-correcting primer that soothes your skin and neutralizes redness like a pro. Its green-toned pigments effortlessly blend with the skin, leaving behind a smoother base for the foundation. It is enriched with pumpkin oil, jojoba oil, and centella asiatica extract. While pumpkin oil strengthens your skin barrier to prevent dryness, centella asiatica extract minimizes pores and acne. Hyaluronic acid works as a humectant to prevent moisture loss. The primer also contains green tea extracts that protect the skin from inflammation.
Pros
Hypoallergenic
Lightweight
Goes on smooth
Smells good
Long-lasting
Vegan
Cruelty-free
Cons
Price at the time of publication: $15.5
Get precise color correction with the Maybelline New York Master Camo By Face Studio. This color-correcting pen delivers pure pigments to cover redness and spots on the face and neck. It features a blender tip for effortless blending. Apply the Master Camo before foundation and balance out all skin imperfections in a single stroke. This product works on all skin types and skin tones.
Pros
Convenient application
Full coverage
Crease-resistant
Beginner-friendly
Long-lasting
Cons
Price at the time of publication: $7.31
The Kokie Professional Be Bright Illuminating Concealer is formulated to brighten up the dull areas. This perfect everyday corrector evens out redness to give a flawless glow to the skin. It has a creamy texture that makes it highly blendable, and thanks to the doe-foot applicator, you can spot correct the redness on your face like a pro.
Pros
Crease-resistant
Light coverage
Budget-friendly
Long-lasting
A little goes a long way
Cons
Price at the time of publication: $9.49
This concealer from Physicians Formula is infused with soft green pigments that cover stubborn red marks, scars, rosacea burns, birthmarks, and moles. The smooth, high coverage formula balances the skin tone while allowing your skin to breathe and letting your beauty shine. It comes with a tip applicator that gives precise, targeted strokes for maximum effect. It fully blends with your foundation and gives a semi-matte finish for all-day wear.
Pros
Maximum coverage
Ultra-long wear
Natural smooth finish
No-mask effect
Hypoallergenic
Cons
Price at the time of publication: $22.99
The e.l.f Color Correcting Stick neutralizes color imperfections without breaking the bank. It is infused with vitamin E to balance oxidative stress, letting your skin shine and glow. The creamy formula melts into the skin for effective blending. Apply a small amount on the area of concern, blend with your fingertips or a blender, and finish with a foundation for a natural look.
Pros
Easy to apply
Blendable
Buildable coverage
Budget-friendly
Cons
Price at the time of publication: $14.75
The travel-sized green-toned Smashbox Photo Finish Reduce Redness Primer is a perfect choice for all your skin needs. It corrects the color and counteracts redness in a single glide. This primer nourishes and protects your skin from environmental aggressors with vitamins A and E in its formula. It blends into your skin seamlessly to blur pores and reduce the appearance of fine lines.
Pros
Easy to apply
Lightweight
Smells good
Travel-friendly
Cruelty-free
100% vegan
Cons
Price at the time of publication: $38.89
The Algenist Reveal Concentrated Color Correcting Drops are formulated with microalgae oil, green microalgae, and hyaluronic acid. They aid in covering and correcting the red tones on the skin, giving you a natural skin tone. The hyaluronic acid in the formula moisturizes the skin and reduces the signs of aging, giving you smooth and supple skin. You can use it alone or add a few drops to your skin care or makeup products to balance out the skin's tone and texture.
Pros
Non-comedogenic
Hypoallergenic
Long-lasting
Lightweight
Easy to use
Cons
None
Price at the time of publication: $38.0
The vitamin-infused Dragun Beauty color corrector melts effortlessly into the skin, balancing the redness caused by broken capillaries, acne, sunburn, and rosacea. This green-toned color corrector offers customizable light to full coverage and stays put for long without getting mixed with concealer or foundation. To achieve better results, apply a small amount to the area of concern, blend it with a flat concealer brush or sponge blender, and give it a moment to set on your face. Add this to your makeup routine to get an even skin tone and flawless finish.
Pros
Blendable
Creamy texture
Vegan
Gluten-free
Cruelty-free
Cons
Price at the time of publication: $25
Knowing the right method of applying green color correctors is as important as buying the product. One wrong move, and your efforts to hide skin imperfections will go in vain. Keep reading to know about the step-by-step procedure to use the green color correctors the right way.
How To Use Green Color Correctors
1. Apply Primer And Foundation
If you are using liquid primer and foundation, allow them to set, and apply them before applying this product. Otherwise, you can easily rub off the color corrector while you are putting the foundation.
2. Use A Green Concealer
Lightly tap the green color corrector on the areas of concern with a small makeup brush or a cotton swab. Apply a thin layer as a thick layer may show through your foundation.
3. Blend Everything Together
Blend it out with a sponge, blender, or your finger to get a natural finish. Use the dabbing motion to blend.
Looking to add this secret weapon to your makeup stash right away? Hold on and learn about the important factors that you should consider while choosing the green color corrector.
How To Choose The Best Green Color Correctors
Skin Tone: The skin tone plays a significant role while choosing a green color corrector. Although it works well with all skin tones, it is recommended to read the package instructions carefully and then make the final choice.
Texture: You should pick the green color corrector with a creamy, smooth texture. Such products are easy to blend and leave an even-toned finish on the face.
Lightweight: There is no point in investing in the color corrector that adds extra weight to your face and leaves a bulky finish. Always go for a product that is lightweight and allows the skin to breathe.
Why Trust StyleCraze?
The author of this article, Baishali Bhattacharya, is certified in makeup artistry. Since acne scars and redness on skin require green color correctors to conceal them, Baishali researched several green color correctors and read their product reviews to make a comprehensive list of the best ones for her readers. The listed products will give you flawless and even-toned skin instantly.
Frequently Asked Questions
Does the green color corrector work?
Yes. Green concealers neutralize the red marks on your skin caused by acne, blemishes, sunburn, or rosacea.
Does the green color corrector help with dark circles?
No. Green color concealers do not hide dark circles.
Which green color corrector is the best for dry skin?
The Touch In Sol No Pore Blem Base is the best green color concealer for dry skin. It features hydrating ingredients like jojoba oil, pumpkin oil, and centella asiatica extract that nourish your dry skin and strengthen the skin barrier while neutralizing the redness.
Do you apply green concealer before or after the foundation?
Apply a green concealer to conceal the redness on your face before using the foundation.
In what step do you apply a green color corrector?
Apply a green color concealer as the second step of makeup after applying a primer.
Recommended Articles