10 Best Peach Color Correctors For Concealing Dark Circles – 2023
Cover your dark circles and achieve a flawless look swiftly and easily!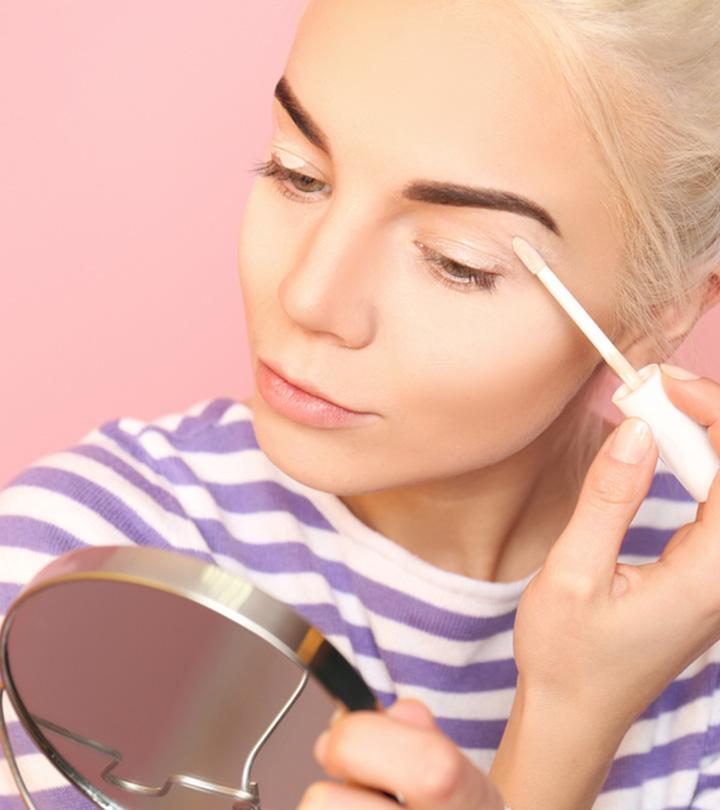 Did you know that a peach color corrector can do a better job of concealing those dark circles than a concealer? You read that right. Whether genetics or stress, sleepless nights can leave those huge dark circles under your eyes. To cover them is a monumental task of epic proportions. While a good eye cream and serum can reduce them over time, sometimes even these products are not enough. That is when color correctors come into the picture. Beauticians and experts have recommended this product to customers for years because they use colors with a purple or blue undertone to hide your blemishes.
Lorrie Pearson, a professional makeup artist, says, "Peach color correctors are like magic for dark circles. Dark circles can have a blue or purple hue and peach helps to correct it. If the dark circles are deep, orange or red are great options."
We have created a list of the best peach color concealers to say goodbye to those pesky dark circles!
What Do Peach Color Correctors Do?
Peach color correctors for discoloration usually go under your concealer and foundation to neutralize hyperpigmentation. They are formulated based on color theory where the color opposite to that of the discoloration is used to combat it. As peach is the opposite of blue and purple, it helps to effectively cover up these shadows. Blue and purple hues are typically found in the under-eye areas and even in some spots or blemishes. Light peach color correctors for fair skin tones and darker ones for darker shades, almost bordering on orange work respectively settling into fine lines, which can be especially problematic for mature skin. Choose this peach corrector for dark circles and hyperpigmentation for an even-looking makeup base.
Without further ado, read on to find out the 10 best peach color correctors you can use for light-to-medium skin tones.
10 Best Peach Color Correctors For Light-Medium Skin Tones IN 2023
If you have light skin with rosy-peach undertones, this light peach color corrector by e.l.f is tailor-made for you. The liquid formula resists creasing and offers full coverage with a matte finish. It is enriched with avocado oil, which amply moisturizes skin, and protects it and you'll also find kaolin clay that controls excess oil and shine. With a nourishing boost, this lightweight peach color makeup concealer effectively hides dark circles, spots, and wrinkles with a smoothing effect. For a bright-eyed look that won't fail to impress, choosing the e.l.f peach color corrector will give you great results. Look at this video and learn more about the e.l.f 16 HR Camo Concealer – Light Peach.
Pros
Rich pigment
Ideal for oily and normal skin types
Easy-to-use applicator
Contains skin-friendly ingredients
Cruelty-free and vegan
Paraben-free
Cons
Some users felt that it dried quickly
Price at the time of publication: $7.0
L.A Girl's Pro Conceal HD Concealer has an airy and ultra-pigmented formula. A lot of makeup enthusiasts swear by it, dubbing it the 'best peach color corrector' out there! With its unfailing opaque coverage, you won't have to worry about concealing your bluish-purple hues anymore. The L.A. Girl peach corrector also resists creasing and settling into fine lines, which can be especially problematic for mature skin. Choose this peach color corrector for dark circles and hyperpigmentation for an even-looking makeup base.
Pros
Crease-resistant
Highly pigmented liquid formula
Doesn't settle into fine lines
Long-wearing formula
Easy to blend
Cons
You may need to use a lot of product
Price at the time of publication: $3.99
With a creamy formula that this dark peach color corrector provides, you can easily camouflage your skin's inconsistencies. Use it daily to blur out under eye circles, reduce the appearance of fine lines and wrinkles, and soften blemishes and spots. The highly-pigmented formula ensures you're able to hide all that you need to. With a lightweight coverage, this peach corrector lasts for long hours and is also a dream to blend. Available in 12 shades, you're bound to find your one true hue! Check out this YouTube video to learn more about the Kokie Cosmetics Be Bright Illuminating Concealer.
Pros
Lightweight
Easy to blend
Dewy finish
Long-lasting formula
Highly pigmented
Cons
Price at the time of publication: $9.45
BECCA's peach color correcting concealer is the ultimate concealer to touch-up on-the-go. It uses Backlit Technology, which incorporates peach and apricot-toned correctors with light-reflecting illuminators that deflect light away from your under – eye circles. This peach under eye color corrector is infused with vitamin E for a nourishing boost and the flexible color correcting cream smoothens the skin around your eyes for an even application. To instantly awaken your eyes, try BECCA's popular peach corrector-concealer. Go through this video to check out the detailed review of the BECCA Under Eye Brightening Corrector.
Pros
Vegan
Cruelty-free and paraben-free
Creamy texture
Smooths skin around eyes
Contains vitamin E
Cons
Price at the time of publication: $49.91
The Pixi Brightening Peach corrector is a waterproof formula that neutralizes skin discoloration around the eye area. Not only does it offer long-lasting coverage, skin-loving ingredients such as vitamins A and C and rosehip extract work wonders to moisturize delicate skin around the eyes. You can also use the Peach color corrector for dark spots, blemishes, and wrinkles, and this Pixi peach corrector also offers anti-aging benefits.. Collagen creams may be abundant in your collection of aging skincare products, but this creamy color corrector can help fix your skin in no time!
Pros
Cruelty-free
Richly pigmented
Paraben-free
Semi-matte finish
Moisturizing and anti-aging benefits
Buildable coverage
Cons
Price at the time of publication: $21.95
Invest in Revlon's Color Correcting Pen, which contains 3D pigments to effectively cover up blemishes, spots, and other issues related to hyperpigmentation. This is the best peach color corrector for blemishes and for on-the-go retouching, as it comes in an easy-to-use stick format with a soft precision brush. Not only does it hide all your skin irregularities, it also brightens your complexion for an instantly fresh look. You can use it on clean, makeup-free skin or before your tinted moisturizer.
Pros
Contains 3D pigments
Easy to use soft precision brush
Ideal for on-the-go
Easy to blend
Cons
Some may find the formula consistency to be thin
Price at the time of publication: $7.3
To instantly light up your under eye area and combat stubborn dark circles, try the Bobbi Brown color corrector. It boasts a lightweight formula that is easily blendable and neutralizes discoloration rather than just covering it up. Owing to its almost weightless nature, it layers beautifully under your concealer without feeling heavy or cakey. From among 16 pink and peach-based shades that suit all skin types, you can take your pick!
Pros
Paraben-free
Sulfate-free
Lightweight formula
Suits all skin types
Doesn't feel cakey
Allows for easy blending
Cons
Price at the time of publication: $31.75
Smashbox brings to you the best peach under eye concealer in the form of a creamy stick that glides on smoothly for flawless concealing. This peach color corrector for hyperpigmentation blurs out dark circles and spots with precise application and this also makes it ideal for your travel purse. The versatile formula layers well under your foundation or concealer without caking up or drying out. For a natural-looking finish, the stick works for all skin types and provides lightweight coverage.
Pros
Lightweight, natural-looking coverage
Can be layered with base makeup
Ideal for on-the-go
Suitable for all skin types
Blendable
Cruelty-free
Cons
Price at the time of publication: $12
To target problems like dark circles and spots, Golden Rose's peach color corrector makeup concealer stick is super silky and lightweight, making it glide smoothly without tugging at the skin. Not only is it hassle-free to blend, the buildable, natural-looking coverage it provides will impress you. For when you're running about and still need a little pick-me-up for tired eyes, choose Golden Rose's good peach color corrector.
Pros
Smooth texture
Doesn't tug at skin
Buildable formula
Ideal for on-the-go
Offers natural-looking coverage
Cons
Might not be ideal for dry or mature skin types
Price at the time of publication: $5.99
Luxury beauty is sometimes irresistible but if it makes you feel like a billion dollars, why not? YSL's cream peach color corrector is ideal for an instantly illuminating effect. It casts a magic spell to brighten your complexion by getting rid of fatigue. It's also a star peach color corrector for mature skin as you'll notice your fine lines and wrinkles disappear. With sheer-to-medium coverage, the formula can also be built for customized concealing for a luminous yet natural finish. It is enriched with hyaluronic acid to hydrate skin and make it plump. To fight signs of aging, and fatigue, the formula also contains vitamin E.
Pros
Suitable for all skin types
Safe for sensitive skin
8-hour wear
Can be used for retouching on-the-go
Contains a nourishing blend of ingredients
Suitable for mature skin
Cons
Price at the time of publication: $57.5
Now that you've seen the best peach color correctors out there, it's time to take you through a buying guide that'll equip you to choose the best one for yourself.
How  To Choose The Right Peach Color Corrector
For easy blending, cream formulas are ideal and they come in a tub or a stick form. Liquid color correctors also allow for ease of application as they come with a precision brush and are not hard to blend either. If you're looking for correctors that are packaged in palettes or pots, they might take a while to apply as you'll require extra tools. Depending on the time at hand and your convenience, pick a color corrector that you can easily whip out and use whenever.
This solely depends on how deep or light your blue or purple shadows are. If they're on the darker side, opt for full or maximum coverage color correctors and liquid formulas usually have a concentrated consistency. However, if you just want to dab some corrector on milder hues, a lightweight or sheer coverage will be sufficient. Choosing a formula that is buildable from light-to-full coverage will come in handy, so you can keep it light or cover up fully whenever you prefer to.
Peach also ranges from light to dark, with the former being a pale white-pink and the latter almost bordering on orange. Use lighter shades of peach to cancel out blue and purple hues in light to medium skin tones and the darker peach shades will effectively neutralize the discoloration caused by blue and purple shadows in deeper skin tones.
How To Use A Peach Color Corrector
Step 1: Start off with a primer, so that the color corrector stays put for a long time without budging or affecting the top layers of your makeup.
Step 2: Using a concealer brush, sponge, or your fingers, apply the color corrector of choice on the areas you wish to cover. Ideally, this is the blue and purple shadows especially under the eyes. However, if you happen to have other areas you wish to color correct, you may do so.
Step 3: Blend gently until it looks seamless and keep building for desired coverage. If you want maximum coverage, don't hesitate to add more product. The makeup should look as natural as possible so that when you apply foundation, the final result is not cakey-looking.
Step 4: Follow up with foundation and concealer as usual and finish your makeup routine.
Why Trust StyleCraze?
Srijita De, the author of this article, is a makeup fanatic, and she loves to experiment with makeup products. So, she browsed online to check the user feedback to provide you with the best peach color corrector. These peach color correctors offer maximum coverage and are available in different shades. In addition, the long-lasting formula helps stay put the product day long.
Frequently Asked Questions
Does a peach color corrector really work?
For blue and purple hues or shadows in the under eye area, peach color correctors can help cover them as long as they're not very pigmented. They suit light skin with pink or peach undertones and offer natural coverage.
Should I use a peach color corrector or an orange color one?
If your skin tone falls under the light or fair category, a peach corrector will hide blue or purple shadows under the eyes. However, an orange color corrector does the same but for medium to dark skin tones.
Do I apply a color corrector before or after foundation?
Color correctors are applied before foundation and you must make sure to blend them well with base makeup. You can always layer foundation and concealer on top of color correctors depending on the degree of hyperpigmentation and the amount of coverage you wish to achieve.
Do color correctors really work?
Yes, color correctors are formulated in colors opposite to that of the hyperpigmentation, so as to completely neutralize it. This way, orange correctors target the uneven undertones in deeper skin tones as they are the opposite of the blue hues. Similarly, peach is the opposite of blue-purple, and helps conceal unevenness in light skin tones.
Who should use a peach color corrector?
A peach color corrector is suitable for lighter skin tones. It helps hide the dark circles in this skin tone.
What goes first, concealer or corrector?
The color corrector goes on before the concealer.
Recommended Articles