13 Best Sulfate-Free Shampoos For Fine Hair You Must Try In 2023
Bring hydration and volume to your fine hair to keep it healthy looking with each hair wash.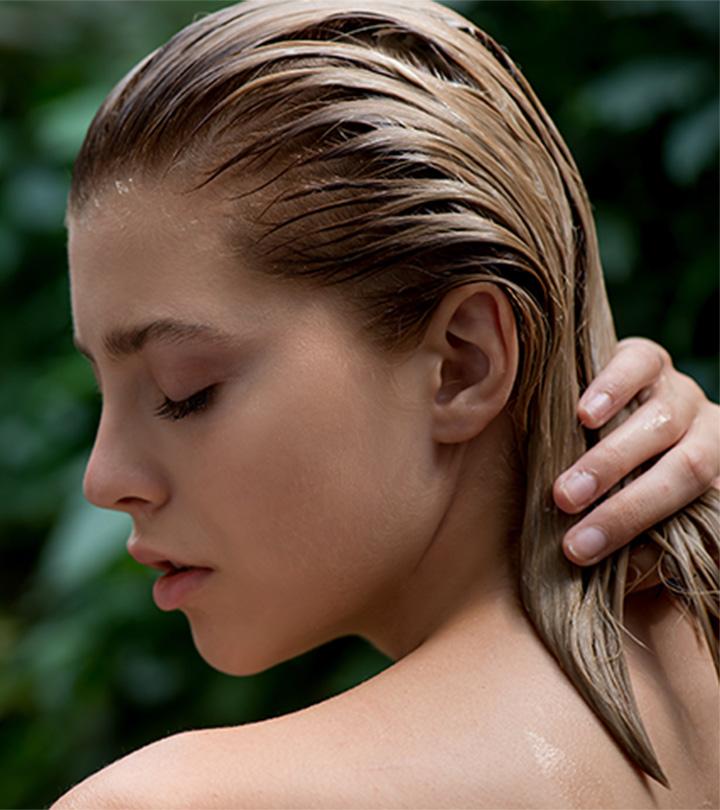 Do you love using a foamy, bubbly shampoo? Then, you gotta thank sulfate for it. But then why is all the rage around sulfate-free shampoos for fine hair? Well, there is a good reason behind that. Sulfates are used in products in the form of sodium laureate sulfate or sodium lauryl sulfate. They are harsh cleansing ingredients that make your hair dry, dull, and brittle. And if you already have fine hair, the last thing you would want is more dryness and hair breakage. So, even though they make your hair squeaky clean, many consumers do not consider it worth the potential damage.
So, people are now shifting to sulfate-free shampoos that use alternate gentler cleansing ingredients that preserve the health of your hair while removing gunk and impurities. They help the hair retain and regain hair shine and youthfulness. They also help enhance the vibrancy of color-treated hair as well. However, they do not create much lather or foam and wash out easily. If you have fine hair and want to gradually make it voluminous naturally, you must check out our list of the 13 best sulfate-free shampoos below!
Flaunt Beautiful Hair With The 13 Best Sulfate-Free Shampoos For Fine Hair
If you are stressing out about excessive hair fall and losing precious volume, this shampoo can solve your problems. The gentle formula is infused with herbal ingredients and biotin, which increase volume and thickness, so you can finally bid farewell to thin, fine hair forever. It also has vitamin E, which protects the hair shafts from further damage and promotes growth. If this was not all, this sulfate-free shampoo for thin hair effectively cleanses the scalp and enhances overall hair health. You can check this video out if you need to know more about the product.



Pros
Herbal ingredients
Includes biotin
Reduces hair fall
Improved hair manageability
Cons
Some may find the strong fragrance overpowering

Did You Know?
Pura D'Or uses 24 exotic ingredients and 17 DHT blockers to reverse thinning hair and promote hair growth.
Price at the time of publication: $29.99
Nourish and hydrate your beloved tresses with this sulfate-free lightweight shampoo for fine hair. The formula is infused with tea tree oil and mint extract, rejuvenating and detangling all hair textures. It also has milk protein to nourish and hydrate hair while reducing the appearance of split ends for a healthy-looking glow. So, whether you want to gain healthy, bouncy curls or want volume for your straight hair, this shampoo will get the job done. To find out more about this product, check this video review out.
Pros
Hydrating
Detangling
Suitable for all hair textures
Paraben-free
Cons
May leave a sticky residue

Pro Tip
Use this shampoo in conjunction with a tea tree conditioner and a scalp treatment for healthy, shiny tresses.
Price at the time of publication: $5.72
Limp and lifeless hair can be pretty frustrating, especially if you want to style and it just won't listen to you. The John Frieda Volume Lift shampoo is a good sulfate-free shampoo for fine hair. The formula includes air-silk technology, which enhances fullness and volume. It is also safe to use on color-treated hair. The shampoo rejuvenates hair strands, making them thick and bouncy. The shampoo is quite gentle, so it will leave your hair feeling hydrated with every wash.
Pros
Hydrating
Suitable for fine and colored hair
Air-silk and volumizing formula
It breaks down product buildup
Cons

Pro Tip
Use the John Frieda In-Shower Treatment after washing your hair with this shampoo to thicken each strand and boost the volume of your tresses.
Price at the time of publication: $6.69
As mentioned before, sulfates can be pretty damaging to your hair. Hence, we recommend using this shampoo because it is meant for sensitive skin and does not dry out your hair. It contains purified water and glycerine to nourish hair and reduce split ends. In addition, the hydrating formula is free from any common chemical irritants like dyes, lanolin, parabens, and other preservatives, so you rest assured your hair is safe. It is also pH balanced, so it suits all hair types. If you are an absolute beginner, this video review might be useful.
Pros
Suitable for all hair types, including hair
Works on sensitive scalp
Unscented
Dermatologist tested
pH-balanced formula
Cons
May not suit colored hair
Price at the time of publication: $10.99
This is one of the best sulfate-free volumizing shampoos for fine hair in the market right now! It boosts your hair with long-lasting volume and gently cleanses your scalp without irritating it. Infused with soy protein and citric acid, this one cleanses your hair gently without stripping it from its natural oils. Haircare professionals highly recommend shampoo because of its hydrating and shine-enhancing properties.
Pros
Long-lasting volume
Suitable for fine hair
Hydrating
Enhances hair shine
Cons
It may not suit curly hair
Price at the time of publication: $21.0
So, you have colored your hair and want a safe shampoo that doesn't ruin the beautiful hue? Then this is the product for you! This shampoo deeply nourishes and hydrates colored hair. It is formulated with key ingredients like jojoba oil, green tea extract, and sage. It also has a signature lightweight blend of aromatherapy essentials like bergamot, lavender, and patchouli so that you will have amazing smelling hair after each use.
Pros
Lightweight
Moisturizing
Pleasant fragrance
Suitable for dry, brittle hair
Cons
May cause an allergic reaction
Price at the time of publication: $70
A must-have addition to your hair care regime, this one contains argan oil and vitamin E to promote healthy and thick hair growth. This shampoo's formula includes aloe vera, argan oil, and rosemary, which helps with cell renewal, revitalizes hair follicles, and reduces hair damage. What's more, it also strengthens hair and decreases hair fall and thinning. In addition, the shampoo has natural botanical oils that soothe and nourish a dry scalp.
Pros
Reduces hair fall and thinning
Revitalizes hair follicles
Moisturizes the scalp
Prevents hair breakage
Cons
It may not breakdown product buildup
Price at the time of publication: $21.86
This shampoo works on all types of skin and hair textures, making it a hair care essential. It works by restoring the moisture levels and hydrating the scalp for strong and beautiful hair. It prevents dandruff and keeps chemically treated hair soft and healthy. The formula is infused with vitamins and antioxidants, which help repair brittle and damaged hair, and the shampoo also softens and soothes with curl definition.
Pros
Suitable for all hair types
Prevents dandruff
No parabens
Enhances volume
Cons
Some find it to have a slippery consistency
Price at the time of publication: $15.99
This rosemary-scented wonder is a fantastic add-on to your hair care routine, especially if you have a hair fall problem. The product will provide a much-needed shot of volume to tired and limp hair, which results in shiny and bouncy strands that make heads turn wherever you go. The formula is infused with aloe vera and rosemary extract, along with vitamins and minerals, making it perfect for colored and chemically treated hair.
Pros
Reduces hair fall
Provides volume and shine
Suitable for chemically treated hair
Reduces breakage
Cons
It May be intense for sensitive scalp
Price at the time of publication: $19.94
This keratin shampoo for fine hair has been a go-to product for hair care enthusiasts all over the world and for good reason! It is a moisturizing and clarifying shampoo that doesn't strip the scalp's natural oils and keeps it from drying out. The formula includes active ingredients like keratin, vitamin E, and argan oil to ensure your stands are nourished from root to tip and look and feel healthy. These components also increase hair elasticity and restore dull hair, making it strong and shiny and worthy of praise.
Pros
Moisturizing
Enhances hair elasticity
Strengthens hair follicles
Suitable for natural hair types
Cons
Not suitable for chemically sensitive hair
Price at the time of publication: $14.99
The Verb Ghost Shampoo is a lightweight product that does a phenomenal job at cleansing and conditioning your hair while protecting the color and detangling it. The formula is infused with moringa oil, and it provides it with essential nutrients that smooth out frizzy hair while keeping it soft and manageable. Ideal for days that require a deep cleansing, this lightweight formula enriches hair and prevents breakage.
Pros
Deep cleansing
Suitable for color-treated hair
Smoothes frizzy hair
Lightweight
Cons
It may leave a greasy residue
Price at the time of publication: $20
This shampoo is a definite cult favorite, and hair care professionals and beauty influencers highly recommend it. This shampoo is a breath of fresh air for fine hair, and as it adds the perfect volume and bounce for dull, tired tresses. The formula contains keratin, biotin, and chia seed, for strengthening and nourishing the scalp and hair strands. Trust us and grab this one, and we know you won't regret it!
Pros
Suitable for fine hair
Provides volume
Hydrating
Strengthen hair follicles
Fresh fragrance
Cons
May be mild for thick hair
Price at the time of publication: $60.0
This delicious coconut-scented shampoo is great for chemically treated fine hair, and it is vegan! The sulfate-free formula is infused with coconut oil and mimosa flower extract, which results in hydrated and soft hair that will have you running your hands all over it. The shampoo is also free from any synthetic dyes or parabens, so you don't have to worry about excessive hair fall out or an irritated scalp.
Pros
Vegan
Cruelty-free
Hydrated
Provides volume and thickness
Cons
Price at the time of publication: $14.61
Now that you are aware of the 13 best sulfate-free shampoos for fine hair let's look at some essential factors you must keep in mind before investing in the perfect one.
Buying Guide For Selecting The Best Sulfate-Free Shampoo For Fine Hair
Sulfate-free shampoos usually have natural ingredients like jojoba oils, coconut oils, argan oil, green tea extract, and tea tree oils. These are clarifying and moisturizing ingredients that nourish and strengthen the hair follicles.
This factor is particularly important if you have fine hair. Look for shampoos that infuse volume into your hair, making it strong and bouncy. The shampoo should be designed for fine hair and make the strands thicker and enhance elasticity.
Ensure that you choose a gentle cleansing formula when choosing a shampoo for fine hair. It should retain the scalp's natural oils and not irritate the skin. Also, it should maintain the scalp's pH levels.
Infographic: Things To Consider Before Buying A Sulfate-Free Shampoo For Fine Hair
Sulfates strip off your hair's natural oils and turn it brittle over time. Thankfully, we no longer have to make do with them since sulfate-free shampoos are here. However, the choice can be tricky. So, check out the infographic below to learn what factors to consider when buying a sulfate-free shampoo, especially if you have fine hair.


Repeated usage of harsh chemical cleansing substances like sulfates can make your hair dry and brittle. Hair stylist Jill Turnbull says, "Sulfate-free shampoos are becoming increasingly popular due to their gentler cleansing ingredients that preserve hair health while removing impurities. They are especially beneficial for those with fine hair, preventing further hair dryness and breakage."
Sulfate-free shampoos have natural and nourishing cleansing components that are gentle and do not strip your hair of its natural oils. They help retain the shine of your tresses and enhance the texture of the color-treated hair. Ensure your sulfate-free shampoo has hydrating ingredients that add lasting moisture to the strands. "This article recommends some of the best sulfate-free shampoos for fine hair, each with unique features such as herbal ingredients, biotin, tea tree oil, and air-silk technology. Choosing the right sulfate-free shampoo can help enhance hair shine, manageability, and volume while reducing hair fall and split ends," Jill Turnbull notes. A thorough review of the product descriptions is recommended to help you avoid greasy and sticky formulas.
Why Trust Stylecraze
The author, Kirtana Divakar, is a hair care enthusiast and finds her passion in helping people pick the right products for their locks through her well-researched reviews. She recommends using sulfate-free shampoos for fine hair because sulfates tend to dry out the strands and make them brittle. So, she has compiled this list of the best sulfate-free shampoos after thorough research and considering reviews from users. These products are gentle on the hair and strengthen your tresses right from their roots.
Frequently Asked Questions
Is sulfate-free shampoo good for fine hair?
Yes, it is. Provided that the shampoo has natural ingredients and is suitable for your hair type; especially, if you have chemically treated hair.
How often should fine thin hair be washed?
Fine hair has a delicate texture and should be washed at least two to three times a week. Ensure that you use a gentle clarifying shampoo.
Can sulfate-free shampoo cause baldness?
No, they don't. Sulfate-free shampoos don't inflame the roots, and it doesn't irritate the scalp, which can be a major reason for hair fall.
Do sulfate-free shampoos dry out hair?
Not really; they are quite hydrating and nourishing to the hair. Sulfate shampoos tend to strip the hair from natural oils and make it dry and brittle.
Is sulfate-free shampoo good for daily use?
Yes. Using sulfate-free shampoos regularly can keep your hair from turning brittle and damaged. These shampoos with gentle formulas clean your tresses without causing irritation or dryness.