15 Best Tweezers For Removing Splinters
Remove glass and pointed objects from your hand and fingers to prevent infections.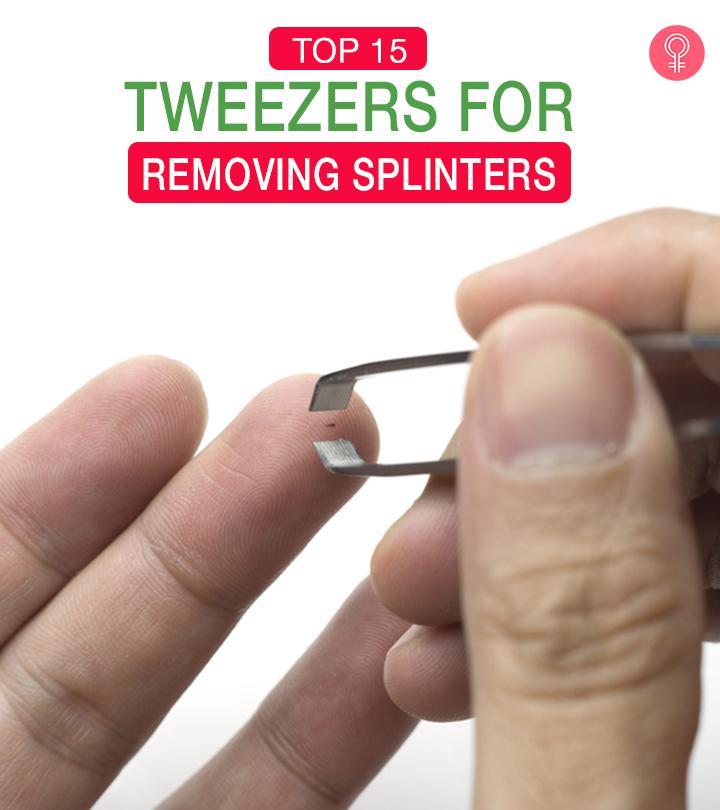 Getting splinters can be hurtful. So, all you need are the best tweezer for splinters to eliminate them. Splinters are glass, metal, and debris embedded in the hands, feet, or fingers. Careless handling can also lead to infection. You can remove them easily with pointed-tip tweezers. These tools help remove bothersome little things buried on your skin.
Here's a list of the 15 best tweezers for removing splinters easily. Keep reading.
15 Best Tweezers For Removing Splinters
The Majestic Bombay Surgical Tweezers are use fulfor removing foreign objects. These fine tipped tweezers are made of stainless steel for long-lasting and effortless use. The needle-nose pointed tips easily pluck the invisible splinters, ticks, and are effective for glass removal. They are perfectly aligned and hand-filed calibrated. Their sharp tips allow smooth operation. The tweezers have an ultra-strong grip for better control. They have the cleanest, smoothest, and most advanced pulling power. To find out more about the benefits of this product, watch this YouTube video.
Pros
Have needlepoint precision
Ultra-strong fine tips
Easy to grip
Easy to operate
Helpful to remove ingrown hair too
Hand-filed calibration for enhanced effectiveness
Cons
Price at the time of publication: $8.97
The Tweezer Guru Professional Tweezers are the perfect pick for removing splinters, debris, thorns, glass, metal, and other embedded foreign particles. They are made of a sharp-tipped serrated jaw that offers the perfect grip for removing the tiniest of splinters. These are made of high-quality stainless steel and have fine pointed edges that allow clean removal of foreign objects. It also aids the removal of excess hair from your brow line or the entire face. The tips are precisely aligned and calibrated for better control and stress-free tweezing.
Pros
Perfectly calibrated and sharp tips
Precisely aligned tips
Effective for plucking eyebrows or ingrown hair too
Easy to hold
Available in vibrant colors
Cons
Opening between the hands could be a little narrow
Price at the time of publication: $7.49
These tweezers come with a travel pouch. They are made of premium quality stainless steel for long-lasting performance. Their ergonomic, flat design with a perfectly calibrated tension makes them easy to hold. The tweezers offer better control for plucking the tiniest of splinters or even hairs. The tweezers also can give you a clean look. The leather storage pouch allows the sharp pair of tweezers to be carried easily. Their design can be appealing to both men and women.
Pros
Pointed hand-filed tip
Smooth design
Sharp angle
25opoint slant for fluff removal
Non-allergic
Free from toxic chemicals
Travel-friendly
Cons
Not suitable for grabbing small objects
The design could be too thick
Price at the time of publication: $5.99
The TRBC Tweezer is made from surgical-grade stainless steel. It has super-pointed tips that are ideal for removing fine splinters with ease. This versatile tweezer has an ergonomic handle that is easy to grip. It has a non-corrosive and anti-magnetic surface, which makes it a durable tool.
Pros
Fine tips
Non-magnetic surface
Corrosion- and rust-resistant surface
Anti-slip grip
Cons
Did You Know
Tweezers can be used to draw both simple and intricate DIY nail art designs, letting you indulge in DIY nail art sessions at home.
Price at the time of publication: $7.99
The Tweezerman Stainless Steel Point Tweezer is made from high-quality and professional-grade stainless steel. This tweezer for removing splinters has precision-pointed tips which help in giving you the finest results.
The finely tapered point tweezer is hand-filed with perfectly aligned edges. It allows you to easily grip on ingrown and baby-fine hair. The needle-nose pointed tips pluck with a strong and firm grip, making it easier for you to pluck out the hair straight from the roots.
Pros
Easy to operate
Precision-pointed tip
Sturdy material
Ergonomic design
Suitable for ingrown and baby-fine hair
Not tested on animals
Cons
Does not pluck thick hair easily
Price at the time of publication: $17.4
Vanessa Huerta, a Licensed Esthetician, says, "Tweezerman is our go-to tweezer brand for splinters and hair removal, and they also offer a lifetime sharpening program. This helps reduce waste, and they are also eco-conscious with their packaging and products."
The Tweezerman's tweezer is a high-quality tool designed for the precision removal of ingrown hairs and splinters. The tapered tips are hand-filed, allowing for easy and precise removal of the pesky objects embedded in your skin. This splinter removal tool is made from durable stainless steel. Plus, this tweezer is easy to clean and maintain.
Pros
Easy to clean
Easy to hold
Aligned, sharp tips
Cons
None
Price at the time of publication: $15.0
The Zizzili Basics Hair And Splinter Tweezers are made of surgical-grade stainless steel for long-lasting performance. The tweezers are lightweight, have sharp edges and easy to hold for hassle-free splinter removal. The sharp hand-filed pointed tips are perfect for pulling out foreign objects without hurting the skin. The tweezers have a superior calibrated tension for control and comfort. They are easy to clean for the next use.
Pros
Pointed tips
Also help in hair removal
Easy to clean
Easy to store in a leather pouch
Cons
Price at the time of publication: $13.39
By Milly Pointed Tweezers are multi-functional. In addition to removing splinters, they also aid the removal of ingrown hair and chin hair. They are engineered precisely to offer a comfortable tweezing experience in one shot. The seprofessional tweezers are made of premium-quality stainless steel for long-lasting performance. The pointed tips with hand-filed edges easily grab ingrown hair or pull out wood splinters, glass, and ticks. This multi-purpose tweezer set can be used for fixing jewelry, precious stones, or even picking up little things. The perfect closing of their tips, their precise edges, and an arm tension while squeezing the tweezers offer a hassle-free removal of foreign objects.
Pros
Long-lasting performance
Hand-filed edges
Multi-functional
Durable and sturdy design
Need minimal pressure for optimum performance
Also remove stubborn hair effortlessly
Easy to clean
Easy to use
Suitable for both men and women
Cons
None
Price at the time of publication: $9.99
The Azalea Sharp Tweezers are a daily beauty tool and a first-aid essential. They help remove wood splinters, ticks, and glass shards that are embedded in the skin. The tweezers are made of premium-quality stainless steel for effective, long-lasting performance. The tweezers are perfectly aligned and hand-filed calibrated. Their sharp tips allow the effortless removal of foreign objects. The opening of the tweezers between the prongs is neither too broad nor too narrow. This makes the operation of the tweezers easy.
Pros
Ergonomically-designed
Pointed, hand-filed tips
Sharp angles
Smooth design
Travel-friendly
Appropriate distance between therprongs
Comfortable to handle
Easy to use
Easy to hold
Cons
Cannot grip facial hair
Blunt edges
Price at the time of publication: $6.99
The Blinkeen Tweezers are ideal for removing foreign irritants embedded underneath the skin and also for shaping your brows. They are made of top-grade stainless steel that is durable and rust-resistant. The design of these blue colored tweezers allows easy grabbing of coarse or small hair too. The tweezers are chemical-free and are engineered for precise function. Their pointed tips and perfect edges help pull out splinters in the same direction that they entered the skin. The tweezers are made of 100% skin-friendly, non-toxic material. The tweezers can be regularly sterilized with an alcohol wipe or peroxide. They are suitable even for sensitive skin.
Pros
Chemical-free
Pointed tips with steady precision
Easy to use
Skin-friendly
Sleek design
Easy to sterilize
Suitable for sensitive skin
Cons
Price at the time of publication: $6.99
The Silver Gripper Uncle Bill's Tweezer is made of spring-tempered stainless steel that maintains perfect alignment. With precision-ground points that provide pin-point gripping, this silver-colored tweezer helps you remove splinters with optimum control. One of the great features of this tweezer is that it comes with a key chain clip, making it convenient to carry around.
Pros
Sharp points
Durable
Portable
Easy to use
Cons
None
Price at the time of publication: $8.99
The Seki Edge Black Stainless Steel Tweezer is a superior grooming tool designed to provide accurate tweezing performance. It has a sleek black finish with hand-finished tips that are individually sharpened and aligned by Japanese craftsmen. The slanted tip design allows you to remove splinters with ease without exerting much pressure on your hands. This multipurpose tweezer is lightweight and it has extra metal backing which extends its longevity.
Pros
Hand-finished tips
Lightweight
Durable
Individually sharpened
Strong grip
Multipurpose
Suitable for medical use
Cons
Price at the time of publication: $20
The Mighty Bright 88112 Lighted Tweezers are equipped with LED lights that provide extra illumination to help you see the splinters that you are trying to remove. They come in different shapes and sizes and even feature a 4x magnifying glass to help you see even the tiniest object. The enhanced visibility allows for greater accuracy when tweezing splinters, resulting in a more precise and clean look. The tweezers are designed with easy-to-use power switches and ergonomic handles for promoting a safe tweezing experience.
Pros
Contains LED lights
Ergonomic grip
Durable
Lightweight
Cons
None
Price at the time of publication: $11.19
The Zizzili Basic Professional Pointed Tweezer is made of surgical-grade stainless steel and has an easy grip. The hand-filed tips of the tweezer meet German industry standards and are inspected for quality before shipment. The pointed tips are sharp and accurately aligned, making them ideal for removing even the finest splinters with precision. The tweezer also comes with protective tip guards that cover the tips from environmental damage and keep them aligned.
Pros
Secure grip
Sharp tips
Aligned tips
Durable
Corrosion-resistant
Comes with protective tip guards
Cons
None
Price at the time of publication: $19.99
The Regine Switzerland Splinter Tweezer is a professional precision pointed tool designed for removing anything embedded under the skin, including ingrown hairs, splinters, thorns, and glass with near-surgical accuracy. It is made with rust-proof stainless steel, and its pointed tips make removal quick and pain-free. The tweezers are easy to clean and sanitize. This tweezer is 100% handmade in Switzerland and it also comes with a bonus tip guard to ensure the tweezer tips stay in perfect alignment between uses.
Pros
Right alignment
Rust-proof stainless steel
Precise tips
Comes with a tip guard
Cons
None
Price at the time of publication: $44.99
These are the fifteen best superior-quality tweezers for removing splinters. In the following section, we have discussed how you can use tweezers to remove splinters.
How To Remove A Splinter
Wash your hands first. This helps prevent any possible infections. Dry the affected area.
If the splinter is tiny, use a magnifying glass to see it and understand the direction it would have entered the skin.
If the part of the splinter is sticking out, pull it out gently with the tweezers. If not, you may want to scrape the topmost layer of the skin a little to expose the splinter. However, if you can't get the splinter out, visit your doctor.
Wash the affected area with a germicidal soap.
Sterilize the tips of the tweezers.
Using tweezers can help extract splinters. However, maintaining the tweezers is also important.
How To Maintain Tweezers
Always keep the tips of the tweezers sharp by covering them with a plastic wrap. You can sharpen them by running them against an emery board (similar to a nail file) slowly in one direction, at one angle, several times. You can then run the tweezers in the opposite direction.
Tweezers should be sterilized with alcohol to disinfect them.
Dry the tweezers and store them in a Ziploc pouch for long-lasting performance.
The following section helps you select the right tweezers.
What To Consider While Buying Tweezers For Removing Splinters
The tweezers should be made of long-lasting stainless steel for durability and high performance.
Ensure they have hand-filed pointed tips that offer a good grip.
Narrow tweezer tips offer better precision. But ensure the tips are not too narrow, as they may decrease grip strength.
Why Trust StyleCraze?
We have compiled this list of best tweezers for removing splinters after conducting extensive research and reviewing the products available on the market. We understand that not all tweezers are designed equally for splinter removal. That is why we thoroughly checked user reviews and feedback to ensure we pick only the best product for you. We shortlisted the products considering their safety, durability, and efficacy.
Frequently Asked Questions
Are pointed or slanted tweezers better for removing splinters?
Pointed tweezers are better for removing splinters as they have tapered tips that can easily penetrate the skin, and the removal is pain-free. On the other hand, slanted tweezers are better for grooming purposes.
Is there a way to sharpen tweezers?
Yes. You can sharpen the tweezers using a double-sided nail file or sandpaper. First, rub the slanting surface of the tweezers against a surface nail filer. Then, repeat the same process three to four times for both ends.
How do you bring a splinter to the surface?
Dissolve a cup of Epsom salt in warm water and soak the affected area for 10 to 15 minutes. The salt creates pressure on the splinter and pulls the foreign object (splinter) to the surface.
Can you pull out a wood splinter with tweezers?
Yes. You can easily pull out wood splinters and even minute glass pieces with tweezers.
Can you use a knife sharpener to sharpen tweezers?
No, the knife sharpeners might be too wide to sharpen tweezers. Instead, you can use a nail filer or sandpaper.
Recommended Articles