10 Best Massage Stone Sets Of 2022 That Relieve Stress
Beat the daily stress out and calm your muscles in the most relaxing way.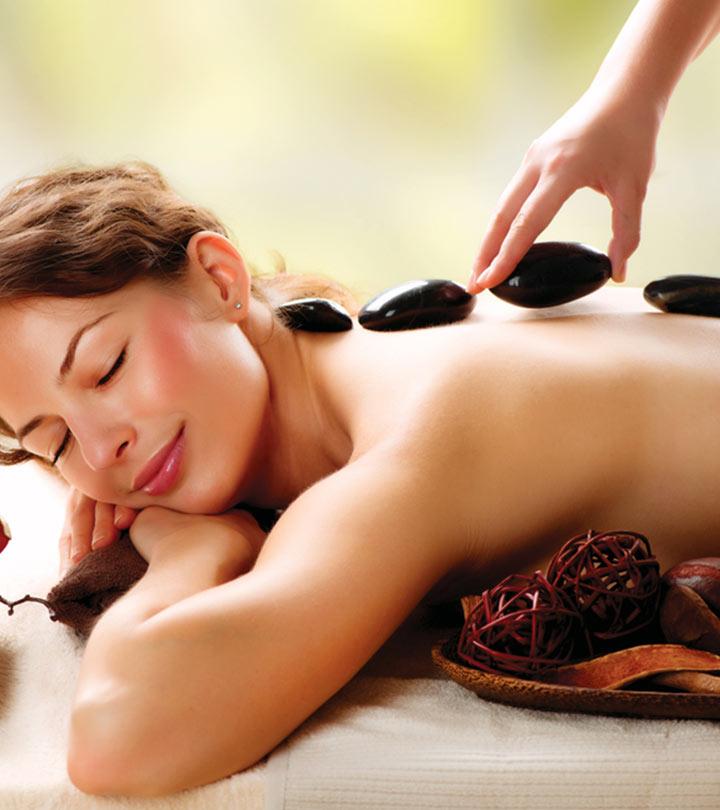 Massage is a great way to relieve stress, ease pain, and relieve anxiety. The use of the best massage stones enhances these effects greatly. These massage stones eliminate all the negative vibes, ease pain, and offer superior relief. With these stones, you can enjoy the comforts of spa therapy at your home. They not only enhance the massage but also work like magic to relieve muscle pain, tension, and stress. So, why invest in expensive spa treatments when you can enjoy all the benefits with these massage stones? The best thing about them is that these stones are suitable for hot, cold, and every other massage therapy you are a fan of.
Get some rest in your hectic schedule with a massage with these stones. In this article, we have listed the 10 best massage stone sets that give you a relaxing massage. Check them out and choose the one which suits you best!
Read on to know more!
Top 10 Best Massage Stone Sets To Bust Stress And Muscular Aches!
Escape to your peaceful haven with these basalt massage stones that are high in iron and silica. Available in 6 small and 6 large sizes, this stone therapy warming set can keep the rocks heated for up to 35 minutes! Plus, the bag also comes with an attached wired temperature controller and a digital (LCD) display so you can set the temperature (86-158 F) as per your needs. Moreover, it's highly time-efficient as well, as it comes with a car adaptor, so you can start warming the massage stones on the go. Do not skip it!
Pros
Heats the stones within 20 minutes
Relieves stress, strains, sprains, muscle tensions, and more
Lightweight, easy-to-use, and travel-friendly
Ideal for using at home, sports and therapy centers
Cons
Price at the time of publication: $119.99
If you think your one true love is your partner, then you clearly haven't gotten a massage yet! Give your body a break and indulge in some love and care with these basalt massage rocks. Also, basalt stones have the highest heat retention rate, which means your body can enjoy the downtime without the need for rewarming them frequently. A great option for those stuck in front of screens all day, these 12 (6 small and 6 large) stones are the ideal stress busters you deserve. Give it a try!
Pros
100% natural basalt (black)
Lightweight and travel-friendly
Relieves stress and muscle tension
Relaxes muscles and improves blood circulation
Free from wax, dye, radiation, or harsh chemicals
The velvety storage bag also includes a Gua sha tool.
Cons
Heater not included with the set
Price at the time of publication: $21.98
Is everyday stress taking a toll on your mind, body, and soul? Pause and indulge in a hot stone massage therapy with these 59 basalt stones. Available in 8 different sizes to comfort every part of your body, get ready to make these stones your weapon to beat stress this season. Also, unlike most stones on the market, these are all-natural and non-cut, and they also ensure the ideal glide on your skin. Yep, turn your home into your very own spa center with this set!
Pros
Smooth and clean texture
Non-slippery and non-rough
Stays heated for a long time
Improves circulation and eases stiffness
Cons
Does not come with a storage bag
Price at the time of publication: $119.95
Did you know jade stones have been a part of therapeutic sessions for over 5000 years? Yep, an age-old therapy, jade rocks are ideal for deep massages or improving lymphatic drainage and blood circulation. So, if you want a healing stone massage to relax your body, alleviate stress, and increase metabolism, this 16-in-1 jade stone set could be the one for you! P.S— you can use them for cold therapies as well!
Pros
Soothes inflammation
Eliminates swelling
Ideal for thermo-therapeutic massages
Suitable for full-body massages
Cons
May not stay heated for long
Price at the time of publication: $34
Here are premium spa massage stones that'll awaken the massage lover in you. Yep, turn your home into your peaceful haven with these 70 healing rocks made of all-natural black basalt. Shaped by hands and using high-standard 172 hours water-polishing technology, its smooth and even surfaces scream superior quality all over. Also, it guarantees peak experience whether you use it for deep massages, increasing blood circulation, boosting positive energies, or alleviating stress. Go on, heal with this one already!
Pros
Ensures long-lasting warmth
Easy-to-use and travel-friendly
Free from dye, wax, radiation, and other chemicals
The storage box is made of natural bamboo.
Cons
Expensive
May not be suitable for beginners
Price at the time of publication: $52.35
With this pink Himalayan salt stone set, massage therapy will always be a good idea! Why? Blessed with a touch of nature and packed with skin-exfoliating minerals such as magnesium, calcium, potassium, iron, sodium, and more, no stress or aches stands a chance against these healing stones. Also, these salt massage stones improve blood circulation, alleviate muscle tension and stress using osmotic pressure. Yep, refresh and rejuvenate your holistic health with this one!
Pros
Premium massage stones
Soothes inflammation and relieves aches
Balances positive and negative energies
Non-toxic, non-irritating, and eco-friendly
Ideal for both hot and cold therapies
Cons
Not ideal for eyes, toes, or neck massages
Price at the time of publication: $19.95
Massage stones sliding or slipping during the session can be frustrating, right? So, if you have experienced something similar, we suggest you try these 8 flat basalt massage stones by Kendal. Ultra-smooth, even and non-slippery, it is a great option to use on arms, back, and feet. Also, every stone is powered to relieve stress, alleviate muscle tension, improve blood circulation and lymphatic flow. Also, given it is made of basalt (high heat retention), you can enjoy non-interrupted and long heat therapies with every use! Still, want to skip it?
Pros
Heats up quickly
Ensures optimum relaxation
Eliminates swelling and warms intensely
Ideal for beginners and professionals
Ideal for those who use computers, laptops, or radiation class equipment
Cons
Not ideal if you need lightweight stones
Price at the time of publication: $17.98
Are long working hours in front of the screen leaving your muscles stressed and strained? Let these small-sized healing pebbles be your ultimate rescuers! Shaped to sit comfortably on your body and close to your skin, these basalt-made stones with high heat-retaining power are the stress-busters you need. Suitable for use on eyes, neck, feet, and even toes, add them to your work station today!
Pros
Improves blood circulation
Ensures long-lasting warmth
Balances energies of the body
Warms your muscles and relaxes intensely
Cons
May be too small for some
Price at the time of publication: $10.99
One set for all your massage needs! Here's an option that contains 8 small, 4 round, and 4 oval healing stones to comfort every part of your body. Whether you are dealing with tired eyes, muscular stiffness, stress, or having trouble sleeping at night, these stones made of natural basalt ensure a quick relief with every use. Yep, unclench and let your body heal with these therapeutic stones that'll aid in improving blood flow and relaxing blood vessels. A healthier immune system, anyone?
Pros
Ultra-smooth texture
Ensures long-lasting warmth
Easy to use, clean, and store
Ideal for beginners and professionals
Cons
Price at the time of publication: $19.99
Lastly, these flat healing rocks for all the jade lovers out there! Handcrafted and made of all-natural and high-quality green jade stone, they are ideal for those who enjoy both hot and cold therapies. Large and shaped with an ergonomic design, they sit comfortably on your skin to provide intense massages with every use. Also, they are great muscle warmers and will stimulate blood circulation as well. Yep, the more you'll use them, the less "jaded" you will feel. Try it!
Pros
Comforts and soothes
Ensures high heat retention
Relieves back strain, stress, and anxiety
Suitable to use on eyes, face, arms, back, and feet
Cons
Price at the time of publication: $30.99
For the love of massages, get yourself a stone set ASAP! There you go, those were the 10 best massage stone sets for you. However, if you still need assistance with choosing the right massage stones, we've got some tips for you in the buying guide below.
Buying Guide:
How To Choose Best Massage Stones?
Look out for the following features in the product before buying:
Material: Every massage stone has different therapeutic qualities. The basalt stones have high heat retention power. The jade rocks are ideal for cold and hot therapies, whereas the pink Himalayan salt stones contain umpteen minerals. So, choose the one that best suits your needs before buying.
Shape: Massage stones are available in long, oval, and round shapes. The long rocks are ideal for neck massages, but for a back or full-body massage, round or oval stones would be great.
Size: Unless you want to end up with small-sized stones for massaging your back, you must inspect the size before purchasing.
Anti-slip base: Always choose massage stones with an anti-slippery base, so you don't have to deal with the rocks slipping or sliding during the session.
Heat-retention power: Lastly, and the most essential of all, the stones should have high heat-retention power to prevent the need of re-heating frequently.
How To Use Massage Stones?
You don't have to be a professional to ace stone massage therapies anymore! Here are some simple steps you can follow:
Put the massage stones in hot (not boiling water), or you can heat them in a hot pot.
Once hot, remove them one-by-one with a spoon and place them on a towel.
Then, until the stones reach the required temperature, apply some massage oil or lotion onto your body.
Massage the areas to loosen up the muscles and tissues and then place the stones gently and relax.
What Are The Benefits Of Stone Massage Therapy?
The benefits are endless! And here are a few for you below:
Ensures a good sleep
Combats mood swings
Guarantees to warm the muscles intensely
Relieves everyday stress, stiffness, and anxiety
Eliminates swelling and soothes inflammation
Alleviates muscular sprain, tension, and aches
Stimulates detoxification and boosts immunity
Relaxes and refreshes the mind, body, and soul
Improves blood circulation, lymphatic flow, and cell metabolism
Can't wait to try one, right? We don't blame you. Keeping the stress and negative energies at bay, there's no reason why you shouldn't have these mood boosters around you. And given how they magically transport you to a place where everything seems peaceful and at ease, they are a must-have for those seeking a 'pause' in their fast-paced lifestyle. Also, they make great gifts too. Hurry, grab your healing stones today!
Why Trust StyleCraze?
We have curated this list of the best massage stones after carefully reviewing the user feedback and reviews of the products on different trusted online forums. We considered factors like quality, material, ease of use, and efficacy to shortlist the best products for the readers. The stones listed in the article can help reduce muscle stiffness and soreness.
Frequently Asked Questions
How often do you use massage stones?
You can get a stone massage once a few months for a relaxing experience.
What are the disadvantages of massage stones?
•  It might lead to skin irritation.
•  It is not recommended during pregnancy.
Does the color of basalt stones determine the quality?
Yes, basalt stones with darker shades have higher quality than lighter ones as they contain rich magnesium and iron concentrations.
Is it better to use stones that are all the same shape or stones that are naturally shaped?
Use stones of similar shapes, whether carved or natural, for each body part separately.
Can I use both hot and cold stones in one massage routine?
No, mixing both stones is not a good idea. It can affect the massage experience and lead to skin issues.
Recommended Articles: