12 Best Charcoal Soaps For Every Skin Type – 2022
Exfoliate and detoxify your skin to tackle acne, pigmentation, and more with these bars.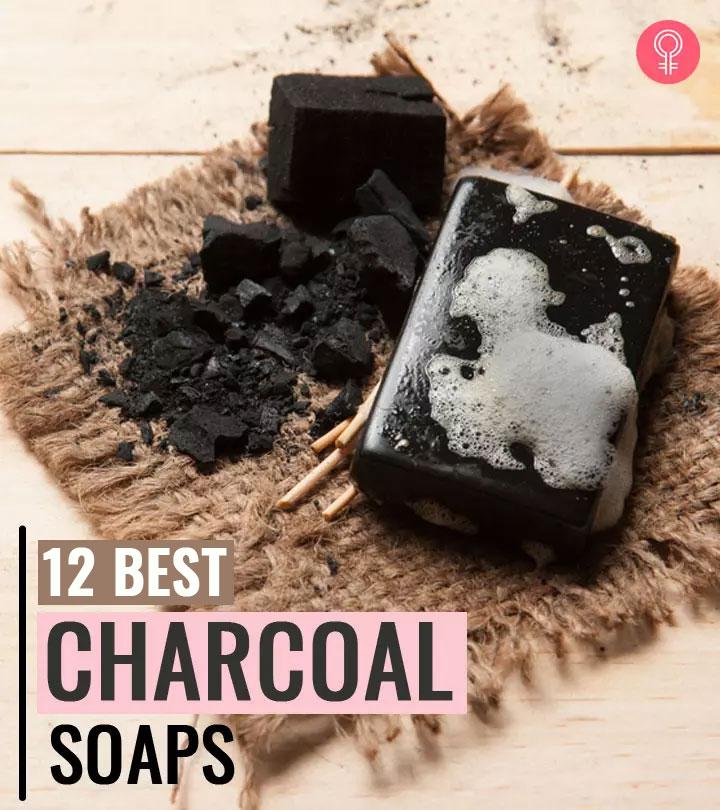 We'll tell you why using the best charcoal soap is perfect for everyday use. Activated charcoal has the ability to absorb dirt, pollutants, toxins, bacteria, and several impurities from your skin. This dark soap gently exfoliates excess dead cells from your skin, leaving you glowing and happy. Oily skin, acne-prone skin, sensitive skin, charcoal soaps are perfect for every skin type. While switching to charcoal soap may take some getting used to, once you do, you'll soon see the results. Now that you know what the hype is about, check out our list of charcoal soaps you can buy for your collection. Scroll down to see what they are!
11 Best Charcoal Soaps Available Right Now
Aspen Kay Naturals Dead Sea Mud & Charcoal Soap Bar has a fresh minty scent with woodsy undertones. This naturally scented soap is made with therapeutic-grade essential oils like eucalyptus oil,peppermint oil, and lemongrass oil. The organic ingredients like shea butter, palm oil, sunflower oil, castor oil, and extra virgin olive oil provide intense hydration and moisturization to the skin. This soap bar contains Dead Sea mud which is rich in minerals that soothe the skin. Thus, it is perfect for treating skin conditions like eczema, acne, and psoriasis. This vegan, cruelty-free soap can be used by anyone as it suits all skin types. As it is made of non-irritating ingredients, it is gentle enough to be used on the delicate skin on your face. This soap bar cleanses and exfoliates the skin and can also be used as shaving cream. The activated charcoal in it draws out impurities and dead skin cells from the skin, leaving it clean,soft,  and smooth.
Pros
Gentle formula
Can be used for shaving
Suitable for all skin types
Exfoliates the skin
Vegan
Cruelty-free
Organic ingredients
Gluten-free
Eco-friendly
Cruelty-free
Cons
May cause breakouts initially
The Yellow Bird Activated Charcoal Lemongrass & Lavender Soap Baris a handmade soap that is ideal for sensitive skin. It soothes inflamed skin and calms skin conditions such as psoriasis, rosacea, eczema, and acne. The activated charcoal in it works as a natural detox that removes dirt, impurities, and excess oil from the skin. This gentle exfoliation helps in removing blackheads and evening out the skin tone. Its natural ingredients are free from harmful chemicals that do not irritate the skin. This unisex vegan cleansing bar is made with high-quality ingredients such as shea butter that moisturizes the skin. This is particularly helpful as activated charcoal can strip away the natural oils from the skin. The antibacterial, antifungal, and astringent properties of the essential oils in this soap bar help in keeping your skin germ-free. This soap is produced in small batches to maintain its quality and authenticity.
Pros
Softens the skin
Moisturizes the skin
Contains organic botanical oils
Paraben-free
Sulfate-free
No synthetic ingredients
Cruelty-free
Eco-friendly packaging
Cons
Bioré is a well-known name in the skin care market. Bioré Pore Penetrating Charcoal Bar contains natural charcoal that absorbs excess oil and draws out deeply embedded impurities from the skin pores. It also contains jojoba beads that exfoliate your skin gently and make it smooth. This soap is infused with natural peppermint oil that leaves your skin feeling refreshed. It claims to cleanse your pores 2x better than basic cleansers as it deep cleanses and exfoliates built-up products and dead skin cells. The charcoal absorbs excess oil and balances the skin's sebum production. This is particularly beneficial for oily or acne-prone skin. Peppermint oil also has antimicrobial properties that fight the acne-causing bacteria on the skin. Use this soap bar to get blemish-free, soft, and smooth skin. Need more information? Watch this video to make an informed decision about the product.
Pros
Absorbs excess oil
Unclogs pores
Suitable for oily and acne-prone skin
Dermatologist-tested
Paraben-free
Vegan
Cruelty-free
Non-comedogenic
Cons
Keika Naturals Charcoal Black Bar is made of high-quality ingredients that are ethically sourced, 100% vegan, and chemical-free. This handmade soap contains coconut-origin charcoal that is healthy and good for the skin. Charcoal is known for its detoxifying and cleansing properties. This soap gently exfoliates your skin, so it is suitable for all ages and genders. This soap is a versatile product and can be used in a variety of ways – as a facial cleanser, body soap, shaving soap, and shampoo bar. It has ingredients like bentonite clay and essential oils that soothe irritated and inflamed skin, making this soap bar a perfect choice to treat skin conditions like psoriasis and eczema. Sustainability is a big part of this company's ethos. Keika Naturals is partnered with a non-profit organization that plants one tree for every soap you buy! Thus, you can do your bit for the environment by simply switching over to Keika Naturals Charcoal Black Soap Bar. If you need further convincing, check out this YouTuber's review.
Pros
Soothes inflamed skin
Gently exfoliates the skin
Vegan
Cruelty-free
Fragrance-free
Paraben-free
Sulfate-free
Bigger than standard soaps
Suitable for all skin types
Cons
May cause initial skin purging
O Naturals Charcoal Black Bar Soap is made with coconut and cold-pressed and sustainable palm oil that deeply cleanse and detoxify the skin gently without making it dry. This triple-milled soap bar lathers up well, making your bath experience luxurious. The charcoal in it treats blackheads, blemishes, and acne by penetrating deep into the pores and binding to the dirt, grime, excess oil, and product build-up from makeup and dead skin cells. This soap bar is made with natural ingredients that do not irritate the skin. Instead, the therapeutic essential oils in it refresh and revitalize your skin while calming your mind.
Pros
Deeply cleanses the pores
Detoxifies the skin
Treats acne and blemishes
Vegan
Organic and natural ingredients
Paraben-free
Sulfate-free
Cruelty-free
No artificial fragrances
Cons
Leaves behind a black residue which may clog the drains
Southern Natural Dead Sea Mud & Charcoal Goat Milk Soap is an all-natural face and body soap made with activated charcoal and Dead Sea mud that detoxify the skin without any side effects. It removes blackheads, fights acne, and clears blemishes without stripping away your skin's moisture. The goat milk in the soap moisturizes the skin while soothing and rejuvenating the skin cells. Thus, it is an ideal choice for dry and sensitive skin. This soap bar does not cause any irritation and helps soothe dry and itchy skin. It is a handmade soap made with sustainable palm oil, olive oil, and coconut oil that ensure your skin is moisturized. This natural soap has a fresh minty scent as it contains peppermint and rosemary essential oils that relieve stress and anxiety. This charcoal soap lathers well and lasts long.
Pros
Gentle formula
Prevents acne
Anti-aging formula
Suitable for dry, sensitive skin
Long-lasting
Hypoallergenic
Moisturizes the skin
Balances the pH of the skin
Soothes and rejuvenates the skin
Non-GMO
Sulfate-free
Paraben-free
Cons
This activated charcoal soap is a triple-milled mineral soap with argan oil and shea butter. The high mineral content of Dead sea salt in the soap cleanses the skin and exfoliates rough, dull, and dead skin effectively. It softens the skin and also promotes tissue growth for healthy and firmer skin. In addition, activated charcoal tightens pores and tones your skin, revealing a clear, balanced skin. The creamy soap goes smoothly onto the skin and suits all skin types.
Pros
 Suitable for all skin types
 Creamy texture
 Cleanses skin
 Exfoliates dead and rough skin
 Tightens pores
 Heals skin issues
 Reveals bright and clear skin tone
 Non-drying
 Lasts long
Cons
None
Koji White Kojic Acid & Charcoal Soap restores the health of acne-ridden skin. The charcoal in it deep cleanses your skin and fights acne, while kojic acid lightens acne scars and brightens the skin. This blend removes blemishes, dark spots, freckles and rejuvenates sun damaged skin.  This non-drying soap creates a luscious lather that enhances your bathing experience. It contains hydrating agents like hyaluronic acid, glycerin, and vitamin E that nourish, brighten, and restore plump, youthful, and healthy skin. Regular use of this soap will give you soft, blemish-free, and radiant skin.
Pros
Reduces blemishes and dark spots
Lightens acne scars
Brightens the skin
Paraben-free
Suitable for acne-prone skin
Cruelty-free
Natural ingredients
SLS-free
Moisturizesand nourishes the skin
Does not dry out the skin
Cons
It may dry out the skin initially
This sweet orange-scented bamboo charcoal soap from celebrity facialist Joanna Vargas is targeted at acne-prone and oily skin. This soap is safe and effective as it is made of high-quality natural ingredients that control oily skin and remove blackheads and blemishes. This soap bar cleanses and balances the skin by deeply cleansing it. Glycerin, olive oil, and shea butter moisturize and nourish the skin.It unclogs pores and draws out impurities, bacteria, dirt, and excess sebum to reveal clean, clear, and flawless skin.
Pros
Deeply cleanses the skin
Hydrates the skin
Balances sebum production
Unclogs pores
Made with natural ingredients
Sweet fragrance
Suitable for acne-prone, oily skin
Cruelty-free
Cons
Splendor Pure Coconut Oil Black Activated Charcoal Soap Bar is made with the healthiest source of charcoal – sustainable coconut husk. This 100% natural, unscented soap cleanses the skin from impurities, germs, and oil. It contains food-grade coconut oil that moisturizes the skin and makes it soft and smooth. It can be used to treat bug bites, acne, and rashes caused by poison ivy or poison oak due to its antimicrobial and anti-inflammatory properties. This gentle soap soothes the skin, so it is for sensitive and inflamed skin. The slow-processed soap retains natural glycerin in the soap to moisturize the skin. Its rich, creamy lather does not leave behind any residue. This eco-friendly brand donates a bar of soap to a local homeless shelter for every soap you purchase. It also comes in recyclable packaging, and its palm oil-free policy supports rain forest preservation.
Pros
Soothes inflammation
Moisturizes the skin
Unscented
100% natural
Handmade
Vegan
Suitable for sensitive skin
Cruelty-free
Paraben-free
Sulfate-free
Phthalate-free
Palm oil-free
Alcohol-free
Soy-free
Sustainable packaging
Non-GMO
Gluten-Free
Cruelty-free
Plastic-free
No artificial colors
Cons
May cause skin irritation
The Herbivore Bamboo Charcoal Detoxifying Soap Bar is a handcrafted soap that treats blemishes and pores. It is a gentle soap that effectively cleanses the skin, exfoliates it, and removes all dirt and grime. It leaves the skin feeling soft and smooth. It minimizes the appearance of pores, leaving the skin balanced and healthy. The soap is suitable for combination, oily, and blemish-prone skin types.
Pros
 Natural
 Handcrafted
 Vegan
 Cruelty-free
 Paraben-free
 Sulfate-free
 Phthalate-free
 Mineral oil-free
Cons
Charcoal soaps are great for your skin. But, who should really use it? Find out in the next section.
Who Should Use Charcoal Soap?
Charcoal soaps are gentle and versatile enough to be used by people of all skin types, genders, and ages. Listed below are all the skin conditions and types that can benefit from charcoal soap:
The highly adsorbent property of charcoal is especially beneficial for acne-prone and oily skin types. It draws out impurities from clogged pores to make them look smaller and less visible.
It is beneficial for removing blackheads and clearing blemishes, age spots, and acne scars.
It is free from harsh chemicals, so it is not irritating on sensitive skin. It is a little bit drying on the skin, but that can be easily remedied by adding moisturizing and hydrating agents like natural oils, hyaluronic acid, glycerin, or shea butter to it.
It is also a natural exfoliator that is great for deep cleansing and treating skin conditions such as eczema, psoriasis, and rosacea.
Since it absorbs smell, it is recommended for people who sweat a lot or are have strong body odor.
Why Trust StyleCraze?
The author, Shiboli Chakraborti, is a certified skin care coach who loves experimenting with various products in the domain. She has curated this list of the best charcoal soap by conducting in-depth research into their ingredients and sifting through many online user reviews on trusted online forums. She loves to use charcoal soap because it helps draw out impurities, bacteria, and toxins from the body and is suitable for all skin types.
Frequently Asked Questions
Can charcoal soap be used everyday?
Charcoal is safe and gentle on the skin, but the highly adsorbent nature of charcoal may dry out your skin if it is overused. Different people react to the soap differently. Thus, it is recommended to use thrice a week or less.
Does charcoal soap remove blackheads?
Yes,charcoal has exfoliating properties that unclog pores and remove blackheads and other debris from the skin.
Is charcoal soap good for rosacea?
Yes, charcoal can be used for soothing rosacea as it has anti-inflammatory properties.
Does charcoal soap lighten your skin?
No. Charcoal soap exfoliates the skin, eliminates dirt and grime from the skin, and restores its natural color. However, it does not lighten your skin tone.
Is charcoal soap good for dark skin?
Yes. Charcoal soap is suitable for all skin tones.
Is charcoal soap antifungal?
Yes. Activated charcoal contains antibacterial and antifungal properties. It prevents the growth of bacteria and treats acne.
Can you use charcoal soap during pregnancy?
Yes. Charcoal soap is safe to use occasionally during pregnancy. However, avoid using it if you are experiencing bowel obstructions and digestive issues.
Recommended Articles