The 7 Best Charcoal Soaps of 2020 for Clearer Skin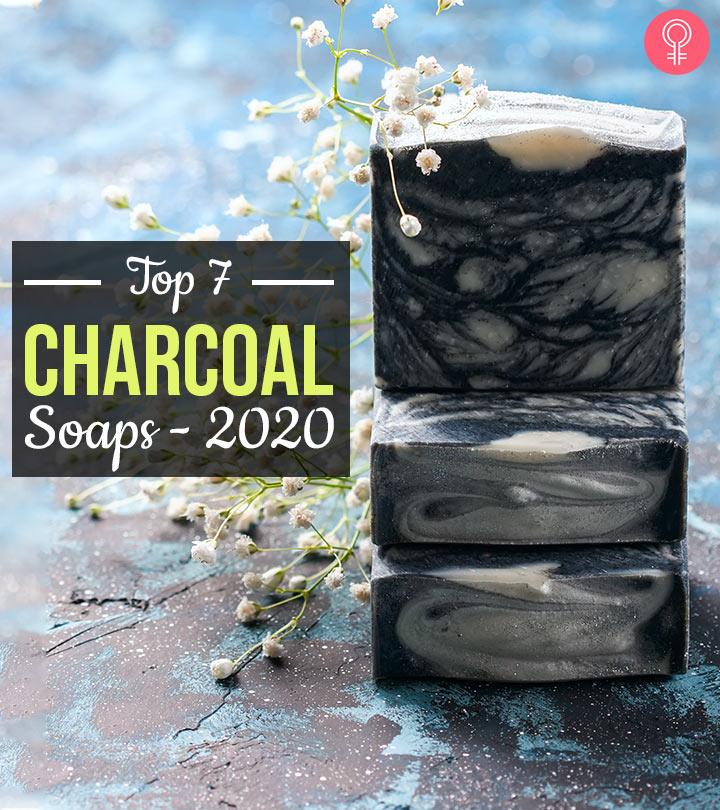 Who doesn't want clear, dirt-free skin? Everyone who cares about their skin has a fixed skin care routine. There are hundreds of soap brands in the market, each for different needs, serving different skin types. Amongst these, charcoal soaps are the new big thing.
Charcoal soap has set new standards for skin care in recent times, serving as an ingredient in most of the products on the market. What makes charcoal so popular? It is because of its intense ability to remove dirt and oil by adsorbing them. Charcoal soaps are one of the best options if you are looking for cheap and quick access to clear and healthy skin. In this article, we have listed the 7 best charcoal soaps you can try out.
The Top 7 Charcoal Soaps of 2020
This soap is made with pure and natural Dead Sea mud from Israel. The activated charcoal helps draw out impurities from the skin, while the Dead sea mud contains minerals that enhance skin health. It is lightly scented with eucalyptus, lemongrass, and peppermint essential oils.
The soap is suitable for all skin types and can be used as a face soap, body soap, hand soap, and shaving soap. It can help soothe the skin in cases of acne, eczema, and psoriasis. It is suitable for both men and women.
Pros
Exfoliates skin gently
Contains organic ingredients
Handmade
Cruelty-free
Contains certified organic skin loving oils
Cons
May cause acne breakouts.
The scent might not please everyone.
This handmade soap contains activated charcoal that has deep cleansing properties. It protects the skin from toxins and draws out impurities and oils from the pores. It helps soothe acne-prone skin by reducing blackheads and pimples.
This soap is a versatile product and can be used in a variety of ways – as a facial cleanser, body soap, shaving soap, and even as a shampoo bar. It can be used by men, women, and teenagers and can help with eczema and psoriasis.
Pros
Vegan and cruelty-free
Fragrance-free
Paraben-free
Sulfate-free
Bigger than the standard soaps
Cons
May cause breakouts on sensitive skin.
May be difficult to wash off.
If you have breakout-prone skin, this soap may help you out. It is made with the highest grade natural and certified organic ingredients that do not irritate dry and sensitive skin types. The soap is formulated with activated charcoal and shea butter that remove impurities from the skin and moisturize it, respectively.
These handmade soaps are made in small batches, as opposed to other commercially produced soaps that are made in millions. This helps preserve the quality and effectiveness of the ingredients. It contains lavender and lemongrass essential oils, which have antibacterial, antifungal, and astringent properties. Hence, it can help people with eczema, psoriasis, and rosacea.
Pros
Makes skin soft
Contains organic botanical oils
Paraben-free
Sulfate-free
No synthetic ingredients
Cruelty-free
Cons
This handmade soap contains all-natural ingredients, like goat milk, Dead Sea mud, activated charcoal, coconut, olive, and palm oils, and eucalyptus, peppermint, and rosemary essential oils. It can help soothe and relieve acne, eczema, and psoriasis. It can be used by men, women, and teens.
Goat milk is filled with skin-friendly vitamins and minerals and contains natural fats that moisturize your skin. The Dead Sea mud contains natural minerals that help enhance skin health, while the activated charcoal draws out impurities and relieves acne. The natural olive, coconut, and palm oils moisturize your skin, and the essential oils of eucalyptus, peppermint, and rosemary refresh your skin.
Pros
Good for dry, itchy skin
Lathers well
Long-lasting
Gentle
Detoxifies skin
Moisturizes skin
Cons
May cause breakouts in sensitive skin types.
Stings on sensitive skin.
This soap contains activated bamboo charcoal that gently exfoliates and detoxifies your skin. It rids your skin of dirt, impurities, and dead skin cells. This gentle and moisturizing soap claims to work even for the most sensitive skin types. It can be used on the face as well as the body.
It contains skin-loving oils, like olive oil, palm oil, sunflower oil, and coconut oil. They deeply moisturize your skin, while the essential vitamins and natural antioxidants nourish it. This soap can help with acne, eczema, and psoriasis.
Pros
Gentle
Long-lasting
Foams well
Leaves no residue
Contains USDA Certified Organic ingredients
Cons
Melts quickly
May cause breakouts.
This is a luxurious handmade Thai herbal soap that is great for acne-prone skin. It contains bamboo charcoal that is four times more porous than wood charcoal. This helps it draw out toxins, dirt, and dead skin cells from the skin pores. Tea tree oil prevents infections and keeps your skin soft and smooth. It also helps balance the dryness caused by bamboo charcoal.
The soap also contains other plant-based ingredients like coconut oil and shea butter. It helps in cleansing skin that has acne and blackheads.
Pros
Paraben-free
SLS-free
Vegan
Non-toxic 
Cons
May cause breakouts.
May cause itching. 
Bioré is a well-known name in the skin care market. The Bioré Pore Penetrating Charcoal Bar contains natural charcoal that absorbs excess oil and traps and draws out deeply embedded impurities from the skin pores. It also contains jojoba beads that exfoliate your skin gently and makes it smooth. The soap is infused with natural peppermint oil that leaves your skin feeling refreshed.
Pros
Dermatologist-tested
Paraben-free
Vegan
Cruelty-free
Non-comedogenic
Cons
These are the 7 best charcoal soaps available on the market. Activated charcoal has the ability to absorb 100 times its own weight in toxins. Hence, it is being touted as the next biggest thing in the skin care industry. The soaps listed above use activated charcoal along with other skin-friendly ingredients to enhance skin health. Pick any of the charcoal soaps and get on the path to clearer skin.
Expert's Answers for Readers Questions
Does charcoal soap lighten the skin?
Charcoal soap can help remove the dead skin cells, dirt, debris, and other impurities that have accumulated in the skin pores and make your skin look dull. It exfoliates your skin and also reduces the appearance of pimples and blackheads. This, in turn, can lighten your skin.
Can charcoal soap be used every day?
Listen to your skin. Many experts say that you should not use charcoal soap daily since it soaks up the natural oils and moisture in your skin, leading to dryness. You can use it once to thrice a week, depending on your skin. But never overdo it, as it has consequences as well.
Recommended Articles