10 Best Plus-Size Winter Leggings To Keep You Warm And Cozy
Keep yourself cozy and comfortable while you work out during the cold weather.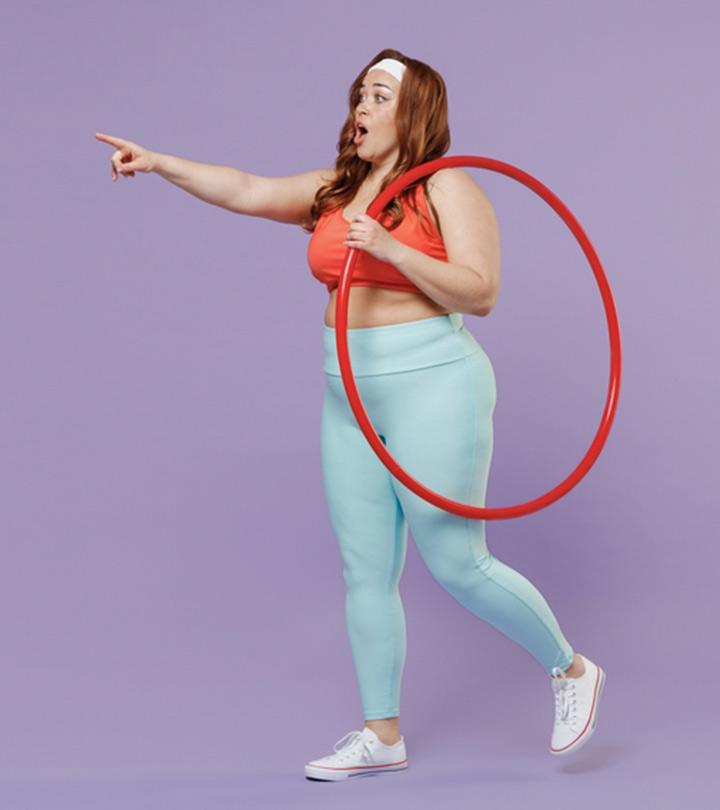 Finding a well-fitted pair of plus-size winter leggings is not easy. The best options are an ultimate amalgamation of fashion and function.
Waking up to chilly winter mornings to go for a run or workout takes a different kind of commitment. Well, the least we can do, other than cheering for you, is help you find the right pair of leggings. Winter leggings can be made of merino wool or cashmere or be fleece-lined for warmth and comfort. These leggings are not just for workouts. You can practically live in them! From grocery runs to lounging at home or casual dates with a friend, you can do it all in these leggings.
In this article, we have compiled a list of some of the best plus-size winter leggings for all you curvy ladies out there. From moisture-wicking material for the gym to faux leather one for dates, we have provided an option for all types. Oh, there is also a quick buying guide to help you decide which ones you want the most. So, go on and give this article a read. Keep scrolling!
10 Plus-Size Winter Leggings For Ultimate Comfort And Style
With the aesthetic of yoga pants and the coverage of leg warmers, these velvet thermal pants keep you warm without piling on excess bulk. Crafted from a nylon-spandex blend that shapes your legs and gives you a lot of stretch to work with, the leggings work for almost every social setting, whether it's a casual rendezvous with friends or a hot date. While they pair perfectly with skirts and shorts, you could totally rock them solo with a tunic or oversized sweatshirt for extra warmth. The elastic waistband comes with a 4-way stretch that boasts 200% flexibility, which makes them supportive for a range of sizes.
Pros
Buttery-soft fabric
Highly stretchable
Non-see-through
Available in extended sizes
Velvet and fleece lining
Available in 6 colors
Cons
The material may attract some lint.
Price at the time of publication: $13.59
Pros
No shrinking or fading
Opaque and durable
Sewn-in elastic band
Machine washable
Size ranges from S to 7XL
Available in 46 colors
Cons
Price at the time of publication: $19.99
When you want to look extra-chic at the airport without compromising on comfort, this pair will give you everything you desire. Pairable with anything from chunky sweaters to sleeveless tops, the polyester leggings are highly stretchable and easy to wear owing to the lightweight construction and a wide elastic band that sits high on the waist. The spandex lining adds some extra give to the fabric, so you don't feel stiff and achy after a few hours of being in them.
Pros
Highly stretchable
Hook and loop closure
Versatile and comfortable
Non-shrink and wrinkle-resistant
Doesn't smell like faux leather
Cons
Price at the time of publication: $17.99
Made with a soft modal fabric with an elasticated waistband, these cozy leggings are as warm as they are breathable. The length falls around the midpoint of your calves, making it the ideal pair for nippy days when the wind is pleasant instead of unbearable. The bottom hem is embellished with pretty lace that adds a hint of femininity to the thick leggings. Available in 5 shades and ranging from 33 inches to 49 inches around the waist, these are a stretchy, well-fitting, and comfortable option for women who love a flattering silhouette.
Pros
Super-soft modal
Lightweight and breathable
Doesn't ride up or roll down
Machine washable
Available in 5 colors
Elegant lace trim
Cons
Slightly sheer in some areas
Price at the time of publication: $14.99
Lined with a thermal brushed fabric for warmth, these fleece leggings support every move you make with their super-stretchy and completely breathable design. Opaque and moisture-wicking, they contour your curves while keeping you cozy through chilly days. The best part about it — well, apart from the pockets — is the high-rise elastic waistband that provides an insanely generous amount of coverage while keeping your tummy in check, making it suitable for low-impact activities like yoga, cycling, or running. In addition to the 2 side pockets, there's a discreet section in the back of the waistband to hold your keys and cards with ease.
Pros
Polyester-spandex blend
Fleece-lined interiors
Ultra-soft and opaque
Thick but lightweight
Available in 7 colors
Cons
The material attracts some lint.
Price at the time of publication: $29.98
The durable and breathable combination of polyester and spandex with viscose makes these fleece-lined leggings one of our top picks for casualwear. Their 4-way stretch fabric syncs with you on every stride, giving you a super-comfortable wearing experience from autumn to winter. The slim and body-shaping fit makes them ideal enough to wear on their own but you can also layer them under your favorite shorts and jeans, if you so choose. Available in regular and plus sizes, the pair features a compression waistband that will hold up through low to medium-impact workouts without causing any discomfort.
Pros
100% opaque
Fleece-lined and super-warm
Adaptable waistband
Seamless and high-rise
4-way stretch fabric
Available in 8 colors
Cons
They might be slightly long for petite frames.
Price at the time of publication: $22.99
Those looking for complete mobility and freedom of movement should give this thermal, ultra-soft pair a shot, not just because of the 4-way stretch but also the polyester-spandex blend that feels irresistibly soft. The leggings are thick yet moisture-wicking, so they will keep you warm and cozy while regulating your body's temperature and keeping you insulated. The interiors are lined with fleece, so you won't have to tack on multiple layers to stave off the frigidity when you're snowboarding.
Pros
Thermal retention
Ultra-soft and stretchy
Flexible fabric that lasts
Moisture-wicking
Dries quickly
Available in 12 colors
Cons
Some may find it heavier than expected
Price at the time of publication: $19.99
No matter how non-optimal the temperature, it's no match for these high-waist fleece leggings that were made for high-impact activities like running, hiking, and skiing. They are made from cotton and spandex, which is an excellent combination for keeping the fabric buttery-soft and stretchable. The high-rise elastic waistband features tummy-control properties that contour your curves and streamline your shape, making it the perfect pair for wearing solo when the snow starts to recede. The fleece interior adds to their overall thickness but not to the weight, keeping them airy and breathable when you're logging in miles. There's a tiny hidden pocket in the waistband to stow away valuables and stay hands-free through every activity.
Pros
Cotton-spandex blend
Brushed fleece interiors
Hidden inner pocket
Soft and super-stretchy
Wide elastic waistband
Available in 4 colors
Cons
Some might find the waist slightly tight
Price at the time of publication: $26.99
Pros
Durable
Comfortable
Provides support
Reinforced stitching
Affordable
Cons
Price at the time of publication: $21.95
What could possibly be better than facing the cold by wearing a lightweight blanket on your legs? That is exactly what these high-waisted leggings feel like and having been crafted with polyester and spandex, they feel impossibly soft and are highly durable. You can wear them solo when it gets too chilly out or layer them under skirts, shorts, and chunky sweaters. Another thing to love about them is the wonderful stretch that helps them fit like a dream. You won't have to wash them often when the wear is exclusive to winter but when you do, remember to wash them by hand to retain their shape for a long time.
Pros
Velvet exterior
Stylish rivet details
Pull-on closure
Soft and stretchable
Durable
High-waisted design
Cons
Price at the time of publication: $47.64
Now that you have 10 fantastic options for the best plus-sized winter leggings from around the web in one place, let's discuss what your checklist should be while narrowing down your choices.
How To Choose The Right Plus-Size Winter Leggings
The spectrum of plus-size is quite expansive, and to make things trickier, different brands have size charts that often vary. Make sure you know your measurements by heart and cross-reference it with the guide on every product listing, so that you find the perfect fit. Sometimes you may have to size up (or down), which is why it's a good idea to read the manufacturer's instructions before adding to cart. When in doubt, always pick a larger size to ensure that you're investing in a comfortable pair..
The first thing that comes to mind when you think of winter wear is wool, but you can find less expensive options that are equally great at keeping the body warm. In addition to being pricey, wool leggings tend to be delicate and harder to maintain, often resulting in pills or wrinkles. For an affordable solution that does not compromise on quality, opt for wool-synthetic blends such as microfiber or fleece-lined. If they come with a percentage of Lycra or spandex, that will give you extra elasticity along with a snug fit.
What To Wear With Plus-Size Winter Leggings
Thick, oversized sweatshirts
Oversized sweatshirts layered on top of thick leggings is the unofficial winter uniform. Not only does the combination manage to keep the wind out, it also gives you a flattering silhouette, especially if you're a bit bottom-heavy. You can also pair them with the chunkiest cardigan in your closet for a picture-perfect winter outfit.
Not every day of winter is cold enough to numb your extremities, which is when a long, flowy top draped over a skin-tight pair and warm booties turns into an excellent idea. The top you pick should reach below the buttocks if you want a well-balanced form. You can even opt for a longer shirt or tunic that serves the same purpose.
Belted trench coats, print coats, and down coats have all literally been invented for the winter, so why not pull them out of storage and put them on with your favorite fleece-lined legging for a winter-ready look? Of course, the only acceptable footwear option with this attire is a comfy pair of Chelsea boots that offer a lot of traction and keep your toes safe from the snow.
Why Trust StyleCraze?
The author, Priyam Gupta, has a deep interest in fashion. She carefully listed the best plus-size winter leggings after reviewing user feedback and product reviews on multiple forums and brand websites. The plus-size winter leggings listed in this post come in different variants and materials and can pair well with various outfits.
Frequently Asked Questions
What kind of leggings are good for winter?
Fleece leggings, thermal leggings, corduroy, and rib-knit leggings are good for winter.
Will plus-size fleece-lined leggings keep you warm?
Yes, plus-size fleece-lined leggings are thick yet moisture-wicking, keeping you well-insulated and warm.
Are thermals the same as leggings?
No. Thermals and leggings are not the same, but thermal bottoms may be worn as leggings during winter.
How should plus-size people wear leggings?
Ensure you have the right fabric, something that is opaque and stretches comfortably.
Make sure your leggings fit snugly and are not too tight. Wear seamless underwear to avoid visible panty lines. Avoid baggy tops, and put on a well-fitted jacket on top.
Can plus-size wear leather leggings in winter?
Yes, plus-size leather leggings look stylish and are perfect for winter.
Recommended Articles:
Best Plus-Size Leggings To Accentuate Your Curves
Best Plus Size Leggings With Pockets To Run Hands-Free
Best Plus Size Tights That Are Comfortable To Wear
Best Reviewed Leggings For Tall Women