15 Best Leg Warmers For Women That Are Functional & Fashionable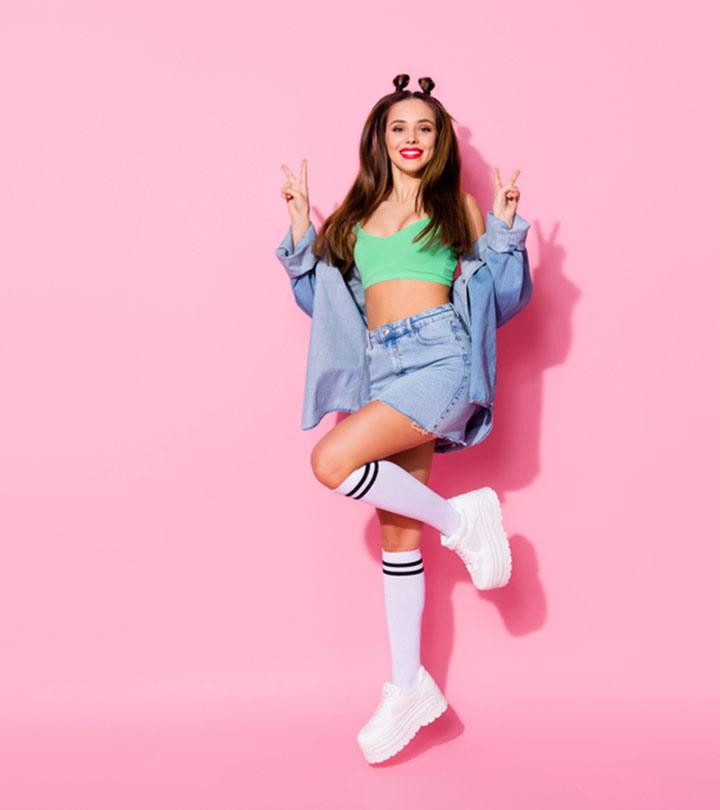 If you are someone who dreads wearing her sexy outfits during cold and chilly winters, you must try some of the best leg warmers for women. With these, you can stop huddling into your oversized coats to pick warmth and comfort over your style statement. The leg warmers will protect you and keep you warm while you still look chic and stylish.
These fashionable and versatile leg warmers are what every woman needs in her wardrobe during winters. If you want to transform your wardrobe from dab to fav while still being toasty and fab, there is nothing better than leg warmers for you. Thigh-high, knee-length, or over the knee, you name it, and there is a leg warmer for every weather, clothing, and occasion. In this article, you can check out the 15 best leg warmers for women that will go with any way you style with outfits.
The 15 Best Women's Leg Warmers + The Ultimate Guide – 2022
Here's a pair of stylish thigh-high leg warmers that will go perfectly with a cute pair of shorts or a fashionable mini skirt. Made of a soft poly-cotton blend, these socks are comfortable to touch and stretchable to wear with good elasticity, ensuring that they don't roll down. Available in a number of colors, these striped stockings are eye-catching and make great gifts for the young and trendy woman. Suitable for use all year round, these versatile knee-length leg warmers are sure to become a favorite wardrobe staple in no time.
PROS
Made of comfortable and breathable polycotton blend
Highly elastic and durable
One size fits most
Available in multiple colors
CONS
Some might find the fabric a bit thin.
If you're looking for a pair of pretty leg warmers that are comfortable enough to be worn all day without compromising on style, your search ends here. These over-the-knee socks have a solid base color with three stripes at the top, making it easy and fun to pair with almost any outfit in your wardrobe.Thick and durable, these cute socks have elastic bands at the top, preventing the socks from sliding down and making them suitable for all sizes. Made of high quality cotton and spandex, the breathable material makes these thigh-high fashionable leg-warmers the perfect complement to your favorite mini-skirt.
PROS
High elasticity
Thick and durable material
Made of high-quality cotton
Designed for all-day comfort
CONS
The socks may feel too tight
Every wardrobe needs a pair of classic black extra long leg warmers that ticks all the right boxes. Made of a blend of high quality cotton, nylon, and spandex, these socks are soft, thick, and will keep your legs toasty warm. The high elasticity guarantees a comfortable fit, and the thoughtful design ensures these socks stay up without needing regular adjustments. Short or tall, slim built or not, these extra long socks fit most sizes and help you step out with confidence and that undeniable oomph factor.
PROS
Made of high-quality cotton yarn
Thick and warm
High elasticity
Ideal for heights between 5'1-5'7 inches
CONS
Some might find the tops of these socks tend to roll a bit.
If you're a person who can never seem to get warm enough, here's a pair of long-leg warmers that you can pull on top of your tights and feel snug and toasty when it's snowing outside. They are made of 100% heat-insulating acrylic. This pair of warmers can either be pulled up to cover your thighs or scrunched down for a more casual look. With over 10 gorgeous colors to choose from, you're sure to find a favorite flawless pair to snuggle up in.
PROS
Extra warm and thick
Soft and cozy material
Comfortable fit
Available in over 10 colors
CONS
None
Here's a pair of classy knitted leg warmers that will keep you nice and warm without breaking any fashion rules. Knitted with a blend of cotton and stretchy yarn, these thigh-high stylish leg warmers are soft, lightweight, and breathable. These can also be worn in many different styles, either folded as over knee stockings or as slouch socks, making them versatile and comfortable at the same time. The high elasticity ensures one size can fit most shoe sizes and figures, so don't hesitate to add this must-have fashion accessory to your winter wardrobe.
PROS
Cable crochet knitted
Lightweight and breathable
High elastic cuffs to prevent sliding
One size fits most
CONS
Some might find that the sizes run a bit small.
If you've been invited to a rocking 80s party and don't know where to start with your outfit, this pair of neon fancy leg warmers is sure to fit the bill. Made with shining viscose and elastic nylon, these leg warmers are vibrant, eye-catching, and extra shiny. You don't have to worry about your shoes feeling tight under these leg warmers, as they run from ankle to knee. Long lasting, durable, and warm, these adult leg warmers are available in multiple bright and unique colors, ensuring you'll be the star of any party.
PROS
High elasticity
Long lasting and durable
Machine washable
Available in multiple vibrant colors
CONS
Some might find these leg warmers a bit loose.
Here's a pair of cute leg warmers that go perfectly under your boots to provide extra warmth on those bone-biting chilly nights. These boot socks are made of comfortable acrylic fibers and cotton blend that make them stretchable and fashionable. The gorgeous crochet design looks fashionable on bare legs or with skinny jeans, leggings, or tights. They do not add any unwanted bulk to your boots.
PROS
Warm and comfortable
One size fits most
High elasticity
Available in 7 colors
CONS
It might not be best suited for those with very wide calves.
Made of a blend of cotton and stretchy yarn, these stylish over-the-knee leg warmers are just what your wardrobe needs. With cute stripes on the top, these socks are stretchable and have great elasticity, which means you don't have to keep pulling them up to stay in place. Suitable for US shoe sizes 6-10 and sock sizes 9-11, these warm and skin-friendly socks fit most sizes. These leg warmers can be worn as a fashionable pair pulled up to the thigh or slouched effortlessly to the calf for a classic winter look.
PROS
Comfortable and soft material
Absorbs sweat and expels dampness
Skin-friendly and breathable
Can be worn in different styles
CONS
Some might find these leg warmers a bit too short.
Cute leg warmers with quirky patterns make the best holiday gifts, and here's a product that comes in an assorted pack of 3 with the ideal box for gifting. Pair these fashionable leg warmers for women with knee-high boots and some leggings for a cozy winter outfit. Warm and comfortable, these boot toppers are soft, smooth, and stay up. Suitable for all sizes, these leg warmers are stretchy enough to be worn on top of jeans without adding bulk and are the perfect addition to your holiday gifting list.
PROS
Available in multiple patterns
Ideal for holiday gifting
One size fits most
Warm and stretchable
CONS
They may slightly lose their shape after one wash.
Made with 100% acrylic, you can wear these footless fluffy leg warmers with any shoe type, be it boat shoes, high heels, canvas shoes, or boots. Warm and fashionable, they come in neutral colors, which makes them easy to pair up with almost any outfit for an effortlessly chic look. Thick, soft, and comfortable, a pair of these cute leg warmers fit most sizes and are a wardrobe essential that ensures you can head out on the coldest days without worrying about your legs freezing in the chilly wind.
PROS
Warm and comfortable
Can be worn with any shoe type
Ideal for gifting
One size fits most
CONS
Some might find these leg warmers a bit tight.
If you're looking for versatile and cozy leg warmers in fresh colors, you're in the right place. White with vibrant colored stripes at the top, these stylish stockings redefine schoolgirl chic. Thick, warm, and durable, these stockings go very well with a cute pair of shorts or your favorite miniskirt. These stockings have great elasticity and are suitable for a maximum thigh circumference of approximately 38 cms. Upgrade your wardrobe with a pair of these leg warmer socks and combine comfort with effortless style.
PROS
Multipurpose design
Thick and durable material
One size fits most
Breathable and comfortable 
CONS
Some might find these warmers not long enough.
Whether you're snuggling up at home on a Sunday afternoon or heading out for a cup of coffee in the chilly weather, these beautiful cable knit leg warmers will be your perfect companion. Made of 100% heavy knit acrylic fabric, these gorgeous knee-high leg warmers are soft and comfortable and will keep you wonderfully warm. Available in a variety of neutral shades, these socks give your legs a flattering layered look and can be paired with leggings, shorts, skirts, or boots for a chic, classy look.
PROS
Tight ribbed top
Soft and comfortable
Attractive crochet design
Available in multiple colors
CONS
Some might find that these leg warmers get worn out a bit easily.
The vibrant rainbow colors in these thigh-high socks make them a perfect addition to your sock collection as they add that pop of color to shake things up. These high-quality leg warmers can be worn with multiple outfits for an eye-catching and riveting look and made of a blend of acrylic, nylon, and spandex. The high elasticity and stretchable material mean these socks stay up without requiring regular adjustments. Bright and colorful, these unique socks are sure to add some life to your otherwise neutral winter wardrobe.
PROS
Unique vibrant rainbow colors
High elasticity
Comfortable and breathable material
One size fits most
CONS
Some might find these socks a bit long. 
Here's a pair of ribbed leg warmers that can be used for running, dancing, or as the ideal accessory to your party outfit. Made of acrylic elastic fibers with a vertical lines knit crocheted design, these trendy leg warmers ensure the right amount of stretch and warmth. Available in multiple vibrant colors, the design of these running leg warmers makes your legs look long and lean, making them a must-have in your wardrobe. These leg warmers run from the ankle to below the knee and are suitable for most sizes with the ideal length.
PROS
Soft and skin-friendly material
Moisture-absorbing and breathable
Ideal for gifting
Multipurpose use
Fashionable designs
CONS
Some might find that the elasticity of these leg warmers is a bit less.
These luxurious leg warmers are made of a blend of cashmere and acrylic, making them toasty warm and oh-so-soft to the touch. Available in a pack of 3 neutral colors, you can wear these multipurpose leg warmers for women for sports, daily wear, dancing, or yoga. Flexible and comfortable, the size is suitable for most adult women and ensures a snug fit. Snowy weather is no longer an excuse to hide indoors, just put on these leg warmers and step out knowing you're protected from the cold.
PROS
Made with high-quality cashmere
Flexible and stretchable
Warm and comfortable
Available in 3 neutral shades
CONS
Some might find that these leg warmers smell a bit unpleasant.
Now that we have had a look at our carefully curated list of the 15 best leg warmers for women in 2021, let us look at some things to consider when picking the best leg warmers for your winter wardrobe.
How To Choose The Best Leg Warmers For Women 
This is one of the first things to consider when you're picking leg warmers, and with so many options available, it is easy to find the one to match your exact requirements. If you're the kind of young woman, who favors fashionable shorts and miniskirts but doesn't want to compromise on warmth, pick thigh-high leg warmers which run from your ankle to over the knee and look stylish and chic. Are you looking for something to wear over your leggings or jeans? Pick a pair of leg warmers that cover your calves and offer comfort and added protection on cool, wintry nights.
Have a careful look at the blend used to make the leg warmers to ensure they keep you both warm and comfortable. Cashmere is a great option when you're looking for a product that is luxurious and soft. When picking leg warmers that stretch over the knee, ensure that the blend has some spandex and elastane to make sure they stay up without requiring regular adjustments. Looking for leg warmers for the fall season? You can pick a pair made of cotton and acrylic as they offer comfort and style without making you too warm.
While any smart woman will tell you that it is a good idea to stock up on neutral colors that go with all outfits, what's life without a pop of color now and then. Black, white, and beige-colored leg warmers are wardrobe staples, and it is a good idea to invest in a durable pair in each color. At the same time, if you are in an adventurous mood, there are many leg warmers available in fun, vibrant shades that are sure to turn dull winter nights brighter and more colorful.
How To Use Cycling Leg Warmers 
Cycling leg warmers are meant to be worn underneath cycling shorts and typically run from the ankle to the thigh's midpoint. They're usually made from lycra and feature silicone grippers to hold them in place. They are great to use when heading out cycling in chilly weather and are versatile enough to be peeled off as the weather gets warmer.
Gone are the days when winter fashion meant drabby tent-like clothes to keep warm and fight the chill. There are many ways to make your winter wardrobe both fun and functional, and the best leg warmers offer great versatility in ensuring both. Stylish, chic, and oh-so-comfortable, leg warmers are a sure way to amp up the heat on your morning walk. Don't want to banish your cute shorts to the back of your closet till summer is back? Pair them with a fabulous pair of leg warmers, and you'll be turning heads with your effortless style. Let our list of the 15 best leg warmers for women in 2021 be your ultimate guide to glamorous and unforgettable winter fashion.
Why Trust StyleCraze?
Chaitra Krishnan is a big-time fashion enthusiast, and she believes that someone who dreads wearing short outfits in the winters should try wearing leg warmers that are available in different styles. She has gone through multiple reviews and listed some chic leg warmers that will go with any outfit.
Frequently Asked Questions
Why should one wear leg warmers?
Leg warmers are a fun way to add a layer of protection against the elements without compromising on style. They're very versatile, which means you can wear them on bare legs, over leggings or jeans, or under your boots to ensure your feet remain toasty and warm on the coldest of nights.
Can you wear leg warmers with leggings?
Absolutely! This is one of the reasons we love leg warmers, their amazing versatility to be paired with almost any outfit.
Do you wear socks with leg warmers?
Some leg warmers cover the feet from toe to thigh and don't need to be worn with socks. Others are footless and run from ankle to knee and these can be worn with socks. The use of socks depends entirely on the design of the leg warmers you've picked.
Can I use leg warmers for cycling?
Pick a pair designed specially to be used under your cycling shorts. Cycling leg warmers are a great way to head out for a ride in the chilly weather and are ergonomically designed to ensure they accommodate a bent knee.
Recommended Articles