10 Best Thermal Underwear For Women To Use In Extreme Cold – 2023
Enjoy the chilly winters with the right clothes that keep you warm and toasty.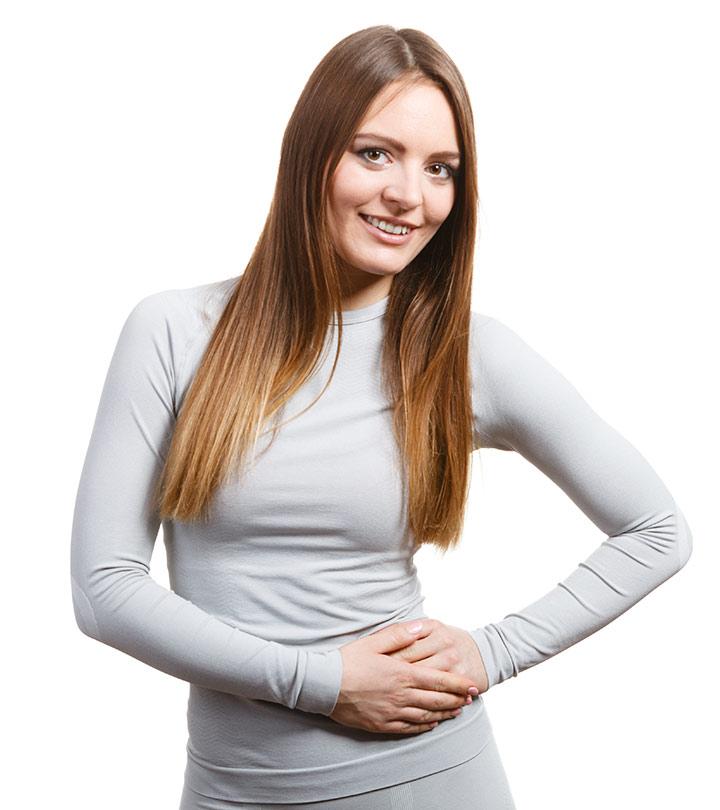 Winter isn't always the best time of the year for those who are sensitive to cold. But you don't have to miss Christmas dinners or New Year parties as long as you have the best thermal underwear for women. In this article, we will help you understand how to work your way from the inside to the outermost layer when dressing up for the winters and how to choose good thermal underwear. We've also listed our top picks of the best options you can try. Read on to know more.
What Is The Best Way To Choose Thermals? – A Buying Guide
These are a few factors that you need to consider when buying thermals:
This depends on where you are going, but the most common fabric is wool, for obvious reasons. Wool is the most viable, easily available, and easy-to-maintain fabric. There are other options too, like synthetic fabrics, but they are cheap-quality and tend to throw up a stink. Silk is another good choice but only in medium cold weather. It is expensive but feels great on the skin.
Thermals should fit snugly on your body without being skin-tight. Make sure you go one size smaller because they tend to expand with use and bulk up under your clothes, which can get extremely uncomfortable.
Thermals are supposed to be as comfortable as possible. Ensure they are of good quality and brand. Avoid wool if you have sensitive skin as it can cause irritation. Always try out a few inexpensive pieces from a brand and see how they feel for a few days before investing in their more expensive thermals.
Breathability is another vital factor you need to keep in mind. It refers to the garment's ability to retain moist air between your skin and jacket without getting too saturated with moisture. A breathable garment helps you stay warmer for longer.
Now that you know what you need to keep in mind when buying thermals, here are the best ones that can get your hands on right now. Check them out!
10 Best Thermal Underwear For Cold Weather
The Thermajane Women's Thermal Underwear is made of92% polyester and 8% spandex. Its squat-proof design stays in place and boosts your confidence. The 4-way stretch fabric is not see-through and comfortable to wear. The firm elastic waistband provides a slim fit look. This thermal underwear provides maximum breathability and does not cause any skin irritation. It is lightweight, soft, and enables flexible body movements.
Pros
Easy to wear pull-on closure
Machine washable
Ultra-soft
Moisture wicking fabric
4-way stretch
Snug fit
Odor-free
All-day comfort
Cons
You may notice chaffing or fuzz balls after a few wears

Caution
Overwashing your thermals can damage the fabric's moisture-wicking properties. As you sweat less in winters, you can wear these delicates for 3-4 days without washing. Use a mild detergent to hand wash them.
Price at the time of publication: $25.99
The Just Love Women's Thermal Underwear Pajama Set is made with a non-irritating and soft blend of 60% cotton and 40% polyester. The set consists of a long-sleeve shirt and leggings. The thermal fabric traps heat and provides maximum insulation to keep you warm. This lightweight and breathable fabric of the pajama keeps you comfortable all night. The pajamas' soft, flexible ribbed knit structure enhances the shape of your body. The shirt has a traditional crew collar, and the pants have an elastic waistband for a comfortable fit. In addition, this underwear set does not have loose threads and skipped stitches.
Pros
Suitable for plus sizes
Soft fabric
Moisture wicking fabric
Value for money
Long-lasting
Cons
None
Price at the time of publication: $16.99
Stay warm and comfortable in the cold season with the Rocky Thermal Underwear. It is made from a soft and breathable blend of polyester and spandex. This thermal underwear is designed to keep you cozy without adding excess layers to your skin. The moisture-wicking fabric ensures that sweat is quickly drawn away from your skin, keeping you dry and comfortable even during intense activities like skiing or snowboarding. The set features flatlock seams that prevent chafing and irritation, and a tagless design for added comfort. The elastic waistband and stretchy material provide a snug fit. Plus, it is machine washable.
Pros
Pull-on closure
Moisture-wicking fabric
Stretchable fabric
Snug fit
Great fit
Machine-washable
Cons
Price at the time of publication: $27.99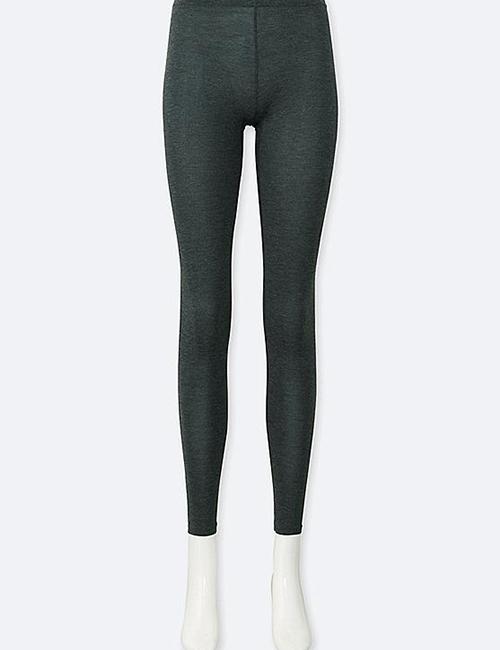 Uniqlo Heattech Jersey Leggings can be worn while doing high-performance activities as well as when lounging around the house. They are made with a bio-warming, insulating, and moisture-retaining fabric. It is stretchy and has anti-static properties.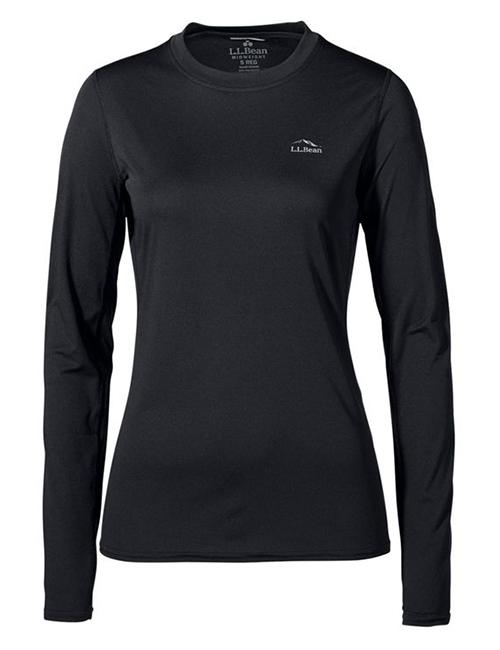 L.L Bean Lightweight Long Sleeve Base Layer is designed for adventure with comfort. This lightweight base layer keeps you warm all day and is great for outdoor activities, like hiking and camping. It wicks moisture to keep you dry and odor-free and to keep bacteria at bay. Its recycled polyester blend fits snugly on your body.

The Fruit of Loom Women's Micro Waffle Premium Thermal Set is warm and cozy. This set contains a polyester-cotton thermal shirt and leggings. The micro waffle fabric traps heat and provides optimum insulation to keep you comfortable on the coolest days. The lightweight, breathable set regulates your body temperature and keeps you comfy all day. The leggings have an elastic waistband and the shirt has ribbed cuffs and a crew collar. In addition, the set fits snugly on your body.
Pros
Ultra-soft fabric
Promotes flexibility
Moisture wicking fabric
Tag-free
Chafe-resistant fabric
Snug fit
Pull-on closure
Machine-washable
Cons
Slightly see-through fabric
This thermal top is made from 100% merino wool. It is easy to wash, dry, and maintain. Its fabric is ultra soft on the skin but keeps you warm by regulating your body temperature. Its flatlock seams prevent chafing on thighs, and its unique built-in UPF 50 technology protects you from the sun.
Pros
Easy to wear pull-on closure
Super soft
All-day comfort
Moisture wicking properties
Suitable for all activities
Cons
The fabric may seem to be a little thin

Pro Tip
If you wish to machine-wash merino wool thermals, use lukewarm or normal water with a wool-specific detergent and select gentle wash settings. Hang them to air dry away from heat and direct sunlight to make them last longer.
Price at the time of publication: $79.99
Duofold's Original Women's Thermal Pants are a unique offering of Champion. The pure cotton fabric on the inside of these leggings is soft on the skin, while the merino wool and cotton blend on the outside takes care of insulation and warmth. It holds its shape well, is antimicrobial, and keeps the foul smell at bay with the help of its moisture-wicking technology. Its flatlock seams prevent chafing during outdoor activities.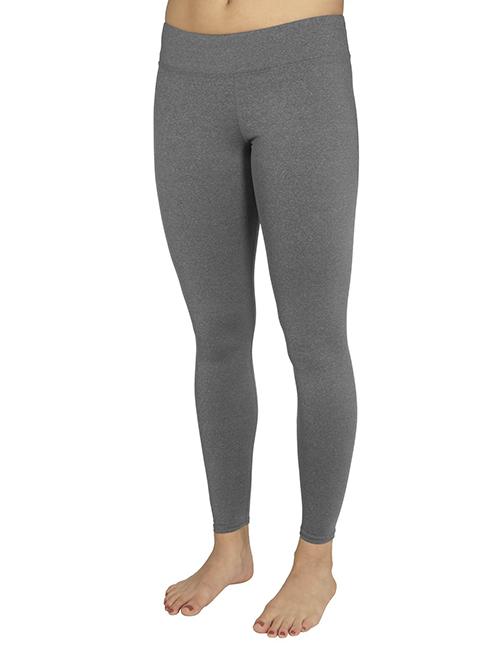 The Micro-Elite Chamois Tights from Hot Chilly's is one of their best-selling products since their inception in 1989. They are known to be the most reliable and durable base layer leggings that keep you warm and offer a four-way stretch and great moisture management. With a blend of polyester and spandex fibers, these high-performing tights will last you for years.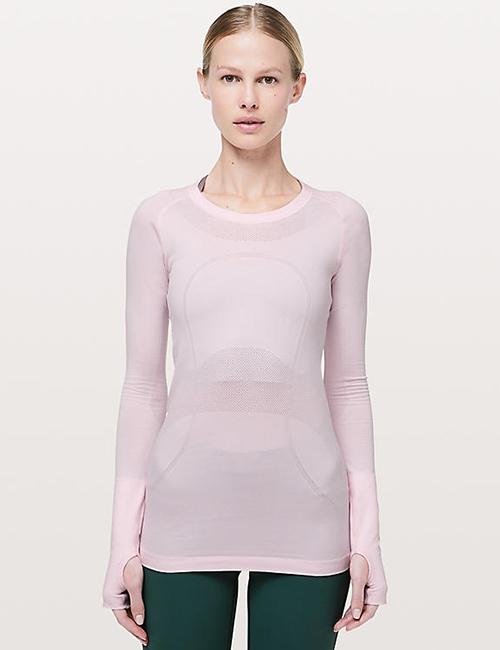 Lululemon's Swiftly Tech Long Sleeve Crew can be used as a stand-alone top for running or layering. With four-way stretch, thumb cuffs, patented Silverescent technology, and no side seams, it keeps you comfortable and stink-free.
You may have noticed that some of these products are called 'thermals' while others are named 'base layers.' If you were wondering if there's any difference between the two, read the next section to clear any confusion.
Base Layers Vs. Thermals
Base Layers
A base layer is extremely tight and fits almost like second skin. Our bodies naturally sweat through our pores to maintain an average temperature, especially when we are fully covered with outerwear. The base layer, instead of your skin, absorbs sweat. Thus, wearing it in extremely cold conditions helps prevent evaporation of sweat into your clothes or body. In conclusion, a base layer is essentially a mechanism that prevents you from getting cold rather than keeping you warm. However, most brands give the best of both worlds – a base layer and thermals. Depending on the activity you will be involved in or your preference, you can go with either.
Thermals
Thermals are garments you wear under your clothing. They are made with soft and breathable fabrics that keep you warm. They are snug and don't feel bulky under your clothes. They, basically, act as a great additional layer in icy weather conditions.
Infographic: How To Buy Thermal Underwear For Women
Thermal underwear is an integral part of the winter wardrobe of women. It provides extra warmth and comfort during cold weather. However, with so many brands, materials, and styles available online, it can be challenging to know which type of thermal underwear will best suit your needs. To help you make the right choice, here is an infographic with tips to consider when shopping for thermal underwear. Have a look!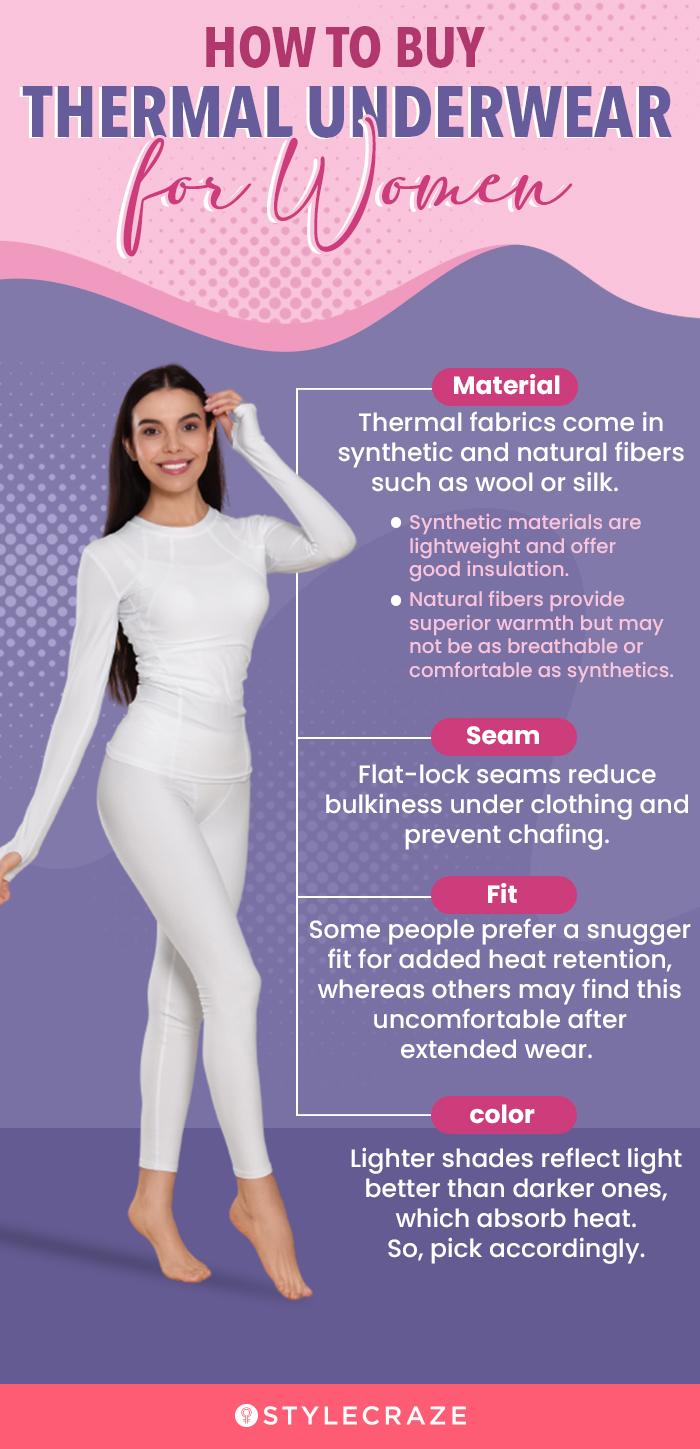 If you are sensitive to cold, it is recommended to opt for good quality thermal underwear. These undergarments can be lifesavers during important events in winter. The thermal undies on our list are comfortable and are made with non-see-through fabric. The elastic waistband in these underpants provides a slimmer look while fitting according to your body type. Go through the reviews above to purchase thermal underwear that is not known to cause any irritation on the skin. Moreover, it is better to purchase the ones that enable flexible movements of the body.
Why Trust StyleCraze?
Pratima Ati, the author of this article, is a fashion enthusiast and believes fashion and comfort should go hand in hand. She has prepared this list of the best thermal underwear after browsing several online forums and reviewing user feedback. She has considered quality and comfort while picking the best for her readers. The products mentioned here provide comfortable mobility and flexibility.
Frequently Asked Questions
Should thermals be tight or loose?
Thermals should be tight and snug because they are worn under your clothes. Loose thermals allow your body heat to escape and bulk up under your clothes, making you feel uncomfortable.
Should you wear underwear with thermals?
Yes, for hygiene purposes, you need to wear underwear under thermals. Thermals are only a layer for extra warmth and not a replacement for underwear.
Is silk warmer than wool?
No. Wool is much warmer than silk.
How many times can you wear thermals?
Wear your thermals 3-4 times before washing them clean.
How many pairs of thermals do I need?
At least 2-3 pairs of thermals is enough for the winter season.
Does thermal underwear keep you warm?
Yes, thermal underwear offer light to medium protection from the cold.
How do you know what size thermal wear to get?
Opt for thermals that are a size smaller than your general loose-fitted clothes for a snug fit.
How do you wear thermals under jeans?
Look for lightweight thermal pants that fit snugly and not bunch up under your jeans.
Recommended Articles:
The following two tabs change content below.