13 Best 4D Mascaras You Must Try In 2023
Accentuate your lashes with a fiber-infused formula to achieve salon-style coverage.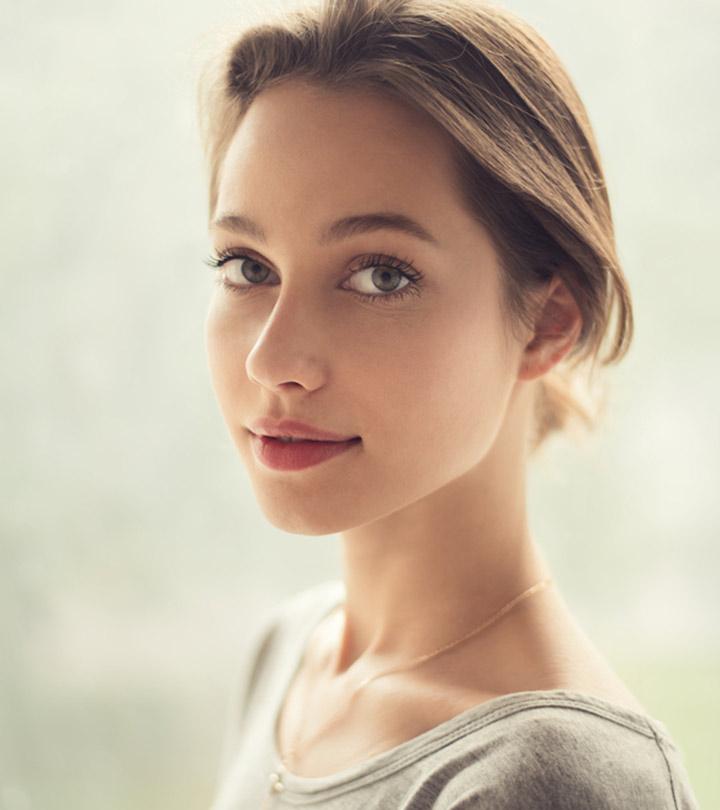 When regular mascaras just aren't enough, you need to switch over to the best 4D mascaras. Unlike the standard ones that can never provide the precision and thickness your lashes deserve, these 4D mascaras, with their revolutionary formula, are infused with actual fibers to give you 4-dimensional coverage. These fibers attach to your lashes, making them appear bolder and more extended. They are so good that you don't even need a lash primer.
If you've always felt left behind because of your short or barely existent lashes that stop you from having a diva moment, you need to check our list right now. We've listed the top 13 ones in the market. So let loose of your shopping instincts and get your hands on the perfect one!
Top 13 Best 4D Mascaras That Are Brilliant For Your Eyelashes In 2023
The Tetyana Naturals 4D Silk Fiber Eyelash Mascara makes your eyelashes look long and thick instantly. If you always wanted eyelashes that would stand out you should try this 4D mascara out. Most mascaras end up leaving spidery marks on the face with flakes falling off during application as well as throughout the day. With this 4D fiber silk mascara, you no longer have to suffer through that and instead, you can enjoy rich, stunning, and dark lashes. The mascara has an advanced thickening formula that makes your eyelashes look softer and fuller. Whether you have sensitive skin or you wear contact lenses you can still enjoy the benefits of this non-toxic mascara. Use this feathery and silky mascara and watch your eyelashes be lifted, defined, and flawlessly coated with this game-changer. This video will help you make an informed decision about your purchase.
Pros
Waterproof
Flake and smudge-fee
Lasts from morning to night.
Highly pigmented for deep color.
Cons
This mascara may be very hard to take off.
Price at the time of publication: $9.8
Make your eyes look glamorous with the Secret Xpress Control 4D Silk Fiber Lash Mascara. This mascara is specially formulated to keep the lashes thick, voluminous, and long-lasting. In addition, it separates each lash preventing clumps. It also offers a naturally curvy look to your eyes. This clump-free, no-transfer mascara is suitable for professionals as well as beginners. Watch this video to get a detailed review of the product.
Pros
Suitable for all skin types
Easy to clean
Easy to use
Hypoallergenic
Evenly spaced brush bristles
Non-irritating ingredients
Cons
Price at the time of publication: $7.98
Aliver Professional 4D Silk Fiber Lash Mascara gives a false lash effect to your lashes. It gives your lashes a fuller and softer appearance instantly. The highly pigmented lash-boosting mascara boosts the volume and length of your eyelashes. It has a creamy and smooth consistency, is hypoallergenic, and is safe for anyone, including those with hypersensitive eyes. The anti-staining formula is gentle and dries fast without smudging. Its brush is made from silicone bristles which are small and dense. It separates each lash and gives a bold look without clumping. The mascara is water-resistant, which makes it perfect for exciting outdoor days.
Pros
Long-lasting
Easy to remove
Hypoallergenic
Water-resistant
Smudge proof
Sweat-proof
Gentle formula
Cons
Price at the time of publication: $7.99
The Palladio 4D Boost Mascara gives impressive results with its creamy and highly pigmented formula without turning clumpy or brittle. This lash conditioning mascara is rich in bamboo and rice wax for protection and olive wax, which lengthens the lashes, making them appear longer. The brush is jumbo-sized with hollow fibers, which uniformly separate each lash and coat evenly, making them voluminous and classy. It helps you achieve any style you like, such as squirrel, curly or straight.
Pros
Highly pigmented
Looks natural
Herbal ingredients
Ideal for sensitive eyes and contact lens wearers
Jumbo sized bristles
Cruelty-free
Paraben-free
Gluten-free
Cons
Might trigger watery eye on application
Price at the time of publication: $9.99
If you are looking for a mascara that gives you lush, long, and dark eyelashes, The St. Mege 4D Silk Fiber Lash Mascara is your answer. Amplify your look with this silk fiber mascara and finish your makeup with a fabulous stroke of this lengthening mascara. Maximum length and volume are instant with this deeply pigmented mascara formula. Suitable for all weather conditions, this 4D mascara is smudge-proof and waterproof too. You can now wear this curl-holding mascara to the gym too without the fear of ending up with black streaks on your cheeks. Once applied in the morning you do not need to reapply this all-day wear mascara which also comes with a separate fiber formula in the same pack.
Pros
Long-lasting formula
Non-toxic and hypoallergenic
Instant results with the first stroke
Water-resistant and smudge-proof
Cons
This mascara may not be cruelty-free.
Price at the time of publication: $14.9
If you have tried fake lashes and find them uncomfortable but still wish to sport lush, dark, and voluminous lashes like falsies, try The Bestidy 4D Silk Fiber Mascara. This mascara with fibers makes your eyelashes long and thick instantly. Boost the way your eyelashes feel with each stroke of mascara and look gorgeous in all weather conditions, even in the rain! This fiber mascara is easy to use and portable as it comes in a small round bottle that can be carried around easily. Your eyes will also be protected with the natural formula and the silky smooth texture will make sure the rest of your makeup looks fabulous too.
Pros
Long-lasting formula
Waterproof and smudge-proof
Easy to remove with warm water.
Extends each eyelash evenly and smoothly.
Cons
The mascara may have a strong chemical smell.
Price at the time of publication: $6.99
Extension Volume 4D Extreme Volume and Separation Mascara from Eveline add strength and volume to your lashes. It includes natural ingredients like jojoba oil and vitamin E, which hydrates the lashes and prevents drying. Mineral pigments and natural carnauba wax enhances hair growth and prevents them from falling. This separating mascara is creamy, highly pigmented with intense black color, and easy to apply. The curl-enhancing brush has thin and medium bristles that are perfect for getting those bold and thickened eyelashes from root to tip.
Pros
Dermotologically tested
Dark black color
Natural ingredients
Smudge-proof
Flake-proof
Hydrateing
Nourishes the lashes
Dries quickly
Skin friendly
Cons
Not the best for short lashes
Price at the time of publication: $3.94
The Jargod 4D Silk Fiber Lash Mascara is a hypoallergenic formula safe for sensitive eyes and contact lens wearers. It does not smudge or smear,, making it perfect all day. This curl-defining mascara gives a voluminous false lash effect with deep black color making your eyes dramatic and bold. Its dense small fiber brush sculpts each lash for high definition and volume without clumping. It is further long-lasting and lash-enhancing that intensifies your natural defined lashes.
Pros
Hypoallergenic
Water-resistant
Long lasting
Ideal for sensitive eyes & contact lens wearers
Flake Proof
Waterproof
Smudge Proof
Does not fade
Cons
Price at the time of publication: $4.99
The QIC double 2 in 1 Head Mascara comes with 2 brushes to achieve the perfect makeup look. The first brush has soft bristles to make the eyelashes appear slender, which is ideal for daytime wear. While the second brush helps your eyelashes achieve a denser look, perfect for heavy makeup. This eyelash makeup lasts all day as it is waterproof and sweat-resistant, that allows all day long through rain, tears, and sweat without smudging or flaking. This hypoallergenic mascara contains gentle ingredients safe for sensitive eyes and contact lens wearers.
Pros
Hypoallergenic
Long-lasting
Adds length
Easy to apply and remove
Water-resistant
Smudge-proof
Flake-free
Pigmented
Skin-friendly ingredients
Ideal for contact lens wearers
Cons
Price at the time of publication: $8.18
The Elaimei Super Dazzle Thick Long Volume Mascara is an amazing 4D mascara that gives you volume and length without forming any globs. The special application brush included with the mascara bottle thickens lashes smoothly and evenly, almost 2 times more than their original texture. The easy application brush is made using fiber which results in sculpted length to each strand of your eyelash. As a result of this, your eyelashes look dramatic and sky-high and open up like a full fan. The waterproof and sweatproof formula lasts all day long and makes no hassle when it comes to removal.
Pros
Lightweight
Waterproof
Safe for sensitive eyes
Lasts all day, needs no reapplication
Adds instant definition
Cons
Needs multiple applications to get the desired pigmentation
Price at the time of publication: $7.99
The Younique Moodstruck Epic 4D One-Step Fiber Mascara comes in a 7ml bottle which is an ideal size. The mascara is easy to apply and all you have to do is wiggle the mascara wand at the base of your eyelashes, roll the brush in the upward direction to the tips of your eyelashes, and repeat until you are satisfied with the length and volume. The volume-maximizing brush is specially engineered and features 2 sides, one rounded and one flat for maximum impact. The formula of the mascara is infused with interlocking Y-shaped fibers in nylon that deliver optimum volume and dramatic length and gives doll-like lashes with a substantial lift to the eyes. The eyelashes look fully charged and way better than wearing false eyelashes without all the hassle that comes with it.
Pros
Flake-free
Buildable volume
Suitable for sensitive skin and eyes
Cons
The mascara may be very clumpy.
Price at the time of publication: $36.95
Bid adieu to spider-like, flaky, unnatural eyelashes with this 4D volumizing mascara from Pudaier. It lifts the eyelashes and makes them thicker and more slender. The formula glides smoothly from root to tip with the thick spiral "Z" motion. It gives a long-hour smudge-free application. It has a rotating disc brush head which is flexible and glides effortlessly. It is highly pigmented and for bold black dramatic eyes. You can easily remove this makeup with a wet cloth.
Pros
Water-proof
Natural-looking
Smudge-proof
Long lasting
Non-irritating
Quick-drying
Cons
Price at the time of publication: $6.98
The Cutie Academy 4D Fiber Mascara is infused with natural formula so that the mascara is gentle on your eyelashes and your eyes. The smooth formula lets the mascara glide on effortlessly without leaving any clumps on the eyelashes or flakes on your skin throughout the day. This 4D silk fiber no-flake mascara has a long-lasting formula, so you look great irrespective of the temperature conditions. The fibers included in this mascara are flexible and natural, hence gentle on the eyelashes. The formula instantly enhances the curvature, thickness, and length of the lashes and has a lash-lifting effect, making them 4D fan-eyed lashes and gives a wide-eyed effect.
Pros
Hypoallergenic
Natural formula
Safe for sensitive eyes and contact lens wearers
Long-lasting
Waterproof
Cons
Price at the time of publication: $16.99
Confused about how to choose a 4D mascara? Here is a buying guide for the best 4D mascaras that will help you make the right choice.
Buying Guide For Best 4D Mascaras
Deciding on a new 4D mascara may not be as simple as it seems. With new technology, green ingredients, and wand styles flooding the market it is easy to be spoilt for choice. Let us help you decide based on the things that matter in 4D mascaras.
How To Choose 4D Mascara
Before buying a 4D mascara and getting stuck with it, look for the following features:
Design:
4D mascaras are distinguished based on their design and construction. The pigmentation, durability, and formulation are things to consider in addition to how easy it is to remove the mascara. Fiber lash mascaras must feature deep and excellent pigmentation so that the impact is bold. A compact and easy-to-carry design is a win-win.
Formula Quality:
The quality of the formula used to make the mascara can decide a couple of things including for how many hours will your lashes look bold, voluminous, and long. The mascara should be water-resistant, cream shadow resistant, and smudge-free for a hassle-free makeup look.
Safety:
Eye makeup has to be extremely safe if nothing at all. Eyes are very sensitive, and no form of harmful or toxic chemicals must be near them. A fiber lash mascara that doesn't cause irritation and is hypoallergenic, compatible with contact lenses, and toxin-free will always go a long way.
Ease Of Use:
Mascara is one of the last things you apply on your face before heading out, which means you will often be in a rush and have a face full of makeup already. The ease of use of the mascara wand is very important. If the wand is not user-friendly, it doesn't matter how amazing the formula is.
How Does 4D Mascara Work?
4D lash fiber mascaras attach synthetic fibers to the tips of your eyelashes making them look longer, bolder, and full of volume. What you get are eyelashes that look denser than they would with regular mascara formulas.
Professional makeup artist Lorrie Pearson says, "Turn up the volume on your lashes with 4D mascaras! The secret is in the wand and fiber formulations. Your lashes will transform instantly."
How Should You Apply 4D Mascara?
Follow these steps to get the most out of your 4D mascara:
Dip the mascara wand into the tube and ensure the gel and fibers present in the mascara formula get combined and attached on the wand.
Scrape away excess product at the mouth of the tube before you start applying mascara to your eyelashes.
Wiggle the mascara brush from left to right at the bottom of your eyelashes and slowly roll the wand towards the tip in an upward fashion.
Repeat steps 1 to 3 until you are happy with the result.
Why Trust StyleCraze?
The author of this article, Srijani Roy Chowdhury, is a makeup aficionado. She believes that mascara plays a critical role in making your makeup look elegant. So, she browsed online to check reviews and user feedback to pick the best 4D mascaras. Apart from making your lashes appear thicker, these mascaras are also smudge-resistant and long-lasting. They also help to separate each lash.
Frequently Asked Questions
Is 4D mascara safe?
Mascaras that are made using natural ingredients and rayon are safe for the eyes and can be applied close to them.
Is 4D mascara vegan?
All 4D mascaras may not be vegan so check the ingredients before you make an expensive purchase.
Is 4D mascara cruelty-free?
All 4D mascaras may not be cruelty-free. Look for the certificate of cruelty-free on the box before you buy a 4D mascara.
Is 4D mascara waterproof?
4D mascara may or may not be waterproof based on the brand and ingredients they use to make the mascara.
How long does 4D mascara last?
Some 4D mascaras can last for more than 2 hours but it is not advisable to wear any type of mascara for so long as it may harm your eyes and eyelashes.
Recommended Articles
Best Long-Lasting Mascaras That Instantly Improve Your Lash Game
Best Lengthening Mascaras For Long, Fluttery Lashes
Best Fiber Mascaras
Best Volumizing Mascara Reviews
Best Hypoallergenic Mascaras for Sensitive Eyes