8 Best Purple Mascaras To Glam Up Your Lash Look In 2021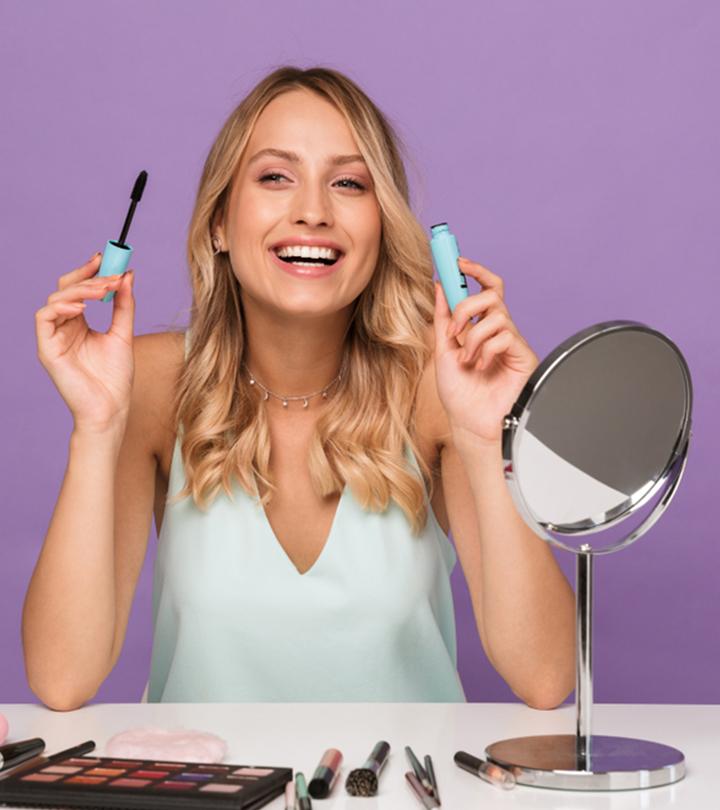 While the pandemic has ravaged most of our life plans, we can't let it take away all the fun in our lives! Embrace 2021 and add a pop of color to your life to brighten it up further, starting with your makeup. If you're looking for a fun way to glam up your eyes, then adding purple mascara to your makeup drawer is definitely the way to go. If you feel like deviating from your usual color of mascara, purple is a cute, pretty shade that you can use to liven up cute picnic dates or glamorous nights out.
Just a few coats on your lashes will transform them into a lush, purple color that really stands out and with plenty of mascaras to add the length or volume to your lashes that you desire, this is the perfect purchase for you to flaunt your lashes and color up your day! If you feel that purple may be too extra a color for eye mascara, worry not since this color has become really popular and suits nearly everybody. Also remember that the only person's opinion that matters are yours, so if you love it and want to try out purple mascara, then take a look at this specially curated list of the 8 best purple mascaras that we've put together to help you find the one suited just for you!
8 Best Purple Mascaras To Make You Feel Like A Barbie
If you're looking for a change to your mascara collection, a great place to start is with Maybelline's Volum' Express mascara in the shade 'Poppin' Purple'. A game-changer when it comes to intensifying the volume of your lashes, this purple tube mascara is infused with collagen and gives you volume in just one coat. In addition, its unique brush is equipped with wavy bristles to cover your lashes, providing you with ease of application. The formula of this purple tinted mascara is also suitable for sensitive eyes, and you can wear it even with your contacts when you go out.
Pros
Dramatic, voluminous lashes
Infused with collagen
Only one coat needed
Ophthalmologist tested
Mascara wand has wavy bristles for ease of application
Suitable for contact lens wearers
Cons
Got a dreamy cottage-core-themed picnic planned for the day? Grab this vivid purple mascara from May dear to add to your look! If you're worried about it being a hot day, don't fret because this waterproof and sweatproof lasting color mascara is here to make it a whole lot better! With a lightweight formula, you can apply this to your lashes for a longer, thicker look, and it is long-lasting, allowing you to wear it comfortably all day. The non-toxic formula is safe for your eyes and you don't have to worry about any smudging.
Pros
Targets length and thickness
Vivid colorful mascara
Fade-proof
Waterproof and sweatproof
Smudge-proof
Lightweight
Long-lasting wear
Non-toxic formula
Affordable
Easily removable with warm water
Cons
Want to add a twist to your eye makeup for your next night out on the town? This deep purple mascara from NYX is a great addition to your purse for the night as it will make your eyes pop and give your lashes a deep, gorgeous purple tone. This highly pigmented mascara is perfect if you're looking for that intense color payoff that will definitely keep heads turned all night long. Another benefit is that the formula helps make your lashes longer and more voluminous, adding to your look for the evening.
Pros
Highly pigmented
Affordable
Targets length
Volumizing
Intense color payoff
Cruelty-free
Cons
May have to apply a few layers for intense color
Are you searching for the perfect mascara to accent your eyes for your next outing? Look no further than Pozilan's 4D Silk Fiber Lash mascara in the shade purple. Its richly pigmented formula will get you longer and more voluminous lashes with just a single coat of its long-lasting formula. The purple waterproof mascara also helps you battle rain, sweat, and tears while also being equipped with a double-ended foldable wand with a lash comb that helps you apply the hypoallergenic purple mascara effortlessly. Be sure to be left with smudge, flake, and clump-free lashes using this cult-favorite mascara!
Pros
Bright mascara color
Targets length and volume
Waterproof
Hypoallergenic
Long-lasting wear
Smudge-proof
No clumping or flaking
Double-ended foldable brush
Only a single application needed
Cons
May be slightly difficult to remove
Life becomes so much easier when we can find a mascara that can be applied with ease. This purple mascara from the brand Ibcccndc is smooth and creamy, allowing you to glide it onto your lashes for a long, thick, and volumizing look. The bright purple mascara adds a splash of color to your eyes and its waterproof formula makes it perfect for you to wear to the club or for a day out. The cream-based texture needs just one coat, easily coating your lashes fully while minimizing chances of flaking or drying.
Pros
Targets length and volume
Waterproof
Smooth and creamy formula
Easy application
Single coat needed
Minimizes flaking or drying
Hypoallergenic
Non-toxic formula
Long-lasting wear
Cons
Flaunt your lashes and get them dressed up in this fabulous purple mascara that will take your eye makeup look to the next level. Great for parties as well as a casual lunch, this bright purple waterproof mascara makes your lashes look thick and long, while its durable formula makes it last all day. It has a unique brush head which allows the purple toned mascara to double as an eyeliner as well! Formulated to coat each lash full and apply quickly, this is a great addition to your makeup bag.
Pros
Targets length and thickness
Waterproof
Doubles as an eyeliner
Coats each lash fully
Long-lasting wear
Durable formula
Affordable
Cons
May need a few coats of application to get the bright color
Want to show off your purple mascara on a full-day outing but worried that the heat would make your skin oily and melt it off? Say hello to L.A. Girl's volumizing mascara made with a tubular film coating formula that makes it resistant to oil, water, and sweat while still being removable with warm water. The purple lengthening mascara gives an instant lift to your lashes while also being equipped with a petal-shaped brush to help layer and separate your lashes. Its long-lasting formula can be easily applied and is smudge-proof while also giving you a false lash effect.
Pros
Targets Length and volume
Lifts lashes
Special tubular formula
Oil-resistant
Water-resistant
Comes with petal shaped brush
Long-lasting wear
Smudge-proof
Affordable
Easily removable with warm water
Cruelty-free
Cons
Another great purple mascara that you can use to accent your eyes is this deep purple mascara that delivers volume and length to keep you feeling fabulous. This purple tubed mascara comes in a cutely packaged cat-themed tube and has a conically shaped fiber brush to lift and lengthen your lashes without any clumping. The formula is also flake-free, fade-proof, and waterproof, which keeps your purple eye makeup fresh and dazzling all day long.
Pros
Lengthens and volumizes
Conic shaped brush
No clumping
Waterproof
Flake-free
Fade-proof
Cons
Color may tone down after a while
Now that you've taken a look at our list of the 8 best purple mascaras that you can buy, here are a few things that you can keep in mind while picking out the perfect purple mascara for you.
What To Remember When Picking Out A Purple Mascara
When picking out a colored mascara, consider how many applications you'd probably need to get the desired intensity of color you want. For example, if you're a brunette, you would like to find the best purple mascara for dark lashes and need more coats for full coverage. If you have light-colored eyelashes, the mascara will stand out more quickly due to the contrast, so if you want a deeper color, then a mascara that doesn't need too many coats may suit you better.
Think about whether you are looking for a mascara that adds volume to your lashes or if you are looking for one to add length. Different mascaras target different areas, and you can even find ones that give you both, so keep in mind what kind of strength you want your purple mascara to target. Then, choose your purple mascara based on the type of results it gives or buy various ones for various occasions!
Water-resistance
Purple mascaras can come in waterproof, water-resistant, and even oil-resistant variants! If you're worried, you might cry during movies, or sweat on humid, hot days, think about picking up a waterproof or water-resistant mascara that will stay on longer and aid you, especially if you have naturally watery eyes. Go for washable mascaras if you want to avoid the chance of your eyes drying out quicker or accidentally pulling your lashes out during removal if you're not careful enough.
So, there you have all our input on the 8 best purple mascaras you can get your hands on. Colored mascaras add a lot of character to your eye makeup look, and purple is a gorgeous eye-popping color that you can never go wrong with! So, dress like a Barbie and grab a fresh, purple-colored mascara in any variant you want. The list includes different options such as waterproof, washable, and even lengthening or volumizing mascaras! We're sure you'll be able to find the perfect pretty purple mascara to go with your outfits whenever you want to head out for a party, a casual day out, or even a fun Zoom call. So if you feel like it's time to deviate from that standard black or brown mascara color and switch it up to a more fun color for a few outings, then purple mascara is the way to go for that!
Frequently Asked Questions
Who can wear purple mascara?
If you're a person who likes wearing mascara, then you can wear purple mascara! There are no limitations when it comes to makeup!
Does purple mascara suit brown eyes?
Yes! Purple mascara suits all and every eye color. It totally depends on the person wearing them. If you have darker lashes, you may need a few extra coats for the color to be more visible but in no way should that stop a brown-eyed beauty from wearing them.
Does purple mascara suit blue eyes?
Yes, it does. Purple is a gorgeous color and if you have lighter eyelashes, it tends to stand out more.
Why does purple mascara make green eyes pop?
Purple mascara can make green eyes pop due to the contrast of colors.
Recommended Articles