11 Best Hair Products For Flyaways
Keep your hair in place even on the windiest of days with effective hair care products.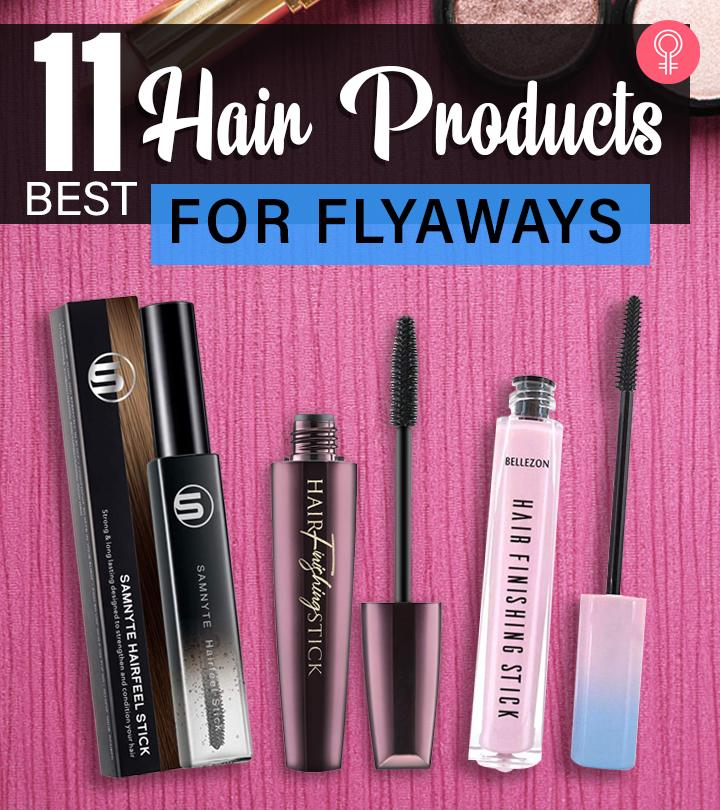 Taming frizzy hair is tedious, mainly when those flyaways stick out and ruin your hairdo no matter what. But our article on the best hair product for flyaways will solve your problems. In it, we have listed the 11 most-effective hair products for flyaways that you should invest your money in right away. These products will address your issues and allow you to style your hair just as your heart desires. So, go ahead and check it out.
11 Best Hair Products For Flyaways
Price at the time of publication: $28
Price at the time of publication: $11.99
Price at the time of publication: $22
Price at the time of publication: $8.99
Price at the time of publication: $16.13
Price at the time of publication: $12.6
Price at the time of publication: $17.0
Price at the time of publication: $16
Price at the time of publication: $8.29
Price at the time of publication: $9.99
Price at the time of publication: $20.99
It is easy to get overwhelmed by the number of products that promise to treat frizz and flyaways. Some products protect your tresses from heat damage, others help make your hair more manageable. Go through the easy ways to choose the best product for untamed flyaways.
What To Consider When Buying The Best Hair Products For Flyaways
Multipurpose: Look for a multipurpose product that tames the flyaways, and minimizes split-ends and frizz. It is also better to choose products that can be used in different weather conditions and should be hypoallergenic, oil-free, non-greasy, and lightweight.
Ingredients: Make sure that you check the ingredients before purchasing a product. Choose products with gentle, organic, or natural ingredients that do not damage the scalp or cause irritation. Natural extracts like shea butter, aloe vera, green tea, coconut extract, castor oil, vitamin E, cucumber, apple, apricot extract, and hyaluronic acid nourish your hair and leave it smooth, shiny, and healthy.
Long-Lasting Effect: Since fine hair tends to get greasy quickly, choose a product that keeps your strands from becoming too oily too fast while helping you tame flyaways. However, if you have thick hair, you probably want formulations that will keep your strands from drying up in a few days. It would be wise to choose hair products that are fragrance-free and offer your hair long-lasting relief from flyaways while protecting them from UV rays and heat damage simultaneously.
Cost And Reviews: This is one factor you should consider when buying hair products because there are expensive as well as inexpensive drugstore ones that work great for your hair. Also, check the online reviews about the product, and the star ratings as well before purchasing the product for your hair type.
Heat And Color Protectant: If you are one who regularly straightens hair or is fond of curls, go for a product that protects your hair from heat damage and offers sun protection. Since heat makes you appear dry, brittle, and dehydrated, they can also cause excess frizziness and flyaways. Choose hair care products that would not cause damage to color-treated hair or strip off your hair color after use.
Moisturizing: Hair needs constant hydration, so look for a water-based formula that moisturizes your hair strands. Go for ingredients like glycerin, antioxidants, vitamin E, argan oil, and jojoba oil that nourishes and strengthens your hair while forming a protective layer on your hair without any flaking or buildup.
Easy to use: It is important to find a hair product that you can use easily. Hair care products for flyaways are available in spray form, which you can spray on your hair and reduce frizz. Gel forms can also be picked up since they are non-greasy and offer a long-lasting, frizz-free hold.
Why Trust Stylecraze?
Shiboli Chakraborti is a seasoned writer and certified Skincare Coach specializing in skin and hair care segments. She has vast experience writing product reviews to help her readers have a seamless, stress-free buying experience. Her review process is extensive and involves aggregating user reviews across multiple platforms. She writes about the best hair products for flyaways that will keep your locks in place in this article.
Frequently Asked Questions
What is the difference between frizzy and flyaway hair?
Frizz is usually caused by humidity, an issue with the texture of the hair. On the other hand, flyway, also known as static hair, usually occurs when the hair is not dense enough or lacks substance.
What causes hair flyaways?
Flyaways are caused due to buildup on the scalp by shampoos and other products that may contain paraben, sulfates, and other harsh ingredients.
How can I deal with the broken hair/flyaways on the top of my hair?
Deep conditioning treatment can effectively help you tackle flyways. Try using a microfiber towel to dry your hair and apply serum post-wash. Also, avoid using heat-generated styling tools frequently.
How can I tame flyaway hairs that stick out?
Use a good conditioner post-wash and avoid heat-styling tools to dry your hair. After washing your hair, apply a silk serum to tame your hair and control flyaways.
What is a good hair care routine for people with lots of flyaways?
Using a shampoo that controls frizz may also help control flyaways. Deep conditioning, followed by a suitable hair serum, can work wonders when it comes to taming the hair.