Best Mascaras For Green Eyes That Enhance Your Looks – Top Pics 2023
Add some black and accentuate the blue in your eyes with highly pigmented mascaras.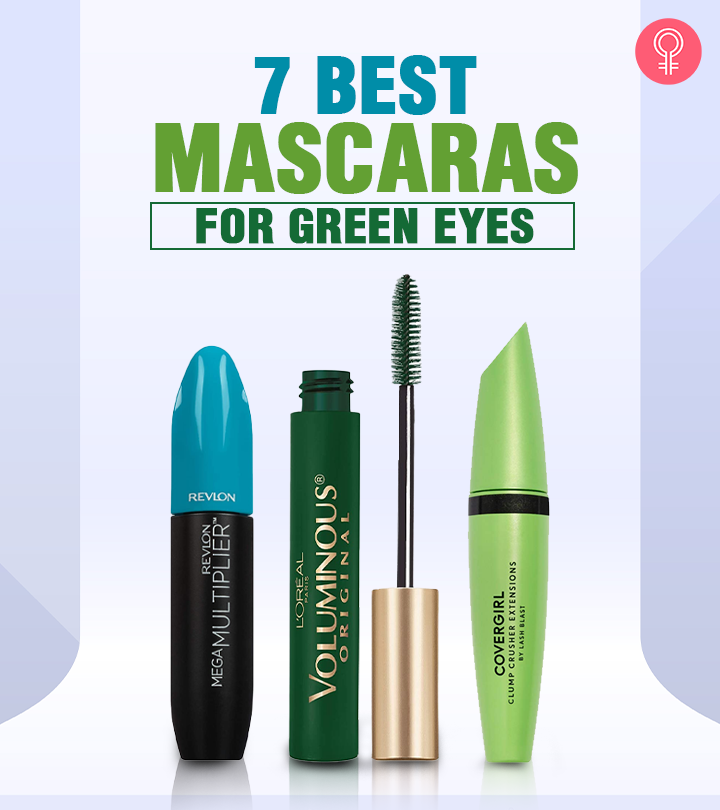 The appeal of gorgeous green eyes is immense! They stand alone quite beautifully on their own. But, you can accentuate your eyes with the best mascaras for green eyes that will not only complement your eye color but also help them pop! Globally, only 2% of the world's population has green eye color. Did you know that it is not even a natural pigmentation of the iris? As in, no one is generally born with green eyes! It is caused by light brown pigmentation in the iris, a yellowish lipochrome pigment, and a phenomenon called Rayleigh scattering.
From the classic blacks to the celebrated violets and browns, here's a collection of the best mascaras for green-eyed beauties that you should definitely check out!
7 Best Mascaras For Green Eyes
The Deep Green shade of the L'Oreal Paris Original Washable Bold Eye Mascara highlights the natural green of your eyes. It resists clumping and offers a soft hold with 5x times the natural volume of your lashes! The mascara is enriched with panthenol and ceramide-R and helps protect and condition the lashes. To assist the goodness of the formula, the volume maximizing brush ensures a quick and even application for soft, voluminous lashes.
Pros
 Clump-resistant
 Flake-free
 Softens the lashes
 Conditions the lashes
Offers lash enhancement
 Buildable formula
 Fragrance-free
 Suitable for sensitive skin
 Allergy tested
 Ophthalmologist-tested
Cons
Price at the time of publication: $8.98
The Revlon Mega Multiplier™ Mascara adds both length and volume to your lashes, thanks to the fibers sealed in tiny, flexible tubes in the formulation. This Plum Brown shade adds a hint of drama and beautifully complements your green eyes for a day look. The specially designed brush effortlessly volumizes your lashes without any smearing or falling out. Add two coats without any drying time in between to get the best results.
Pros
 Smudge-proof
 Flake-free
Lengthening formula
 Water-resistant
 Easy to remove
 Budget-friendly
Cons
None
Price at the time of publication: $4.99
For the ultimate pop of color that frames your naturally green eyes, try the Ultra Violet shade of the Maybelline New York Snapscara Washable Mascara. The highly-pigmented, clump-free formula glides on smoothly to offer defined eyes throughout the day. The mascara can be your to-go choice for creating versatile, eye-catching looks. Its easy glide brush enables you to effortlessly apply this wax-free formula. This mascara is especially suitable for sensitive skin as you can gently remove it with a splash of warm water without any harsh rubbing or tugging at your lashes.
Pros
 Easy to remove
 Suitable for sensitive skin
 Clump-free
 Wax-free
 Long-lasting formula
 Suitable for contact lens wearers
 Ophthalmologist-tested
Cons
None
Price at the time of publication: $9.99
Get showstopping lashes with the Covergirl Lash Blast Clump Crusher Extensions Mascara! Its zero-clump formulation offers 20x times more volume with each application. Black mascara is universally preferred and a hard-to-beat choice in the fashion world. So much so that it has held onto its charm even in the times of colored mascaras.
This Very Black shade ensures you nail that everyday casual or dramatic look, depending on your choice. The curved double-sided brush with a straight bristle edge offers even application and beautifully separates your lashes for a root-to-tip volume. If you need more convincing, feel free to take a look at this YouTuber's video on the merits and demerits of the product.
Pros
 Cump-free
 Paraben-free
 Mineral oil-free
 Sulfate-free
 Phthalate-free
 Formaldehyde-free
 Vegan
 Cruelty-free
Offers lash separation
Cons
Price at the time of publication: $7.99
Purple is placed diagonally opposite to green on the color wheel, which means it makes for the absolute best option for people with green eyes. This highly pigmented purple shade of Teayason Chromatic Mascara defines your lashes for a striking look that lasts all day. It is non-sticky, smudge-proof, and waterproof. The conic-shaped fiber applicator helps you effortlessly add volume and length to your lashes for a more naturally sculpted look.
Pros
 Long-lasting
 Waterproof
 Non-sticky
 Smudge-proof
 Does not flake
 Paraben-free
 Phthalate-free
 SLS-free
 Petrolatum-free
 Fragrance-free
 Cruelty-free
 Ophthalmologist-tested
Cons
None
Price at the time of publication: $7.89
The classic smoky eye look highlights your eyes, but it is simply incomplete without well-done lashes. This black Bobbi Brown Smokey Eye Mascara perfectly complements your smoky eyes and adds to the well-defined drama of your eyes. It is kohl-pigmented for intense color and adds length and volume to your lashes. The long-lasting formula holds on without smudging or flaking while the brush evenly spreads the mascara on your lashes and covers even the smallest of lashes. Its rich formula helps create well-defined, bold lashes that are ideal for acing that femme fatale look.
Pros
 Highly pigmented
 Long-lasting
Intensifying formula
 Smudge-proof
 Does not flake
 Paraben-free
 Sulfate-free
 Gluten-free
 Phthalate-free
 Triclosan-free
 Silicone-free
 Mineral oil-free
 Formaldehyde-free
Cons
Price at the time of publication: $20.37
The Buxom® Lash Volumizing Mascara has a nourishing formula enriched with vitamins, antioxidants, and rose water. This lash-defining mascara has glossy, patent leather pigments that offer an instantly visible lash lift. Define the lashes to get 3x more volume with each stroke of the dense bristles of the hourglass-shaped applicator brush. The ultra-black waterproof mascara also ensures that your lashes remain soft, curled, and fanned out throughout the day.
Pros
 Nourishing formula
 Waterproof
 Highly pigmented
 Clump-free
Cons
Price at the time of publication: $23
It's not difficult to amp up green eyes. And now you even have a list of mascaras to boost your look. But if you want to make an informed choice, we have jotted down some features that you might wish to double-check before buying a mascara for green eyes. Check out our buying guide below!
What To Consider When Buying Mascaras For Green Eyes
Ingredients: Find a formula enriched with botanical ingredients like shea butter, biotin, glycerine aloe vera, and argan oil which prevent lashes from drying. These potent ingredients also nourish the eyelashes while strengthening them.
Brush Type: There are different types of mascara wands that accentuate your eyes differently. For example, a bristles brush reaches the corners of your lashes. A curved brush lifts up the lashes instantly and gives long-lasting curls. A fluffy wand has multiple dense bristles that separate long lashes while accentuating them.
Color: You can opt for purple or lavender color mascara since both these shades are opposite to green on the color wheel. Choose brown mascara to complement your eye color at night. Black is evergreen and timeless and suits all eye colors.
Ophthalmologist-tested: Look for mascaras that are ophthalmologist-tested and ideal for contact lens wearers. These formulas will safe to use and won't trigger any allergic reactions.
Formula Base: Wax-, oil- and silicone-based formulas are water-resistant and smudge-proof mascara that stays long without drying the lashes. Water-based formulas are more gentle to the eyes but aren't much water-resistant or long-lasting.
Chemicals: Go for a chemical-free formulation when buying mascara for green eyes. Check the label and opt for a mascara that is paraben-free, mineral oil-free,
Why Trust StyleCraze
Baishali Bhattacharyya, the author of this article, is certified in makeup techniques and is extremely enthusiastic about keeping up with the latest makeup trends. She has conducted thorough research and read through multiple reviews and user feedback to handpick the best mascaras for green eyes. These have all been chosen based on their shade, intensity of pigmentation, chemical-free formulation, and ability to last for longer hours without clumping the lashes.
Frequently Asked Questions
Does mascara make green eyes pop?
Yes, the right colored mascara makes green eyes pop.
Is blue mascara good for green eyes?
Yes, it is. Blue mascara is a bright addition to enhance naturally green eyes and look vibrant.
What color mascara is the best for green eyes?
If you have green eyes, purple and burgundy color mascaras will be best for you. This is because green is polar opposite to purple and burgundy colors and helps your eye color to pop out.
Which colors make green eyes pop?
Burgundy and purple will make your green eyes pop out.
Should green eyes wear black or brown mascara?
Yes, black and brown are great options if you have green eyes as these shades help accentuate the color of your iris.
Does purple mascara bring out green eyes?
Yes, purple is the polar opposite color of green and purple mascara will bring out your green eyes.
Why are green eyes so attractive?
Only 2% of the world population has green eyes, making it an attractive and desirable eye color.
How do I know what color mascara to use?
You can choose mascara color based on your skin tone and hair color. If you have pale skin tone or dark hair color, go for brown or black mascara.
Recommended Articles