7 Best Travel Size Face Cleansers That Fit In Your Bag – 2023
Nourish and hydrate your skin with long-lasting yet pocket-friendly skin care products.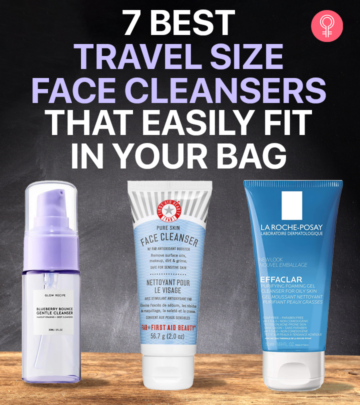 This is your perfect stop if you have been looking for the best travel-size cleanser. Finding the right product in the correct size can be a tough challenge, as no one likes pouring in the correct size bottle at the last moment! If you have spent many a time looking for the perfect size bottle to carry in your travel bag, we have something that will help you out. Here is a list of 7 travel bottles that will help you cleanse your face no matter where you head out!
7 Best Travel Size Face Cleansers On Amazon
Pros
Gentle
pH-balanced
Dermatologist-tested
Allergy-friendly
Paraben-free
Phthalate-free
Mineral oil-free
Sulfate-free
Talc-free
Vegan
Cruelty-free
Fragrance-free
Nano-free
Cons
Price at the time of publication: $12
This cleanser from La Roche-Posay has a gentle formula that deeply cleanses the skin without disrupting its pH balance. It is enriched with zinc pidolate that purifies and exfoliates oily skin to remove excess sebum. The clear and refreshing formula of this travel size face cleanser breaks down and removes makeup, dirt, and pollutants that can cause severe acne breakouts or lead to premature aging. Learn more about this product in this video.
Key Ingredients: Zinc pidolate
Pros
Maintains pH balance
Non-drying
Non-comedogenic
Paraben-free
Alcohol-free
Soap-free
Cons
Overpowering fragrance
Dries out the skin.
Price at the time of publication: $20
Pros
Gentle
Smells great
Lathers well
Paraben-free
Mineral oil-free
Sulfate-free
Phthalate-free
Drying alcohol-free
Synthetic dye-free
Vegan
Cruelty-free
Cons
Not suitable for oily or sensitive skin
Expensive
Price at the time of publication: $39
Pros
Gentle
Non-comedogenic
Non-drying
Non-irritating
Fragrance-free
Developed with dermatologists
Cons
Tends to dry out the skin.
Pros
Gentle
Non-drying
Smells good
Paraben-free
Sulfate-free
Phthalate-free
Mineral oil-free
Triclosan-free
Formaldehyde-free
Cons
May cause breakouts and rashes.
Price at the time of publication: $10
Pros
Mild fragrance
Gentle
Non-drying
Value for money
Cons
Price at the time of publication: $7.47
Pros
100% organic
Smells good
Non-drying
Suitable for sensitive skin
Paraben-free
Sulfate-free
Cruelty-free
Cons
Price at the time of publication: $23.9
Good quality face cleansers make your skin healthy, hydrated, and youthful. In addition, travel-friendly face cleansers are excellent for getting rid of excess oil and unwanted impurities after an all-day trip. If you're confused about the best travel-friendly face cleanser, here are a few things to consider.
Things to Consider Before Buying Best Travel Size Face Cleansers that Fit in Your Bag
Choose a travel-friendly face cleanser with natural ingredients that preserves the health of your skin while cleansing well. A face cleanser with ingredients like lactic acid, glycerin, or burberry extract ensures your skin isn't stripped of its natural oils, and you achieve a smooth texture. In addition, many face cleansers contain aloe vera and green tea extract as antioxidants and keep your skin young. Other natural constituents to consider are lavender oil, shea butter, and salicylic acid.
Go for a face cleanser that is dermatologist tested and approved. It should suit your skin without causing undesired side effects such as allergies, rashes, or itching. Dermatologist-tested cleansers are hypoallergenic and safe for sensitive skin, and they maintain your skin's natural pH.
You use a face cleanser every day. Therefore, ensure that it is free from undesired chemicals and toxic preservatives. Buy a face cleanser that does not contain traces of silicone, sulfate, paraben, phthalate, triclosan, and SLS. These harmful chemicals strip away your skin's natural moisture and cause premature aging.
Face cleansers should be gentle on the skin and provide a soothing feel. They must clean the pores, dirt, dead skin, and oil buildup to make your face healthy and glowing. They should not leave any unwanted residue or make the skin greasy when washed away. They should be gentle and fragrance-free if you're allergic. Finally, it should lather well and keep the skin hydrated for a long time.
The best face cleansers are cost-effective and excellent in quality. In addition, they help to combat skin concerns such as hyperpigmentation, acne, and dark spots on your face by keeping the skin clean. Finally, ensure that your face cleansers are non-comedogenic, i.e., they must not clog the pores. This makes the skin dull and gives rise to acne, blackheads, and pimples.
Why Trust Stylecraze?
The author, Shiboli Chakraborti, is a certified skin care coach specializing in reviewing skin care and beauty products. She curated this list of the best travel-size cleansers for keeping your skin hydrated by thoroughly researching various online options and going through user feedback on trusted online forums. The shortlisted products help you gently cleanse your face on the go. They are also non-comedogenic and cruelty-free.
Frequently Asked Questions
How many ounces do travel-size cleansers contain?
Travel-size cleansers usually contain around 3 – 4 ounces. It lasts for about 30 to 35 washes.
How do you pack a foam cleanser for travel?
Pack a foam cleanser in TSA-approved containers and keep it safe inside a leak-proof ziplock bag.
How should you wash your face when traveling?
When traveling, wash your face using an effective cleanser twice a day. Carry face wipes and keep wiping your face to avoid reactions due to environmental aggressors. Use a hydrating face mask on your face after getting down from a flight.
How do you know if you're over cleansing?
If you are over cleansing, your skin might start feeling too tight and develop rashes and adult acne. During traveling, it might so happen that you feel the need to clean your face after every few minutes, but that might lead to other skin conditions such as redness, dryness, and sensitivity.