11 Best Travel-Size Skin Care Kits And Products Of 2023
These travel kits will hold all your skincare products safely on the road.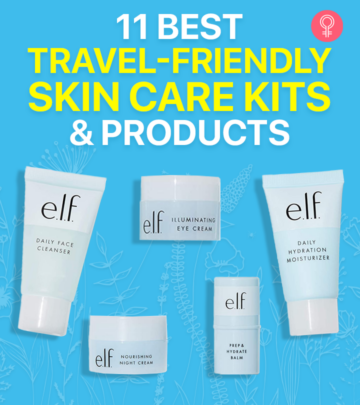 Carrying all your skin care products with you is not an option when you go on vacation. Even packing a few products in your bag can be a task. However, we have compiled a list of the best travel-size skin care kits to make the process easy. So, if you ever get stressed out when packing for a trip, this article is for you. Continue reading to see our top picks for the finest travel-sized skin care products and kits. Keep scrolling!
11 Best Travel Size Skin Care Kits & Products
The e.l.f. Jet Set Hydration Kit contains a travel-size cream, a night cream, a moisturizer, a balm, and a cleanser to continue your daily skin care routine even while traveling. The balm is enriched with shea butter and aloe that keep the skin hydrated. The moisturizer and cleanser contain natural and skin-friendly ingredients like jojoba oil, shea butter, aloe, vitamin E, hyaluronic acid, and peptides to enhance your skin texture.
They also contain jojoba oil and shea butter that have moisturizing properties. The vitamin E in the formula fights free radicals to protect your skin, while hyaluronic acid intensely hydrates the skin. The night cream contains shea butter, cucumber extracts, and jojoba oil that restores the skin tone and impart radiance. This travel size skin care kit offers nourishment and hydration to your skin to prevent it from drying or becoming dull while traveling. Take a look at this video to learn more about the product.
Pros
For all skin types
Phthalate-free
Paraben-free
Triclosan-free
Triclocarban-free
Hydroquinone-free
Cruelty-free
Vegan
Cons
None
Price at the time of publication: $15
The Littles 4.0 Kit by Drunk Elephant contains a jelly cleanser, C-Firma Day Serum, B-Hydra Hydration Serum, T.L.C. Framboos Glycolic Night Serum, Umbra Sheer Physical Daily Defense SPF 30, Virgin Marula Facial Oil, Protini Polypeptide Cream, and C-Tango Multivitamin Eye Cream.
The jelly cleanser is infused with glycerin, fruit extracts, and virgin marula oil that get rid of dirt and leave the skin clean and soft. These products keep your skin youthful, glowing, and healthy by cleansing, hydrating, and conditioning it. They are suitable for all skin types and have a refreshing fragrance. Watch this YouTuber's honest review to get a better idea about the product and its features.
Pros
Suitable for all skin types
Pleasant scent
Essential oil-free
Alcohol-free
Silicone free
Artificial scent-free
SLS-free
Chemical-free
Cons
None
Price at the time of publication: $90
This TimeWise Repair Volu-Firm The Go Set from Mary Kay includes a foaming cleanser, a facelifting serum, a retinol night treatment cream, an eye renewal cream, and a broad-spectrum SPF 30 sunscreen lotion. The foaming cleanser contains peptides that improve wrinkles and sagging of skin. The face-lift serum is infused with pure vitamin C and amla extracts that boost the collagen and accelerate skin repair. These skin-nourishing products contain anti-aging ingredients to keep your skin firm and youthful. This video will give you a better insight into the product.
Pros
Gentle
Lightweight
Silky formula
Reduces rashes
Cons
Price at the time of publication: $42.12
The Clinique 3 Step Travel Size Set is formulated for combination to oily skin types. It includes a liquid facial soap, a moisturizing gel, and a clarifying and exfoliating lotion to keep your skin clean and hydrated during travels. The liquid facial soap contains sucrose that soothes and calms the skin.
The moisturizing gel is infused with barley, cucumber, and sunflower seed extracts that strengthen the skin barrier, retain moisture, and improve the skin resilence. It also contains hyaluronic acid that locks in moisture and makes the skin soft and smooth. The non-drying cleanser gently cleanses the skin, revealing a smooth and refreshed complexion. The exfoliating lotion contains witch hazel that helps refine and soothe the skin. It removes excess oil to unclog pores and leave your skin brighter and smoother.
Pros
Gentle formula
Non-greasy
Softens the skin
Imparts glow
Cons
None
Price at the time of publication: $13.99
The Retinol Vitamin Enriched Anti-Aging Starter Kit contains an anti-aging gel cleanser, a vitamin E eye gel, an anti-wrinkle facial serum, and a night cream. These easy-to-carry products ensure that your skin receives anti-aging care even while traveling.
The gel cleanser contains retinol and vitamin E that improve the texture and brighten the skin. The facial serum, eye gel, and night cream are infused with skin-friendly ingredients, such as kale and rosemary (contain vitamin A), green apple, raspberry, lemon (contain vitamin C), and sunflower seeds (rich in vitamin E). This skincare collection is designed to cleanse, repair, and treat your skin while keeping it hydrated and looking younger.
Pros
Gentle
Easy application
A little goes a long way
Smells good
Cons
None
Price at the time of publication: $34.99
Vasanti's 4 Step Travel Skincare Kit rejuvenates your skin and eliminates dullness. It includes an everyday cleanser, a hydrating moisturizer, a gentle exfoliator, and a healing eye cream. The cleanser contains active ingredients that remove makeup, oil, impurities, and pollutants and prevent aging and environmental damages to keep skin clean and bright.
The moisturizer in this set has a lightweight and non-greasy texture that keeps the skin hydrated all day. It refreshes your skin while maintaining an even tone. The exfoliator has hydrating and brightening effects due to the presence of microcrystals, aloe, and papaya enzymes. It smoothens and brightens the skin to fade wrinkles, fine lines, and dull skin. The kit also contains an eye cream that soothes tired eyes and fights wrinkles, puffiness, dryness, and skin thinning by improving blood circulation. It is enriched with active botanicals and nourishing vitamins with clinically proven peptides.
Pros
Suitable for all skin types
Gentle
95% natural ingredients
Paraben-free
Sulfate-free
Phthalate-free
Vegan
Cruelty-free
Cons
Price at the time of publication: $12
The Snail Solution Trial Kit from Nature Republic features a skin booster, an emulsion, an essence, and a cream in a travel-friendly size to keep your skin hydrated and moisturized on the go. Its intense-care formula contains top-quality snail secretion filtrate to give a dose of hydration and radiance to dull and stressed skin.
The essence has 70% secretion filtrate that repairs damaged skin and fades wrinkles, acne scars, dark spots, and aging signs. These products are made of 80% snail mucin that contains copper peptides, hyaluronic acid, glycoprotein enzymes, and antimicrobial peptides to enhance skin regeneration and reduce inflammation and redness. The snail mucin promotes collagen production and skin regeneration by targeting wrinkles and fine lines.
Pros
Gentle formula
Quickly absorbed
Softens the skin
Cons
May irritate the skin.
Sticky moisturizer
Air Repair's Skincare Kit consists of a Complexion-Boosting Moisturizer, a Soothing Skin Salve & Lip Balm, a Soothing Facial Cleansing Milk, a Super-Hydrating Eye Cream, and an Air Repair Complexion Quenching Facial Mist.
The cleansing milk gently cleanses the skin by removing makeup, buildup, and dirt to reveal refreshed skin. It contains arnica extract, aloe, and chamomile that soothe inflammation and borage and rosehip oil that soften and rejuvenate the skin. The facial mist contains soothing aloe gel, hydrating hyaluronic acid, and sodium PCA ,along with lavender and calendula extracts, to calm irritated skin while leaving it radiant.
The eye cream hydrates and soothes the delicate skin around the eyes. It contains vitamin C, cloudberry seed oil, green tea, aloe, and allantoin that fight against the premature signs of aging and soothe and moisturize the skin. It also reduces puffiness, dark circles, and bags around the eyes. The moisturizer contains green tea, cloudberry seed oil, and hyaluronic acid to hydrate and rejuvenate the skin. The skin salve and lip balm contain vitamin E, almond oil, and shea butter that nourish and smoothen the skin and prevent dryness and roughness.
Pros
Gentle
Suitable for all skin types
Suitable for all climates
Gluten-free
Paraben-free
Mineral oil-free
Petroleum-free
Cons
The cleanser is a little sticky.
Price at the time of publication: $49
This Undaria Algae Body Oil from Osea has a travel-friendly packaging that can easily fit in your handbag or luggage. It contains acai, babassu oil, sesame oil, and undaria seaweed to hydrate and protect your skin. Acai has skin-detoxifying properties, while the antioxidant-rich babassu oil and sesame oil treat wounds and inflammation. The undaria seaweed delivers an instant rush of hydration and antioxidants to the skin as it is rich in omega-6 fatty acids. The non-sticky formula of this oil improves the appearance of the skin while fading stretch marks and other minor flaws.
Pros
Suitable for al skin types
Non-sticky
Lightweight
For aromatherapy
Vegan
Cruelty-free
Gluten-free
Paraben-free
Toxin-free
Cons
Price at the time of publication: $19.39
The Dude Face & Body Cleansing Wipes are flushable and made from a 99% water and plant-based formula to remove oil and impurities from your face. They are enriched with soothing aloe gel to hydrate the skin and refreshing sea salt to offer thorough cleansing. This pack of 30 unscented cleansing wipes is suitable for sensitive skin.
Pros
Suitable for sensitive skin
Unscented
Hypoallergenic
Easy to use
Flushable
Alcohol-free
Cons
None
Price at the time of publication: $17.33
This probiotic-enriched cleanser from Tula Skincare contains lactic acid to naturally exfoliate and cleanse the skin and reveal a healthy and radiant tone. It also contains chicory root, turmeric, and blueberry to nourish and balance the skin.
The chicory root, infused with anti-inflammatory prebiotics, firms the skin, while turmeric root reduces inflammation due to its antioxidant properties. Blueberry is rich in antioxidants that combat free radicals and promote collagen formation. This gel cleanser offers deep pore cleansing without stripping the skin of essential oils. Its gentle formula conditions the skin from deep within to deliver the desired results.
Pros
Gentle formula
For all skin types
Non-drying
For all ages
Pleasant fragrance
Cons
Price at the time of publication: $10
It is very important to take care of their skin while traveling. For this, there are various travel-size skin care kits and products available in the market that you can easily carry with you anywhere. Some of the best ones are listed above. But how do you choose the right skincare kit for your skin requirements? Check out the buying guide below to get an idea.
How To Pick The Best Travel-Size Skin Care Kits And Products
Ingredients: Always choose those kits that contain products made with natural, skin-friendly, and hydrating ingredients such as jojoba oil, shea butter, aloe, vitamin E, hyaluronic acid, peptides, vitamin C, amla extracts, green tea, glycerin, cucumber, sunflower seed extracts, etc. Avoid using skin care products that contain paraben, sulfate, phthalate, cruelty, mineral oil, petroleum, gluten, alcohol, and other harmful ingredients. Stick to lightweight formulas while traveling.
Skin Type: You must use travel-size skincare kits according to your skin type. If you have dry skin then go with a kit that includes a gentle cleanser to remove impurities, a toner to offer proper hydration, a daily moisture-rich cream, and a sheet mask. If you have normal skin go for a kit that contains a foaming face wash, moisturizing cream, and a face mask. For combination skin, go for a skincare kit that includes a face cleanser, alcohol-free toner, daily moisturizing cream, and a face mask. If you have oily skin, then go for foaming face wash, non-greasy cream, a face toner, and a sheet mask. Sheet masks are crucial in a traveling skin care kit because they provide the extra boost of hydration that your skin loses being exposed to the elements.
Skin Issues: If you have specific skin issues like dermatitis, fungal acne, rosacea, deep wrinkles, acne, etc. look for special travel kits that cater to these skin needs. These kits may come with a few extra products to make sure your skin remains healthy even when you spend extended periods of time outdoors.
SPF: When you are considering travel-size skin care products or kits, then SPF is one of the most important things you should consider. Check if the products contain SPF 30 or more to offer your skin the best protection against UV rays and sunburns.
Size: Travel-size skincare kits come in different product ranges. Note how many products each kit is offering. You can choose the skincare kit according to your skincare regimen so that you don't alter your skincare routine even if you are traveling.
Why Trust StyleCraze?
The author of this article, Shiboli Chakraborti, is a certified skincare coach and is always on the hunt for the most effective products that can eliminate skin woes. To help her travel enthusiast readers find the best travel-size skincare kits, Shiboli has gone through many product reviews and has also done extensive research to curate the most suitable ones. The products listed below can get you rid of the pain you experience while carrying those regular-sized skincare products as they don't consume much of your travel bags' space.
Recommended Articles