10 Best Nude Lipsticks For Olive Skin In 2023
Get yourself a stunning yet subtle lipstick shade that compliments your skin tone well!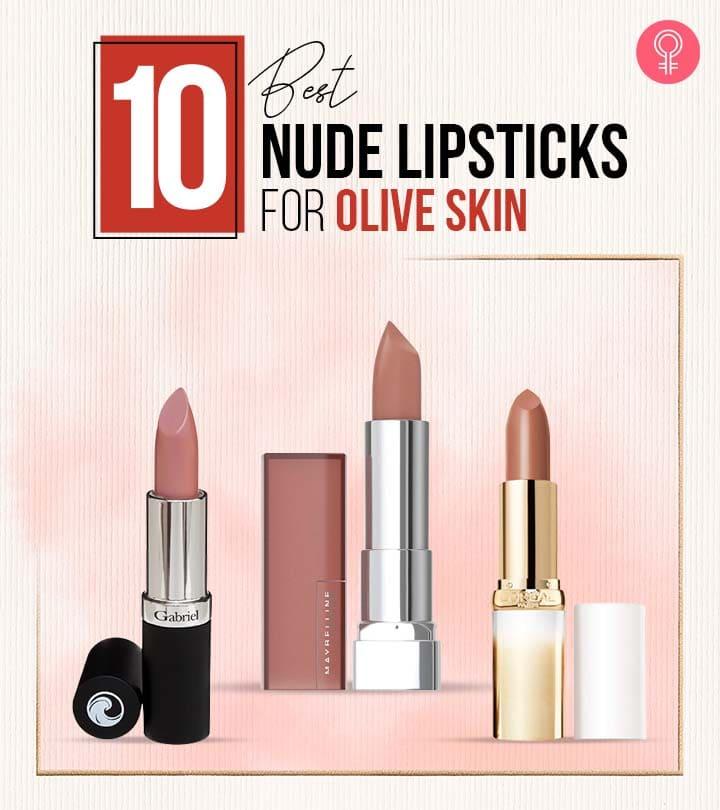 If you have an olive skin tone and you're looking for a lipstick that elevates your complexion, we have good news for you. Here we have curated the best nude lipsticks for olive skin. Olive skin tone usually has neutral tones, and that's why nude lipstick works the best with them. However, nude lipsticks aren't the ones that easily match your skin tone. They come in multiple tones, hues, and head-turning shades. From pinkish to brownish, you'll find many nude lipsticks, but this guide will lead you to the one that's perfect for you. Keep reading to know more!
10 Best Nude Lipstick For Olive Skin In 2023
The petrochemical-free base of the candelilla wax makes Gabriel Cosmetics Lipstick gentle on your lips while fighting environmental stressors. This rosy beige natural lipstick is enriched with jojoba seed, aloe, and candelilla wax to seal in moisture and nourish your lips. This luxurious nude lip color offers all-day hydration. It glides easily from the tube and can also be applied with a brush smoothly. This warm brown tone suits olive skin perfectly by matching your undertone. Learn more about this product in this video.
Shade: Nude
Pros
Suitable for all skin types
Natural ingredients
Paraben-free
Vegan
Non-toxic
Gluten-free
Cruelty-free
Non-GMO
Cons
Price at the time of publication: $19.35
The L'Oreal Paris Age Perfect Satin Lipstick is enriched with precious oils to give you a luxurious feel and smooth application. Its rich pigments give a vibrant color payoff and a flawless look. This soft pink lipstick is specially formulated for mature skin with gentle and caring ingredients, including vitamins and minerals. This Glowing Nude's subtle shade is a perfect neutral that brightens olive skin tone. This video will provide you with added insights about the product.
Shade: Glowing Nude
Pros
Smooth application
Rich pigment
Long-lasting
Non-drying
Does not feather
Transfer-proof
Cons
None

Price at the time of publication: $8.97
The six beautiful shades of nudes and browns in the Maepeor Matte Liquid Lipstick Kit offer a gorgeous look from neutral to warm for olive skin tones. These flattering shades have a smooth texture that glides easily on your lips. It prevents dryness and chapping of lips. Their compact design makes them travel-friendly. These lipsticks can be layered to build a bold shade or customized shade and a vibrant finish.
Shade: Nude Series (6 pcs Set E)
Pros
Easy to apply and remove
Non-fading
Creamy texture
Long-lasting
Transfer-proof
Cons
None
Price at the time of publication: $9.99
The pure color pigments in the Maybelline Color Sensational Lipstick deliver a crisp matte finish that is long-lasting and smudge-proof. It is infused with nourishing oils that keep your lips hydrated and moisturized. Its creamy formula of this peachy nude shade has a luxurious feeling that promotes smooth and supple lips. The rich pigments in this Nude Embrace shade give a flawless look on olive skin tones.
Shade: Nude Embrace
Pros
Rich pigment
Long-lasting
Easy application and removal
Dermatologist-tested
Cons
None
Price at the time of publication: $6.4
The non-sticky Mellow Store Matte Lipstick has a highly pigmented formula that gives a rich color pay-off. Its long-wearing formula of this sophisticated neutral shade requires just one single swipe to last all day long. It nourishes your lips and prevents dryness. It is infused with vitamin E to give a smooth and moisturizing finish that prevents the appearance of lines and creases. This shade of matte Nude gives a vibrant pop of color that enhances olive skin tones.
Shade: Nude
Pros
Smudge-proof
Long-lasting
Non-sticky
Smooth application
Vegan
Cruelty-free
Paraben-free
Cons
None

Price at the time of publication: $18.7
The vibrant and bold Milani Color Statement Lipstick Nude Crème is a statement-making color that boosts confidence and compliments olive skin. This natural-looking lipstick is infused with vitamins A and C to nourish the lips and fight free radicals that cause discoloration. It has a smooth and creamy texture that glides smoothly and prevents the lips from drying out.
Shade: Nude Crème
Pros
Rich pigment
Non-drying
Smooth application
Cruelty-free
Cons
Price at the time of publication: $4.97
The 100% vegan Mineral Fusion Lipstick is richly pigmented and offers smudge-free color. This hypoallergenic lipstick has no toxic ingredients and is infused with white tea, cranberry, and vitamins C and E to protect your lips from free radical damage. The addition of cocoa butter and avocado oil to this nourishing formula conditions the lips to keep them soft and supple. This shade of Nude has hints of mauve that bring out the best in olive skin tones tones, complementing your complexion. Makeup artist Alysha Tucker says, "Apply the lipstick with a lip brush to prevent it from breaking and falling on the floor. The lip brush allows for a flawless application."
Shade: Nude
Pros
Smudge-free
Non-toxic
Vegan
Gluten-free
Cruelty-free
Hypoallergenic
Paraben-free
Phthalate-free
Fragrance-free
Cons
Price at the time of publication: $14.65
The Nyx Professional Makeup Shout Loud Satin Lipstick is enriched with mango and shea butter to moisturize and condition your lips. It is formulated to deliver a rich saturated color with just a single application. Its customized bullet design features a cute heart to make it irresistible. This shade of Silk has a peach nude look that enhances olive skin tones and warm undertones. It delivers a creamy satin finish that is long-lasting and smudge-proof.
Shade: Silk (Peach Nude)
Pros
Natural ingredients
Lightweight
Rich pigments
Long-lasting
Smudge-proof
Satin finish
Cruelty-free
Cons
None
Price at the time of publication: $5.99
The iconic Revlon Super Lustrous Lipstick delivers a rich color and deep moisturization to the lips with its creamy texture. It is enriched with vitamin E and avocado oil to nourish your lips and protect them from environmental aggressors. This lightweight lip color uses microfine pigments to keep the colors vibrant without caking, enhancing lip color. The trendy Bare It All shade is a perfect nude that enhances the natural lip color on olive skin tones.
Shade: Bare It All
Pros
Lightweight
Rich color pay-off
Smooth application
Creamy texture
Long-lasting
Cons
None
Price at the time of publication: $5.96
The ultra-lightweight Rimmel Moisture Renew Lipstick helps to keep your lips soft and hydrated all day long. It is infused with vitamins A, C, and E to protect your lips from free radicals and keep them looking youthful. This dermatologically-tested lipstick delivers intense color to the lips. The nude delight shade is a peachy nude that compliments olive skin tones.
Shade: Nude Delight
Pros
Lightweight
Rich pigments
Available in various shades
Dermatologically tested
Long-lasting
Cons
Price at the time of publication: $13.05
You can never go wrong with a nude lip shade. Moreover, nude lipsticks compliment olive skin tones the best. However, with so many options available, choosing the right nude lipstick is difficult. So, here is a buying guide that lists various factors to consider while choosing the best nude lipstick for olive skin.
How To Choose The Best Nude Lipsticks For Olive Skin
For olive skin, your perfect shade should match your skin's undertones. Avoid wearing light pink nude shades as they may wash you out. Instead, opt for brown-based, caramel hues, peach, coral, caramel, and orange tones in your lipstick. Anything warm and spicy will never wash you out. If you like wearing pink, opt for mauve shades, as they look slightly similar and compliment your skin tone the best. Look for subtle caramel browns, terracotta tones, and mocha shades.
Choose the right ingredients for your lipsticks. Look for hydrating lipsticks enriched with vitamin E and essential oils that make your lipstick glide easily on your lips and keep them moisturized for a longer duration.
For olive skin, the texture of lipstick matters a lot. A glossy or creamy finish looks best on olive skin tones. They define and add a dimension to the lips. Avoid going for fully matte lipstick and instead opt for semi-matte lipstick.
Nude lipstick generally requires frequent touch-ups because of light color consistency, so opt for a smudge-proof, long-lasting, and fade-resistant formula.
Do thorough research on the ingredients of the lipstick. Avoid selecting lipstick that has harmful chemicals like parabens, silicones, mineral oils, phthalates, and gluten. If you have sensitive skin around the lips, opt for hypoallergenic and dermatologically tested lipstick.
Neutral nudes enhance the beauty of lips on people with olive skin tone. But there's more to a lipstick than mere color. Let's check out some features that make lipsticks great.
The Ultimate Guide To Picking The Best Nude Lipstick For Olive Skin Tone
Moisturizing: Protecting your lips should be the foremost thing on your mind while choosing your lipstick. Look for natural ingredients like avocado, shea butter, and almond oil that will keep your lips healthy and prevent them from drying out.
Hues: Pick a shade that will accentuate the natural color of your lips while complimenting your undertone. Rich pigments and tones will prevent a chalky or ashy look which may happen with shades that are too light.
Long-wearing: Lipsticks should not require frequent touch-ups. Therefore look for long-lasting, fade-resistant, and smudge-proof formulae.
Finish: Matte and satin textures work the best for olive skin. Choose according to your personal preference while making sure that it glides on smoothly.
Why Trust StyleCraze?
Baishali Bhattacharya, the author of this article, is a certified makeup and fashion expert. Her interest and extensive research on the latest makeup trends help her pick out the best makeup products. This list of the best nude lipsticks for olive skin was put together after reading many online reviews and exploring various products. Nude lipsticks are a must-have in a woman's vanity as they are extremely versatile.
Frequently Asked Questions
Does nude lipstick look good on olive skin?
Women with olive skin can carry off various shades of nude lip color, making it a good choice for them. Orange and yellow undertones go well with olive skin and have a flattering effect.
How can you apply nude lipstick like a pro?
To begin, gently exfoliate your lips to remove any loose skin. Next, apply a non-greasy lip balm on your lips. To prevent the lipstick from bleeding, you can apply a lip liner. Starting from the center of your upper lip, work your way to the outer edges while following the contour of your mouth. Then using the same technique, move across the bottom lip. For optimal coverage, build up layers by sweeping the lipstick multiple times over your lips. To finish, apply a thin layer of clear gloss on top of your nude lipstick.
Why do people wear nude lipstick?
Nude lipsticks add a classic color to your lips without making them pop. They draw minimal attention to your lips yet give you a sophisticated look.
What is the difference between nude and matte lipstick?
Matte lipsticks contain very few emollients. So, they add a very subdued color to your lips. They come in a wide range of color shades. On the other hand, nude lipsticks come in shades that look similar to natural lip colors. They are more moisturizing. They look very natural on your lips.
Does nude lipstick look attractive on olive skin?
Yes. Nude lipsticks with orange or yellow undertones look flattering on olive skin people. Even caramel and beige undertones lipsticks that have a sheer finish brighten up the olive skin tone.