13 Best Vitamin E Lip Balms That Soothe And Hydrate Lips
Save your lips from the sun and free-radical damage to achieve a gorgeous pout.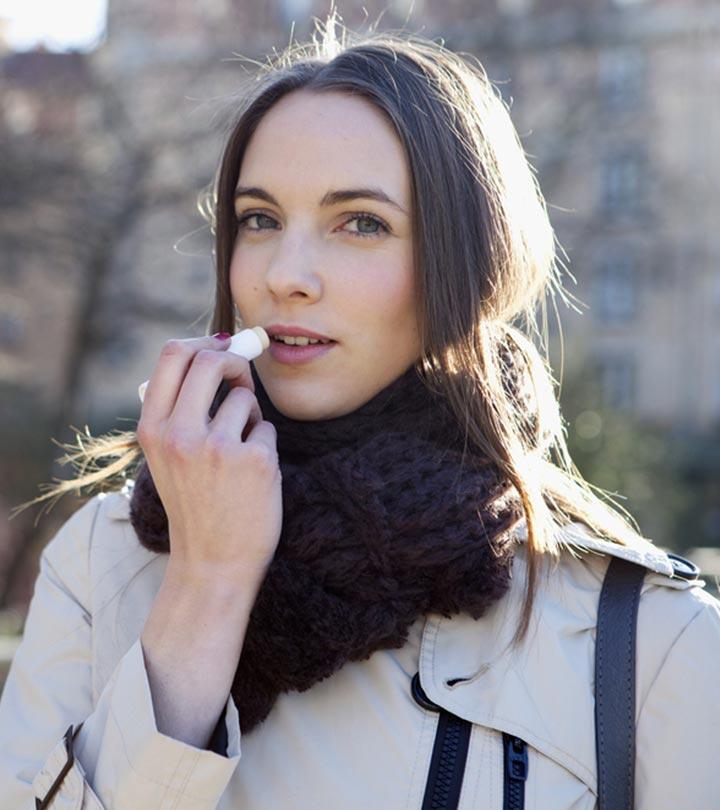 A pair of chapped lips is the most common skin issue people deal with, no matter what age or skin type. Give your lips that extra bit of care with the best vitamin E lip balms. Lip balms are an everyday essential, especially for those who have dry, chapped lips. But why vitamin E, you ask? That is because it is antioxidant-rich and promotes cell growth and regeneration. It also protects the thin skin of your lips from the harmful sun rays and free radical damage (that may cause your lips to darken over time).
Winters can wreak havoc on your lips quite easily. Also, lips have delicate skin that is exposed to air, dust, and the sun all the time. This causes them to get dry and dehydrated quickly. But a pair of cracked lips can undo your whole look and make you look shabby. To combat this issue, choose from these 13 best vitamin E lip balms to protect your lips and keep them moisturized for long hours.
What Does Vitamin E Do In A Lip Balm
Vitamin E lip balm has a thick consistency that provides intense hydration and conditions your skin. The antioxidant properties help in softening the dry exterior of chapped lips and locks in moisture. Lips are exposed to unstable molecules in the environment that can cause cell damage. Vitamin E has already been proven to have anti-aging qualities. It soothes and hydrates your lips, preventing dead skin cells from growing. Apart from that, vitamin E lip balm boosts circulation and lightens dark and pigmented lips.
13 Best Vitamin E Lip Balms Of 2023 For Supple Lips
Believing in the principle "bees are magical," this Burt's Bees Beeswax Lip Balm with vitamin E and peppermint is 100% naturally sourced from Tanzania. It is enriched with nourishing ingredients like beeswax, rosemary leaf extract, coconut oil, sunflower oil, vitamin E, and peppermint oil. This Burt's Bees lip balm conditions your lips, heals chapped-ness through deep moisturization, and leaves your lips with a refreshing minty sensation. In addition to that, it also has anti-bacterial and antioxidant properties. Click on the video to know everything about the Burt's Bees Beeswax Lip Balm.
Pros
Offers nourishment
No preservatives
Has skin-conditioning properties
Pleasant fragrance
Responsibly and sustainably sourced ingredients
Cons
Price at the time of publication: $9.49
Palmer's Cocoa Butter Formula Swivel Stick comprises two core ingredients that can heal and repair your dry and chapped lips fast. One is cocoa butter, which is a natural rehydrating agent that can moisturize your lips and make it soft and supple. The second crucial element, Vitamin E, has antioxidant properties that can protect your skin from pollutants and free radicals in the body. It will also shield your lips from ultraviolet rays. This product also contains other ingredients that are rich in essential fatty acids and nutrients needed for quality skincare. If you are still unsure, watch the honest customer's review of Palmer's Cocoa Butter Formula Swivel Stick.
Pros
Glossy finish
Moisturizes lips
Non-greasy
Affordable
Delicious fragrance
Convenient packaging
Easily absorbed by the skin
Cons
Might have a thick consistency
Price at the time of publication: $7.47
Sky Organics Beeswax Lip Balms is formulated to protect and hydrate dry and chapped lips. The pack contains 6 different flavored lip balms – Tahitian Vanilla, Strawberry Bliss, Tropical Coconut, Eucalyptus Mint, Tangy Citrus, and Cherry Bomb. Each lip balm is packed with natural ingredients and vitamin E, which keeps the lips moisturized and nourished. These lip balms are free from harmful chemicals like parabens, alcohol, and phthalates. The lip balm comes in a roll-on-stick for convenient usage. It is cruelty-free. Watch this video to get a better idea about the Sky Organics Organic Beeswax Lip Balms.
Pros
Travel-friendly
Pleasing fragrance
Available in various fragrances
Easy-to-use
Cruelty-free
Cons
Price at the time of publication: $9.95
RagaNaturals is popularly known for its handcrafted and all-natural products. This highly recommended skincare brand uses only 100% natural ingredients and no preservatives. This lip balm is formulated with nutritious ingredients like beeswax, shea butter, cocoa butter, almond oil, jojoba oil, peppermint essential oil, and vitamin E. The ingredients are medicinal, healthy, and rich! This formula provides moisturization, softens your lips, and offers a mild sensation of minty freshness!
Pros
100% natural
Healthy formulation
Preservative-free
Refreshing formula
Handcrafted
No sweetening agent added
Cons
The smell might be too strong for some.
Price at the time of publication: $11.96
Want herbal, berry goodness on your lips? Well, we have the perfect product for you! This Lotus Herbals Strawberry Lip Balm provides intense hydration and maximum moisturization as it is infused with almond oil, jojoba oil, honey, wheat germ oil, and vitamin E. Suitable for use in all seasons, this lip balm has a luscious finish that leaves your lips glossy and shiny. Slightly tinted, it doesn't overpower the natural pigmentation of your lips. Welcome supple lips with just a swipe!
Pros
Moisturizes lips
Plump finish
Berry fragrance
Infused with herbal oils
Ayurvedic properties
Cons
May need to be reapplied every couple of hours
Price at the time of publication: $7.45
Have you ever wondered how it would be to have a lip balm that changes color? Well, we know it sounds like quite a fantasy, but it is true! We present to you this unique Winky Lux Glimmer pH Balm in Unicorn! It has an inventive, clear formulation that glides on smoothly and reacts with your skin's pH level to create a pink color unique to you! Plus, the vitamin E in the formula provides all-day moisturization with intensive hydration, lending you soft lips.
Pros
Cruelty-free
Immediate results
Gives a glossy sheen
Smooth-gliding
Vegan formula
Paraben, sulfate, and phthalate-free
Cons
Price at the time of publication: $16.0
Oh yes, sweetened lip balms do provide tenderness as well finesse! This Kiss Me Honey Organic Lip Balm is a wholesome formulation and does not contain any synthetic or harmful chemical ingredients. The vitamins, antioxidants, and other nutrients in the lip balm offer anti-aging benefits and deliver a soothing sensation to your lips. This product is made from nutritious ingredients that are unrefined and organic, including vitamin E that solely combats impurities and has anti-UV and anti-inflammation properties. Most importantly, this luscious lip balm has been certified safe for all, which means even your pets can use it!
Pros
100% organic
Natural formulation
PETA and USDA certified
Cruelty-free
Safe for all
Multifunctional usage
Cons
Price at the time of publication: $17.99
Can lip balms be created by dentists? In Effervess Rx Natural Vitamin E Lip Moisturizer's case, yes, it can! It is formulated to treat and moisturize dry, cracked lips, and has the advantage of being multipurpose. Hence, it can be applied to nail cuticles to soften them and on wrinkles and fine lines as it features anti-aging properties. The two most crucial ingredients in this formulation are vitamin E and Sambucus Nigra fruit. This lip balm restores hydrating agents and oil balance in the skin while also moisturizing and providing a soothing sensation to your lips.
Pros
Fragrance-free
PABA-free
No chemical preservatives
Has healing qualities
Has anti-aging properties
Metal rollerball application
Gluten-free
Cons
Might have an oily flavor
Price at the time of publication: $14.99
Reviva Labs Vitamin E Lip Protection Stick might be an underrated product but is sure quite effective. The brand itself says that the product is good enough to shield your supple lips against all the pollutants and environmental impurities. Applicable for all seasons, this formulation soothes your skin and protects it primarily. It contains some oils such as canola oil, olive oil, and soybean oil; these soften your skin and are known for their extraordinary healing properties. This lip balm is also said to be emollient and therapeutic.
Pros
Unisex
Multifunctional usage
Natural formulation
Long-lasting
All-season usage
Therapeutic qualities
Does not melt
Cons
The smell might be off-putting.
Price at the time of publication: $44.99
Unlike almost most lip balms, this stick stays beautifully hardened until it glides lusciously on your lips, melting the formula evenly! This Body Shop Vitamin E Lip Care Stick With SPF 15 is an innovative, concentrated formula that leaves your skin smooth and supple. It contains a marriage of active and inactive ingredients in its making. It includes castor seed oil, hydrogenated coconut oil, olive fruit oil, beeswax, candelilla oil, vanilla extract, and vitamin E. This lip balm has no tint or strong flavor and comes in a light pink packaging.
Pros
Portable
Melt-on formula
Community Fair Trade ingredients
Maximum hydration
Natural ingredients
Suitable for all skin types
Cons
Price at the time of publication: $13.99
This Tomato Jelly Tint Lip is a versatile product that has a jelly-like consistency and offers a rosy, pinkish-red tint on your lips. It is comfortable to wear as it is not too heavy and stays luminous. It provides moisture and freshness that keeps your lips soft and stays put for long hours. Apart from tomato extracts, it contains vitamin E and botanical oils such as jojoba oil and macadamia nut oil that nourish your lips.
Pros
Lush tinted lip balm
Lightweight
Moisturizing formula
Stays put throughout a dry meal
Cons
The color might be too bright for some.
Price at the time of publication: $6.99
This Vitamin E enriched Cliganic Tinted Lip Balm comes in four assorted shades: Coral Delight, Dusty Rose, Naturally Nude, and Ruby Red. The balms provide long-lasting moisture along with a natural-looking gloss. The sunflower seed oil and beeswax in the formula conditions and offers intense moisturization to your lips. The silky-smooth formula glides smoothly on the lips without any tugging or pulling. The colors look naturally vibrant, making your lips look fuller and gorgeous.
Pros
Glossy
Long-lasting moisturization
Available in 4 shades
Non-GMO
Cruelty-free
Cons
Price at the time of publication: $9.99
This Banana Boat Sunscreen Lip Balm prevents sunburn as it features UVB and UVA protection properties. It soothes and softens dry, chapped skin thanks to its water-resistant formulation that works its magic for up to 80 minutes and moisturizes every nook and cranny of our lips. Vitamin E and aloe vera are two crucial ingredients in this lip balm that heal burns and skin damage.
Pros
UVA and UVB formula
Conditions skin
Offers moisturization
Hydrating protection
Convenient tube
Recommended by the Skin Cancer Foundation
Cons
Might not be ideal for sensitive skin
Price at the time of publication: $9.35
Now that you have gone through the list of products, let's take a look at a few points you need to consider before buying a vitamin E lip balm.
How To Choose The Right Vitamin E Lip Balm
Formulation: Lip balms are available in a variety of formulas, ranging from beeswax to cruelty-free ingredients. While some lip balms contain preservatives like parabens and petrolatum, others are formulated out of Ayurvedic procedures. For people who prefer fruity lip balms can choose Biotique Bio Whitening Lip Balm.
Flavor: Lip balms and flavors go hand in hand! Flavors are incorporated in lip balms to sweeten them or to add a distinctive scent to the formulation. Berry flavor is a crowd-pleaser!
Allergy test: Any part of your body should not be allergic to anything you apply to it. As much as vitamin E is suitable for most skin types, make sure you are not irritable by it at all. If it irritates your skin, do not apply it again without the consultation of a doctor.
Tint: Lip balm tints are created by adding flavor bombs in them. Lip balms are mostly chosen based on their tint because they are a healthier substitute for lipsticks and lip colors. Dark shades from cocoa butter-enriched lip balms do fall on the popular choice list!
Portability: A vitamin E lip balm is a must while traveling because your skin is prone to drying out, and hence, it is always good to carry along a stick/tube of vitamin E lip balm. Well, lip balms have always been easy to carry as they come in convenient sizes!
Benefits Of Vitamin E Lip Balms
It prevents cell damage caused due to free radicals, chemicals, and pollutants.
It locks the moisture in, helps nutrients penetrate the skin, and rehydrates the lips during harsh weather conditions.
It works as a substitute for melanin since melanin is absent in the lips.
It boosts circulation and doubles as a skin-conditioning agent that combats anti-aging effects and builds a protective layer around the skin.
The thick, concentrated consistency neutralizes the impact of unstable molecules and provides maximum restoration of collagen.
Conclusively, we understand the best vitamin E lip balm is essential for our day to day lives. Our lips are covered by a thin layer of skin that is almost insubstantial. Vitamin E strengthens the skin on our lips and protects them from damage. A portable tube of this waxy and nutritious goodness should always be carried with you to keep your lips supple and moisturized.
Why Trust StyleCraze?
The author, Kirtana Divakar, enjoys all things beauty and loves to create comprehensive articles on the same. Lip balms are her favorite products for nourishing lips, and balms with vitamin E are the icing on the cake. She compiled this list of the top products after extensive research and analysis of many online reviews. With these products, you can promote the health of your lips by protecting them against free radicals and damaging ultraviolet rays.
Frequently Asked Questions
Does vitamin E soothe your lips?
Yes, it does. Vitamin E can soothe your lips because it entraps hydration particles, helping keep lips soft and healthy.
Is vitamin E lip balm good for lips?
Vitamin E lip balm works wonders for lips! It shields the lips from harmful UV rays and free radicals by activating antioxidant properties.
Does vitamin E make your lips pink?
Regular usage of the balm lightens the lips, and its serum-like properties heal dull lips and make them supple.
What ingredients are harmful in a lip balm?
Many lip balms provide a cooling sensation because of menthol, camphor, or phenol, but these ingredients should be avoided at all costs. These ingredients can leave skin unprotected and develop irritation.
Can I use vitamin E lip balm every day?
Yes, use a vitamin E lip balm daily to restore smooth and moisturized lips. It also improves the texture and the look of the lips.
Does vitamin E lip balm work better than regular lip balm?
Yes. Vitamin E lip balm improves blood circulation, promotes healthy cell regeneration, prevents sun damage, and makes the lips softer, while a regular lip balm only moisturizes the lips. Therefore, vitamin E lip balms are more effective than regular lip balms.
Recommended Articles