13 Best Mint Lip Balm Reviews Of 2023
Say goodbye to chapped lips with these super hydrating products that feel fresh.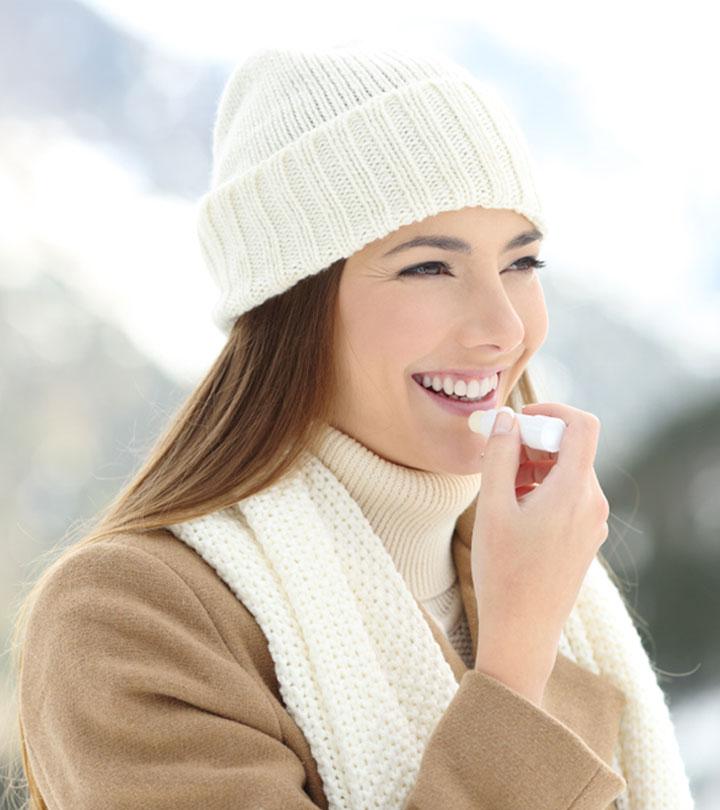 If you are struggling with lips that remind you of a wilting petal, you need the best mint lip balm to hydrate your lips right away. Dry and chapped lips don't just affect you in winters; they can happen anytime your body loses moisture. If you hydrate yourself enough and yet your lips feel cracked, it's time to attend to its nourishment externally. While there are thousands of brands with popular lip balms, finding the correct ingredient can be crucial to making sure your lips are always plump and juicy. If you haven't considered the peppermint flavor already, we will give you ample reasons why it is something your lips need to feel healthy. The soothing flavor makes sure there is no burning when you attend to the flakey lips, and they restore moisture to your lips the right way. Go through our list of 13 lip balms crafted specially to attend to dry lips and make them lush and gorgeous again.
13 Best Mint Lip Balms For Winter 2023
Pros
Smoothens lips
Peppermint-infused
Vitamin E-enriched
Formulated with nutrient-dense butter, skin-conditioning oil, and soothing botanicals
Cons
Some people may not like the sticky consistency of the product.
Price at the time of publication: $20.0
Pros
Organic formula
Non-GMO
Budget-friendly
Cruelty-free
Gluten-free
Soy-free
Petroleum-free
Fragrance-free
Cons
May cause burning sensations
Price at the time of publication: $8.95
Pros
Safe for sensitive skin
Free of chemical, petroleum, and other derivatives
Made of 100% organic ingredients
Gluten-free
Non-toxic
Non-GMO
Environment-friendly packaging
USDA-certified organic lip moisturizer
Cons
The lip balm smells slightly rancid.
Price at the time of publication: $6.99
Another USDA-certified organic lip balm by Evolution of Smooth is a 100% natural mint lip balm that also hydrates deeply and seals in the moisture. It's all-natural sweet mint flavor feels smooth and refreshing as if it was just picked from the farm. The mellow and creamy texture of the fresh mint lip balm on the lips comes from the velvety-soft shea butter and jojoba oil. Winner of the Women's Choice Award for the most recommended lip balm comes interestingly packaged with more quantity of the product for a cheap price.
Pros
100% natural
Hydrates deeply
Tastes and feels smooth and refreshing
Infused with organic butter and seed oil
Hypoallergenic
Gluten-free
Paraben and petrochemical-free
Dermatologically-tested
Certified organic by USDA
Cons
Packaging is not up to the mark.
Price at the time of publication: $4.29
Blistex Medicated lemon Mint Lip Balm is a dermatologist-recommended soothing product that heals the lips from within and protects it from the harsh external elements. Though the smell is slightly medicinal, the safeguarding effect that the lip balm offers is marvelous. The smooth formula glides evenly across the lips and the SPF 15 element protects them from the scorching sun rays. The cooling effect of the mint flavor is always a plus. So, hurry as you have to shield your lips from the attack of dry air and dust; get your Blistex chapstick today.
Pros
Seals in the moisture
Relieves chapped lips
Includes SPF 15 for sun protection
Easy-to-apply
Easy-to-remove
Cons
Price at the time of publication: $29.99
One of the most popular brands for skincare products, Burt's Bees is known for items that work like medicine on the skin. The product glides on the lips smoothly, locks in the moisture, and provides complete coverage for hours. The smooth formula glides comfortably on the lips by giving them complete coverage from dust, wind, and harsh weather. Try this cult-favorite product used by almost everyone under the sky and experience the magic like never before.
Pros
100% natural
Seals in the lip moisture
Heals chapped lips
It can be used by men and women.
Cons
Price at the time of publication: $6.5
Pros
Non-sticky
Contains SPF 25
A little goes a long way
Long-lasting effect
Pleasant fragrance
Travel-friendly
Cons
None
Price at the time of publication: $10
This one is for people who do not like the overpowering minty effect on their lips. A popular lip balm amongst celebrities and makeup artists from all over the world, this product was not used by common people for the longest time. Carmex Moisturising Lip Balm slowly garnered the much-deserved popularity by winning hearts of many with its unique and refreshing formulation. This lip moisturizer with its slight tingle and a subtle refreshing mint smell is loved by people who believe in "less is more". Use it for a long-lasting relief from dry and chapped lips.
Pros
A unique formula for soothing lips
Mint flavors leave a cooling effect
Leaves a long-lasting relief
Comes in a squeezable tube and stick
An award-winning lip balm
Cons
Overpriced
The texture may be a bit slimy.
Price at the time of publication: $7.99
If you are going out in the cold for long hours, you must carry a chapstick of Beessential rose and lavender mint lip balm for sure. The cooling effect of the mint and the fragrance of rose, a unique combination of two overpowering ingredients, makes you want to use the lip balm over and over again. Other than the mint and the rose, the product also includes essential ingredients like honey, beeswax, cupuacu, and shea butter to hydrate, moisturize, and seal the nutrients on the lips. The pack includes 3 chapsticks at a discounted price so you don't have to worry about finding new lip balms for a few months at least.
Pros
Formulated with vitamin E
Paraben and gluten-free
Alcohol-free
Cruelty-free
Non-GMO
PEG-free
Cons
Not vegan
No SPF included
Price at the time of publication: $10.39
BeeNakedBalm's Organic Lip Balm Pack includes3 different flavors of mint lip balm for your different moods. The set of 4 includes 2 chapsticks of NAKEDmint and 1 chapstick of MOJITOmint and BLUEMOUNTAIN mint each. The lip balm is made of aromatherapy-grade mint essential oils that relieve allergies and evaporate into the nose to work on congestion and sinus. The brand's refreshing and smooth texture also claims to bring a noticeable softness and rejuvenation within 7 days of using it. What's more, the package includes a cotton pouch so that the lip balms can be stored safely in it.
Pros
A pack of 4 with 3 different flavors
Aromatherapy-grade mint essentials used
Non-toxic and non-GMO
100% natural
Petroleum-free
Gluten-free
Cruelty-free
Comes with a cotton pouch
Cons
Does not contain any sunblock or SPF
Formula is thin and won't last longer on the lips
Price at the time of publication: $12.98
This one's for the animal-loving makeup enthusiasts who believe in going ahead with an environment-friendly approach. Hurraw! Vegan Mint Lip Balm has everything that is needed for a long-lasting minty treat for your lips. The all-natural premium lip balm is infused with ingredients that are plant-based and food-grade for a naturally glowing effect. Free of non-vegan ingredients like beeswax, the brand is also a proud member of PETA's cruelty-free program, is EcoCert COSMOS certified, and is also certified as vegan by Montana's Agricultural Dept.
Pros
Made of 100% natural ingredients
Ingredients include nut seed oil and butter
A certified vegan product
Gluten-free
Cruelty-free
Non-GMO
EcoCert COSMOS-certified
Part of PETA's cruelty-free company program
Cons
Needs retouching too often
Price at the time of publication: $8.95
Pros
Contains SPF 15
Long-lasting
Applies easily
Pleasant fragrance
Paraben-free
Cons
None
Price at the time of publication: $3.99
As the brand name suggests, this mint lip balm is simple, classic, and made of 100% organic ingredients. The natural lip balm forms a velvety texture on the chapped and dry lips turning it soft and hydrated. Ingredients like sunflower seed oil, coconut oil, and calendula extracts are skin-sensitive and work beautifully in healing the cracks on the lips. Apply this fatty acid-formulated mint lip moisturizer balm for an enriching after effect.
Pros
Makes the lips velvety soft
Infused with organic plant oils and herbs
Fatty acids from the lip balm moisturize the lips
Enriched with Vitamin E and calendula
Peppermint oil used for refreshing lips
Cons
Price at the time of publication: $8.0
Even after learning about few of the best mint lip balms available online, you might still be unclear on how to choose the right lip balm for yourself. Discussed below are a few tips that might come in handy.
How To Choose A Mint Lip Balm?
To choose the best mint lip balm, you must make sure that the product must
include peppermint essential oil as the most important ingredient
be infused with natural and organic ingredients
be free from toxic ingredients like paraben, petroleum, phenol, menthol, and all kinds of alcohol
help recover chapped and cracked lips
heal inflammation and allergies
keep the lips smooth and refreshed
leave a glowing natural effect
We have all known that mint lip balms keep our lips looking smooth and healthy. Now let us learn a bit more about what exact properties mint lip balms consist of that work in improving the skin quality of the lips.
Benefits Of A Mint Lip Balm
Mint lip balms are infused with peppermint essential oils that have certain healing properties to help dry and chapped skin. Some of its beneficial properties are listed below:
Peppermint essential oil has various medicinal properties that work extensively in healing chapped lips. Various of its remedial properties work in addressing the actual root cause of the problem leaving the lips looking soft and refreshed. Peppermint is also antiviral or antibacterial which is why the lips are protected from inflammation or certain types of bacterial infections.
Relieves allergies and sinus issues
Peppermint extracts have been used in aromatherapy for centuries. They are known to work as a very important ingredient in helping with sinus and respiratory issues. Peppermint oil is believed to work well in clearing congestion and reduce swelling. The oil applied over the lips in the form of lip balm is right under the nose with direct access to the sinus and respiratory system.
Peppermint is also known to improve blood circulation. The improved blood circulation makes the lips swell a bit giving it a fuller effect. Fuller lips look richer and plumper and throw in a dash of style as pumped-up lips are very much in fashion.    
Finally, the feel-good impact is something that can never be ignored when it comes to a mint-flavored lip balm. The cooling, soothing effect that a peppermint oil-infused balm leaves on the dry and cracked lip enhances your natural beauty while making the lips look and feel refreshed.
Why Trust StyleCraze?
Chaitra Krishnan, the author, loves all things makeup. She shares tips for choosing the best mint lip balms in her buying guide and explains how to consider parameters such as ingredients for a better experience. She compiled this list of the top products after conducting extensive research and reviewing numerous online reviews. A mint lip balm helps nourish and protect your lips from the stresses of the day.
Frequently Asked Questions
Is mint good for lips?
Peppermint oil is considered to be very helpful in healing cracked lips. The cooling effect of menthol from peppermint also works wonderfully on wind-chapped and sun-burnt lips. This is why it is used as an active ingredient in lip glosses.
Does mint lip balm plump your lips?
Peppermint is known to stimulate the blood circulation under the lips and create a swelling effect thus making the lips look plump. Lip balms infused with peppermint essential oil creates a fake pout without any makeup or surgery.
What ingredients are bad in lip balms?
It is advisable to ignore lip balms containing phenol, camphor, or any kind of alcohol. They might provide an instant cooling sensation in the beginning but can also cause some irritation later. Some lip glosses or balms with these ingredients even scrape off the outer skin layer leaving the lips exposed to pollution, dirt, harsh sunlight, and cold weather.
Do you know the difference between various types of lip moisturizers?
Lip moisturizers are mainly differentiated based on what suits different skin types. Some are best for dry skin, while some are only designed keeping oily skin tone in mind. Some lip balms are also differentiated based on the types of ingredients and flavors used.
What does a mint lip balm do?
Mint lip balms heal cracked, sunburn, or wind-chapped lips. They lock natural oils to keep your lips protected and nourished.
Does a mint lip balm dry your lips?
No, mint lip balms are non-drying. Opt for formulas that do not contain camphor and eucalyptus, which may cause dryness.
Can you use mint lip balm on your face?
Yes, use mint lip balm on your face for clear and glowing skin. It treats acne and blackheads and helps even tone your skin.
How many times a day should you apply a lip balm?
Apply your lip balm eight to nine times daily to keep your lips smooth and supple. Make sure to keep your lips moisturized by applying the balm every couple of hours.
Should I lick my lips before applying lip balm?
No, licking your lips may further dry out your lips and make them appear chapped.