15 Best Natural Lip Balms For A Healthy Pout + Buying Guide (2022)
Chemical-free and organic lip care products that keep your lips fresh all day long.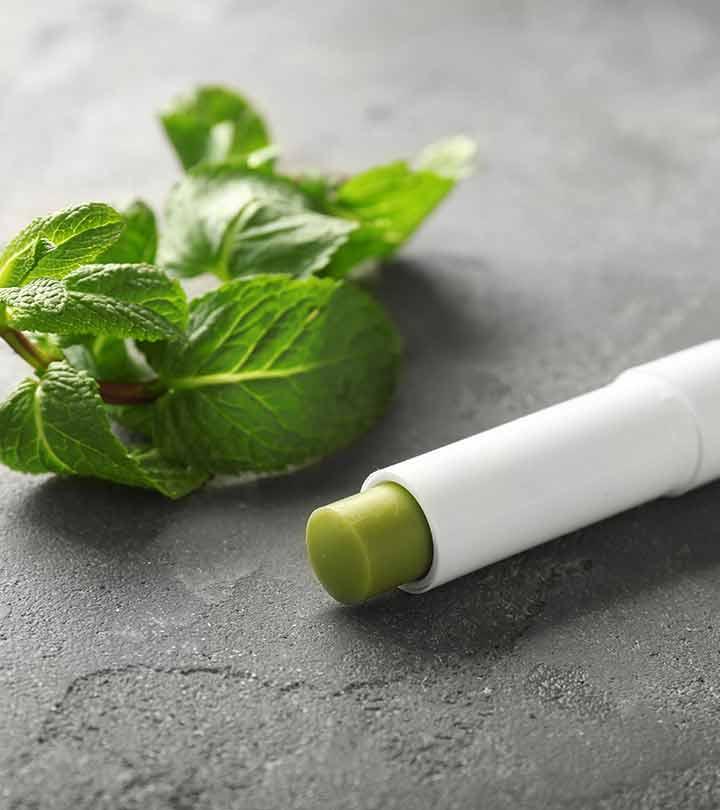 If you struggle with chapped and dry lips, there is no better solution than using the best natural lip balm. Wondering why? Well, natural lip balms contain natural ingredients that can heal your skin without causing any side effects. They are especially beneficial for sensitive skin. Natural and organic lip balms protect and shield the lips from dryness, harsh weather, wind, and cold. They help maintain smooth and hydrated lips. However, always ensure to check the ingredients before picking a product.
If you are wondering which are the best natural and organic options for your lips, we have a few suggestions. Here, we prepared a list of the 15 best natural and organic lip balms for dry lips. Scroll down and take your pick.
15 Amazing Natural And Organic Lip Balms For Cracked And Dry Lips
Sold in a pack of four, the Burt's Bees 100% Natural Moisturizing Lip Balm nourishes your lips and leaves them soft, supple, and moisturized. With four naturally nourishing flavors of Coconut & Pear, Beeswax, Vanilla Bean, and Strawberry, the natural lip balm gives you revitalized lips in just one swipe. All the delicious flavors are infused with natural beeswax and powerful fruit extracts which helps to deeply moisturize and beautify your lips. This natural lip care is filled with natural butters and oils that are responsibly sourced to give your lips a soothing feeling and hydration. Go ahead and check out this YouTuber's video for more details about the product.
Pros
Made sustainably
100% natural ingredients
Free from parabens and phthalates
Does not contain SLS or petrolatum
Cons
Peppermint oil might irritate chapped lips
Price at the time of publication: $10.47
Formulated with natural moisturizing ingredients like beeswax, coconut oil, and vitamin E, the Sky Organics Organic Beeswax Lip Balms comes in a pack of six rich flavors. They smell delicious and do wonders for your lips, even sensitive ones. The six flavors are inspired by customer favorites and include Cherry Bomb, Tropical Coconut, Luscious Tahitian Vanilla, Eucalyptus Mint, Tangy Citrus, and Strawberry Bliss. Just carry these little balms around in your pocket and apply them on your lips as and when needed to keep your lips hydrated and plump. They smell delicious so try not to eat them! To get a better understanding of the product, you can check out this video on YouTube.
Pros
Contains 100% organic lip butters
Includes rosemary and calendula extracts
100% USDA certified organic lip moisturizer
Completely cruelty-free and recyclable
Suitable for all ages, from toddlers to adults
Cons
Might not be long-lasting
Price at the time of publication: $9.95
To make your lips luscious and hydrated, the ArtNaturals Lip Balm Set combines the goodness of natural beeswax, jojoba, coconut, and sunflower oils to protect and moisturize your lips. This vegan lip balm includes six flavors— Hibiscus Blossom, Island Coconut, Mango Papaya, Passion Pitaya, Grapefruit Tonic, and Eucalyptus Mint. Kiss your chapped lips goodbye and pucker up with this 100% natural and original lip balm.
Pros
Packed with antioxidants and cleansing vitamins
Suitable for daily application under or over a lipstick
Provides ultimate hydration and protection
Heal and soften chapped lips
Vegan
Gluten and paraben-free
Cons
Flavors might not be appealing to all
Price at the time of publication: $11.95
Natural ingredients that are harmoniously balanced and soothing to your lips, the Naturistick Natural Lip Balm is your angel in disguise for chapped lips. This clear balm is deemed to be safe for adults and children and is gentle on ultra-sensitive lips. It is available in a pack of eight with four flavors— Peppermint Frost, Pomegranate Passion, Vanilla Luxury, and Green Tea Essence. Infused with 100% natural ingredients like beeswax, sunflower oil, castor seed oil, coconut oil, vitamin E, shea butter, lanolin, rosemary leaf oil, aloe vera leaf extract, and cocoa seed butter, this natural lip balm is one of the best natural and organic lip balms to heal dry and sensitive lips.
Pros
Cruelty-free and environmentally-friendly packaging
Free of gluten, parabens, and GMO
Does not contain petroleum or chemicals
Make great gifting options
Cons
Might not be long lasting
Price at the time of publication: $9.99
With six fabulous flavors to choose from, the Cliganic Organic Lip Balm Set enables your lips to stay healthy and hydrated. Beeswax is known to be a natural skin conditioner and these tinted lip balms are made with a base of beeswax. The flavors include Mint Burst, Citrus, Beeswax, Vanilla, Coconut, and Eucalyptus Mint. With natural antioxidant ingredients like coconut oil, vitamin E, olive oil, and sunflower oil, these organic lip balms are enriched with goodness that protects and nourish your lips while giving it a subtle tint.
Pros
Conveniently sized for your pocket
Contains ingredients with vitamins A, D, E
Infused with essential oils for a pleasant fragrance
Free of parabens, phthalates, petrochemicals
Cruelty-free and hypoallergenic products
Cons
Price at the time of publication: $9.99
Nothing ruins a smile like chapped lips. The Beauty By Earth Peppermint Beeswax Lip Balm is packed with great ingredients that are safe for your lips. Comes in a pack of four, this set of natural lip balms give your lips the hydration it needs even when you're out in the sun, cold or strong winds. This clear balm is formulated with natural ingredients like organic beeswax, peppermint oil, organic sunflower oil, and organic shea butter that help you turn your frowns to smiles. Check out the review of this product for more information.
Pros
Soft and smooth texture
Mild and unflavored for a refreshing feel
Free of artificial flavors and petroleum
Natural flavors of honey, vanilla, exotic fruit extracts
Cute, classy, affordable, and environmentally friendly
Cons
Sweet taste might not be appealing to all
Price at the time of publication: $11.99
Ice ice baby— this song may pop into your mind when you're using the Natural Ice Medicated Lip Balm for your chapped lips! With a natural cooling sensation that protects your lips from harsh weather conditions, this organic lip balm is the go-to lip balm for everyday family use. It is available in two flavors— Original Mint and Cherry. One of the best organic lip balms there is, this little balm glides onto your lips smoothly leaving it feeling cool, hydrated, and moisturized. If you're a victim of dry chapped lips, using this organic lip balm once or twice will give you a soothing feeling.
Pros
Heals chapped lips
Protects lips from harsh weather
Keeps lips soft and smooth
Contains SPF 30 to protect lips from sun
Quick healing formula
Cons
Some might not like the cooling sensation
Price at the time of publication: $15.48
With four of your favorite flavors such as Strawberry Sorbet, Vanilla Bean, Sweet Mint, and Pomegranate Raspberry, the eos 100% Natural Shea Lip Balm is great for lips that need deep hydration. It is formulated with natural ingredients like shea butter, jojoba seed oil, and coconut oil that help lock in the moisture and give your lips the soft, ultra-moisturizing effect it needs. The ingredients are naturally and sustainably sourced which not only makes it safe but also delicious. This simple and effective natural lip moisturizer is yummy, safe, and super moisturizing!
Pros
Derma-tested and hypoallergenic
Packed with antioxidants
Contains nourishing vitamin E
Paraben and phthalate-free
Gluten and cruelty-free
Cons
Lip balm melts in the pocket
Price at the time of publication: $9.99
An organic lip balm that gives you the perfect amount of shine, the Kopari Lip Glossy provides your lips ultra-hydration. Made with a blend of vitamin E, coconut, and shea butter, this natural lip balm is a non-sticky formula for kissable lips. The 100% pure and natural coconut oil is sustainably sourced from small family farms and along with the other ingredients; they lock in moisture keeping your lips supple, soft, and plump. It is the best chapstick for dry lips when you make this long-lasting lip gloss a part of your everyday life.
Pros
Long-lasting moisturizing lip gloss
2-in-1 feature of a lip gloss and lip balm
Free of parabens and sulfates
Does not contain silicones and GMOs
Contains the hydration from coconut and a subtle tropical hint
Cons
Price at the time of publication: $14.0
The Smith's Rosebud Salve Balm has become one of the most loved lip balms of customers because of its ability to lock in moisture and serve the lips well. One of the best organic lip balms, this simple, moisturizing product has a non-sticky formula that leaves your lips with a glossy finish and a delicate pink tint. It moisturizes your lips making them soft, plump, and chap-free. This best natural lip moisturizer also has a delicious scent which leaves you wanting more. It comes in a convenient tube that is suitable to carry on the go. Not only does this organic lip balm treat chapped lips, but it can also be used for rashes, minor burns, itchiness, and even diaper rashes.
Pros
Calms and heals mild irritation
Soothes the sting of minor burns
Relieves dryness of elbow and knees
Long-lasting effects with pea-sized quantity
Can be mixed with lipstick for extra shine
Cons
Fragrance might be too strong
Price at the time of publication: $7
With a variety pack of four flavors like Naked Unscented, Peppermint, Lemon Lime, and Orange Ginger, the Dr. Bronner's Organic Lip Balm is infused with organic beeswax and organic avocado oil. This natural lip balm uses the finest essential oils to provide the best quality lip balms. Even though its main function is that of a lip balm, it can also be used as a skin balm to eliminate dryness of hands, feet, and chapped chin and cheeks. All you have to do is apply the balm directly on dry patches of skin and not just on your lips.
Pros
Contains no synthetic ingredients
Cruelty-free and certified vegan
Certified as organic by USDA
Contains avocado oil for ultra moisturization
Made with organic beeswax
Cons
Product melts easily
Few flavors might not be appealing
Price at the time of publication: $13.79
What's better than a glossy lip balm? A glossy lip balm with a tint! Made with avocado oil, acai, and pomegranate sternols, the Honest Beauty Tinted Lip Balm is packed with antioxidant properties and skin barrier repairing abilities. The fatty acids present in avocado oil nourishes your lips, increases skin barrier function, and gives you soft, moisturized lips. This organic lip balm is a tinted lip balm with a sheer tint that is buildable to a darker shade of your choice.
Pros
Locks in moisture for 6-8 hours
Formula does not feel sticky, waxy, or dry
Free from synthetic ingredients
Cruelty-free, vegan, and dermatologist-tested
Cons
The tint shade might not be appealing to all
Price at the time of publication: $8.99
Made in the heart of the Pacific Northwest, the Portland Bee Balm Unscented Lip Balm is a handmade, beeswax-based lip balm that protects and hydrates your lips with nature's goodness. This classic balm uses carefully-sourced organic and local ingredients which include Pacific Northwest beeswax, organic cold pressed extra virgin coconut oil, and organic California extra virgin olive oil to create a lip balm like no other. These natural products are wrapped in real wood instead of processed paper or plastic making them unique, eco-friendly, and recyclable. It is a good lip balm for dry lips.
Pros
Glides on smoothly
Makes lips soft and supple
Heals chapped lips
Long-lasting lip balm
Matte finish
Cons
Price at the time of publication: $27.49
One of the best lip balms that you can treat your lips with is the Henne Organics Luxury Lip Balm. This rich, all-natural formula not only soothes and restores the plumpness of your lips but it also pampers it and replenishes the natural moisture balance. The fancy lip balm is infused with an organic dreamy blend of coconut oil, avocado and jojoba seed oils, beeswax, shea butter, vitamin E, and cocoa seed butter. With this rich, moisturizing formula, your lips will be ultra-hydrated, soft, and plump. This sumptuous high-quality lip care product is also available in a stick form and is a must-have everyday moisturizer!
Pros
Nourishes, moisturizes, and treats dry lips
Contains antioxidant organic ingredients
Cocoa butter gives it a pleasant fragrance
Jojoba oil reduces skin redness and irritation
100% natural and organic
Cons
Taste might not be appealing
Price at the time of publication: $22
What's better than one natural and organic lip balm? Five! With the five piece Moroccan Magic Organic Lip Balm set, you don't have to worry about running out of your favorite lip balms! This organic lip balm is available in the luxurious flavors of Peppermint Eucalyptus, Rose, Coconut Almond, Lemon Thyme, and Lavender Vanilla, so you will never have to deal with chapped lips ever again. Give your lips the best care out there by grabbing this product right now!
Pros
Long-lasting formula
Contains organic argan oil
Non-toxic and cruelty-free
Free of synthetic ingredients
Non-greasy and smooth
Cons
No SPF
Fragrance might not be appealing to all
Price at the time of publication: $25.99
Natural Lip Balm – Buying Guide And Reviews
What Is A Natural Lip Balm?
It might be difficult to determine what comes under "natural" because it is such an umbrella term that is thrown around pretty often. However, the ingredients of the balm will point you in the right direction to determine what a natural lip balm is. homemade natural lip balm does not use synthetic ingredients and steer clear of parabens, artificial fragrances, potential skin irritants, phthalates, and many such toxic ingredients.
Natural lip balms are made with organic ingredients like beeswax, coconut oil, fruit extracts, natural butters, and other such plant-based sources. They are rich in antioxidants and vitamins that nourish and heal chapped lips while also hydrating them to give you soft, plump lips.
How To Choose The Best Natural Lip Balm?
There are a few key features to keep in mind while choosing the right kind of natural and organic lip balm. These are:
Ingredients – Lip balms that are made with ingredients that are sourced naturally are extremely beneficial to the skin. A few of the most commonly found ingredients include organic beeswax, coconut oil, vitamin E, shea butter, avocado oil, natural fruit extracts, and peppermint oil. While these are good moisturizing agents for your lips, some lip balms may contain certain natural ingredients that might irritate your skin like peppermint oil. Remember that it is important to look out for them.
Tint – Depending on the color you're looking for, this is another feature to keep in mind. While most natural lip balms do not have a strong color, some might have a tint of a shade. If you're looking for a clear lip balm, you would not want to choose a tinted lip balm. In the same way, some lip balms have a glossy finish while others have a matte finish. Before choosing your lip balm, keep an eye out for what you wish to have.
Irritants – While most ingredients are skin-friendly because they are sourced naturally, some lip balms may have ingredients like nutmeg or walnut extracts that you might be allergic to. It is essential to keep this in mind while you pick your lip balms.
Type – Depending on the type of issue you want to tackle, you can choose the kind of lip balm you need. While the core purpose of moisturizing your lips remains the same, different lip balms cater to different needs. Some organic lip balms repair chapped lips; others protect your lips from harsh weather conditions. Some act as a lip gloss and a lip balm and some others protect your lips from the sun with its SPF feature.
Why Trust StyleCraze?
The author of this article, Chaitra Krishnan, lives and breathes makeup. She enjoys experimenting with new and trending makeup products and reviewing them for her readers. She hunted for the best natural lip balms by reviewing several user testimonials across various online forums and websites. These listed products will give you smooth and hydrated lips with no chemicals or artificial preservatives.
Frequently Asked Questions
What is the best natural lip balm for dry lips?
Lip balms that are packed with moisturizing ingredients like organic beeswax, coconut oil, avocado oil, vitamin E, and others help heal dry lips.
Is lip balm harmful?
Natural lip balms are made with skin-nourishing ingredients and are safe to use every day. They do not contain harmful and toxic substances that can dry out your skin.
Do natural lip balms help restore natural lip color?
Yes. Natural lip balms soften and hydrate your lip skin and improve its texture. So, lip balms eliminate the dry flakes and restore the natural lip color.
Which lip balm is best to remove pigmentation, contains SPF, and is natural?
The Natural Ice Medicated Lip Balm is the best product to remove hyperpigmentation. It contains SPF 30 that protects the lips from harsh UV rays and imparts a cooling sensation to your lips.
What is the safest lip balm to use?
The eos 100% Natural Shea Lip Balm is the safest product. This dermatologically-tested lip balm is formulated with natural ingredients that moisturize the lips while enhancing their appearance.
Recommended Articles
Best Cruelty-Free Lip Balms
Best Petroleum-Free Lip Balms For Dry Lips
Best Natural Lip Glosses For Soft And Shiny Lips
Best Tasting Lip Balms That You Can't Resist!