15 Best Lip Masks That You Must Buy In 2023 – Stylecraze
Enhance your look and make your lips plumper and softer with these nourishing lip masks.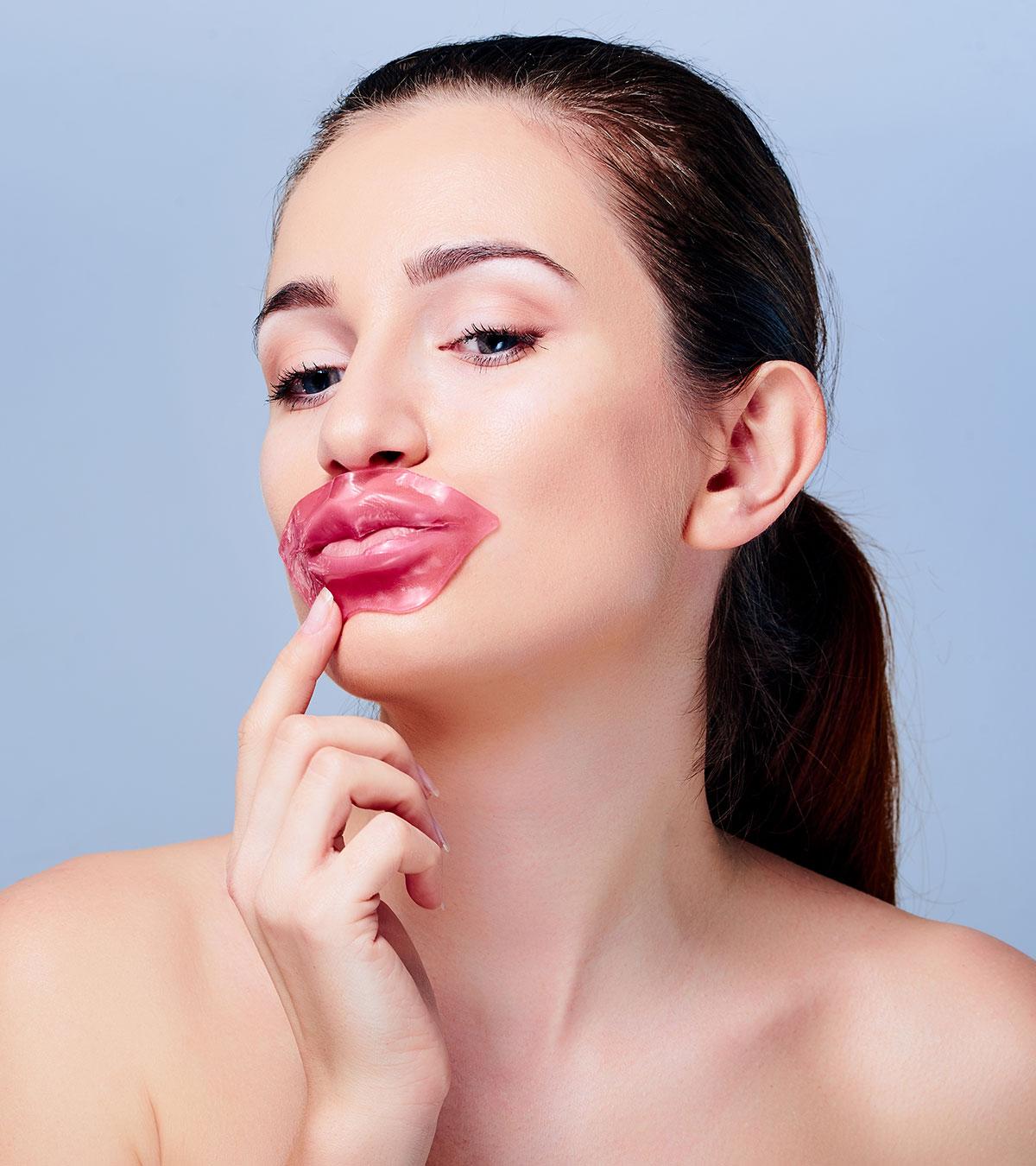 Having spotless skin and luscious locks is of little use if you have not pampered your lips well. So, introduce them to the best lip masks to get plump pink lips that enhance your look and make you feel younger. So, what is a lip mask? It is a cream or serum you slather on your lips to hydrate and moisturize them. Are these masks effective against chapped lips as lip balms may not always work? Of course, yes. They make sure that your lips are always pout-ready. But how do you know which lip masks are the best for you?
Worry not! Here is a list of 15 amazing lip masks worth a try!
Here are 15 best lip masks you must try out!
Top 15 Lip Masks This Season
The texture of this balm is unlike any other. It has a smooth texture that glides on your lips and is quickly absorbed by it. Made using the exclusive moisture wrap technology, this balm is super thick and creamy. This mask will melt into your lips and leave it supple and hydrated. Apply it before going to bed at night and come morning, you will notice that your lips are fuller and hydrated. It's that easy! Not just that, it also boosts hyaluronic acid and minerals to form a protective layer on your lips to keep them from drying out.
Pros
Made with moisture wrap technology
Super thick and creamy
Cons
Does not contain sunblock
Price at the time of publication: $14.0
This lip mask is precisely what your travel pouch needs. You often don't realize just how chapped your lips can get while traveling. These single-use lip masks will pamper your lips, infusing them with moisture and soothing them. They are made using a blend of meadowfoam seed and almond oils, so not just is your lips moisturized but also nourished. They are dermatologically-tested and free from parabens, phthalates, or petrolatum, so rest assured your lips are in safe hands.
Pros
Dermatologically tested
Made using nourishing meadowfoam seed and almond oil
Cons
Price at the time of publication: $17.94
This lip mask comes in a charming pink packaging and works like a charm on chapped lips! It is curated using moisturizing ingredients such as seed butter, hydrogenated castor oil, and sea whip so you can bid goodbye to winter-worn lips. If you wear a lot of matt lipsticks, then this lip mask is the one for you. Just apply it before putting on your lipstick and protect your lips from drying out.
Pros
Can be used in the day as a lip prep
Has moisturizing ingredients such as seed butter, hydrogenated oil, and castor oil
Cons
Must be used for a prolonged period
Price at the time of publication: $42.94
This lip mask is intensive and exactly what your lips need if they are prone to drying out and cracking. This clear jelly-like balm can work magic on your lips as it contains agave nectar and lanolin. It is loaded with antioxidants, so your lips will be kept soft supple and moisturized at all times.
Pros
Long-lasting coating
Treats sunburn and chapped lips
Cons
Does not contain sunblock
Price at the time of publication: $32.8
This lip mask will leave your lips kissably soft and smooth. It is composed of nourishing ingredients such as cocoa butter, mango butter, and coconut oil. Although slightly more expensive, this lip mask is worth the splurge and will leave you with hydrated lips. It is creamy and nourishing but not sticky, which is just what you want your lip mask to be.
Pros
Very moisturizing
Creamy and thick
Cons
Price at the time of publication: $32.55
This sugary lip balm is a sweet treat for your lips! It is caramel flavored and has a soft, creamy texture to it. It is long-lasting and can keep your lips moisturized for upto 24 hours. For a smooth and natural shine, this is the lip balm you turn to. It is thicker than a regular gloss and is great for daytime use.
Pros
Creamy texture
Long-lasting
Cons
Price at the time of publication: $29.99
This mask is a beauty breakthrough. Made from bentonite clay, this mask will keep your lips soft and wrinkle-free. For smooth lips, apply this thick and creamy mask for about 2 or 20 minutes. That's right! In just 2 minutes, you can exfoliate, hydrate, and heal your lips. Using sources from the Himalayas, this luxurious clay lip mask is exactly what your beauty regimen needs.
Pros
Made from bentonite clay
Reduces the appearance of fine lines
Cons
Wiping pink clay off with a towel as directed stains the towel
Price at the time of publication: $32
Bid farewell to dry and chapped lips with this lip balm from a brand that is well-loved all over the world. It is a concentrated lip treatment that has a creamy, buttery texture and instantly reduces dryness and discomfort. Formulated using honey, beeswax, propolis extract, and colloidal oatmeal, this balm is designed to condition and soothe peeling lips. It is free from all harmful chemicals and is suitable for sensitive skin.
Pros
Provides instant relief to dry lips
Enriched with natural ingredients
Cons
Price at the time of publication: $18.99
Korean beauty products have recently been gaining a lot of popularity worldwide because of how effective they are, and this Korean lip mask is no exception to the rule. This luxe lip mask is made from apple water, which gently exfoliates dry, chapped lips. It can be worn during the day as a balm and then used at night as a mask. The refreshing mint extract soothes your lips, and the blend of vitamin oils locks in the moisture.
Pros
Instant results
Can soothe stressed lips
Not tested on animals
Cons
Price at the time of publication: $20.0
This lip mask contains plum blossom extract, shea butter, and muru-muru extract that will gently exfoliate your lips and rid it of peeling, dry skin. It is a waxy, thick lip mask that is fragrance-free. The mask helps eliminate dry skin cells, and the oil it contains prevents flaky, chapped lips.
Pros
Deeply moisturizes lips
Prevents lips from drying out
Cons
Can look a little greasy on the lips
May cause breakouts in acne-prone skin
Price at the time of publication: $16.0
The BEAUUGREEN Gram Lip Mask Rose is enriched with the goodness of rose extracts. It prevents moisture evaporation, improves wrinkles on the lips, brightens them, and keeps them hydrated all the time. In addition, the water-soluble hydrogel mask can also be used around your eyes foa soothing effect. The kit contains 20 sheets and comes in a cute lip-shaped container.
Pros
 Suitable for all skin types
 Hypoallergenic
 Easy to use
Cons
None
Price at the time of publication: $22.85
Not just will this product smoothen and moisturize your lips but will also help plump it up. So if you're looking for a way to achieve fuller lips, then spare them of the fillers and try this product instead. This product contains hyaluronic acid that can help smooth out the lines on your lips and bring back the lovely rosy tint. It also enhances the definition and of your lips.
Pros
Enhances definition
Smoothes fine lines
Cons
Price at the time of publication: $61.2
This deeply penetrating lip mask is infused with sea buckthorn and evening primrose that help replenish and soothe your lips. Made from organic oils such as rosehip, avocado, jojoba, and pomegranate, this lip mask lightens and soothes irritated lips. It is full of essential fatty acids and vitamins A and C, which help restore their natural softness.
Pros
Not tested on animals
Organic and natural lip mask
Cons
Not a budget-friendly product
Price at the time of publication: $37.0
If you want to counteract the appearance of wrinkles and fine lines, then this revolutionary mask can do the trick. If you are a smoker and experience discolored lips, then this mask will also lighten the discoloration and give you rosy lips. It contains peptides, hyaluronic acid, hydrolyzed collagen, and glycerin ingredients your lips need to look youthful again. It has been clinically tested and is allergen-free.
Pros
Reduces discoloration
Allergy tested
Cons
Causes a tingling sensation on your lips
Price at the time of publication: $20.0
Made from nourishing vitamins, shea butter, and chamomile essence, this product has been proven to relieve dryness and reduce peeling. It is fragrance and paraben-free and will help soothe even the difficult to heal corners of your lips. This ointment helps seal in moisture and gives the lips a subtle sheen that looks natural and glowy. Effective and affordable this product is a nighttime routine must-have!
Pros
Seals in moisture
Can heal even the corners of your mouth
Cons
Price at the time of publication: $3.97
Why Trust StyleCraze?
Vaishnavi Kothuri has a deep interest in skin care and loves writing about skin care products. After thorough research, she has compiled this detailed list of the best lip masks for her readers. She went through numerous user reviews and analyzed the feedback on multiple forums and brand websites. The products listed in this article hydrate, plump, and exfoliate the lips, keeping them supple and pout-ready.
Frequently Asked Questions
What does a lip mask do?
A lip mask hydrates, plumps, and exfoliates the lips keeping them supple and kissably soft.
What is the best lip treatment?
While lip balms are great to be used during the day, your lips need a more intensive solution such as a lip mask, and that's why they're the best lip treatment.
How long should you keep a lip mask on?
Most masks should be kept on for at least ten minutes, while some can be worn overnight.
What are the benefits of lip masks?
• They are convenient to use. You can read a book or work while it works on you.
• They are quite effective with a single use.
• They deliver a long-lasting effect on the lips.
• They offer intense moisture to the lips.
How do you apply a lip mask?
• Place the sheet mask on your lips, and make sure it fits well.
• Keep it on for 15-20 minutes.
• Remove it and apply a lip balm of your choice for extra nourishment.
How often should you use a lip mask?
Since lip masks hydrate your lips, you can use them anytime you want. The results last for a few days and then you can use it again. It is recommended to use them twice weekly.
Can you leave a lip mask on overnight?
Yes, some lip masks can be left overnight. Check the brand instructions and follow your regimen accordingly.
What is the difference between a lip mask and a lip balm?
When you feel that your lip balms are not hydrating enough and your lips need an extra boost of moisture, lip masks come in handy. Lip balms are used daily and are meant to reapply every few hours, but lip masks do the magic in a single use.
Do lip masks work on chapped lips?
Yes, lip masks work best on lips that are dry and chapped.
Recommended Articles