The 15 Best Lip Liners To Achieve A Fuller & Redefined Look – 2023
Subtle, bold, or classy, experiment with your lip makeup with these colorful options.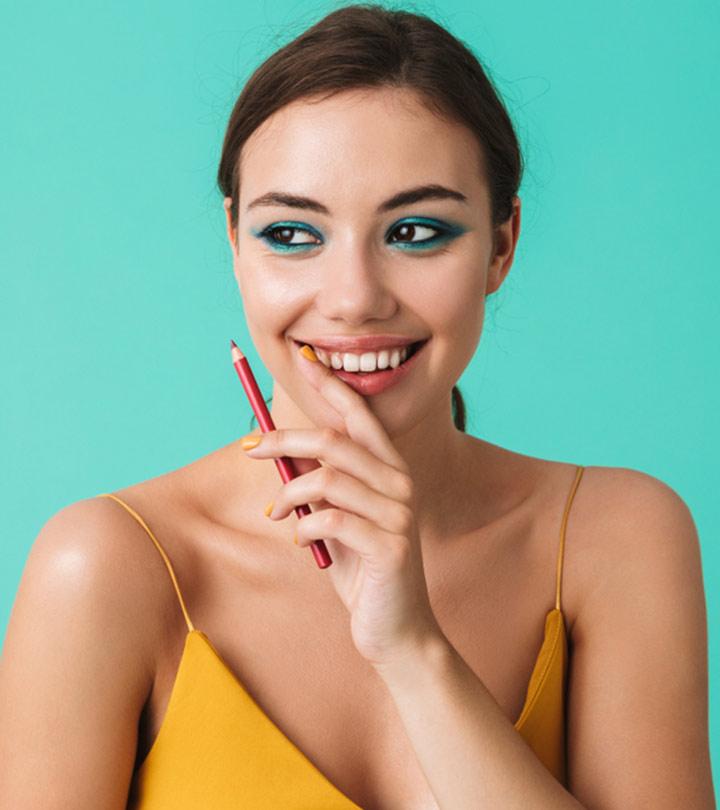 If you thought lip liners were a thing of the past, you are yet to discover the best lip liners from today's trends. This 90s cult formula of creamy and shimmery-looking lips hasn't left the room yet. In fact, it is here to make your lips look fuller and plump, defining the contours of your lips. You need no lip injections or artificial fillers to make your lips look full and complete. Lip liners create a smooth canvas to apply your lipstick or lip color with utmost precision. Moreover, it makes the lip color smudge-proof and increases its staying time.
Pick any of your favorite celebrities, and all of them have a favorite lip liner as their go-to. With so many wanting these, there are lip liners available from different brands with different formulas and textures. All of this can become overwhelming, so we have listed the 15 best lip liners available out there. Scroll and find the best option for you and make your lips look fuller instantly.
15 Best Lip Liner Reviews To Give You Fab Lip Color
Define your lips to get great precision with this rich espresso lip liner that glides on like butter and stays on for a long time. This award-winning lip liner also gives you a great pout when accompanied by a complementing color. Say bye to feathering and bleeding of your favorite lip color with this lip liner that provides a solid foundation for your lipstick. Plus, this is vegan and cruelty-free, making it a great choice for your conscience too. So, what are you waiting for? Go ahead and get those gorgeous lips with this no-bleeding lip liner that counts as one of the best NYX lip liners.
Pros
Glides on like butter
Gives long-wear
Vegan
Cruelty-free
Cons
Might be a little difficult to sharpen for some
Price at the time of publication: $4.99
If you're a fan of nude lips, get this natural-colored lip liner that will give you well-defined lips instantly. Long-lasting and richly-pigmented, this lip liner gives you a highly-pigmented color that stays on without you having to worry about retouches. It has a plush, matte feel for you to match with your favorite lip color. This shade is also great for all skin tones, making its appeal universal. Just line your lips and get the perfect canvas for your lip color to avoid smudging. Moreover, the brand is PETA-approved too.
Pros
Richly-pigmented
Matte
Feels luxe
Shade goes with all skin tones
Cruelty-free
PETA-approved
Cons
Some might need a few coats for the perfect color.
Price at the time of publication: $21.99
Get great-looking lips that also feel good with this creamy lip liner in a pretty shade. The brand uses a smudge-proof formula that makes it easy to avoid bleeding and feathering of the lip color. The color is super-saturated and gives you an impressive color pay-off easily with a few strokes. Its self-sharpening avatar gets rid of the common woes of sharpening too. This also helps in application as you can easily define your lips to get that perfect, plump pout. It can also act as a primer for a lipstick of the same shade.
Pros
Self-sharpening
Smudge-proof
Can act as a primer too
Super-saturated color
Cons
Might melt if not stored properly
Price at the time of publication: $6.63
Creamy and matte, this lip liner glides on easy and makes your lips look luxe. A brand by Lady Gaga, this lip liner features a formula that lets you use it to define your lips with precision but also to fill in after using a lip color. It is formulated thoughtfully to give you superlative definition with one stroke of this soft, smooth lip liner. Its long-wear formula lets you enjoy freely without having to worry about smudging your lip color. So, go get glam lips like Lady Gaga herself with this lip liner that will come to your rescue when you intend to doll up your puckers.
Pros
Creamy texture
Matte appearance
One-stroke definition
Long-wear
Cons
Price at the time of publication: $5.57
Get gorgeous lips with this lip liner that lets you define your lips deftly with this lovely color. Never worry again about having to carry your cosmetics along in your tiny clutch bag as this promises to give you a lasting wear that will let you flaunt that great lip color for a long time. Its 1000 Kisses formula ensures that the color remains non-transferable even as you sip on your favorite drink. The lip liner gives you great precision that allows your lipstick-wearing experience to get better.
Pros
Offers high precision
Soft and creamy texture
Transfer-resistant
Long-wear
Cons
Some might find it to be not pigmented enough
Price at the time of publication: $0.74
This is among the best moisturizing lip liners for those who are always on the lookout for some extra punch. Get well-defined lips in this shade of plum in a jiffy as you glide it on with ease. Creamy and smooth, this one's a dream to apply. It has a beautiful, subtle color, which means you can wear it solo or use it as a base for your favorite color. The best part? This comes with a brush that lets you fill in to your heart's desire. It is also infused with some of the most moisturizing ingredients like beeswax and aloe that do not dry out your lips. So contour, line, and get the perfect lips with this versatile lip liner with ease.
Pros
Creamy texture
Glides on easily
Comes with a brush
Moisturizes
Cons
The color might be too light for some.
Price at the time of publication: $18
This one's especially for mature skin types and is formulated to enhance the natural lip contours as it defines with precision. It has a special applicator tip that glides on smoothly for easy application. This lip liner is from the brand's special line for 50-up consumers, therefore it takes care of blending in on creases and does not smudge while also saving your lipstick from smudging. Its anti-feathering and transfer-free formula means that you can go worry-free about retouches. So, go on and grab one to get your perfect lips in your favorite color.
Pros
Precision wear
Does not feather
Transfer-free
Formulated for mature skin types
Special applicator that glides on easy
Cons
Might be difficult to sharpen
Price at the time of publication: $8.83
This one's a dream for those looking for all-day wear as you don't have to worry about carrying this around for retouches during those long days at work. Go for your dinners and drinks carefree as the formula of this lip liner makes it smudge-resistant. Get great-feeling lips with the aloe and chamomile infused botanical and natural formula of this product. This lip liner also uses antioxidants like vitamins A, C, D and E; and powerful anti-inflammatory ingredients like green tea and ginseng, which means you can beautify and nourish your lips at the same time. Plus this is cruelty-free, gluten-free, and paraben-free.
Pros
All-day wear
Smudge-resistant
Cruelty-free
Gluten-free
Paraben-free
Waterproof lip liner
Retractable
Cons
May melt if not stored properly
Price at the time of publication: $7.99
If you're looking for a lip liner that offers the goodness of skincare while defining your lips, this is the best choice for you. Packing in ingredients that act as treatment for your skin, get lips that look as well as feel good with this powerful lip liner. Creamy and long-lasting, this lip liner slides on super smoothly for easy application. You'll never have to complain about dry lips again as the lecithin in it keeps them hydrated. Vitamins C and E contained in this product help prevent creases and lines on your lips. It's also waterproof, smearproof, and non-splintering so that you can get the perfect lips for your next night out.
Pros
Creamy formula
Hydrating
Long-lasting
Smear-proof
Non-splintering
Square-shaped for more coverage on application
Cons
May not be well-pigmented
Price at the time of publication: $10.99
Doll up your lips pretty with his smooth lip liner that glides on easily and stays put. You can use it to line your lips for precision or to prime them before putting on your favorite lipstick. You can also use this to fill in your lips completely and go solo with this fab color. The brand calls this lip liner "indestructible", which basically means that you get to go about your day from brunch to the boardroom, without having to worry about retouching due to smudging, feathering or bleeding. But the long-wear does not make your lips feel dry as this product uses hydrators such as vitamin E, jojoba oil, and cottonseed oil for nourishment. So, get those hassle-free dream lips quickly with this multitasking lip liner pronto!
Pros
Glides on smooth
Doubles as primer
No feathering
Stays on for 24 hours
Hydrating formula
Cons
Some might find the color a little sheer.
Price at the time of publication: $20.99
Get great color and perfect precision with this lip liner in the shade rose. It provides the perfect outline for you to wear your favorite lip color or just fill in with this shade itself. No more worrying about feathering and smudging too as this lip liner promises to stay put and does its work as you go about doing yours. Get the perfect pout by overlining your lips a little and watch how you turn heads. This comes in an easy retractable format so that you don't have to battle sharpening woes anymore. Plus this is also cruelty-free, making it a great choice for everyone.
Pros
Prevents feathering
Vegan
Cruelty-free
Retractable lip liner
Cons
Price at the time of publication: $6.1
Good color that stays for up to 5 hours is a great feature for a lip liner but this one has more. With its ultra precise tip, this natural lip liner promises to give you great precision when it comes to lining your lips and every crease and contour on it. It also guarantees to be bleed-proof and anti-feathering so you can bid farewell to carrying your lip liner along for frequent retouches. Made of ingredients like mango seed oil, meadowfoam oil, macadamia nut oil, jojoba oil, candelilla wax, and shea butter, the formula of this lip liner makes it easy to glide on and hydrates your lips at the same time. It is also cruelty-free and uses natural ingredients.
Pros
Cruelty-free
Infused with natural ingredients
Ultra-precise tip for precision
Bleed-proof
Anti-feathering
Cons
Price at the time of publication: $12.5
Introduce a dash of pink to your life with this fun shade of lip liner in a hot pink matte shade. In fact, the color is so stunning that you're sure to turn heads – whether you wear the lip liner alone or with a complementing lip color. Jojoba oil and aloe vera among its ingredients make it a nourishing and moisturizing product that cares for your lips. This also means that this matte lip liner goes on smoothly over your lips without dragging. Being vegan and cruelty-free give it extra brownie points!
Pros
Vegan
Cruelty-free
Moisturizing formula
Glides on easily
Cons
Some may find it difficult to maneuver.
Price at the time of publication: $9.99
If you're looking for a clean beauty brand that also helps in giving you great-looking lips, this is the nude lip liner for you. It can define your lips with precision for you to fill it in with your favorite color. You can also use this to act as a primer for your lipstick or liquid lip color to stay put longer on your lips. This lip liner keeps feathering and bleeding at bay, which means that you can wear your lip color for a longer time without running to the mirror for retouches. Plus this is made without parabens, sulfates, or phthalates.
Pros
Acts as lip liner and primer
Resists feathering
Resists bleeding
Paraben-free
Sulfate-free
Phthalate-free
Cons
Could be too dry for some
Price at the time of publication: $10.83
This one's a long-wear lip liner for those who don't have the time or energy for retouches. A smooth application and a velvet-like plush texture make your lips feel super smooth, making it easy for the lip liner to glide on. It is simple to blend and reduces feathering and bleeding. This also helps in reducing the appearance of wrinkles, making this great for people with mature skin types as well. It is water-resistant and has a built-in brush for easy application. So get shiny, velvety, and plump lips in seconds with this amazing lip liner.
Pros
Creamy texture
Smooth application
Long-wear
Water-resistant
No feathering and bleeding
Reduces appearance of wrinkles
Cons
The color might not be pigmented enough for some
Price at the time of publication: $18
And now that we have looked at our 15 best lip liners, here's making it easy for you to pick out the most suitable one for yourself with our buying guide.
How To Pick The Best Lip Liner For Your Skin Tone
Lip liners, like lip colors, come in multiple shades and therefore, you have to be careful about the shade that goes with your skin tone. If you're pairing it with your lip color, you should always go with a lip liner of the same color family— nudes for nudes and darker shades for bolder colors. So if your lipstick has undertones of plum, opt for a lip liner with the same undertones. You can settle for neutral shades or darker tones such as almond or plums for dark skin tones and go for corals or neons for lighter skin tones. However, many lip liner brands are now also making clear-colored lip liner for a variety of skin tones that you can pick up hassle-free.
With lip liners now also doubling up as primers and fill-ins, the texture you want is also important. For a velvety feel and a shiny look, go for brands that promise a creamy texture with shine and for a matte look, opt for ones with a matte finish. Texture is also important to avoid dragging of the lip liner while application. Smooth ones glide on easily while drier ones might need more energy and product for the desired effect and color on your lips.
This is key for those who look beyond just the color in their lip liner. Go for clean, sulfate, and paraben-free products if that's your jam or go for cruelty-free and vegan lip liners, if that helps you feel good. For those who look for hydration, pick one that has ingredients like aloe vera, jojoba, and beeswax in them. There are also one made especially for mature skin types with antioxidants and other anti-aging properties that help reduce wrinkles.
This is key while buying lip liners as you don't want to be stuck with something that does not cater to your needs. If you're one who does not like too many retouches, go for something with a 24-hour long-wear formula that keeps smudging and feathering at bay. But if you don't mind the occasional retouches, pick up something that gives you an average lasting wear for up to 5 hours. There are plenty of options available with their varying formulas for how long the lip liner stays put.
Why Trust StyleCraze?
Chaitra Krishnan is a makeup lover who believes that to get fuller-looking and plump lips, using a lip liner is a must. The list includes some of the top picks. She shortlisted the products after going through thousands of trustworthy reviews online. All these products in the list will create a defined canvas to apply your lipstick.
Frequently Asked Questions
Can you use lip liner as eyeliner?
Some lip liners can double up as eyeliners. However, it is advisable to use products made for a specific purpose for only that in order to get the maximum mileage out of it. Lip liners usually contain ingredients for the benefit of the lips, which you do not necessarily need for your eye liner.
Does lip liner go on before lipstick?
Yes, it does. A lip liner adds definition to your lips for perfect application of the lipstick and also helps in protecting your color from smudging and feathering too fast.
Does lip liner last longer than lipstick?
Yes, as lip liners have slightly different formulations than lipsticks, they stay on longer.
When should I use lip liner?
• Prepare your lips by cleaning or exfoliating them.
• Moisturize your lips and leave them for 10 minutes.
• Choose the liner shade and sharpen it for better precision.
• Gently outline both sides of your lips.
• Apply your desired lipstick.
How often should you change your lip liner?
Change your lip liners after 12-18 months of usage.
Does lip liner make your lips look bigger?
Yes, you can get a plumped-up look by slightly thickening lip liner on your natural lip line.
Are lip liners safe?
Lip liners made of non-toxic, moisturizing formula are safe for daily use. However, for hygiene purposes, do not share your lip line with anyone.
Does permanent lip liner fade?
Yes, permanent lip liner fades after 3 years.
Recommended Articles: