15 Best LANCÔME Products Of 2023, Makeup Artist-Approved
Skin-friendly products you can depend on for nourishing and long-lasting eye makeup!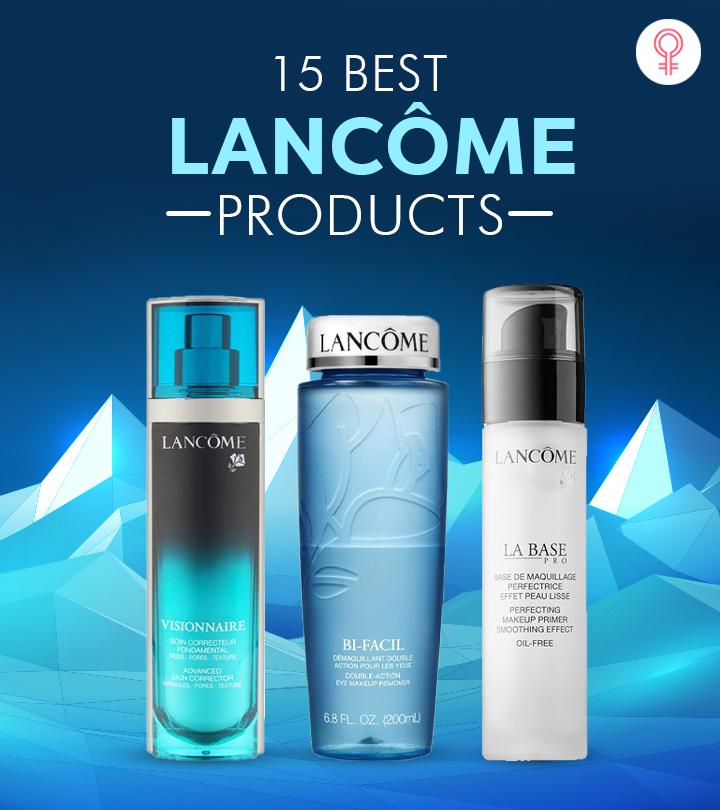 LANCÔME is a famous French brand founded by Armand Petitjean. It was initially a perfumery that branched out into the world of cosmetics and made a stable mark in the beauty industry. The best Lancome products are now easily available to the world. This celebrity-endorsed brand offers a wide range of skin care and makeup products that are extremely luxurious. They employ the best technologies and high-quality ingredients to make well-loved products that are rigorously tested. The brand also ensures that its products are cruelty-free, which means you can indulge in the best without feeling guilty about animals. Here, we have listed the 15 best-selling LANCÔME products available on the market right now. Check them out today.
Top Picks
15 Best LANCÔME Products Of 2023
The LANCÔMELa Vie Est Belle is an iconic, delightful, and feminine scent. It is famous as the signature perfume of Julia Roberts. This sweet, floral, and citrusy fragrance is made with the blend of Florentine Iris flowers, Tunisian orange blossom, spun sugar, and vanilla. The earthy and intoxicating Indonesian patchouli lasts for hours on the skin.
The subtle whiff of Arabian jasmine sambac adds mystery and warmth to the scent. This fragrance is layered with spicy Oriental notes and a blend of florals and sweet gourmand. This fragrance comes in a bottle inspired by Lancome's archives and chic Paris fashion. You can also check this video to explore a tester's experience with this product for a complete idea about it.
Pros
Long-lasting
Elegant packaging
Cons
The LANCÔME Advanced Genifique Youth Activating Concentrate is an anti-aging serum for the face. It uses innovative Genifique technology and biotechnology-derived ingredients to trigger genes and proteins involved in counteracting the aging process. This serum contains a blend of Bifidus prebiotic, vitamin C, and ceramides, which help restore skin health and regeneration.
The hyaluronic acid replenishes the moisture content of the skin,making it soft, supple, and youthful. This clinically-proven serum also reduces the visible signs of aging, such as fine lines, wrinkles, discoloration, sagging skin, and dullness. It comes with a self-loading dropper for precise and contamination-free application. This non-comedogenic serum is free of parabens and sulfates. If you want to know more about the results, take a look at a tester's experience with this product in this review on YouTube.
Pros
Hydrates the skin
Reduces the visible signs of aging
Non-comedogenic
Paraben-free
Sulfate-free
Cons
None
The LANCÔME Idole Le Parfum is designed and developed by successful and inspiring women as a homage to powerful yet delicately feminine idols. It contains roses sustainably-sourced from Turkey. The sweet floral rose scent is complemented by the exotic jasmine from India.
This perfume has top notes of pink peppercorn, juicy pear, and bergamot. The bottom notes consist ofcedarwood, vanilla, white musk, and patchouli. Many reviewers like that this product comes in a sleek and elegant bottle with trendy rose gold fittings.
Pros
Elegant packaging
Long-lasting
Cons
None
The LANCÔMELa Base Pro Perfecting Makeup Primer uses elas to-smooth technology to create a soft, translucent effect on the skin. It diffuses light to hide imperfections or fine lines and helps you achieve a refined and radiant complexion.
This oil-free primer glides effortlessly on the skin and lasts for hours without being greasy. It provides a smooth matte finish and is an excellent base for makeup. Reviewers really appreciate that this product controls shine, which makes it suitable even for oily or acne-prone skin types. Check out this video detailing a reviewer's experience with this product to learn more about it.
Pros
Oil-free
Non-greasy
Provides a matte finish
Adds radiance
Blends smoothly
Long-lasting
Cons
None


Looking for dramatic eye makeup? Try LANCÔME Grandiose Wide-Angle Fan Effect Mascara. It offers extra lift, volume, and length to the lashes. This high-gloss mascara accentuates the eyes and adds depth and dimension to your face. It is long-lasting and does not smudge.
This mascara contains Native Rose-Cell extract that nourishes the lashes. The innovative swan neck wand enables easy and precise application. The twist function of the wand keeps the product fresh without getting clumpy. This mascara coats the lashes from the root to tip in a single stroke. It is suitable for different eye shapes.
Pros
Long-lasting
Non-clumpy
Smudge-proof
Nourishes the lashes
Easy to apply
Suitable for different eye shapes
Cons
None
This award-winning mascara is a beauty product that is known for its high-definition and lash separation. The patented brush with its grooved "hedgehog" bristles ensure that the formula is distributed evenly on individual lashes, adding length and dimension. This clump-free formula contains vitamin B5 and polymers that thicken the eyelashes. It is highly pigmented, fragrance-free, ophthalmologist-tested, and suitable for people who wear contact lenses. 
Pros
Fragrance-free
Ophthalmologist-tested
Suitable for contact lens wearers
Clump-free
Cons
None
The LANCÔME Artliner Eyeliner Trace Dense offers bold and dramatic eye makeup. This soft yet firm felt-tipped liquid liner is easy to apply. It is also highly pigmented with a strong color payoff. The formula contains double film-forming polymers that last long without smudging.
This eyeliner enables clean and precise strokes to create cat eyes or wings, as attested by reviews. It is ideal for a cut-crease makeup look with a flawless finish. This product complements most skin tones and does not contain parabens, sulfates, formaldehyde derivatives, mineral oil, and phthalates. 
Pros
Suitable for all skin tones
Long-lasting
Smudge-proof
Easy to apply
Paraben-free
Sulfate-free
No formaldehyde derivatives
Mineral oil-free
Phthalate-free
Cons
None
This makeup remover cleanses the skin gently of stubborn eye makeup. It also helps clear highly pigmented and waterproof eye makeup. The bi-phase formula dissolves oil and water-based products without drying the skin. It contains moisturizing emollients that soften and nourish the skin without being greasy.
According to many online reviews, this eye makeup remover does not strip the natural oil from the delicate eye contour area. It keeps the eyes clean, fresh, and healthy. This award-winning makeup remover is suitable for people who wear contact lenses and want to remove eyeshadow or eyeliner.
Pros
Non-greasy
Non-drying
Softens the skin
Suitable for contact lens wearers
Cons
None

This rehydrating toner is formulated with hyaluronic acid, soothing acacia honey, and sweet almond oil. It has the texture of the serum and is easily absorbed into the skin. This lightweight toner moisturizes, nourishes, and calms the skin. It glides smoothly on the skin and helps in removing excess oil, dirt, and leftover makeup.
This gentle toner cum essence preps the skin for active ingredients and improves skin elasticity. It helps balance the skin pH, refine pores, and corrects uneven skin tone. This alcohol-free toner is clinically proven to soothe irritated skin. It makes the skin soft, radiant, and healthy. This product hydrates the skin within 15 minutes and is free of parabens, sulfates, and silicones.
Pros
Paraben-free
Sulfate-free
Silicone-free
Alcohol-free
Gentle formula
Soothes the skin
Adds radiance
Absorbed easily
Cons
The LANCÔME Advanced Genifique Yeux Light-Pearl Eye-Illuminator Youth Activating Concentrate reduces the appearance of dark circles, puffiness, and wrinkles around the eyes. The expertly crafted formula is clinically tested to be safe for all skin types. It also contains Bifidus extract that strengthens the skin's natural barrier.
The light pearl adds radiance to the skin and makes your eyes bright and energized. This serum also contains caffeine and comes with a cooling applicator to massage the under-eye area gently to boost blood circulation. This hydrating serum with vitamin E nourishes the skin around the eyes and fortifies the eyelashes. These exceptional qualities have earned the product tons of positive reviews on Amazon.
Pros
Nourishes the under-eye area
Fortifies the eyelashes
Reduces dark circles and puffiness
Brightens the eyes
Ophthalmologist-tested
Cons
None 
Looking for a weightless, skin-friendly foundation with sunscreen? The LANCÔME Renergie Lift Makeup is a great option. The innovative micro-lift technology fights signs of aging, such as fine lines, dark spots, and wrinkles, by improving skin elasticity and firmness. The ceramides repair and protect the natural lipid barrier of the skin.
This clinically proven foundation makes the skin luminous and youthful. It is transfer-resistant, fragrance-free, and does not clog pores. The liquid foundation is enriched with vitamin E which hydrates the skin for up to 12 hours and contains SPF 27. This product is dermatologically tested and available in multiple shades.
Pros
12-hour hydration
Contains SPF 27
Minimizes fine lines, wrinkles, and dark spots
Transfer-resistant
Fragrance-free
Non-comedogenic
Dermatologist-tested
Lightweight
Available in various shades
Cons
The LANCÔMEVisionnaire Advanced Skin Corrector is formulated with double jasmonate complex and an anti-aging skin molecule, LR 241, that triggers micro-transformations. The potent formula penetrates deep into the skin to counteract the effects of aging. It refines pores, fades blemishes, acne marks, and dark spots to reveal a clear, smooth, and youthful complexion.
This skin corrector also reduces the appearance of fine lines and wrinkles. It is absorbed quickly into the skin and improves its tone and texture. This serum can also be used under makeup for a flawless complexion. According to reviews, it also minimizes imperfections, such as UV damage and acne marks. This product is free of parabens, sulfates, and phthalates.
Pros
Absorbed easily
Gives youthful appearance
Paraben-free
Sulfate-free
Phthalate-free
Reduces the appearance of fine lines and wrinkles
Can be used under makeup
Cons
None
This gel-based eye cream contains Bifidus extract that helps refresh the delicate eye contour area by hydrating and nourishing it. Many reviewers like how the cream blends into the skin easily to brighten and soften the lines and wrinkles.
The formula strengthens the skin barrier and protects the fragile skin around the eyes. The advanced optical technology eliminates visible signs of aging and stress, such as dark circles, uneven skin tone, and pigmentation. This lightweight product is ophthalmologist- and dermatologist-tested.
Pros
Lightweight
Absorbed easily
Provides even complexion
Eliminates visible signs of aging
Cons
None
The LANCÔME Renergie Lift Multi-Action Lifting And Firming Cream with SPF 15 has powerful anti-aging and antioxidant ingredients like linseed extract, soy protein, and black tea ferment. It contains avobenzone, which protects the skin from sun damage and stress. The hyaluronic acid lifts and tightens the skin on the face, cheekbones, jawline, and neck within a week. This replenishing daily moisturizer minimizes fine lines and wrinkles within a week. 
Pros
Brightens the skin
Contains SPF 15
Prevents sun damage
Minimizes fine lines and wrinkles
Cons
This luxurious cleanser is lightweight and gentle on the skin. The science-backed ingredients like white lotus and rose have powerful antioxidant and soothing properties that offer healthy skin. This mousse textured cleanser removes grime, waterproof makeup, and excess oil from the skin without drying it. The water-activated cleanser foams into a rich lather and does not leave the skin feeling tight.
Pros
Lightweight
Gentle formula
Non-drying
Rich lather
Cons
None
*The prices provided in this article are based on the latest available information. However, they may vary due to changes in pricing by the seller and/or promotional offers.
Lancome is the brand to invest in when you are looking for a complete answer to all your skin care needs. Lancome conducts extensive research to enhance the efficacy of its products. From rich moisturizers to buildable bronzers and hydrating foundations, you could get carried away when you enter the world of Lancome. If you would like some help in choosing the best Lancome products scroll through our list of tips. These tips will help you gain a clear idea of what to focus on while buying a product.
How to Choose the Best Lancome Products?
Skin Type: If you have sensitive skin and acne-prone skin, invest in products containing gentle ingredients like aloe vera, oatmeal, and shea butter. On the other hand, oily skin requires a wider range of ingredients like alpha hydroxy acids (glycolic acid or salicylic acid) and hyaluronic acid to help control excess sebum production and provide hydration only in areas that need it. Finally, to keep dry skin looking radiant, go for products with shea butter and lactic acid that offer nourishment.
Identify the Purpose: Understand the requirements of your skin and then choose. If you are looking for reducing signs of aging, pick a skin corrector, an anti-aging serum, or a retinol-infused eye cream. For protection from the sun, go for a bestselling foundation with SPF – this will serve a double purpose. To keep you feeling fresh and smelling wonderful all day, invest in Lancome scents filled with sweet, citrusy, and floral fragrances.
Match your Skin Tone: If you are searching for Lancome cosmetics like foundations, tinted primers, and concealers with amazing coverage, identify your skin tone and undertone first and foremost. The Lancome foundations are labeled with indicators W (warm), C (cool), and N (neutral), helping you choose a shade that goes with your skin tone. Additionally, you may select a Lancome lipstick color that matches your skin's undertone.
Ingredients To Avoid: Avoid skin care and cosmetic products containing harsh chemicals like alcohol, parabens, sulfates, phthalates, and formaldehyde derivatives to avoid harming your skin. They dry your skin and distort its texture.
Why Trust StyleCraze?
The author, Shiboli Chakraborti, is a certified skincare coach who is also a makeup enthusiast. The best LANCÔME products compiled by her have been used and advocated by users worldwide. These products go through several rounds of testing and have been dermatologist-tested to suit all skin types. In addition, the French company produces star-quality luxury items that range from makeup to skincare products and perfumes.
Frequently Asked Questions
Is LANCÔMEcruelty-free?
Yes, LANCÔMEis a cruelty-free brand.
Is LANCÔME a high-end brand?
Yes, LANCÔME is a high-end, luxury brand that offers innovative products with high-quality ingredients and cutting-edge technology.
Is LANCÔME made in China?
No, LANCÔME does not manufacture its products in China. The products are made in France and various global locations.
Is LANCÔME all-natural?
No, LANCÔMEproducts are not all-natural or 100% organic.
Does LANCÔME Genifique contain hyaluronic acid?
Yes, LANCÔMEGenifique contains hyaluronic acid, which hydrates the skin and makes it soft, supple, and plump.
Does LANCOME use animal products?
LANCOME is not a vegan brand. It uses honey and lanolin, which are derived from animals.
Do you use Génifique before or after moisturizer?
Use Génifique after cleansing and before moisturizing to ensure that the formula is well absorbed into the skin.
Recommended Articles