13 Best Natural Night Creams With Reviews (2023)
Upscale your skincare game with these creams and revive your skin with some natural goodness.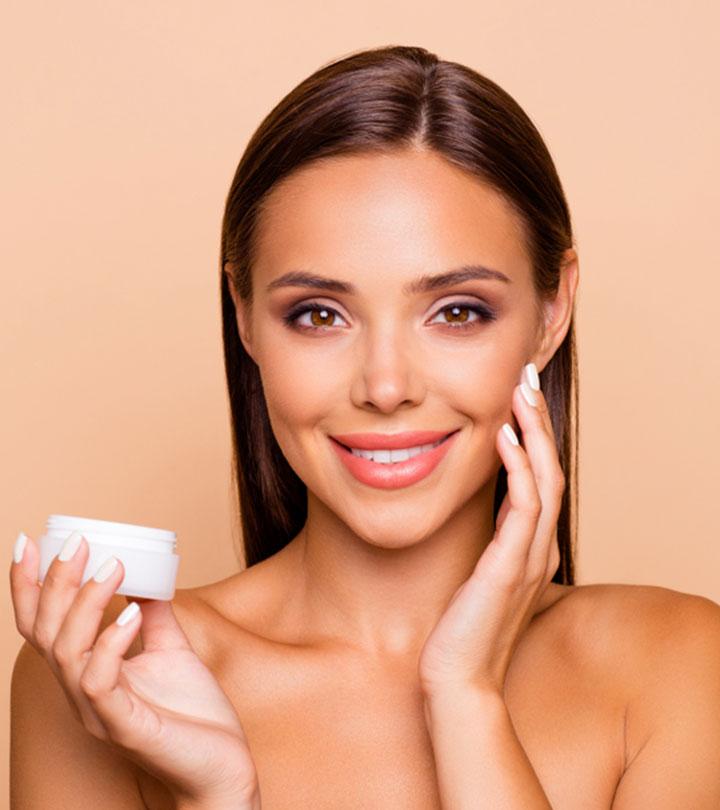 If you have started to notice subtle changes in your face with age or season, maybe it is time to include the best natural night cream in your everyday skin care routine. After the stress and tasks of the whole day, it is at night that your body and mind get to rest, and your body (and skin) repairs itself. Adding a night cream to your night skin care routine at the end of the day helps your face feel clean, relaxed, and nourished.
A natural night cream is usually made up of herbal ingredients with unique properties that help reduce fine lines, wrinkles, pigmentation and seal in moisture keeping your skin plump and hydrated all through the night. Unlike day creams, night creams are formulated without SPF, have a thin consistency, and get absorbed into your skin pretty easily! To help you select the right one, we have enlisted the 13 best natural night creams for your skin that you may purchase online. Scroll down to take a look.
Top 13 Best Natural Night Creams Of 2023 Guide & Reviews
This night cream for sensitive skin is formulated with aloe vera and rice extracts. Aloe vera is super soothing for the skin and improves skin texture. Rice water on the other hand is known for its amazing quality of dealing with hyperpigmentation and enhancing skin elasticity. Burt's Bees sensitive skin night cream is natural and thus, suits sensitive skin well. It is fragrance-free and nurtures skin with its natural formula. The cream can be used daily at night for refreshed skin. It also prevents any sort of skin irritations, itching, or redness. You can apply it all over your face and neck at night after cleansing your face.
Pros
Hypoallergenic
Refreshes skin
Fragrance-free
Dermatologically tested
Cons
May cause breakouts for some
Price at the time of publication: $10.39
InstaNatural Retinol Moisturizer is one of the best natural night creams available today. Formulated with hyaluronic acid and safflower oil, this night cream with vitamin C supports cell renewal and hydrates skin. This advanced retinol night cream brings together the power of vitamin A, vitamin C, and green tea for beautiful skin results. It makes the skin free from wrinkles, dark spots, and fine lines. Daily use of this product moisturizes the skin deeply and restores skin texture. This night moisturizer can be a great addition to your skincare regime. Know more about this product from a review video on YouTube.
Pros
No mineral oil
Suits all skin types
Free from parabens
Has no artificial fragrance
Cons
Price at the time of publication: $19.97
Brighten your skin with the Andalou Natural Purple Carrot + C Luminous Night Cream. The cream boosts collagen and elastin to even out the skin tone and make the skin firmer. In addition, it is formulated to prevent UV damage, fight signs of aging, and fight hyperpigmentation. The key ingredients present in the night cream target the surface cells and make them lighter and brighter.
Pros
 Vegan
 Gluten-free
 Cruelty-free
 Non-GMO
Cons
 May not be enough moisturizing
Price at the time of publication: $16
Are you dealing with signs of aging? If yes, then you must try out this natural anti-aging night cream. This cream from BeeFriendly is composed with natural ingredients to help reduce fine lines, wrinkles, and dullness. It helps you keep your skin young and fresh. The cream is thick and super hydrating for the skin. Enriched with beeswax, olive oil, royal jelly, raw honey, and propolis, this cream is a great source of nourishing vitamins and minerals for your skin. This night cream protects your skin against cellular damage and improves skin texture. The natural ingredients make the formula highly effective. It is to be applied daily before going to bed to wake up with beautiful, fresher looking skin.
Pros
Easy-to-use
Cruelty-free
No chemicals
Suits combination skin type
Cons
Price at the time of publication: $29.99
If you are struggling with dry and dull skin, then using this night cream from Body Merry can be helpful. It is formulated with jojoba oil, spirulina maxima, and vitamin B3, B5 and E. This highly nourishing night cream hydrates the skin and keeps it healthy. It spreads easily and gets absorbed quickly. The cream is rich in emollients and keeps the moisture locked in the skin. You can even improve skin tone, combat dullness and increase softness with this cream. It fights the signs of aging, enhances skin elasticity, and helps you look younger. With the combination of these unique ingredients, your skin can become smoother, brighter, and more radiant.
Pros
Cruelty-free
Safe formulation
Spreads easily
For both men and women
Cons
Price at the time of publication: $17.67
Eve Hansen Vitamin C night cream is uniquely enriched with vitamin C for keeping the skin healthy. It is induced with sweet orange essential oil, avocado oil, organic shea butter, organic jojoba oil, kukui nut oil, and macadamia nut oil. This unique blend repairs damaged skin, softens skin and heals dryness. It is also helpful in reducing the appearance of spots, improving skin tone and protecting the skin from sun damages. This vitamin C repair cream is great for moisturizing and revitalizing the skin. Apply this cream daily at night after cleansing your face. Repeat for best results.
Pros
No sulfates
No paraben
No phthalates
Restores healthy skin
Cons
Price at the time of publication: $25.99
Enriched with hemp seed oil, hyaluronic acid, aloe vera, shea butter, vitamin E, jojoba oil, and sacha inchi oil, this natural night cream is a perfect for healing the skin. The night cream is induced with omega-3 fatty acids that help in repairing and rejuvenation of the skin. It is super hydrating and moisturizes the skin deeply. The formula is completely organic and tackles several signs of aging. This night cream improves skin texture by sealing in moisture and keeping irritants away from the skin. The cream is very easy-to-apply and it needs to be applied all over the face after washing your face and left all night long.
Pros
Silicone-free
Paraben-free
Cruelty-free
Nourishes dry skin
Cons
Slightly heavy in texture
Price at the time of publication: $14.95
Goat's milk is considered highly nourishing for the body and skin. In fact, it works like a superfood for the body. Taking note of it, this product is formulated with goat's milk complex, vitamin A, E, and provitamin B5. Ziaja goat cream is highly nurturing for the skin. When looking for a nourishing natural night cream for aging skin that also heals your dry skin and makes it beautiful, choose this cream. Though the cream is thick, it doesn't fail to get easily absorbed into your skin. If you wish to deal with dry spots, this is the perfect night cream. It even reduces flakiness and makes the skin smooth.
Pros
Paraben-free
No animal testing
Soothes skin
Non-greasy
Cons
Fragrance might feel strong for some
Price at the time of publication: $16.49
This organic night cream is infused with natural oils, shea butter, borage, and vitamin E. The cream does a great job at nourishing and hydrating the skin while you are asleep. This unique blend of herbal ingredients keeps up the moisture levels in the skin, thus adding a bright glow to it. Since the cream keeps the skin nourished, it is one of the best night creams for your skin. The application is quite simple— just apply it all over the face in circular motions after cleansing the skin, and you are all set for your nighttime skincare routine. The cream gets easily absorbed into the skin and has a light pleasant fragrance.
Pros
No artificial colors
No silicones
No mineral oils
No synthetic fragrances
Cons
Slightly thin consistency
Price at the time of publication: $12.49
Then a night cream is a perfect solution for dry and dull skin. It works while you are sleeping and improves your skin from within. The cream is composed with hyaluronic acid, argan oil, vitamin E, C, A, rosehip oil, pure neroli essential oil, jojoba oil, ginseng root, white tea, and chamomile. With these multiple natural ingredients, the cream works well for reducing dark spots, dullness, and uneven skin tone. It is also beneficial for dealing with large pores and wrinkles. This night cream for women is highly nourishing and keeps the skin hydrated all night long. The 27 in 1 antioxidants superfoods formula is free from chemicals and is helpful in fighting the signs of aging. You can even use this cream to tackle unclear texture and other skin issues like crow's feet, eczema scars and dark patches.
Pros
Cruelty-free formula
Organic ingredients
Makes skin smooth
Restores youthful look
Cons
Slightly thick consistency
Price at the time of publication: $72.0
This organic night cream with the goodness of vitamin C has natural ingredients like cloudberry, turmeric, along with reishi and chaga that are immensely hydrating. This deep moisture night cream is packed with antioxidants that are known for improving the skin texture and tackling issues like dryness, dullness, and dark spots. You can apply it daily as your regular night moisturizer and enjoy clean, bright skin. This is a chemical-free formula that nurtures your skin while you are sleeping and lets you attain great glowing skin naturally. You can check this video out if you want to know more about the product.
Pros
SLS-free
Vegan formula
Paraben-free
Free from cruelty
Cons
Slightly strong fragrance
Price at the time of publication: $26.39
Formulated with natural ingredients like cucumber, aloe vera, lemon extract, grape extract, passionflower extract, pineapple extract, and mineral oils, this organic night cream is super nourishing for the skin. It serves as an anti-aging moisturizing lotion that hydrates and tackles all the signs of dehydration. The presence of collagen-stimulating peptides help in rejuvenating the skin and reducing the appearance of wrinkles, fine lines, and sagging of skin. This night cream is great for firming skin and it gives you brighter, youthful skin. With no extra efforts, you can look younger and more beautiful just by using this natural anti-aging night cream.
Pros
Non-sticky formula
Fragrance-free night cream
For both men and women
Deeply moisturizes skin
Cons
Might burn on broken skin
Price at the time of publication: $13.25
Induced with powerful ingredients like retinols, peptides, probiotics and vitamin C, this night cream is super soothing for skin. The unique thing about this product is its effective ingredients that act as superfood for the skin. This antioxidant night cream not only provides deep hydration, it reduces the appearance of fine lines, wrinkles, and redness on the skin. Since the formula is light-weight, it serves as a perfect moisturizer. It is said that the probiotics in this cream protect the skin against bacteria, thus nourishing it intensely. The fragrance is quite strong and can continue to keep your skin refreshed for long hours.
Pros
Super soft
For all skin types
Suitable for all ages
Can be used daily
Cons
Doesn't get absorbed easily
Price at the time of publication: $61.0
So these are the top 13 best overnight face creams that you can use in 2023. Every night cream mentioned here contains natural ingredients and is considered good for attaining healthy skin. But before getting your hands on a night cream look at the following points for better guidance.
How To Choose The Best Natural Night Cream For Your Skin Type?
Choosing the right night cream for your skin type can be a little difficult. Keep the following points in mind-
1. Consistency
Look for a natural anti-aging night cream that has ideal consistency. It should be thin enough to get absorbed quickly. It should not be very thick or else the skin can become greasy.
2. Skin Type
In case you have oily skin, look for an organic night cream for oily skin. This cream must contain ingredients like aloe and vitamins. Avoid creams that contain oils or butter in them.
For people who have dry skin, the best overnight face cream is one which contains ingredients like shea butter, glycerine, coconut oil, argan oil, etc. Those who have combination skin or sensitive skin, should opt for fragrance-free night creams. Such creams do not irritate the skin. Ingredients like chamomile, cucumber, aloe, etc. are included in night creams for sensitive skin.
3. Ingredients
A good night cream for glowing skin must contain herbal ingredients like rice water, aloe, vitamins, minerals, essential oils, shea butter, argan oil, and other ingredients rich in retinol and peptides that rejuvenate skin. There should also be no use of toxic ingredients like parabens and sulfates, only then the cream works well for the skin.
Why Trust Stylecraze
The author, Vaishnavi Kothuri, is passionate about trying and experimenting with different skincare products and researching good-for-skin ingredients. She utilized her research skills and went through multiple user reviews on trusted online forums to develop this list of the best natural night creams. She has also included a detailed buying guide to help you choose the right product and achieve healthy, glowing skin overnight.
Frequently Asked Questions
Is Night Cream Bad For The Skin?
No, night creams are not bad for the skin. These creams nourish the skin and make it glowing.
Do Night Creams Really Work?
Yes, night creams really work. All you need to do is choose a cream that suits your skin type and apply it regularly.
Is Night Cream And Moisturizer The Same?
No, night cream and moisturizer is not the same. Night creams can moisturize the skin but moisturizers cannot offer all the benefits of a night cream.
Can We Apply Moisturizer Before Night Cream?
Yes, you can apply moisturizer before the night cream. Though night creams are highly nourishing, there is no harm in moisturizing the skin.
What Age Should You Start Using Night Cream?
Your mid 20s would be the most ideal time for you to introduce a night cream to your skincare routine.
What is the best thing to put on your face before bed?
Taking care of your skin overnight can become effortless if you use essential oils, anti-oxidant lotions, natural gels, or moisturizers to help heal your skin effectively.
You can achieve rejuvenated, hydrated, and flawless skin using these products.
Should I apply anything to my face at night?
Yes, you can apply vitamin-rich night creams or other skin care products to your face, as they can help your skin grow healthier, shinier, and nourished overnight.
Recommended Articles