13 Best Natural Night Creams With Reviews (2023)
Upscale your skincare game with these creams and revive your skin with some natural goodness.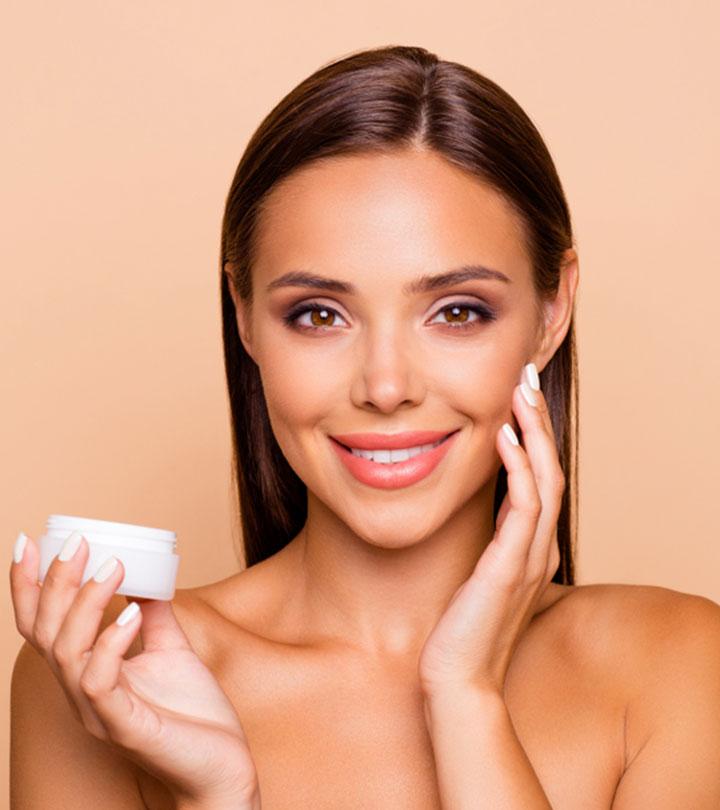 If you have started to notice subtle changes in your face with age or season, maybe it is time to include the best natural night cream in your everyday skin care routine. After the stress and tasks of the whole day, it is at night that your body and mind get to rest, and your body (and skin) repairs itself. Adding a night cream to your night skin care routine at the end of the day helps your face feel clean, relaxed, and nourished.
A natural night cream is usually made up of herbal ingredients with unique properties that help reduce fine lines, wrinkles, pigmentation and seal in moisture keeping your skin plump and hydrated all through the night. Unlike day creams, night creams are formulated without SPF, have a thin consistency, and get absorbed into your skin pretty easily! To help you select the right one, we have enlisted the 13 best natural night creams for your skin that you may purchase online. Scroll down to take a look.
Top 13 Best Natural Night Creams Of 2023 Guide & Reviews
Pros
Hypoallergenic
Refreshes skin
Fragrance-free
Dermatologically tested
Cons
May cause breakouts for some
Price at the time of publication: $10.39
Pros
No mineral oil
Suits all skin types
Free from parabens
Has no artificial fragrance
Cons
Price at the time of publication: $19.97
Pros
 Vegan
 Gluten-free
 Cruelty-free
 Non-GMO
Cons
 May not be enough moisturizing
Price at the time of publication: $16
Are you dealing with signs of aging? If yes, then you must try out this natural anti-aging night cream. This cream from BeeFriendly is composed with natural ingredients to help reduce fine lines, wrinkles, and dullness. It helps you keep your skin young and fresh. The cream is thick and super hydrating for the skin. Enriched with beeswax, olive oil, royal jelly, raw honey, and propolis, this cream is a great source of nourishing vitamins and minerals for your skin. This night cream protects your skin against cellular damage and improves skin texture. The natural ingredients make the formula highly effective. It is to be applied daily before going to bed to wake up with beautiful, fresher looking skin.
Pros
Easy-to-use
Cruelty-free
No chemicals
Suits combination skin type
Cons
Price at the time of publication: $29.99
Pros
Cruelty-free
Safe formulation
Spreads easily
For both men and women
Cons
Price at the time of publication: $17.67
Pros
No sulfates
No paraben
No phthalates
Restores healthy skin
Cons
Price at the time of publication: $25.99
Pros
Lightweight
Non-comedogenic
Non-greasy
Nourishing formula
Paraben-free
Phthalate-free
PABA-free
Dye-free
Artificial fragrance-free
Cruelty-free
Vegan
Cons
None
Price at the time of publication: $29.99
Pros
Paraben-free
No animal testing
Soothes skin
Non-greasy
Cons
Fragrance might feel strong for some
Price at the time of publication: $16.49
Pros
No artificial colors
No silicones
No mineral oils
No synthetic fragrances
Cons
Slightly thin consistency
Price at the time of publication: $12.49
Pros
Cruelty-free formula
Organic ingredients
Makes skin smooth
Restores youthful look
Cons
Slightly thick consistency
Price at the time of publication: $72.0
Pros
SLS-free
Vegan formula
Paraben-free
Free from cruelty
Cons
Slightly strong fragrance
Price at the time of publication: $26.39
The Eight Saints Night Shift Hydrating Gel hydrates the skin and offers anti-aging benefits. The formula contains hyaluronic acid, vitamins C and E, protein peptides, and licorice root. The hyaluronic acid reduces the appearance of fine lines and wrinkles, while the protein peptides boost collagen synthesis. The organic licorice root improves uneven skin tone and texture.
Pros
Hydrating formula
Non-sticky formula
Paraben-free
Silicone-free
Toluene-free
Oxybenzone-free
Formaldehyde-free
Talc-free
Gluten-free
Mineral oil-free
SLS-free
Cons
None
Price at the time of publication: $36
Pros
Super soft
For all skin types
Suitable for all ages
Can be used daily
Cons
Doesn't get absorbed easily
Price at the time of publication: $61.0
So these are the top 13 best overnight face creams that you can use in 2023. Every night cream mentioned here contains natural ingredients and is considered good for attaining healthy skin. But before getting your hands on a night cream look at the following points for better guidance.
How To Choose The Best Natural Night Cream For Your Skin Type?
Choosing the right night cream for your skin type can be a little difficult. Keep the following points in mind-
Look for a natural anti-aging night cream that has ideal consistency. It should be thin enough to get absorbed quickly. It should not be very thick or else the skin can become greasy.
In case you have oily skin, look for an organic night cream for oily skin. This cream must contain ingredients like aloe and vitamins. Avoid creams that contain oils or butter in them.
For people who have dry skin, the best overnight face cream is one which contains ingredients like shea butter, glycerine, coconut oil, argan oil, etc. Those who have combination skin or sensitive skin, should opt for fragrance-free night creams. Such creams do not irritate the skin. Ingredients like chamomile, cucumber, aloe, etc. are included in night creams for sensitive skin.
A good night cream for glowing skin must contain herbal ingredients like rice water, aloe, vitamins, minerals, essential oils, shea butter, argan oil, and other ingredients rich in retinol and peptides that rejuvenate skin. There should also be no use of toxic ingredients like parabens and sulfates, only then the cream works well for the skin.
Annētta McBain, a celebrity makeup artist and esthetician, says, "There is truly no better way to care for your skin and combat premature aging than moisturizing in my opinion. Some would argue SPF is number one, but I believe hydration is tied for first. These night creams make it easier than ever to do so, moreover many on this list are in my personal nighttime routine! As a professional, celebrity makeup artist and esthetician, I cannot stress the importance of keeping your skin hydrated enough."
Why Trust Stylecraze
The author, Vaishnavi Kothuri, is passionate about trying and experimenting with different skincare products and researching good-for-skin ingredients. She utilized her research skills and went through multiple user reviews on trusted online forums to develop this list of the best natural night creams. She has also included a detailed buying guide to help you choose the right product and achieve healthy, glowing skin overnight.
Frequently Asked Questions
Is Night Cream Bad For The Skin?
No, night creams are not bad for the skin. Instead, these creams nourish the skin and provide a healthy glow to the skin.
Do Night Creams Really Work?
Yes, night creams really work. All you need to do is choose a cream that suits your skin type and apply it regularly.
Is Night Cream And Moisturizer The Same?
No, night cream and moisturizer are not the same. Night creams can moisturize the skin but moisturizers cannot offer all the benefits of a night cream.
Can We Apply Moisturizer Before Night Cream?
Yes, you can apply moisturizer before the night cream. Though night creams are highly nourishing, there is no harm in moisturizing the skin.
What Age Should You Start Using Night Cream?
Your mid 20s would be the most ideal time for you to introduce a night cream to your skincare routine.
What is the best thing to put on your face before bed?
Taking care of your skin overnight can become effortless if you use essential oils, anti-oxidant lotions, natural gels, or moisturizers to help heal your skin effectively.
You can achieve rejuvenated, hydrated, and flawless skin using these products.
Should I apply anything to my face at night?
Yes, you can apply vitamin-rich night creams or other skin care products to your face, as they can help your skin grow healthier, shinier, and nourished overnight.