15 Best Clarins Products Of 2023 You Must Try
Sustainability combines with luxury to create these safe and effective formulations.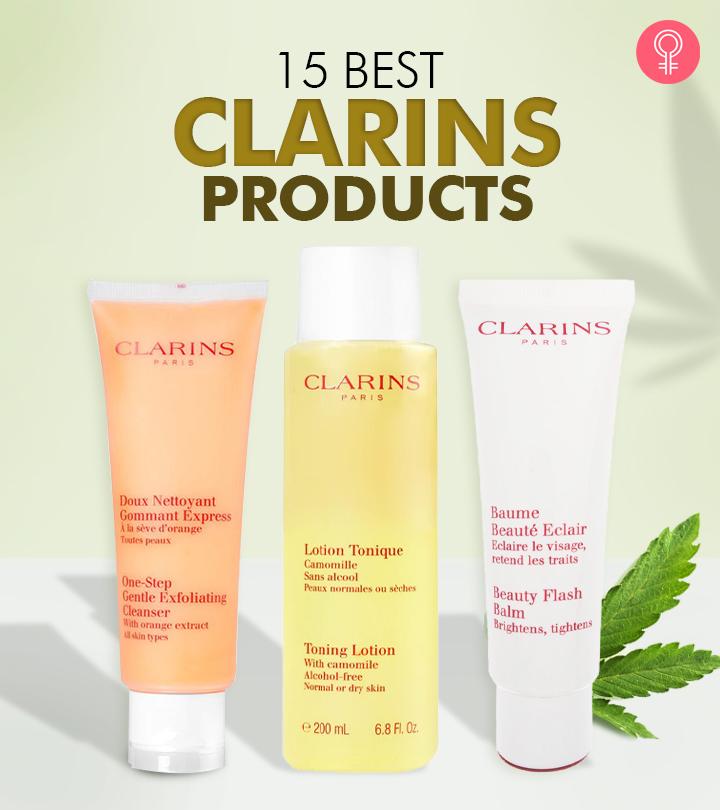 Clarins, launched in France in 1954, is a European luxury skin care brand. Anyone into luxury skin care would know this brand as one of the best brands that produce highly-effective, safe, and naturally-obtained products for the skin. The best Clarins products are prepared from ingredients sourced ethically from local communities. They study women's needs and formulate safe and effective skin care products from 63% recyclable materials. However, it is quite on the expensive side. But once you use it, you know it is worth paying. So, here we have reviewed and compiled a list of the best Clarins products available online. Scroll down to check them out.
Top 15 Clarins Products Of 2023
A truly multi-tasking gem for women in their 30s, the Clarins Multi-Active Jour SPF 20 cream fights signs of aging and boosts radiance while providing essential sun protection. The formula is enriched with encapsulated teasel extract to revitalize dull skin along with myrothamnus extract to target fine lines, wrinkles, stress, and uneven skin tone. It contains SPF 20 for broad spectrum protection from UVA/UVB rays. Additionally, the Clarins' Anti-Pollution Complex helps defend against damage from pollutants and free radicals.
Pros
Ultra-hydrating
Provides sun protection
Fights signs of aging
Doesn't pill under makeup
Pleasant fragrance
Cons
Price at the time of publication: $59
The award-winning Clarins Total Eye Lift is a one stop solution for all your anti-aging needs and provides a visible eye lift within 60 seconds. The botanical blend of caffeine, albizia, guarana extract, and horse chestnut aescin targets signs of aging like crow's feet, wrinkles, dark circles, and puffiness. In addition, the organic harungana extract replenishes the skin and firm up the skin around the eyes and the cassie flower wax offers lifting and wrinkle plumping benefits.
Pros
Moisturizes the skin
Absorbs quickly
Reduces dark circles
Tightens skin
Plumps up wrinkles
Pleasant fragrance
Cons
Price at the time of publication: $89
If you are struggling with dry, dehydrated or sensitive skin that needs some pampering, try the Clarins Tonic Treatment Oil. Especially designed to aid pregnant women, this body oil tones skin, boosts elasticity, and reduces the appearance of stretch marks thanks to the blend of rosemary, geranium, and mint plant extracts. The hazelnut oil helps retain moisture thereby leaving your skin feeling supple, soft and smooth.
Pros
Lightweight
Non-greasy
Non-sticky
Absorbs quickly
Controls irritation
Reduces dry skin patches
Pleasant fragrance
Cons
None
Price at the time of publication: $70
Clarins One-Step Gentle Exfoliating Cleanser is a gentle cleanser that gently scrubs off any traces of makeup, dirt, pollution, and dead skin cells. It contains an orange extract that softens, replenishes, and restores the glow of your skin and moringa Seed extract that clarifies and refines your skin. It also contains natural silica microbeads that exfoliate the skin pores and maintain the skin's natural moisture level.
Pros
Gentle
Suitable for all skin types
Dermatologist-tested
Cons
Does not foam
May sting the eyes
The Clarins Soothing Toning Lotion is designed for dry and sensitive skin that requires a boost of hydration and calm. It is enriched with the proprietary Microbiote Complex with marine-based prebiome that provides skin nourishment. Its organic saffron flower polyphenols balance and protect the essential natural bacteria present in the skin, thereby retaining moisture. With notes of lemon, cardamom, magnolia, peony, apricot, white musk, freesia, you shall have a fruity and floral aromatic experience.
Pros
Ultra-hydrating
Plumps fine lines
Alcohol-free
Dermatologist-tested
Mild fragrance
Value for money
Cons
None
Price at the time of publication: $30
Are you struggling with unpleasant stretch marks that refuse to leave your body? Well, the Clarins Body Partner Stretch Mark Expert is here to help you out. This lightweight and gentle cream helps target stretch marks that occur as a result of weight fluctuations or pregnancy. It features the brand's potent PhytoStretchComplex made using centella asiatica and organic green banana extracts that boost elasticity. In addition, the blend of hazelnut oil and glycyrrhetinic acid soothes and nourishes the skin as well as fights inflammation.
Pros
Reduces stretch marks
Improves skin elasticity
Controls inflammation
Fragrance-free
Colorant-free
Cons
None
Price at the time of publication: $66
Neck lines and loose skin can be bothersome, but now you can treat them with the Clarins Extra-Firming Cou & Décolleté. This plant-based formula is especially designed to target vertical and horizontal lines, age-related dark spots, and sagging skin, leaving you with a youthful complexion. It is powered with sunflower seed unsaponifiables and auxins that boost skin elasticity and firmness.
The anti-aging blend of kangaroo flower and mitracarpus plant extracts work on plumping fine lines and firming the skin. Desert date plant extracts are used to fight dark spots, oat sugars lend an instant lift to the skin, and the nourishing leaf of life and shea butter provide essential hydration. This cream also uses Clarins Anti-Pollution Complex featuring furcellaria, succory dock-cress, and white horehound to protect against damage from indoor and outdoor pollutants.
Pros
Lightweight
Quick absorbing
Pleasant fragrance
Smooths neck lines
Reduces dark spots
Tightens skin
Nourishes the skin
Non-sticky
Cons
Price at the time of publication: $96
This best-selling serum from Clarins uses an innovative Two-Phase formula that combines oil and water-based ingredients. This unique formula gets easily absorbed and targets all visible signs of aging. The Clarins Double Serum works to optimize the skin's five vital functions – hydration, nutrition, oxygenation, regeneration, and protection. It is formulated with 21 potent plant extracts, including turmeric, goji berry, beauty berry, huang qi, and edelweiss. These ingredients have anti-inflammatory properties and work as anti-aging and hydrating agents to visibly firm, soften and rejuvenate the skin. This serum is suitable for any age, complexion, and skin type. Watch this YouTube video for a detailed review of the Clarins Double Serum.
Pros
Fast results
Mineral oil-free
Paraben-free
Non-comedogenic
Suitable for all skin types and ages
Cons
Price at the time of publication: $66.0
Aging skin needs a ton of nourishment, care, and rejuvenation to feel the youthful glow again, and this is why we think the Clarins Nutri Lumière Nuit can be your savior. It features a potent botanical formula that includes horse chestnut flower extract and escin that nourish and replenish the skin for a radiant skin. The cream contains Clarin's anti-pollution complex that helps provide protection against both indoor and outdoor pollutants.
It also includes the hydrating blend of wakame seaweed extract, leaf of life, and shea butter to improve suppleness and soften the skin. Furthermore, the desert date evens the skin tone by reducing dark spots, harungana reduces deep wrinkles and sagging skin, plus Huang qi extract gets rid of impurities to reveal brighter skin.
Pros
Ultra-hydrating
Absorbs quickly
Boosts skin radiance
Softens the skin
Pleasant fragrance
Non-sticky
Cons
Price at the time of publication: $175
This body lotion contains shea butter, peach, and orange extracts. All these ingredients are known for their hydrating and restoring properties. It is a rich, moisturizing body lotion that moisturizes and smooths rough, dry patches, leaving behind supple, soft skin. It locks in moisture and shields the skin from the damaging effects of sun, air-conditioning, and other environmental factors. It is lightweight, non-greasy, and gets absorbed quickly. This body lotion is suitable for dry, damaged, and fragile skin.
Pros
Lightweight
Visible results
Non-greasy
Cons
The Purifying Gentle Foaming Cleanser by Clarins is designed to control excess oil in combination to oily skin, without stripping it of its natural oils. This creamy cleanser is enriched with organic saponaria that acts as a natural lathering agent along with moringa extract that detoxifies skin by fighting pollutants.
It also contains pore-cleansing salicylic acid granules and meadow seed extract that exfoliate and mattify your skin by eliminating unwanted shine. Clarins' Gentle Complex made with plant-based golden gentian and lemon balm extracts make your skin visibly softer and smoother. In addition, the vegetal squalane protects your skin from harsh effects of hard water and enables a luxuriously gentle cleansing experience.
Pros
Non-stripping
Softens skin
Reduces breakouts
Controls irritation
SLS-free
Silicone-free
Paraben-free
Mineral oil-free
Dermatologist-tested
Cons
None
Price at the time of publication: $30
If you need a toner that balances oil and gets rid of unwanted shine in oily or combination skin, then try the Clarins Purifying Toning Lotion. This refreshing formula is enriched with Clarin's exclusive microbiote complex containing kelp and saffron flower that maintains the healthy skin bacteria and protects the natural skin barrier. The purifying blend of meadowsweet extract and witch hazel helps hydrate and soften the combination to oily skin while absorbing excess shine. The fruity and floral notes of citrus, peony, jasmine, peach rose, blackcurrant, white musk, amber and violet leave a fresh and rejuvenating aroma on the skin.
Pros
Ultra-moisturizing
Absorbs excess shine
Value for money
Alcohol-free
Colorant-free
Cons
Price at the time of publication: $30
The Clarins Comfort Scrub Nourishing Oil Scrub has redefined gentle exfoliation with its nourishing formula that leaves your skin softer and smoother. This plant-based scrub is enriched with beetroot-obtained sugar microcrystal beads that exfoliate to get rid of dead skin cells and impurities. The wild mango butter nourishes, softens and comforts your skin for a non-stripping feel.
Pros
Non-drying
Gentle exfoliation
Value for money
Paraben-free
SLS-free
Mineral oil-free
Cons
None
Price at the time of publication: $30
Are you constantly worried about unwanted shine and oiliness on your skin spoiling your makeup look? If yes, my Clarins PORE-LESS blur and matte stick is designed just for you. This oil-absorbing pink stick glides across your skin and leaves you with a flawless matte finish. It is infused with strawberry tree fruit extract that brings down the shine and visibly tightens pores. Additionally, the fragrant notes of cotton candy keep you smelling fresh throughout the day.
Pros
Doesn't dry out skin
Controls excess oil
Vegan
Cruelty-free
Phthalate-free
Paraben-free
Sulfate-free
Cons
None
Price at the time of publication: $20
As the name suggests, the Clarins Hydra-Essentiel Moisture Replenishing Lip Balm is all you need to keep your lips looking plump and supple all day. This rich and replenishing formula helps nourish and protect the lips. It contains a soothing blend of blue lotus essential wax and cocoa extract to hydrate and smoothen your lips.
Pros
Ultra-moisturizing
Relieves irritation
Targets cracked lips
Softens lips
Non-sticky
Cons
None
Price at the time of publication: $26
When it comes to skin care, Clarins is a name that always tops. The French brand is synonymous with luxury and quality, and their products reflect that. If you are looking to treat yourself to some Clarins products, here is a guide to help you choose the right ones.
Things To Look For In Clarins Products
Skin Type: Clarins has a range of products catering to different skin types, so it is important that you select the right one for you.
For example, if you have dry skin, you may want to try the Hydra-Essentiel line of products. This line is designed to hydrate and nourish the skin, leaving it looking and feeling soft and supple.
If you have oily or combination skin, on the other hand, you may want to try the Mattifying range of products. These products are designed to control oil and sebum production while offering you a matte finish that lasts all day long.
Skincare Concerns: Clarins has products that can help with every skin concern ranging from anti-aging to acne prevention. Figure out what your main skin concerns are and look for a Clarins product that can address those issues.
Ingredients List: Once you have found a few products you like, take a look at the ingredients list to make sure they are right for your skin type. For example, if you have sensitive skin, avoid products with fragrances or other harsh chemicals. One thing to keep in mind when shopping for Clarins products is that a little goes a long way. The brand's products are highly concentrated and packed with active ingredients, so you only need to use a small amount to achieve great results.
Budget: Clarins products can range in price from relatively affordable to quite splurge-worthy, so it is important to set a spending limit before beginning your search. Once you know how much you are willing to spend, you can narrow down your options even further and find the best Clarins product for your needs.
Why Trust StyleCraze?
The author, Shiboli Chakraborti, is a certified skin care coach and is a big fan of products from Clarins. She has studied and researched their wide range of all-natural luxury skin care products and reviewed user feedback on multiple trusted online platforms. The Clarins products listed above are dermatologically-tested and come with skin-friendly formulas. Moreover, they are suitable for all skin types.
Frequently Asked Questions
Is Clarins good for anti-aging?
Yes. Clarins has a variety of anti-aging products in its arsenal, designed to tackle many age-related issues. Clarins Double Serum is designed to address most of these anti-aging issues.
Is Clarins a natural product?
Yes. Clarins uses over 250 natural plant extracts in their formulas that are ethically sourced. All their ingredients are acquired as per fair trade principles from local communities.
What age group is Clarins Double Serum for?
Clarins Double Serum is suitable for any age, complexion, and skin type. As it targets the effects of hormonal changes due to aging, it is preferred by women 50 and above.
What is the best Clarins product?
Clarins Double Serum is their best-selling, and therefore, best product.
Is Clinique or Clarins better?
Clarins has a more diversified skin care range, while Clinique tends to concentrate only on facial skin issues. If natural products are your preference, Clarins is the way to go!
Recommended Articles