15 Best Clarins Products Of 2022 You Must Try
Sustainability combines with luxury to create these safe and effective formulations.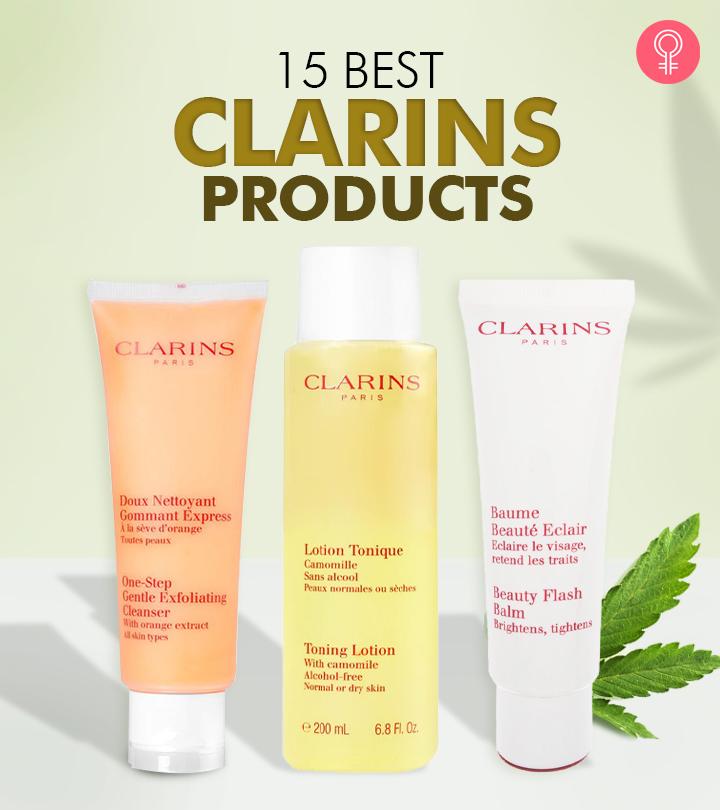 Clarins, launched in France in 1954, is a European luxury skin care brand. Anyone into luxury skin care would know this brand as one of the best brands that produce highly-effective, safe, and naturally-obtained products for the skin. The best Clarins products are prepared from ingredients sourced ethically from local communities. They study women's needs and formulate safe and effective skin care products from 63% recyclable materials. However, it is quite on the expensive side. But once you use it, you know it is worth paying. So, here we have reviewed and compiled a list of the best Clarins products available online. Scroll down to check them out.
Top 15 Clarins Products Of 2022
The Clarins Blue Orchid Face Treatment Oil is a hydrating oil formulated with a blend of blue orchid and patchouli essential oils. This oil revitalizes the skin and restores moisture, vitality, and radiance to dehydrated skin. It also contains hazelnut oil rich in omega-3 and vitamin E, which soften and smooth the skin and reduce the appearance of fine lines. It is easily absorbed into the skin and is best suited for dry skin. The oil is dermatologically tested, preservative-free, and will not stain your clothes. To get a better understanding of the Clarins Blue Orchid Face Treatment Oil, check out this video on YouTube.
Pros
Hydrating formula
No staining
Dermatologically-tested
Preservative-free
Unisex
Cons
Strong fragrance
Does not suit oily, sensitive skin
The Clarins Super Restorative Total Eye Concentrate is formulated with organic Harungana, Albizia, and Guarana extracts. This all-round eye cream targets visible signs of aging, like crow's feet, wrinkles, puffiness, dark circles, and cares for the entire eye area, temple to temple. It visibly lifts and brightens the eyes for a youthful appearance. This product contains Clarins' Anti-Pollution Complex and is also suitable for mature skin.
Pros
Dermatologist-tested
Ophthalmologist-tested
Sulfate-free
Phthalate-free
Silicone-free
Mineral oil-free
Cons
Takes time to show results
The Clarins Multi-Active Night Cream is formulated with teasel extracts that protect the skin against free radicals. This night cream claims to improve the appearance of wrinkles and fine lines. It also contains organic California poppy extract and Clarins' Anti-Pollution Complex that take off the visible effects of those tiring days and late nights. It rejuvenates your skin overnight so that you wake up with a fresh, toned, and glowing skin. This night cream is suitable for dry to normal skin and also works well for sensitive skin.
Pros
Lightweight
Non-greasy
Pleasant fragrance
Paraben-free
Non-comedogenic
Dermatologist-tested
Cons
Not suitable for oily skin
Clarins One-Step Gentle Exfoliating Cleanser is a gentle cleanser that gently scrubs off any traces of makeup, dirt, pollution, and dead skin cells. It contains an orange extract that softens, replenishes, and restores the glow of your skin and moringa Seed extract that clarifies and refines your skin. It also contains natural silica microbeads that exfoliate the skin pores and maintain the skin's natural moisture level.
Pros
Gentle
Suitable for all skin types
Dermatologist-tested
Cons
Does not foam
May sting the eyes
Every good skin care routine follows cleansing with toning! This alcohol-free toner is formulated with a mixture of camomile extract, known for its anti-inflammatory properties, and Linden extract, a natural astringent. It helps soothe sensitive or irritated skin while tightening the pores. Camomile's presence in this toner makes it suitable for all skin types. It is especially beneficial for acne-prone and dry skin types. This toner removes any trace of cleanser from the skin, leaving it balanced, refreshed, and ready for other skin care products.
Pros
Alcohol-free
Dermatologist-tested
Suitable for all skin types
Cons
This award-winning primer from Clarins is a perfect combination of makeup and skin care. This product has an ultra-light texture that melts on your skin and conceals fine lines, pores, and deep wrinkles, leaving it foundation-ready in seconds. It contains acacia micro-pearls and vitamin E that smoothen, hydrate, and nourish the skin, making it appear healthy. It is suitable for all skin types and can be used alone or mixed with the foundation. To know more about the benefits of Clarins Instant Smooth Perfecting Touch, click on this YouTube video.
Pros
Lightweight
Includes applicator tool
Suitable for all skin types
Cons
The Clarins Super Restorative Night Cream is formulated with harunguna, Montpellier rock rose, ginkgo biloba, and shea extracts. It fights visible signs of aging and is best for mature skin. This effective age spot corrector rejuvenates the skin, keeps it hydrated, and improves the appearance of wrinkles. It also contains Clarins' Anti-Pollution Complex that helps fight the effects of pollution and free radicals to keep the skin youthful and radiant.
Pros
Lightweight
Cruelty-free
Suitable for all skin types
Cons
Contains propylene glycol
This best-selling serum from Clarins uses an innovative Two-Phase formula that combines oil and water-based ingredients. This unique formula gets easily absorbed and targets all visible signs of aging. The Clarins Double Serum works to optimize the skin's five vital functions – hydration, nutrition, oxygenation, regeneration, and protection. It is formulated with 21 potent plant extracts, including turmeric, goji berry, beauty berry, huang qi, and edelweiss. These ingredients have anti-inflammatory properties and work as anti-aging and hydrating agents to visibly firm, soften and rejuvenate the skin. This serum is suitable for any age, complexion, and skin type. Watch this YouTube video for a detailed review of the Clarins Double Serum.
Pros
Fast results
Mineral oil-free
Paraben-free
Non-comedogenic
Suitable for all skin types and ages
Cons
This one is a must-have in your skin care arsenal! The Clarins Beauty Flash Balm is formulated with olive, pink algae, and rice extracts and is an instant pick-me-up for dull, fatigued skin. These ingredients work together to revitalize, tighten, and mattify the skin. This balm makes the skin look rested and relaxed. It also doubles as a 10-minute energy mask, instantly prepping the skin for makeup application.
Pros
Lightweight
Unisex
Allergy-tested
Non-comedogenic
Cons
This body lotion contains shea butter, peach, and orange extracts. All these ingredients are known for their hydrating and restoring properties. It is a rich, moisturizing body lotion that moisturizes and smooths rough, dry patches, leaving behind supple, soft skin. It locks in moisture and shields the skin from the damaging effects of sun, air-conditioning, and other environmental factors. It is lightweight, non-greasy, and gets absorbed quickly. This body lotion is suitable for dry, damaged, and fragile skin.
Pros
Lightweight
Visible results
Non-greasy
Cons
The Clarins Extra Comfort Toning Lotion is an extra gentle, alcohol-free toner. It is best suited for those with dry, fragile skin. This plant-based toner removes all traces of cleanser from the skin without drying it. It is formulated with marshmallow, aloe vera, linden, almond, and mango extracts. These ingredients calm and hydrate your skin and prep it for the next skin care steps.
Pros
Alcohol-free
Plant-based
Paraben-free
Sulfate-free
Phthalate-free
Cons
This multi-tasking day moisturizer is specially designed for women in their 30s. It protects the skin's natural barrier from sunlight, dirt, and pollution to keep it radiant and glowing. It contains teasel and myrothamnus extracts and other antioxidants that deliver targeted action by revitalizing radiance, smoothing fine lines, reducing dullness, and de-stressing the skin. This cream is formulated with the Clarins Anti Pollution Complex that shields the skin from the effects of pollution and free radicals.
Pros
Dermatologist-tested
Non-comedogenic
Smoothes fine lines
Cons
Greasy
Does not get absorbed easily
This illuminating serum from Clarins targets age spots, discoloration, acne spots, dullness, and redness without altering the natural skin tone. It contains acerola extract and hexylresorcinol, powerful anti-dark spot agents that reduce pigmentation and prevent its recurrence. The serum helps to even out the skin tone and improve radiance.
Pros
Dermatologically tested
Non-comedogenic
Evens out the skin tone
Cons
None
This refreshing body scrub gently polishes away dry cells, flakes, and impurities from your skin, leaving it soft, smooth, and nourished. It is formulated with bamboo powder, a natural exfoliator, and Mimosa tenuiflora, and shea butter extracts that are soothing and moisturizing agents. This scrub is non-drying, restores firmness of the skin, and stimulates the skin renewal process. It is suitable for all skin types.
Pros
Paraben-free
Pleasant fragrance
Suitable for all skin types
Cons
This nourishing lip-plumping gloss from Clarins contains silicone-coated pigments that give your lips an instant 3D shine and sheer finish. It is formulated with shea butter and vitamin F and is a perfect bridge between cosmetics and skin care. It delivers a tint of shimmer while nourishing and moisturizing your lips. The lip gloss has a calming vanilla fragrance that soothes your senses while the product melts on your lips. It has an angled cushion applicator and is available in six colors.
Pros
Hydrating
Creamy texture
Easy to apply
Cons
Does not contain SPF
Contains PEG
Why Trust StyleCraze?
The author, Shiboli Chakraborti, is a certified skin care coach and is a big fan of products from Clarins. She has studied and researched their wide range of all-natural luxury skin care products and reviewed user feedback on multiple trusted online platforms. The Clarins products listed above are dermatologically-tested and come with skin-friendly formulas. Moreover, they are suitable for all skin types.
Frequently Asked Questions
Is Clarins good for anti-aging?
Yes. Clarins has a variety of anti-aging products in its arsenal, designed to tackle many age-related issues. Clarins Double Serum is designed to address most of these anti-aging issues.
Is Clarins a natural product?
Yes. Clarins uses over 250 natural plant extracts in their formulas that are ethically sourced. All their ingredients are acquired as per fair trade principles from local communities.
What age group is Clarins Double Serum for?
Clarins Double Serum is suitable for any age, complexion, and skin type. As it targets the effects of hormonal changes due to aging, it is preferred by women 50 and above.
What is the best Clarins product?
Clarins Double Serum is their best-selling, and therefore, best product.
Is Clinique or Clarins better?
Clarins has a more diversified skin care range, while Clinique tends to concentrate only on facial skin issues. If natural products are your preference, Clarins is the way to go!
Recommended Articles