15 Best Olay Products, According To Reviews – 2023
Look your best after applying moisturizing products that come with anti-aging benefits.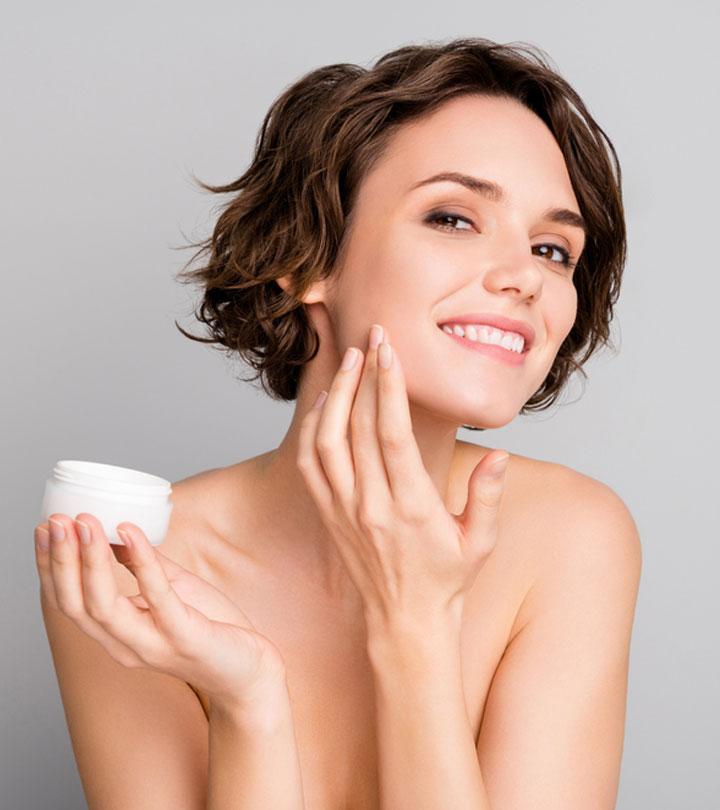 The celebrity-endorsed brand Olay enjoys an iconic and grand status in the beauty industry. And that's why there is no surprise that women all over the globe prefer using the best Olay products compared to other big brands. It started as just a tiny company in 1952 as the 'Oil of Olay' in South Africa. The company's name was a spin on their key ingredient called "lanolin," which was marketed as the "secret to a younger-looking you".
Today, the statement-making Olay has dominated the beauty market with its range of products like cleansers, moisturizers, and anti-aging products. Mary Ajaka, a makeup artist, remarks, "Whatever skin type is, normal or problematic skin, Olay has a product for you." So whether you have already tried Olay products and wish to continue or try them for the first time, our list of the best 15 Olay products will help you pick the right one for you.
Top 15 Best Olay Products Of 2023
Waking up every morning with dry skin? Well, time to update your nighttime skincare routine. While it is important to exfoliate at least once every week before you go to bed, moisturizing your skin every day is the most significant step towards having healthy, youthful skin. With Vitamin B3+ retinol complex, this Olay Regenerist Retinol24 has anti-aging properties that show visible improvements in wrinkles, fine lines, firmness, pores, and dark spots for younger-looking skin. Wake up every morning to a radiant and youthful glow on your face and stay away from premature aging signs. You can also use it as a night cream. This face cream comes with a free trial size pack of Olay Regenerist Whip Moisturizer. Check out the review of this product on YouTube to know why it is one of the best out there.
Pros
Dye-free
Fragrance-free
Absorbs quickly
Offers smoother skin
Offers 24 hours of hydration
Cons
Isn't it a pain when you are dead tired after a night of partying, but instead of crashing, you have to drag yourself to the bathroom sink to wash your makeup off? Well, here's something that could help. These Olay Daily Facials will gently clean your face and absorb your heaviest makeup, so you don't have to worry about wasting multiple wipes. These facial moisturizers are enriched with glycerin and grapeseed extract that will soothe your skin and replenish it, hours after the wipe. Reviewers have suggested adding some water for a great lather before using the wipes anywhere and anytime. These face wipes are honestly one of our favorite products in the market right now.
Pros
Soap-free
Easy to use
Hydrates skin
Dermatologically-tested
Cons
May not be super effective at removing mascara
Struggling with puffy eyes, dark circles, and wrinkles? Give Olay Eyes Ultimate Eye Cream a chance to enhance your timeless beauty. This formula is rich in vitamins and peptides that renews skin over time and reduces puffiness. Enabled with Olay's color-correcting technology, this formulation doubles up as a concealer that matches all skin tones. This Olay brightening eye cream smoothens the skin texture and brightens the eye area with regular use. This YouTube video details a reviewer's experience with the product and its ability to take care of multiple skin concerns. Watch it before making a purchasing decision.
Pros
Stays on for long
24-hour long-lasting hydration
Blends seamlessly
3-in-1 decircler, dewrinkler, and depuffer
Cons
May have a chalky residue
Don't go for the second-best baby, Madonna said about love. So, why settle for anything less than a total package when it comes to moisturizing your skin? Well, this clinically-tested Olay Total Effects 7 In One Face Moisturizer With SPF 30 comes with seven seven benefits — it minimizes the appearance of pores and reduces uneven skin tone, moisturizes, visibly smoothens and firms skin, while also protecting it from sun damage. It is honestly, one of the most iconic skincare products in the beauty world. This VitaNiacin Complex II-powered formula ensures healthy skin.
Pros
Lightweight
Hydrates skin
Absorbs quickly
Doesn't make your face greasy
Cons
May not be water-resistant
Exfoliating got your skin looking dull and dry? Well, here's a product that does the job, without roughing your skin up. This Olay Regenerist Regenerating Cream Cleanser exfoliates the skin gently and cleanses it deeply, promoting regeneration. This multipurpose formula takes care of several skin concerns. It comprises an advanced anti-aging amino-peptide complex that ensures a youthful glow, hydrated silica that polishes skin, and vitamins C and E that work like a shield for your delicate skin.
Pros
Smoothes the skin texture
Suitable for mature skin
Protects from pollution
Avoids over-exfoliation
Removes build-up of dirt and makeup
Cons
May not be suitable for oily skin
Say goodbye to the mess you make every time you put on a face mask, especially the charcoal ones. This Olay Pore Detox Black Charcoal Clay Stick ensures you just roll the product on your face, without worrying about dirtying your hands. Whether you slept with makeup on or have clogged pores, this product will transform your look with its deep skin cleansing benefits and pore-extracting properties. The black charcoal removes impurities and reduces the appearance of pores. Check out this video on YouTube for a detailed understanding of the product from a tester's experience with it.

Pros
Great detox mask
Offers precise application
Formulated with premium kaolin clay
Works well for T-zone oil control
Cons
May take a while to dry out completely
Are regular body wash options robbing your skin of its natural oils? Try this Olay Ultra Moisture Shea Butter Body Wash that will gently cleanse your skin, removing impurities on the surface. Formulated with Olay's Vitamin B3 complex, this product hydrates skin, avoiding itchy irritations after a bath during winter. Indulge and pamper yourself with this body wash to get soft and smooth skin.
Pros
Affordable
Nourishes skin
Great for dry skin
Locks in natural moisture
Cons
Fragrance may be a bit strong for a few
Settling for sunscreen lotions that make your face greasy? Everyday makeup dulling your skin's glow? Well, this Olay Sun Facial Sunscreen + Antioxidants with SPF 35 protection will solve all your problems. Powered with Asian Blocker technology, this lotion will mattify your skin, so that it is primed for your makeup application. This formula is incredibly lightweight, allowing you to apply your regular moisturizer or makeup without looking cakey or oily.
Pros
Multi-purpose
Hydrates skin
Absorbs quickly
Neutralizes damaging free radicals
Cons
May not last all day long
Looking to give your skin a renewed youthful boost? Well, you can transform your dull skin with this Olay Mist Ultimate Hydration Essence Energizing. With the benefits of vitamins B3 and C and bergamot, this spray mist revitalizes tired and exhausted skin. This formula works wonders, especially for the morning after a long night at the club. Reviews have mentioned spraying some of this cloudlike mist on your face to wake up your senses. It also helps brighten up your face before you apply your makeup.
Pros
Easy to carry
Long-lasting hydration
Refreshing scent
Instantly hydrates skin by 60%
Exfoliates to remove dull skin
Cons
May spritz a bit more mist than needed
Is scathing heat, dust, and pollutants making your skin look dreary? Well, indulge yourself in some good old TLC (Tender Loving Care) skincare routine to make your skin feel as cool as a cucumber. Mist away the dull vibes with the soothing benefits of this Olay Mist Ultimate Hydration Essence Cooling that is enriched with cucumber water and white mint. This formula also has antioxidant properties for added benefits. Many reviews indicate spraying it on the face whenever you need an instant refreshing boost.
Pros
Oil-free
Rich in antioxidants
Helps retain moisture
No artificial colors or dyes
Cons
May ruin makeup if sprayed too much
Winters can be really harsh on your face, with the skin drying out. And these days, even environmental aggressors and pollutants have the same effect on your skin all year round. Hence, it is always a good practice to gently moisturize your skin religiously. This Olay Luminous Whip Face Moisturizer delivers a long-lasting glow and has a lightweight texture. This fast-absorbing formula comprises skin-brightening ingredients that evens skin tone and minimizes the appearance of pores.
Pros
Lightweight
Non-greasy
Great finish
Active rush technology ensures quick absorption
Cons
May not be suitable for sensitive skin
Regular makeup cleansers drying your skin out? Try this dermatologist-tested Olay Cleanse Makeup Remover Wipes for exceptional results. It is super soft and cleanses the toughest of makeup, dirt, and oil. You can use it on your face, neck, and around your eyes. It doesn't clog your pores like several others in the market and is easy to use. Several online reviews have indicated that it can be used on the go during travels for some quick swipes to feel clean and refreshed.
Pros
Fragrance-free
Great for everyday use
Doesn't leave a greasy residue
Removes waterproof mascara
Cons
May take multiple wipes to clean entire face and neck
If your skin has been stressed out due to overexposure to the sun and pollutants, you need cleansing water that doesn't dry it out further. This Olay Sensitive Hungarian Water Essence is dermatologically tested, so rest assured it is gentle and suitable for use on sensitive skin. It comes with the properties of Olay Micellar Water combined with the gentle formula of Olay Sensitive that hydrates and fortifies the surface of your skin. This soap-free soothing face wash is also enriched with extracts of cucumber, aloe, and tea.
Pros
Fragrance-free
Exfoliates dull skin
Reduces inflammation
Can be used as a makeup remover
Cons
May not be suitable for oily skin
Brighten up, buttercups! Spruce up dull skin with this tone-correcting formula that is infused with vitamins B3 (niacinamide) and C. It is gentle on your skin and great for everyday use for enhanced beauty. Make sure you apply it on clean skin and evenly massage it. This formula absorbs into your skin quickly and gives your face a clean and smooth finish, without making your skin feel greasy. It visibly renews skin and gives the appearance of lasting radiance. Many reviewers have suggested using it after applying toner and before a moisturizer for the best results.
Pros
No parabens
Mineral oil-free
Fragrance-free
Free of synthetic dyes
Cons
Rejuvenate your skin and get a polished glow on your face with this Olay Vitamin C Mask + AHA Resurfacing Peel. This stable form of vitamin C infused in the resurfacing treatment brightens your skin, while the AHA peel removes dirt and gently exfoliates. It is also formulated with Hydrated Silica that scrubs off excess oil to avoid clogging of pores. Reviewers have suggested using this kit once every week to enjoy radiant and smooth skin after 28 days.
Pros
Reduces visible damage
Loosens dead skin cells
Spa-like experience at home
Diminishes appearance of fine lines
Cons
May not be suitable for dry skin
*The prices provided in this article are based on the latest available information. However, they may vary due to changes in pricing by the seller and/or promotional offers.
Now that you are all caught up on the hottest Olay products in town, here's a look at how to go about picking one for yourself.
How To Choose Olay Products
No matter what your skin problem is or what type of skin you have, the right Olay product for your skin is out there. You just need to know how to find them.
Skin type: Know your skin type. Do you have oil, dry, combination, or sensitive skin? There are several tests that you can take to identify your skin type and choose an Olay product targeting that skin type.
Paraben and dye-free: If you are someone who positively avoids using cosmetics that have harsh chemicals, Olay offers a range of products that fall in this category.
Do your research: Read up online on which ingredients would work or don't work for your skin type, then compare it with the ingredients listed on the products and select one that offers you the best match. Also, check online reviews of the product to understand people's experience with it.
Fragrance-free: If you aren't a fan of creams or cleansers that have a scent, look through Olay's wide range of fragrance-free products that deliver the desired results without the added smell.
Why Trust StyleCraze?
The author, Srijani Roy Chowdhury, is a makeup enthusiast. She keeps a constant check on various makeup products and brands and always comes up with the best ones for the readers. After extensive research and reading many customer reviews, the compilation of best olay products is curated. These products are a valuable addition to your skin care regime, and this brand caters to the needs of all skin types.
Frequently Asked Questions
Which is better: Olay Regenerist or Olay Total Effects?
These Olay face products have unique formulas, so it depends on the kind of results you are expecting. Olay Total Effects has anti-aging properties and moisturizes your skin. It helps reduce the appearance of fine lines and wrinkles. Olay Regenerist, on the other hand, has a micro-sculpting action, improves elasticity, and rejuvenates the skin's outer layer, making it smooth.
Do Olay products really work?
There have been several market studies and research that have shown proven results for Olay beauty products. However, each skin is different; hence it is advisable to always test a product out on your wrist and see what works best for you. Olay active hydrating beauty fluid is a popular product trusted for over 60 years to provide active moisturization.
What age group is Olay Regenerist for?
Signs of aging usually start showing on your face, usually in the late 20s, so it is advisable to start then with regenerist products. However, it is better you consult with your doctor and make a pick from the varied range of Olay products for anti-aging.
How long does Olay Regenerist take to work?
It is tough to put a timeline and come up with a generic response, as each person and their dietary habit is different, and so is their skin. However, there are proven results of glowing changes in as little as four weeks.
Can I use Olay products at night?
Yes, use Olay's night gels and eye creams at night to achieve the best results. Apply them on a clean face before going to sleep. Massage the products thoroughly into your skin for optimal benefits. There are also specific products formulated for overnight use, such as the Olay Night Recovery Cream from the Regenerist range that hydrates the skin and regenerates it to control aging signs.