13 Bestselling Knee Pillows For Everyone – 2021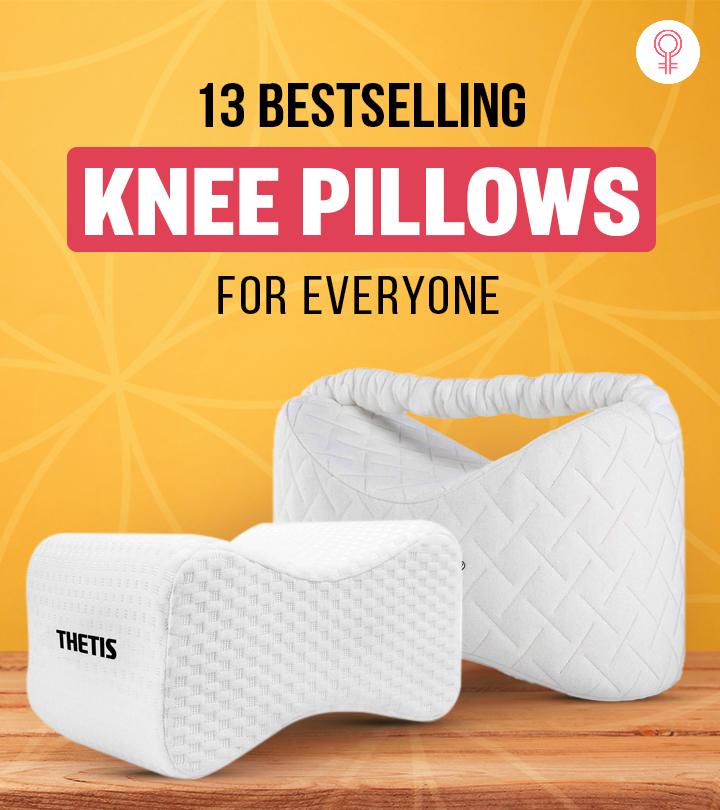 Are discomfort and pain keeping you uncomfortable all night and disturbing your sleep? Increase your comfort while lying down with knee pillows designed to ease body stress. These provide flexibility, prevent discomfort, and are constructed with memory foam that softens and adjusts to your body weight. These pillows come in various options to alleviate back pain, sciatica, and pregnancy-related issues. We have curated the 13 best knee pillows suitable for everyone. Scroll down to pick one!
Who Should Use A Knee Pillow?
Pregnant Women: Pregnant women often experience discomfort while sleeping. Knee pillows can provide a comfortable sleeping position by aligning their spine.
Side Sleepers: A knee pillow creates a comfortable distance between your knees that aligns your spine. It relieves pressure on the hips and back for side sleepers.
Post-surgery: After surgery, one needs a comfortable sleeping position. Knee pillows come in handy as they release the pain and stress from your back.
Back Sleepers: Those who sleep on their back can use this pillow under their knee. It reduces the flattened position while sleeping and reduces the pressure on your lower back.
Let's now check out the 13 bestselling knee pillows for everyone to alleviate pain and attain comfort.
13 Bestselling Knee Pillows
The ComfiLife Knee Pillow is made of top-quality material and is designed for your health and comfort. It provides relief from sciatic pain, lower back pain, and hip discomfort. The 100% memory foam design allows for a comfortable sleep, maximum support, and ergonomic contour. It aligns your body for improved blood circulation when kept between the knees. The superior construction of this pillow does not go flat, while its breathable zippered cover ensures that it does not get warm while using.
Pros
Ergonomic
Comfortable
Durable
Easy to clean
Lifetime warranty
Cons
May not suit tall people.
Foam collapses after use.
The Contour Legacy Knee Pillow is constructed to offer multiple sleep position support. It reduces back, leg, and knee pain and provides relief from sciatica. This pillow supports both your legs and knees for proper sleeping alignment and avoids bad postures. The ergonomically designed contour shape allows you to bend your knees freely. It is 20% longer than the traditional leg pillows and dissipates body heat.
Pros
Ergonomic design
Hypoallergenic
Ventilated foam
Washable cover
Universal support
Cons
The Everlasting Comfort Knee Pillow is designed with 100% pure memory foam to give maximum comfort to side sleepers, relieve sciatica pain, and improve body alignment. The hourglass design provides maximum support during pregnancy by improving your sleep position. The adjustable strap can be tied to your knees to prevent losing the grip when you change positions at night. This pillow comes with two pairs of memory foam earplugs for an extended noiseless sleep at night.
Pros
Durable
Ergonomic
Comfortable
Machine washable cover
Removable strap
Come with earplugs
Cons
The knee pillow from 5 STARS UNITED is a spacer cushion to align your spine, relieve back pain, improve blood circulation for side sleepers, and provide support during pregnancy. It is designed with premium quality memory foam made of high-density material infused with a lemon scent. The therapeutic effects of the pillow minimize stress and enhance sleep. It is recommended by doctors and can comfortably be used post-surgery.
Pros
Hypoallergenic
Breathable
Soft
Comfortable
Washable cover
Non-temperature sensitive
Cons
The orthopedist-recommended Luna knee pillow can be used in multiple sleep positions. The soft and breathable foam is engineered with multiple ventilation channels for increased airflow. The zipped cover is machine washable for easy cleaning. Its comfortable and adaptive design relieves sciatica, back, and hip pain. The product offers a 100-night sleep trial period for maximum satisfaction.
Pros
Certipur-US certified
Ergonomic design
Hypoallergenic
Comfortable
Chemical-free
Value for money
Cons
This knee pillow from THETIS Homes is designed to alleviate sciatica, arthritis, back, hip, knee, and post-surgery pain. The high-quality and durable memory foam provides lasting comfort, maintains spinal curvature, and improves the sleeping posture. The skin-friendly cover is made from scuba knitting fabric, a combination of cotton and polyester. It uses high-quality zip that does not rip off easily. The high-density foam maintains the wedge contour shape even after prolonged use.
Pros
Ergonomic
Skin-friendly
Absorbs sweat
Durable
Comfortable
Temperature-adjustable
Cons
The HOKEIKI Knee Pillow helps cradle your knees and legs. The ergonomic design relieves soreness during pregnancy. It relaxes your body and promotes blood circulation when sleeping sideways. The durable strap extends support to your legs while changing sides. The breathable zippered cover can be easily removed for washing. This pillow is designed with high-quality memory foam that doesn't flatten easily and offers comfortable sleep.
Pros
Ergonomic design
Hypoallergenic
Non-irritant
Durable
Easy to wash
Comfortable
Cons
Not suitable for petite people.
This pillow from Dream & Reborn is ergonomically designed to support your leg and align your spine. It improves your posture and relieves back, knee, arthritis, joint, osteochondrosis, and sciatica pain. The soft memory foam provides maximum comfort. The pillow comes with a strap that can be fixed between your legs to prevent loss of grip while changing positions at night.
Pros
Ergonomic design
Breathable material
Easy to clean
Concealed zipper
Great contour
Durable
Cons
Not very dense at the center.
This knee pillow from Dr. Comfy is designed to calm your nerves, provide better sleep, and alleviate hip, knee, and leg pain. The high-density core with space memory foam does not flatten or deform over time. The core material is made of natural bamboo charcoal that absorbs moisture and prevents mildew. The slope design adapts to the shape of your leg to provide comfort during sleep. The breathable fabric is skin-friendly and comes with an adjustable hook and loop strap.
Pros
Ergonomic design
Skin-friendly
Comfortable
Adjustable elastic strap
Environment-friendly Machine washable cover
Cons
Elastic may loosen with time.
The Tularis knee pillow cushions your knee to eliminate any discomfort and enhance resting. This orthopedic knee support relieves back and hip pain and provides comfort during pregnancy. It comes with a leg strap that distributes your bodyweight evenly and aligns your legs and back for maximum comfort, making it perfect for side sleepers. This pillow can also be used behind your head. The curved design snugs comfortably behind your neck to relieve stress.
Pros
Breathable material
Secure strap
Contoured fit
Washable cover
Cons
The knee pillow from Ebung offers better sleeping posture while reducing lower back, hip, and knee pain, making it ideal for side sleepers. It is designed to fit perfectly between your legs and embrace the body contours. This pillow comes with a washable cover to maintain hygiene and eliminate the risk of allergies. It is made from visco-elastic memory foam with maximum density to give a cushioned feeling while resting.
Pros
Hypoallergenic
Breathable material
Travel-friendly
Easy to clean
Cons
The SARJON knee pillow can help relieve back, knee, pelvis, and sciatic issues, relax your muscles, improve lumbar and spine alignment, and enhance blood circulation. The premium quality foam with a blend of bamboo is hypoallergenic and designed to adjust to your body pressure and mold to your shape. The adjustable strap keeps the pillow in place while changing sides.
Pros
Ergonomic design
Non-toxic
Latex-free
Non-snag zip
Machine washable cover
Cons
The ZOAN knee pillow reduces pain due to varicose veins and restless leg syndrome and provides orthopedic support. It can be used by pregnant women or for post-surgery relief. Using it regularly improves blood circulation. The high-density memory foam does not flatten after constant use. This pillow comes with a skin-friendly, removable, and machine washable cover and an invisible zipper that protects your delicate skin from getting hurt.
Pros
Ergonomic design
Hypoallergenic
Breathable foam
Machine washable cover
Eco-friendly
Travel-friendly
Cons
Want to know more about the many health and posture benefits of using a knee pillow? Keep reading!
Benefits Of Knee Pillows
Allow a comfortable sleep position.
Help in aligning your spine.
Eliminate knee, back, and hip pain.
Comfortable for pregnant women.
Enhance blood circulation.
Suitable for people with breathing issues.
Reduce pressure and muscle tension.
If you are convinced about the advantages of knee pillows, go ahead and invest in a good option in our list. Here are a few pointers to consider before buying the best knee pillow.
Things To Consider Before Buying A Knee Pillow Design: The hourglass-shaped pillow is best for your knees. It fits well between your thighs and stays in place. It is best for side sleepers as it aligns the body.
Body Size: The foam's firmness and thickness determine its support. Large built people should use a firm pillow to avoid it getting flattened over time. Petite people can use soft pillows as they do not put too much pressure on the pillow.
Quality: Pillows designed with high-quality memory foam offer firmness and support. The high-density foam is generally more durable as it comes back to its shape once the pressure is released and does not flatten easily.
Temperature Regulation: The memory foam used should have temperature regulation features. It should be designed to absorb moisture, cool down the trapped heat, and prevent the accumulation of mildew and fungus.
Cover: Buy a pillow with a removable cover that can be washed for better hygiene. Washable materials maintain cleanliness and are easy to use.
Incorporating knee pillows into your sleep routine can make a world of difference. To improve the joy of sleeping, select any of the products from the above list of the best knee pillows. Don't waste time and hit the buy button!
Frequently Asked Questions
Can I use a regular pillow as a knee pillow?
Yes, a regular pillow can be used under your knee. However, a specially designed knee pillow aligns your body to reduce spine stress.
How long do knee pillows last?
It depends on the quality of the foam used and the degree of usage. High-quality memory foams are more durable and last long.
Are knee pillows adjustable?
Very few brands offer adjustable pillows. They allow you to unzip and remove a few portions for the desired size. Check the details before you buy such pillows.
How thick should a knee pillow be?
A pillow should be around three to six inches thick for adequate support.
Where do you place a knee pillow?
A knee pillow is generally placed between the knees if you are sleeping on your side and under your knee if you are a back sleeper. The wedge-shaped design can be kept behind your neck while sitting to provide support.
Recommended Articles