10-Best Comfortable Orthopedic Seat Cushions Of 2020 – Our Top Picks And Buying Guide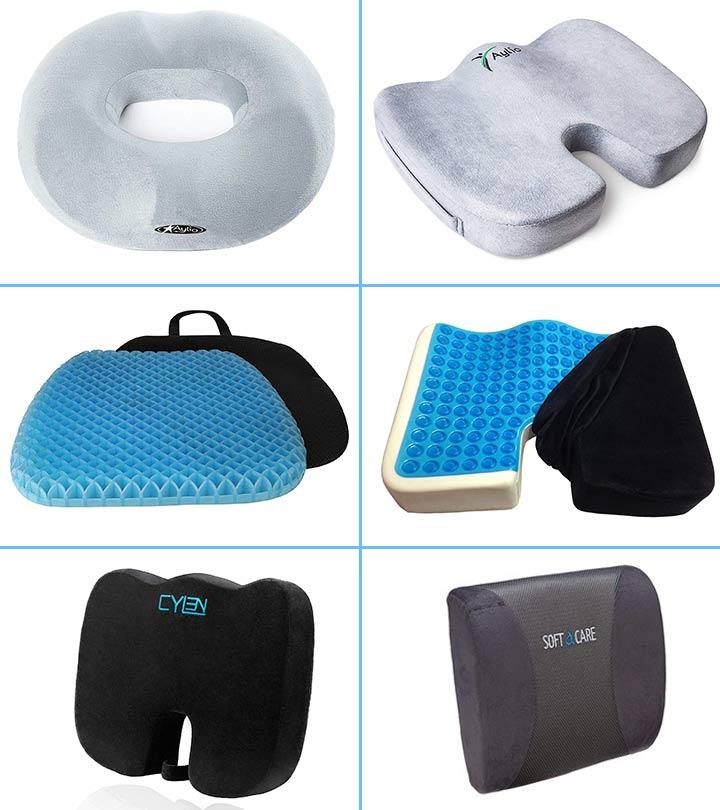 Staying glued to the seat for hours on end can be quite painful. A lot of people experience regular back pain by sitting in uncomfortable places, whether at work or at home. Prolonged negligence can lead to tailbone pain, back pain, misaligned spine, and bad posture.
Orthopedic seat cushions are a great way to reduce the pressure on your coccyx and save your spine from the damage that happens due to sitting on uncomfortable seats for long hours. These cushions are ergonomically designed to keep your back and cervical region comfortable at all times.
This article lists the top 10 most comfortable orthopedic seat cushions. Don't forget to check out our comprehensive buying guide, which catalogs all the critical factors that you need to consider while shopping for an orthopedic seat cushion.
8 Best Orthopedic Seat Cushions
ComfiLife Seat Cushion is a versatile product that provides a natural solution for back pain and sciatica. It helps eliminate most back pain by reducing pressure on the tailbone with its cut-out rear. Its ergonomic contour design promotes proper spinal alignment and a healthy posture.
The memory foam used in the cushion is heat- and weight-responsive. The firmness of the foam changes with the temperature. This cushion provides comfort on most hard surfaces, like office chairs, desk chairs, car seats, airplanes, etc. It supports recovery from lower back problems.
Features
Made of high-density foam, which is durable and provides long-lasting comfort.
The cushions stay in place and require no adjustment due to the non-slip rubber bottom.
The built-in handle makes it easy to transport the cushion.
It comes with a zippered velcro cover, which is easy to clean and machine washable.
Pros
Heavy-duty memory foam
Machine washable cover
100% money-back guarantee
Supportive U-shape design
Budget-friendly 
Cons
It provides less support with increasing weight.
It may not fit perfectly some contoured orthopedic car seat cushion and large chairs.
Everlasting Comfort coccyx orthopedic Memory Foam Seat Cushion is ergonomically designed and recommended by orthopedists and doctors across the globe as it is very useful in alleviating pressure in strategic areas. This pillow uses heat-responsive technology that helps the cushion to mold correctly to the shape of your bottom, providing ultimate support and comfort. The cushion regains its form after each use.
It offers excellent cushioning on hard surfaces, such as office chairs, plastic chairs, airline seats, etc. It also provides welcome relief to pregnant women. This seat cushion offers adequate support and comfort to the user and does not contain any additives that affect the health. It is useful in medical conditions like sciatica or arthritis. This product supports and shapes your tailbone and soothes your lower back.It is the best orthopedic seat cushion for sciatica.
Features
Made of 100% premium quality memory foam with no additives.
Heat responsive technology helps to provide the optimal density of cushioning.
U-shaped ergonomic design perfectly contours your bottom and helps to relieve pressure on the sciatica nerve, hips, lower back, spine, coccyx, tailbone, and more.
Textured non-slip rubber bottom stays in place, and thus, the cushion doesn't require continuous adjustments.
Removable zip cover is machine washable and dryer safe. 
Pros
Heat-responsive cushion
100% pure memory foam
Non-slip gel bottom
Lifetime replacement warranty 
Cons
Whether you are an office worker or a movie enthusiast, this top-rated model is a perfect choice for all who spend long hours sitting on uncomfortable seats. Its U-shaped ergonomic design perfectly cradles your body, alleviating pressure from the coccyx and soothing back pain. It is the best orthopedic seat cushion.
This compact cushion is easy to carry around. This is a versatile orthopedic seat cushion for office chairs and also works well on couches and wheelchairs. This product provides ultimate support to your back, buttocks, and thighs and distributes your weight to improve spinal alignment and posture.
 Features
The ergonomic design provides contoured comfort.
Perfect for both men and women of all shapes and supports weight up to 275 lbs.
Equipped with hundreds of micro grips at the base that help to secure the cushion in place and prevent sliding. 
Pros
Promotes 90-degree posture
Anti-slip base
Washable cover
Convenient in-built carry handle
Soft velvet cover
Cons
Softacare Seat Cushion is one of the best memory foam cushions with maximum features. This seat cushion helps to decrease the pressure on the coccyx because of its anatomical design and provides relief from varied pain and conditions pertaining to your lower back. It is the best seat cushion for orthopedic treatment
It is a lumbar back pillow that helps relieve lower back pain. This cushion works well for all hard surfaces and is considered one of the best flight cushions. The back support pillow adds to the support and comfort. 
Features
It comes with 3D breathable mesh to prevent the cushion from getting too hot.
Unique pocket for phone.
Two adjustable straps to help keep the cushion in place.
Made from 100% pure premium memory foam.
Comes with a lifetime warranty. 
Pros
Non-slip rubber bottom
Soft case
3D ventilation
Large and comfortable zippers
Carrying handle
Cons
Aylio specializes in premium seat cushions for general comfort and pressure relief. Unlike traditional donut seat cushions that create painful pressure points at the leg and tailbone, thereby resulting in discomfort and poor blood circulation, this donut pillow is ergonomically designed and revamped to tackle all such issues that crop up with donut style seat cushions.
This donut pillow sits on any chair comfortably and helps with lower back pain, hemorrhoids, and pressure ulcers. It measures 16 x 18 x 2.5 inches and weighs 1 pound and is easy to carry. It is sized to fit a car, bus, train, or airplane seat. The foam used in the cushion is firm and does not sink when you sit, thus providing superior comfort and pain relief.
Features
Two leg contours placed in the front that aid healthy blood circulation in the legs.
One contour in the rear center for coccyx relief.
Made with a firm and high-density foam that helps provide adequate support for an extended period.
Soft and plush velour cover that is easily removable and machine washable.
Pros
Removable and machine-washable velour cover
Travel-friendly
Durable
Excellent padding
Cons
No non-slip coating on the bottom
FOMI Seat Cushion helps alleviate lower back pain and eliminates pressure from the tailbone. This cushion is also helpful in relieving the stress on areas that can lead to the development of ulcers and sores. Its compact design makes it an excellent choice for home and office use. The cushion measures 18″ x 16.5″ and  is 1.75″ thick.
It is filled with soft gel. This unique gel cooling structure increases air circulation to keep your bottom fresh. Even after prolonged use, the cushion will not lose its original shape and support. The large size accommodates heavier and lighter users alike. Besides providing comfort, this pillow can help alleviate and treat a variety of pain conditions like sciatica, lumbar strain, coccyx issues, etc.
Features
Advanced column buckling technology helps to disperse the bodyweight evenly.
Non-slip friction bead grip bottom surface ensures that it stays in place and doesn't require frequent adjustments.
Equipped with built-in carry handles for easy transportation.
Zippered cover can be easily removed and washed.
Pros
Portable
Easy to wash
Durable
Non-slip friction bead grip bottom
Cons
Kieba Coccyx Seat Cushion features cooling gel-enhanced technology that helps to stabilize temperature by reducing trapped body heat in the cushion and relieves pressure points.
This ergonomically designed contoured cushion provides ultimate comfort and relief from pain and tension and promotes good posture, proper spine alignment, and healthy weight distribution. This product is made from high-quality memory foam and will not flatten out from prolonged use like other cushions.
Features
Made from 100% premium therapeutic memory foam combined with gel.
The firm density of the cushion provides extra support.
It can be used on any seat.
It comes with a removable velour cover that is easily machine washable.
Pros
Durable
Suitable for all types of seats
Easy to clean
Non-slip bottom
Cons
CYLEN Orthopedic Seat Cushion is specially designed for cars and wheelchairs. This cushion is designed to provide pressure relief to your tailbone and lower back area. Its high-quality memory foam hugs the tailbone and helps in maintaining its shape and contour.
The bamboo charcoal absorbs all the natural smell in the vicinity and provides superb ventilation ability. It also prevents moisture from coming in by regulating the humidity and temperature inside the cushion.
Features
Uses the best memory foam in conjunction with a high-quality bamboo charcoal infusion.
Air Mesh cover allows the maximum amount of airflow through the cushion.
It comes with a 5-year warranty and 60 days no-hassle return policy.
Pros 
Anti-slip
Washable and breathable cover
Bamboo charcoal infusion
Budget-friendly
Cons
If you are thinking of buying a high-quality and comfortable seat cushion, take your pick from the above-listed most comfortable seat cushions.
Listed below are the benefits of using orthopedic seat cushions. 
Benefits Of Orthopedic Seat Cushions
Decrease the pressure on the tail bone and provide support to it.
Protect you from improper posture, back pain, and strains.
Versatile and can be used anywhere.
Relieve pain and thereby increase productivity.
Cost-effective and preventive measures to alleviate/avoid coccyx and/or back pain. 
With the advancement in physical health and the study of ergonomics, orthopedic seat cushions have evolved a lot. Today, you'll find different types of seat cushions available on the market, and each of these cushions has its own set of benefits. We have compiled a list of a few of the different types and what benefits they might have for you. 
Types Of Seat Cushions
Foam Seat Cushions: If you are thinking of trying an orthopedic seat cushion and check whether it works for you or not, foam seat cushions are an excellent and affordable way to test. These seat cushions are less cheaper as compared to their counterparts. They are available in different options like single-layer foam, dual-layered, and contoured foam cushions that offer more support. 
Memory Foam Seat Cushions: Most seat cushions use this material as this is polyurethane foam and has a unique ability to work with the body's temperature so that even in the colder months, your chair will remain warm due to your body heat. Though these cushions are expensive, they last longer due to the durability of the material. 
Gel Seat Cushions: These cushions use gel packs instead of foam with a pillowcase or cover on the outside for comfort. They work on your body pressure points to provide relief. The gel inside the cushion makes sitting for long hours a comfortable and pain-free experience. These seat cushions are ideal for people with circulation issues as the gel inside the cushions allows you to distribute the weight. Gel seat cushions are relatively expensive and slightly heavy. The nature of the gel inside the cushion makes these pillows fragile and prone to breakage. 
Coccyx Seat Cushions: Coccyx seat cushions are designed to help protect your tailbone by relieving the pressure put on it when you sit for long hours. These cushions generally come in a U-shaped design, which means that your tailbone is free from the seat and hence not exposed to any pressure. They slightly push your pelvis forward and also help to relieve the stress on your spine. 
Lumbar Seat Cushions: Lumbar seat cushions are used in conjunction with coccyx seat cushions to provide complete body support. These cushions sit between your back and the chair to offer you high-quality support. 
Investing in an orthopedic seat cushion is a good idea if you spend long hours sitting on a chair at work or otherwise. Here are a few tips that will add to your comfort and make the cushion last long. 
How To Use A Seat Cushion
It is recommended to use the orthopedic seat cushions with chairs that have back support for the best results.
The seat cushion cover requires regular cleaning and should be replaced as necessary.
If you are using a seat cushion for pain relief, couple it with an ice pack or heat pack for extra assistance by keeping it underneath your seat cushion.
Seat cushions might lose their efficacy after the point of time and don't provide the same support as they used to. If you feel that your seat cushion is more providing you the comfort and support as before, it's time for you to upgrade.
The majority of orthopedic seat cushions come with removable covers, which makes it easier to clean them. Cleaning your seat cushions regularly is a good practice and hygienic. It also makes your cushion last long. You can clean the covers with ease. However, if there are specific instructions given for cleaning, make sure you follow them.
How To Clean An Orthopedic Seat Cushion 
Remove the cover by unzipping or using the velcro and machine wash the cover on a cold and gentle cycle.
Once washed, dry the cover away from direct sunlight until completely dry and put it back on. Do not tumble dry the cover as it might shrink or tear.
While you are washing the cover, air out the foam inner and remove dust particles from it.
Your quest for an orthopedic seat cushion can leave you inundated with a plethora of products, making it difficult for you to choose. Here's a list of attributes that you need to look out while shopping for an orthopedic seat cushion. 
Orthopedic Seat Cushion Buying Guide
Filling Material: Most orthopedic seat cushions use memory foam inners. These cushions are lightweight and portable and provide excellent support to the body. They are hypoallergenic and durable and best for people with chronic back pain. The memory foam pillow remains firm even after multiple uses and reacts to the weight and heat from the user to mold your body perfectly.
Gel orthopedic cushions are best for pressure relief. They are firmer than the memory foam pillows and provide a firm seating surface that most people like. Weigh the pros and cons of both the types of pillows and then make the purchase. 
Ergonomic Design: Most orthopedic seat cushions are curve-shaped that allow them to fit your body and provide ergonomic support. Some cushions come with contoured surfaces for extra comfort. However, few people find this design discomforting. 
Versatility: People use orthopedic seat cushions for a comfortable experience, be it in the office or during long travel. Ensure that you buy a seat cushion that caters to your needs. 
Pillow Lining: The lining of the seat cushion is also an essential factor that adds to your comfort. Make sure you choose a cushion with a cover that is comfortable, hygienic, and easily cleanable. Most cushions come with zip covers that are easily removable and machine washable. 
Medical Features: Different cushions may be designed to deal with and treat different conditions. A few of the conditions that orthopedic seat cushions help with are hip pain, back pain, bulging discs, sciatica, and hemorrhoids. Ensure that you choose a cushion that helps with your condition.
Sitting on uncomfortable surfaces without any proper support or cushioning can wreak havoc on your lower back and spine in the long run. Orthopedic seat cushions can provide adequate support to your lower back and reduce pressure and pain.
We have listed the above products after exhaustive research and careful analysis of reviews. Choose the best orthopedic seat cushion based on your needs. Don't forget to share your experience with us in the comments section below.
Expert's Answers for Readers Questions
Are seat cushions helpful for back pain?
Orthopedic seat cushions are specially designed for people with coccyx pain or those who want to improve their sitting position. Just like any other medical condition, the pain you experience due to sitting for long hours on uncomfortable surfaces doesn't go away immediately when you start using seat cushions. However, regular use of orthopedic seat cushions can reap a lot of benefits like reduction in back pain and pressure on the coccyx, spinal alignment, and posture correction.
How do orthopedic seat cushions work?
Orthopedic seat cushions are mostly U-shaped that helps protect the tailbone from getting in contact with any surface that might put pressure on it. Also, these cushions are made of memory foam that is extremely comfortable and soft, which helps relieve pain and discomfort. The cushions regain their original shape once a person gets off them.
Recommended Articles