13 Best Eyeliners For Sensitive Eyes
These listed eyeliners are ideal for sensitive eyes and are easy to use every day.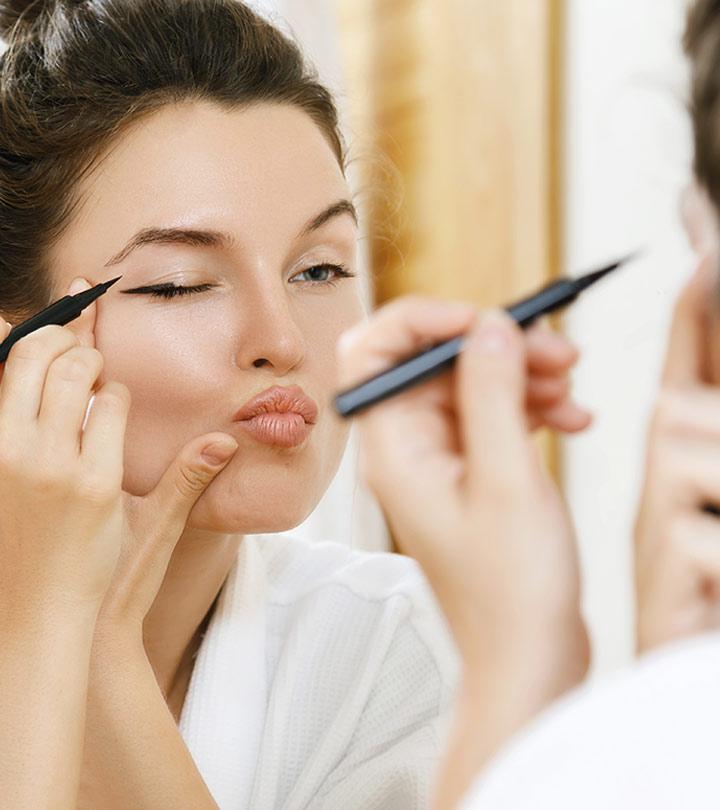 The skin around our eyelids is delicate and needs special care. And if your skin reacts to harsh chemicals, then the best eyeliners for sensitive skin should be your BFF. They offer exceptional results by enhancing your eye makeup without irritating the skin. The best thing? These eyeliners are available in waterproof, long-lasting, and easily applicable formulas! But getting our hands on the eyeliner that suits sensitive skin can be an ordeal. That's why we have created a list of the products that are gentle on your skin and offer intense color payoff. Scroll down to explore and pick your favorite eyeliner right now!
How To Choose An Eyeliner For Sensitive Eyes
Opt for eyeliners that have little to no use of toxic ingredients.
Pick smudge-proof eyeliners.
Eyeliners that have a lightweight formulation work well for sensitive eyes.
Look for eyeliners that are heavily pigmented so it won't leave your eyes dry.
Waterproof eyeliners are always a YES.
Vegan eyeliners are also a great fit as they are free from harmful ingredients that could bother sensitive eyes.
Pigmented eyeliners are a great choice as they will stay for long hours without drying out your eyes.
Opt for a dermatologist-tested or expert-recommended eyeliner to avoid irritating the area around your eyes.
Let us now take a look at some of the products we have compiled for you.
13 Best Eyeliners For Sensitive Eyes
This no-smudge liquid eyeliner from Maybelline is truly a blessing in disguise. We have not one but several reasons as to why we think it is great. This dermatologist-tested, smudge-proof eyeliner helps you #wingit and make a bold fashion statement. With an intense color, this felt tip liquid liner gives you that fun, bold, and dramatic look. You can create super thick definition with this super-pigmented eyeliner from Maybelline. For someone who has sensitive skin, the compounds used to formulate this eyeliner are mild and never leave your eyes feeling dry. Click this video to learn more about a tester's experience with the product.
Also Recommended By:Experts at We Heart This also think highly of Maybelline New York Master Precise All Day Liquid Liner.[1]10 Best Eyeliners For Sensitive Eyes (& Eyelids). We Heart This.

Pros
Super pigmented for a long-lasting look
Mild formulation
Smooth flow of the pen
Dermatologist-tested
Ophthalmologist tested
Cons
Takes about 3-4 minutes to dry out
Natural products are your skin's best friend. With a silky smooth feel, this mineral-based eyeliner draws out your wing with nothing but perfection. It is vegan and is made using ingredients that soothe your eyes. It is the trusted choice of women all over the world, owing to its non-toxic blend of ingredients that suit sensitive eyes. This long-lasting eyeliner helps you create dramatic and glamorous looks and heighten your voluminous lashes with ease. This product is gluten, mercury, paraben, petroleum as well as dye-free. It is also free from animal testing, making it an ideal cruelty-free option. It is natural all the way, and yet makes you look ravishing!
Pros
Vegan
Smooth pencil for a defined wing
Has a soothing effect on eyes
Lightweight formula
Saturated satin finish
Cons
Not pigmented enough
Lasts for about 5-6 hours only
Expensive
This retractable eyeliner by Stila is nothing but #goals. With eight different shades to choose from, this eyeliner is a must-have for women who have trouble finding the right eyeliner for their skin. It is smudge-proof, and the tip of its pen draws out a precise line for a perfect wing. This pencil liner is suitable for women who wear contact lenses and is richly pigmented. Stila's eyeliner has garnered positive reviews online for its dark pigment that won't ever leave your eyes feeling dry or agitated. Another plus point of this precision tip eyeliner is that it is waterproof, so it won't fade in humid conditions. Use it to create the quintessential smoky-eye look for the cocktail party you have been looking forward to!
Pros
Suitable for contact lens wearers
Richly pigmented
Smooth pencil lining
Cons
Expensive
Lasts for about 4-5 hours only
If you are looking out for something that is easy to use as well as pocket-friendly, this eyeliner is it. Not only does it help line your eyes precisely, but it has just the right amount of dark pigment that lasts up to about 4-5 hours. It is handy and is composed of healing oils that nourish the skin on your sensitive eyelids. Its major component is castor oil, which is great for sensitive eyes. Made in the USA, you'll love how smoothly it applies over your eyes. Ethically-conscious reviewers highly recommend this product as it is not tested on animals. Hurry up, grab this product, and give it a try for your upcoming special occasion!
Pros
Composed of natural ingredients like castor oil
Safe to use on sensitive skin
Cons
Not smudge-proof as it is oil-based
Applying eyeliner while wearing contacts could be quite tricky. The Julep When Pencil Met Gel Long-Lasting Eyeliner has a fantastic formula created especially for sensitive eyes. It comes in plenty of fun and quirky shades that you could line your eyes with to achieve a look that will make you stand out in the crowd! This eyeliner is richly pigmented and sets into your skin in under 30 seconds. Another cool feature of this oil-free eyeliner is that it lasts for over 10 hours without smudging. The ultra-fine tip is super smooth and glides on your skin to create the desired look.
Pros
Lasts for over 10 hours
Glides over your skin smoothly
Ophthalmologist-tested
Cruelty-free
Cons
Blinc is a brand that many makeup artists are fond of. Their products provide a professional salon-finished look on the upper lash. With five bold shades, Blinc Extreme Longwear Liquid Eyeliner is something you can pick if you have sensitive eyes, as it is clinically tested to be non-irritating. It is made using a natural formula blended with castor oil that helps soothe your skin. Reviewers love this eyeliner's super thin liner tip that enables you to create the desired look with precision and ease. The formula is highly pigmented, smudge-proof, as well as fade-proof.
Pros
Smudge-proof
Long-lasting formula
High pigmentation
Cons
Expensive
Oil-based eyeliner
Clinique is a well-known brand that is adored by plenty of makeup artists and enthusiasts. This eyeliner helps you achieve an intense smokey eye look. The ophthalmologist-tested formula used to create this eyeliner is super-soft and mild on your skin. The ultra-fine tip is designed to enable easy application and create just about any look under the sun!
Pros
Smooth application
Mild on skin
Cons
Expensive
Not smudge-proof
Almay eyeliner pencil is a good option. This ophthalmologist-tested eyeliner is available in four shades and can create some really fun, quirky looks. It is richly pigmented and infused with vitamin E that does not leave your eyes feeling dry. Its ultra-fine tip is super smooth to help you line your eyes with utmost precision. This retractable eyeliner works well on all skin types. Additionally, it is a must-buy for many ethically-conscious makeup enthusiasts as it is not tested on animals.
Pros
Infused with vitamin E
Heavily pigmented to avoid dry eyes
Affordably priced
Cons 
Smudges easily
Lasts for about 4-5 hours
Shimarz Black Eyeliner Pencil has a 99% natural, vegan, and chemical-free formula best suited for sensitive eyes. The super-smooth formula is formulated with calendula wax, jojoba oil, and castor oil that glide gently over the skin without pulling or tugging. It moisturizes dry skin and reduces wrinkles. Reviews on online forums highly praise this eyeliner for giving you the most dramatic cat eyes to amp up your eye makeup game.
Pros
Vegan
Hypoallergenic
Non-comedogenic
Gluten-free
Paraben-free
Cons
 Not long-lasting
 Smears easily
 Available in a single shade
Youngblood Legit Pencil Eyeliner is a natural multi-use pencil. The gentle formula is made with hydrating ingredients such as vitamin E and marula oil, nourishing dry skin and leaving it soft and smooth. This multi-purpose pencil can be used to line the eyes or blend into the eyelid crease for a smokey look. The non-irritating and hypoallergenic eyeliner is available in two shades and is an excellent pick for sensitive eyes.
Pros
Natural ingredients
Soft and smooth texture
Cruelty-free
Vegan
Paraben-free
Talc-free
Allergen-free
Cons
The Marcelle Waterproof Eyeliner is truly a game-changer. It has a creamy formula that glides easily on your lids. The liner is infused with hypoallergenic ingredients like vitamin E and jojoba oil, that nourish your lids. This eyeliner's sharp nib has received positive customer reviews as it helps you create fine and sharp lines or draw out your wings perfectly. This waterproof and smudge-proof liner is also long-wearing and cruelty-free.
Pros
Hypoallergenic
Waterproof
Long-wearing
Smudge-proof
Precise application
Cruelty-free
Cons
Some may find the color light
Oh, we love this brand, don't we? A waterproof, smudge-proof formula that makes your eyeliner last for long hours without fading away. Its matt black definition creates a stunning and bold look. We're sure you won't be left disappointed. This eyeliner from Sephora is curated to suit all skin types. Create the perfect intense look for your date night and woo your significant other, all over again!
Pros
Cons
NYX is a fun, quirky brand that you must try if you are a makeup lover. This felt tip liquid liner is bold, intense, and comes in an intense black shade that makes it all the more exciting to create dramatic looks! This eyeliner is worth every penny, is great for sensitive eyes, and is smudge-free. Another great feature of this liner is that it won't leave your eyes feeling dry or itchy. So hurry up and get your hands on this product from your nearest store to rock your look on your next special occasion!
Pros
Intense black shade
Works well on sensitive eyes
Cons
Lasts for about 5-6 hours
*The prices provided in this article are based on the latest available information. However, they may vary due to changes in pricing by the seller and/or promotional offers.
Now that we have seen the 13 best eyeliners for sensitive eyes, let us delve deeper into knowing how eyeliners affect sensitive skin.
How Does Eyeliner Affect Sensitive Eyes And Eyelids?
While we love how stunning eyeliners look, women with sensitive eyes could be affected by it. Lorrie Pearson, a makeup artist, suggests "When you have sensitive eyes, eyeliner application can be challenging due to possible irritation. So, be sure that the eyeliner goes on smooth, and does not tug at your sensitive eye skin."
Since an eyeliner is applied just above your eyelid, it can quite easily slip inside your eye, especially if it is not smudge-proof. This can cause discomfort, irritation, and itchiness to sensitive eyes and the delicate skin around them. Therefore, it is of high importance that you pick up eyeliners that have high pigmentation yet are skin-friendly. Additionally, be very mindful of the type of eyeliner you are picking for safe use in the long run.
Eye Makeup Tips For Sensitive Eyes
Here are a few tips for eye makeup for sensitive eyes: 
Cleanse your eyes before and after applying eye makeup.
Opt for products that are toxin-free, sulfate-free, fragrance-free, waterline-safe and skin-friendly.
Eyeliners composed of natural ingredients and oils will be mild on your skin while also nourishing it.
If your eyes start to get dry or itchy, a dab of rose water on your sensitive eyelids can help relieve the eye irritation.
Why Trust StyleCraze?
The author of this article, Pratima Ati, is a makeup enthusiast who loves trying out different products. After carefully researching and browsing online reviews, she has curated a list of the best eyeliners for sensitive eyes. She knows that the skin around our eyelids is delicate and needs special care. The products listed here are available in waterproof, long-lasting, and easily applicable formulas.
Frequently Asked Questions
How do you know if you are allergic to eyeliner?
You will know that you are allergic to eyeliner if the skin around your eyes becomes itchy, red, or scaly after using the product. The white area of your eyes may also appear red and swollen as an indication of developing allergies.
Why do my eyes get irritated when I wear eyeliner?
If the eyeliner is made of irritants that trigger allergic reactions, you may experience itchy eyes after using the product. Also, if you apply liner to your inner lash line, the makeup particles irritate the tear film of your delicate eyes or somehow compromise your vision.
What ingredient in eyeliner causes allergic reactions?
Various irritants like nickel and iron oxide are used in eyeliners to increase their shelf life. These ingredients, like waxes, oils, detergents, dyes, fragrances, and preservatives, are not skin-friendly and can trigger sensitivity around your eyes.
Recommended Articles