13 Best Korean Eyeliners To Wing It Up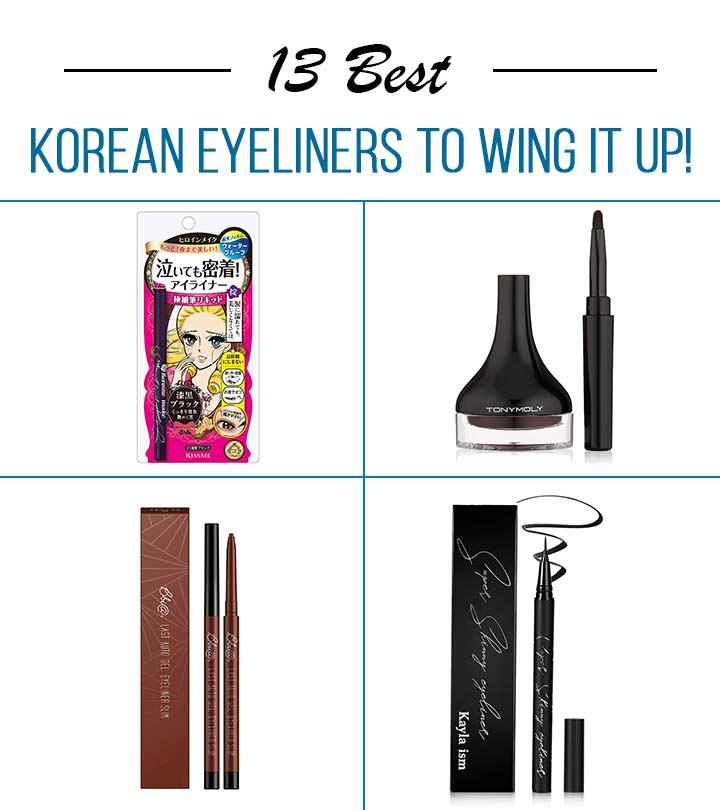 Doing the perfect winged eye look is an art that requires a long-lasting eyeliner with the right consistency.  With the popularity of Korean makeup products on the rise, it comes as no surprise that there are some great Korean eyeliners that can give you that perfect winged eye look. Here's a list of the 13 best-selling Korean eyeliners that will give you that smudge-proof look. Check them out!
13 Best Korean Eyeliners To Check Out Right Now
The waterproof formula of Heroine Make Smooth Liquid Eyeliner makes your eye makeup last longer. It comes with a smooth and fine brush that helps you get the perfect flick for the cat-eye look. The black liquid turns matte on drying and is also smudge-proof. This eyeliner is suitable for oily skin and monolid eyes.
Pros
Glides on smoothly
Flexible brush tip
Waterproof
Resistant to tears and sweat
Cons
Not completely opaque black
Needs a primer when applied on oily skin
Similar Products:
Mesaidu Liquid Eyeliner creates a long-lasting and perfect winged eye look with its fine tip and smudge-proof formula. This eyeliner pen has a tip that moves smoothly over the skin so that each stroke is precise. The spring design of the lid ensures that the liquid eyeliner does not dry up for a long time.
Pros
Last up to 12 hours
Smudge-proof
Suitable for contact lens users and sensitive eyes
Precise pen tip
Cons
Does not dry quickly after application
Similar Products:
BBIA Last Pen Eyeliner has a sebum- and sweat-resistant formula that creates fine, smudge-proof lines on the eyelids. The fine design of the brush allows you to draw the perfect wing for a cat-eye look. The perfect brown shade gives you a bold look.
Pros:
Smudge-proof
Long-lasting formula
Dark, opaque color
Washes off with lukewarm water
Cons:
Similar Products:
BBIA Last Auto Gel Eyeliner has enhanced multi-resistant characteristics that give you the most natural-looking eyeliner look. The gel texture of this eyeliner glides smoothly on the eyelid. The Friction Zero property of the lead allows you to create the perfect winged eye look in just a few strokes.
Pros
Water-, sweat-, and sebum-resistant
Suitable for sensitive eyes
The ultra-thin 2 mm tip creates precise strokes
Cons
Similar Products:
The exclusive gel-based formula of TONYMOLY Gel Eyeliner gives the precise application of a liquid liner. It comes along with a fine brush that offers easy application. It dries quickly and is water-resistant.
Pros
Smudge-proof
Long-lasting
Easy to apply
Cons
None
Similar Products:
Etude House Oh m'Eye Line Waterproof Eyeliner contains highly concentrated pigments that offer intense color for the perfect glossy black eyeliner look. The fine brush offers precise strokes, and its formula is smudge-proof and waterproof.
Pros
Dark black glossy finish
Waterproof
Smudge-proof
Cons
Requires two strokes for intense color
The Clio Kill Black Waterproof Pen Liner is a five-time award-winning Korean eyeliner. Its unique fine tip offers precise application. It is formulated with the Carbon Black pigment that has the darkest black hue.
Pros
Highly pigmented
Glides on smoothly
Smudge-proof
Waterproof
No flaking
Cons
None
The Melting Gel Formula of LANEIGE Gel Liquid Liner gives intense color and multi-resistant properties to this eyeliner. Its fluid gel formula melts quickly to offer easy application and minimum drop-off on your face.
Pros
Intensely pigmented
Glides on smoothly
Waterproof
Smudge-proof
Cons
None
The Clio Sharp So Simple Waterproof Pencil Liner is perfect for beginners. It offers a perfect grip for shaky hands. The 2 mm lead of this pencil liner glides smoothly on the eyelids to offer precise application.
Pros
Easy to apply
Intensely pigmented
Waterproof
Smudge-free
Long-lasting
Cons
isLeaf Long Lasting Waterproof Fine Line Precision Liquid Eyeliner is a pen liner that is great for beginners as well as professionals. Its long-lasting formula does not smudge, smear, or fade all day. The best thing about this eyeliner is that it is hypoallergenic.
Pros
Hypoallergic
Long-lasting
Smudge-proof
Easy-to-apply brush design
Double capped to prevent the liquid from drying out
Cons
None
The Innisfree Always New Auto Liner is a pencil liner with a built-in sharpener. Its soft texture and rich color create a long-lasting makeup look that does not smudge. The best thing about this product is that it can be used as an eyeliner as well as a lip liner, lip pencil, highlighter, and concealer.
Pros
Enriched with vitamin E
Waterproof
Smudge-proof
Long-lasting
Intensely pigmented
Cons
None
The Kayla-ism Super Shiny Eyeliner has a shiny vinyl finish. It is a pen eyeliner with an airtight cap and a flexible brush. Its waterproof formula lasts up to 12 hours and creates an almost 3D effect on the eyes.
Pros
Waterproof
Lasts up to 12 hours
Bold finish
Cons
None
Etude House Drawing Show Brush Eyeliner is one of the best-rated Korean eyeliners. You can draw thin, thick, and long lines with its soft brush. Its formula contains the Perfect Fitting Polymer that is water- and sweat-resistant and keeps your lines looking sharp and fresh all day.
Pros
Long-lasting
Can adjust the thickness of the lines with the brush
Easy to wash off
Water- and sweat-resistant
Cons
Korean makeup products are gaining popularity because their quality is great, and they put a unique spin on traditional products. These eyeliners also have some unique characteristics that make them worth a try. Which of these Korean eyeliners would you like to try out? Comment below to let us know!
Recommended Articles