11 Best Drugstore Primers For Mature Skin In 2022
Cover your aging signs and offer that long-lasting moisturization to your skin.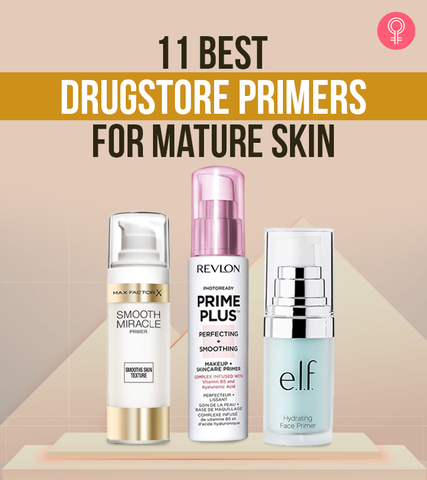 Aging takes away the natural flawlessness, suppleness, and glow of our skin. Therefore, it helps to invest in the best drugstore primers for mature skin to get the perfect base for makeup on aged skin. Yes, that is right. You no longer need to blow your budget on high-end products to make your mature skin look youthful and good. Nowadays, several drugstore primers for mature skin are enriched with moisturizing ingredients and skin-friendly formulas that can do wonders for mature skin. Furthermore, they help create a smooth base by filling out your pores and covering your fine lines and creases.
A good-quality primer plays a crucial role in our makeup routine. So go on and check out our list of the best drugstore primers. Choose formulas that are specifically made to hide and correct signs of advancing age on the skin, and do more than just create a base layer for your skin. Keep scrolling!
11 Best Drugstore Primers For Mature Skin
The skin-perfecting No7 Airbrush Away Primer helps create a base for a flawless look. It smooths away fine lines and wrinkles while leaving the skin with a dewy finish. It is enriched with hyaluronic acid to lock in moisture and keep the skin hydrated all day long. This hypoallergenic primer helps to blur open pores. For further information, check this detailed YouTube video.
Pros
Quick-acting
Blends easily
Lightweight
Hypoallergenic
Cons
Doesn't control shine
Expensive
The nourishing formula of the Covergirl Simply Ageless Anti-Aging Foundation Primer goes deep into the skin to keep it hydrated while giving it a youthful glow. It extends the life of the makeup or can also be worn on its own to give the skin a radiant, moisturized look. This creamy primer is packed with anti-aging ingredients that help renew the skin surface and fight signs of aging. Its niacinamide brightens your skin, controls acne, and when coupled with green tea, it heals inflammation. The titanium dioxide and ethylhexyl methoxycinnamate work as a broad-spectrum sunscreen, preventing UVA and UVB damage. The convenient pump dispenser provides a mess-free easy application.
Pros
Pump dispenser
Cruelty-free
Alcohol-free
Fragrance-free
Cons
The lightweight e.l.f. Hydrating Face Primer is infused with vitamins A, C, and E and grapeseed oil to hydrate the skin and smoothen the complexion. This illuminating primer minimizes pores, fills in fine lines, and covers imperfections to create a smooth base. The antioxidant-rich grape seed oil and tocopheryl acetate in the formula help your skin fight free radical damage. Plus, the retinyl palmitate gives your skin anti-aging benefits. It extends the life of makeup by offering a natural matte finish as a base. For a detailed review of this product, go through this YouTube video.
Pros
Lightweight
Long-lasting
Creamy texture
Matte finish
Easy to blend
Paraben-free
Phthalate-free
Triclosan-free
Triclocarban-free
Hydroquinone-free
Nonylphenol ethoxylate-free
Fragrance-free
Cruelty-free
Vegan
Cons
The Elizabeth Mott Thank Me Later Face Primer is made from premium quality ingredients like pearl powder to brighten and balance the complexion. It provides a matte finish that protects the makeup from creasing and oiliness. This pore minimizer primer delivers an instant smooth look for long-lasting makeup that does not need touch-ups. The dimethicone in the formula moisturizes the skin while filling in the fine lines around the eyes. It also has vitamin E that helps fight free radical damage and ethylhexyl salicylate that works as a sunscreen filter to prevent UV damage. Take a look at this YouTube video for a detailed visual demonstration of this product.
Pros
Long-lasting
Lightweight
Matte finish
Paraben-free
Cruelty-free
Fragrance-free
Alcohol-free
Cons
May cause acne in some users
The serum-infused L'Oreal Paris Age Perfect Blurring Face Primer is designed for mature skin. It instantly diffuses fine lines and wrinkles to create a natural-looking healthier complexion. The formula is infused with salicylic acid that exfoliates dead skin cells. The dimethicone and glycerin in the formula moisturize your skin. Tocopherol or pure vitamin E protects the skin from free-radical damage, and bisabol extracts help soothe inflammation. This primer settles into a soft, dewy finish. You can wear it solo or under foundation to extend the life of your makeup.
Pros
Blends easily
Can be used as an eyelid primer
Dewy finish
Long-lasting
Suits all skin types and tones
Cons
The antioxidant-rich Max Factor Smooth Miracle Primer is packed with skin-loving ingredients that moisturize and condition the skin. This creamy formula instantly preps up your facial skin by creating a smooth base for foundation. It is enriched with Soft Focus Silicone Elastomers and Soft Focus Effect Spheres that fill creases, enlarged pores, and rough patches while blurring imperfections, fine lines, and wrinkles. The convenient pump-dispenser offers easy application with just the right amount of product every time.
Pros
Antioxidant-rich
Sets instantly
Blends smoothly
Lightweight
Mess-free application
Cons
The color-correcting Master Prime By FaceStudio from Maybelline instantly blurs skin imperfections and redness while covering fine lines. This weightless primer protects your skin against sun damage and controls oil production. It is formulated in a water-soluble base with active ingredients that help refine the skin tone.
Pros
Non-greasy
Creamy texture
Blends easily
Weightless
Water-soluble
Dermatologist tested
Allergy tested
Essential oil-free
Fragrance-free
Cons
The multi-tasking Milani Prime Perfection Hydrating + Pore-Minimizing Face Primer delivers a healthy glow to the skin while eliminating fine lines, imperfections, and enlarged pores. This moisturizing primer takes care of dry patches by deeply hydrating the dermis and maintaining the natural moisture balance. It glides on smoothly for an invisible look that gives a flawless complexion. The formula is infused with humectants like glycerin, aloe vera extracts, and sodium hyaluronate that traps moisture and keeps the skin hydrated. Additionally, ethylhexyl methoxycinnamate absorbs UVB radiation, keeping your skin safe from sun damage.
Pros
Oil-free
Long-lasting
Dewy finish
Vegan
Cruelty-free
A little bit goes a long way
Cons
The green color-correcting NYX Professional Makeup Studio Perfect Primer extends the life of foundation and neutralizes redness in your skin tone. It is easily absorbed by the skin and creates a smooth base for makeup. This silky primer is ideal for lighter tones and acne-prone skin. It covers fine lines and open pores while boosting skin radiance and a natural glow.
Pros
Easy to apply
Dermatologically tested
Vegan
Cruelty-free
A little bit goes a long way
Cons
The Revlon PhotoReady Prime Plus Primer is enriched with hyaluronic acid, pumpkin seed extract, and moisturizing vitamin B5 to reduce fine lines and improve skin texture with regular use. This two-in-one primer instantly blurs imperfections while nourishing and hydrating the skin. It gives an even, smooth look to the skin and prepares it for makeup application. This EWG-verified primer has a creamy texture and is gentle on the skin.
Pros
Paraben-free
Sulfate-free
Phthalate-free
Artificial dye-free
EWG-verified
Cons
None
The Rimmel Stay Matte Primer creates a smooth velvety base for your makeup. This ultra-lightweight primer has a non-greasy texture that delivers a matte finish while controlling shine for up to eight hours. It is infused with vitamin E and glycerin that nourishes the skin. This versatile product can be worn on its own, under makeup, or even over makeup to even out the skin tone. It covers enlarged pores, fine lines, and wrinkles, giving you a flawless base.
Pros
Lightweight
Non-greasy
Non-comedogenic
Suitable for oily and dry skin
Long-lasting shine control
Cons
Mature skin give you a tough time to get that smooth post-makeup look. But if you have the right primer, this job can be easier. If you want to know how you can select the best primer for mature skin, read the section below.
How To Choose The Best Drugstore Primer For Mature Skin
Hydration and moisturization: As you age your skin crave hydration and moisturization. For your matured skin, pick up a primer that will meet these two important requirements, and keep your skin supple and soft.
Lightweight: Choose a lightweight primer that will not feel heavy. It should look and feel invisible to keep your skin comfortable all day.
Color correction: If you suffer from rosacea and skin irritations, then color-correcting primers to effortlessly cover the redness and uneven patches on your skin.
Why Trust StyleCraze?
Shiboli Chakraborti is our in-house certified skincare coach who uses her expertise to find premium quality products for you. Her knowledge of scientific formulations and ingredients allows her to choose products that are suitable for every skin tone. She knows that the wrong primer can leave your skin looking dull and dry. She has tried out various primers and gone through customer feedback online to put together this list of the top primers that are available in your neighborhood drugstore. These primers are made with moisturizing ingredients that renew your skin and give you smooth and shiny skin.
Frequently Asked Questions
Is there a primer that fills in wrinkles?
Primers are made to smooth fine lines and wrinkles so that your makeup will last longer. Silicone-based primers fill in wrinkles and even out skin texture very effectively.
How often should you use primer for mature skin?
Primers for mature skin can be used every day as a base under makeup or even on their own to deliver hydration to the skin.
Does the primer have to match mature skin tone?
A primer generally caters to skin needs like mattifying or hydrating and does not have to do much with your skin tone. Most of them are colorless or translucent. Match your foundation to your skin tone instead.
Does older skin need a primer?
Yes, mature skin needs a primer to smooth the visible fine lines, wrinkles, and large pores. A hydrating primer also caters to the dryness that is common in mature skin.
Does primer go on before or after moisturizer?
A primer is ideally applied after a moisturizer. Applying a moisturizer hydrates the skin and prepares it for the next layers of products.
Recommended Articles