9 Best Natural Primer Makeup For 2021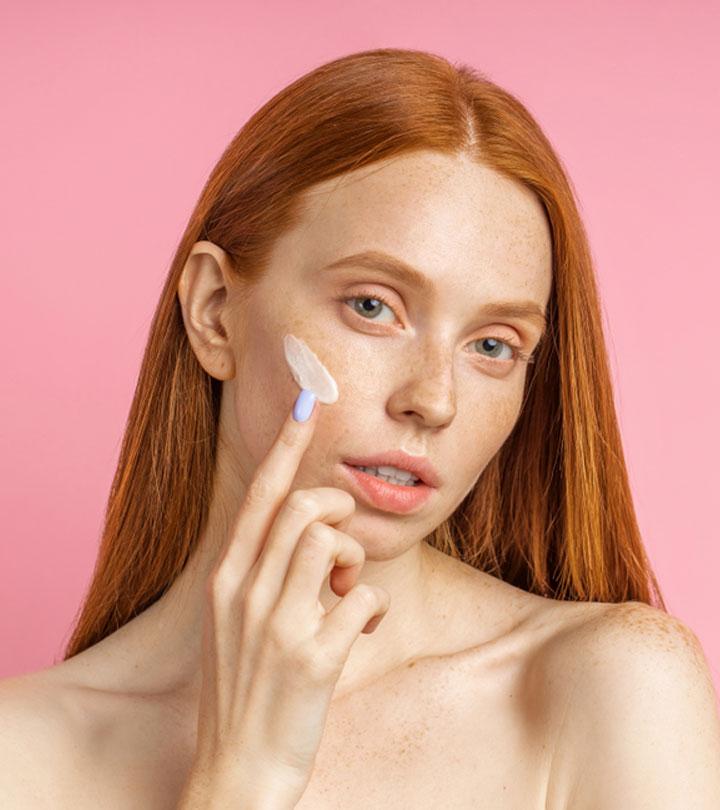 Tired of all the unsafe untested chemical formulations used for most makeup products? Are you planning to go all-natural to protect your sensitive skin from synthetic cosmetics? Some of the best all natural primers available online, protect the skin from all unnatural synthetic products while bringing a sun-like glow. We are all aware of how important a primer is in every girl's daily makeup routine. Makeup without a primer doesn't stay put on the skin, making the face look uneven and patchy. It further forms a protective layer between the makeup and skin and shields it from all the harsh makeup.
So, if you are looking for the best natural primer for your face, go through our list of the few best ones available for all skin types.
9 Best All Natural And Organic Primers For Makeup
Does your face look heavy and caked every time you apply makeup? Jane Iredale's Smooth Affair primer's light consistency blends evenly forming a smooth base for makeup. A natural product formulated with grapefruit for luminosity, white tea for anti-aging, coconut alkaline for improved skin texture, and apple and jelly for smoothness is an all-round solution. Avoid using more than a blob and spread it evenly over the face for best results.
Pros:
Cruelty-free
Makeup lasts longer
Prevents moisture loss
Made of natural extracts like grapefruit, white tea, coconut, apple, and jelly
Cons:
Consistency can be too light for a few skin tones.
Pores, wrinkles, and fine lines? Now wave them goodbye as Monica Ann's Dual-Action brings to you an all-natural primer makeup for your maturing and sensitive skin. This primer comes with pore-minimizing and anti-aging properties that hydrate the skin and blur out the wrinkles. The translucent matte coverage gives the face a smooth texture leaving the natural makeup primer lasting all day long. A generous amount of Vitamin C in the primer formula gives a collagen boost allowing for a plumper skin and a youthful look.
Pros:
Infused with anti-aging ingredients like hyaluronic acid
Parabens, sulfates, and phthalates-free
Vitamin C for skin brightening
Lasts throughout the day
Cons:
Looking for glowing natural skin? You are here for a treat with the organic face primer that releases glow particles as soon as you blend it onto the skin. Packed with probiotics, prebiotics, and organic ingredients like turmeric, chia seed, apple, lactic acid, licorice, and other fruits and flowering plant extracts, the primer suits skins of all types from oily to combination to dry, or mature. And, those large parties on public streets which go on for hours do not affect the durability of the primer a bit. Get yourself a TULA Probiotic face filter today!
Pros:
Best for all skin types
Gives an instant smooth look
Reduces the redness of the skin
Formula containing natural ingredients
Cruelty-free
Cons:
A game-changing all-natural primer, this non-greasy solution is best suited for or all skin types— dry, oily, sensitive, and acne-prone! A skin healthy primer with the goodness of natural ingredients like aloe vera, jojoba, non-green tea, oregano, thyme, lavender, rosemary, cinnamon bark, and root extracts, hydrates the skin from within radiating a glow. One light pump all over the face and you are going to catch the attention of every person present in the room.
Pros:
Long-lasting
Devoid of all chemicals
Non-comedogenic and hypoallergenic
Gluten, palm, paraben, and fragrance-free
Made of botanical extracts
100% natural
Cruelty-free
Vegan
Cons:
Planning to go a step ahead with makeup? With Juice Beauty's Phyto-pigments, the advanced primer delivers a dynamic plant-pigmented and clinically-validated skincare solution. The all natural primer makeup boasts of an age-defying serum made of ingredients that nourish the skin while blurring the blemishes. Wear it all day long without any discomforts as a primer this lightweight feels like an extension of your skin.
Pros:
Lightweight primer
Age-defying serum
Vitamin E and C formulated
Free of all the synthetic chemicals and fragrances
Packed with silicones, coconut alkanes, and organic glycerin
Cons:
Makeup or no-makeup, our ArtNaturals Face Primer with its matt texture eliminates wrinkles and fine lines making the skin look baby soft. Claiming to be the most popular primer for all skin types, this one comes with an additional layer of protection against toxins, germs, and damage. And what about the organic ingredients? In this carefully designed anti-aging serum, you will find everything—coconut, safflower oil, aloe vera, etc.
Pros:
Long-lasting
Packed with organic ingredients
Certified vegan
Sulfate-free
Paraben-free
Phthalates-free
Cruelty-free
Cons:
Takes a few minutes for the primer to set.
Start your makeup routine with an all-natural primer makeup to get a glowing look. To achieve a perfectly smooth finish, the primer uses organic ingredients like fruit extracts, shea butter, sunflower seed oil, and many more. Take a pea-sized amount and gently blend it all over to form an even base for the makeup. Wear it with makeup or alone as it makes the skin look as fresh as new in both cases.
Pros:
Cruelty-free
Hyaluronic acid
Dermatologist-tested
Hypoallergenic and non-comedogenic
Mica imparts a golden glow
Polyethylene Glycol-free
Petrolatum and mineral oil-free
Free of Steareth-n
Free of paraben, paraffin, and synthetic fragrances
Cons:
Direct contact with eyes might cause irritation.
As the name signifies, 100% Pure Luminous Primer makes for a perfectly glowing primer base for bright makeup. Made of organic ingredients and colored using fruit and plant pigments, the product is taken from the lap of nature. Pigments also contain skin beneficial vitamins, anti-aging antioxidants, and healthy phytonutrients making it one of the best primers for a natural and fresh look. Now, let the face illuminate like a burst of sunlight with this luminous cruelty-free natural primer.
Pros:
Vegan
Cruelty-free
Long-lasting makeup
Infused with organic products
Colored from fruit and plant pigments
Free of synthetic chemicals, harsh alcohols or heavy silicones
Made of ingredients like protective resveratrol, vitamin E and aloe
Cons:
Tired with the redness of your face? Worry no more as this color correcting primer is specifically made to cater to your needs. Packed with natural ingredients like jojoba oil, glycerin, etc, to name a few, the greasy textured primer easily glides over the skin and moisturizes it. It's a treat for the vegan makeup lovers as with Zuzu Luxe Color you get a primer that is 100% natural and devoid of any animal cruelty. One of the best primers for a natural look, this one is a stand-alone product that can be used without a foundation and would still give the same velvety-smooth finish.
Pros:
Gluten-free
Cruelty-free
Non-GMO
100% natural
Mineral oil, lanolin, and talc-free
Free of coal tar derivatives of FD and C coloring agents
Propylene Glycol, hydrogenated oils and paraben-free
Cons:
Thick and greasy for some skin tones
[ Also Try – Clarins Beauty Flash Balm ]
While the list is all about guiding you on a few of the best primers, finding the one that suits you best can still be an arduous task. Knowing the below pointers while going into it might make your task slightly easier.
Buying Guide- Things To Know Before Buying All-Natural Primers
What are natural facial primers and how do they work?
Facial primers form a layer upon your skin protecting it from the harsh synthetics and chemicals of makeup. It also evens out the skin covering all the pores, wrinkles, and fine lines forming a smooth base for the makeup to be applied evenly. Natural primers with their botanical and herbal ingredients are nothing but a layer of organic serum providing the skin with the much-needed nutrients. Use a small amount of the most popular primer upon the face to bring that natural glow.
How to choose the best natural primer for your skin type?
When looking for a natural primer one should keep in mind that a primer is used to form a smooth layer on the skin and hold the makeup longer. That can only be achieved if the texture of the primer matches the skin type. Let's look into which skin type demands what kind of primer.
1. Oily Skin
Oily skin types need an oil-balancing natural primer for oily skin with mattifying properties. Oil-balancing primers are powdery in texture and are usually made of natural minerals like mica, silica or ingredients like kaolin clay.
2. Dry Skin
Dry and dehydrated skin types are the cause of wrinkles, fine lines and various other skin blemishes. A skin type like this must look for a face primer for aging skin that is hydrating, skin-plumping or anti-aging in nature to Primers infused with organic oils, hyaluronic acid, aloe vera, etc are best suited for dry skin and eliminate the creases leaving a smoother finish.
3. Combination Skin
Combination skin types are the most daunting ones when it comes to looking for makeup. These skin types feel oily on some days making the makeup slide right off the face and dry on others, where the makeup on the face looks flaky and patchy. Primers with a gel-based formula have hydrating properties that remove creases and fine lines but also absorb into the skin eliminating the extra shine. Gel-based primers form the right kind of base for combination skin types.
Tip: Always check the ingredients listed under the product description section to get a better idea.
Primers are the best way of keeping your skin protected from the external heat, pollution, synthetic makeup, and toxins. It holds the makeup and keeps it locked and smudge-free. Coming third to moisturizers and sunscreens, this product has built a very special place in every girl's makeup routine. Find yourself the best all-natural primer makeup with the smoothest finish that will make you look fresh throughout, from work hours to happy hours.
Frequently Asked Questions
What kind of primer suits all skin types?
No one primer product would suit all skin types. With different formulations, every primer has its unique set of advantages and disadvantages. You need to understand your skin type and look for a good natural primer that works best on your skin.
Can natural makeup primer be used in place of foundation?
Primers are used to cover the skin blemishes like pores, wrinkles, fine lines, skin redness, etc. It forms a smooth base on the skin for the foundation. It is advisable to use the most popular primer as base so that the foundation gives a finished look.
How much primer should I apply?
A little bit of primer is more than enough to cover the entire face. Take a small blob on your fingers and spread it evenly every single time for a smooth skin tone.
Why is the natural face primer used as a base before applying makeup?
Primers are used directly on the skin as they form a layer between the skin and makeup. They cover all the pores and wrinkles and smoothen it out to hold the makeup longer. Primers infused with organic products even protect the skin from the harsh synthetic makeup. Always use a primer as a base for the best outcome.
What is the best makeup primer?
There are some good natural primers available online that will give you the best experience. From our curated list of 9 best natural primer makeup for 2021, ArtNaturals Face Primer, Juice Beauty Phyto-pigment's Primer, Monica Ann's Face Primer are some of the best.
Recommended Articles: