9 Best Drugstore Primers With SPF For A Flawless Base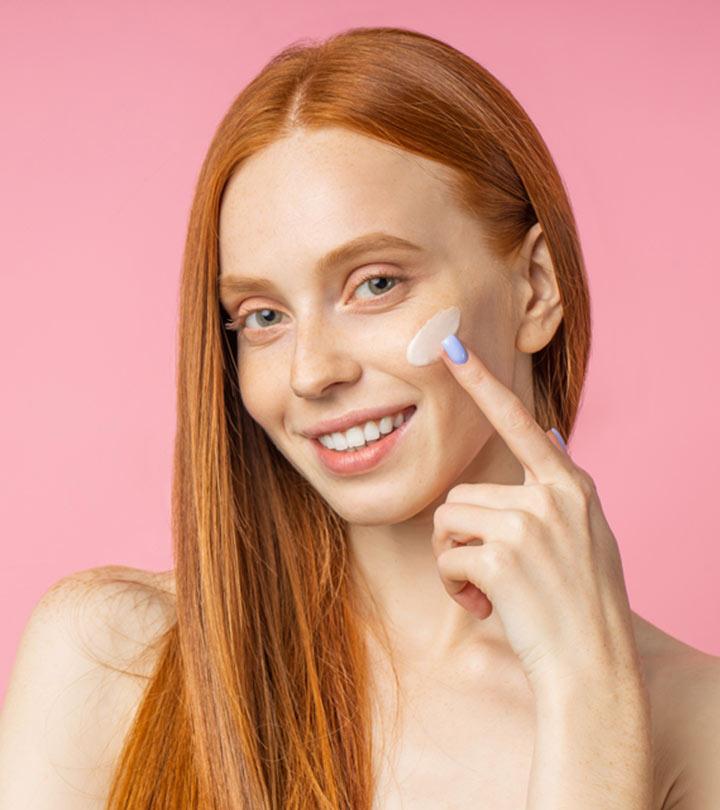 Face primers have surely come a long way, especially in recent years. Makeup enthusiasts from all over the world have fully understood the importance of a primer when perfecting their base makeup. This is why you must not underestimate the power of purchasing a good primer with SPF, especially one that keeps your makeup in place without causing any adverse reactions or breakouts.
When looking for the top drugstore primer with SPF, you need to pick one that benefits your skin and makes your makeup stay for the whole day. Top makeup artists recommend that you use primers if you experience makeup meltdowns, appearance of large pores, shiny/greasy skin, and uneven skin texture. If you feel lost and don't know where to start, then worry not! This article lists out the 9 best drugstore primers with SPF that provide the perfect canvas for your makeup looks. In this list, we have included different products, where you will find a formula that works for you and offers optimum protection. Read on to find your perfect match.
9 Incredible Drugstore Primers With SPF You Can Trust
Say goodbye to shiny skin with this SPF primer that provides a wonderful matte-velvet finish. This is a 1-of-a-kind skin smoother that comes with broad-spectrum SPF 30, so you have assured sun protection every time you apply it. Once applied, the primer provides an instant blurring effect on fine lines, wrinkles and reduces the appearance of large pore sizes. The best part about this primer is wearing it on its own or as a base for your foundation. We recommend applying the makeup primer after a moisturizer for the best results.
Pros:
Reduces the appearance of large pores
Blurs fine lines and wrinkles
Includes broad-spectrum SPF 30
It can be worn on its own
Cons:
It may not have any moisturizing effects
While there are no treatments that can completely change the size of your pores, there are products that can help them appear smaller, like this primer! If you have oily to combination skin, this is a good drugstore primer because it extends the wear for the whole day. Prep your skin by applying a layer of this primer to control any oil and get a shine-free finish. With this primer, you have ensured a smooth base for all your makeup looks. So, whether you want to go for a subtle look or natural glam, this full coverage primer will hold it in place.
Pros:
Broad-spectrum SPF 30
Oil-control
Shine-free
Mattifying finish
Cons:
It may not be suitable for dry skin
This primer is perfect if you want to deal with issues like discoloration and uneven skin tone. Not only is the formula lightweight, but it blends like a dream and minimizes pores. All you have to do is apply it before your makeup, and you will notice a semi-matte finish that is almost skin-like. This vegan and cruelty-free product is not tacky or chalky because it contains glycerin, which can be moisturizing for dry and combination skin types. So, you can go ahead and create the perfect canvas for any look with this beautiful primer.
Pros:
Evens skin tone
Moisturizing
Suitable for dry and combination skin types
Vegan and cruelty-free
Cons:
May not reduce the appearance of large pores
A little bit goes a long way with this non-comedogenic face primer, especially if you want to minimize the products in your morning makeup routine. The incredible oil-free formula contains minerals that absorb excess oil and blurs fine lines. It also provides SPF 15 protection and diffuses light to reduce the appearance of wrinkles and large pores. This primer will work wonders if you have sensitive skin without taking you through any traumatic skin reactions.
Pros:
Suitable for sensitive skin
Enriched with minerals
Fragrance-free
Dermatologist-tested
Oil-free formula
Cons:
Some may find the consistency too thin
To score that beautiful "glow from within" look that everyone is craving for right now, you will need a primer that accentuates your skin's luminescence. The bareMinerals Prime Time BB primer cream does just that, and it protects you from any sun damage with broad-spectrum SPF 30. With this primer, you don't have to worry about discoloration or uneven skin texture because it ensures that you get a smooth and radiant canvas for your base makeup.
Pros:
Brightens and evens out the complexion
Broad-spectrum SPF 30
Suitable for acne-prone and sensitive skin
Light-weight
Cons:
Some may find the fragrance overwhelming
If you are looking for a primer that protects you and provides instant color correction, you must add this product to your makeup bag. The silky and lightweight formula contains natural soy and antioxidants that instantly even and smoothen your skin. It also contains feverfew flower extract and various minerals, which reduce any redness and the appearance of large pores. This primer is a great choice to cover any blemishes, especially under medium coverage foundations.
Pros:
It lasts for up to 8 hours
Non-comedogenic
Colour correcting
Evens out skin complexion
Cons:
Must not be used by people who are allergic to mica
When looking for a soothing and rejuvenating base product with a strong staying power, you have to consider adding the NYX PROFESSIONAL MAKEUP Bare With Me Daily Moisturizing Primer to your cart. This lightweight formula is infused with cannabis oil and doesn't leave any greasiness after application. The primer also provides broad-spectrum SPF 30 protection and does a great job at protecting and hydrating your skin without feeling tacky or heavy. In addition, you don't have to worry about any white cast because the cruelty-free formula dries transparent.
Pros:
No white cast
Cruelty-free
Infused with cannabis oil
Moisturizing
Cons:
It may not be suitable for oily skin types
If cream primers are not your style and you are looking for something that's fast-absorbing, we suggest that you try the Physicians Formula Natural Defense Protect Your Prime Oil Sunscreen. This lightweight primer oil is fast-absorbing and alcohol-free, which means it will blur any fine lines and provide a perfect base for your makeup. The miracle formula also contains SPF, RPF, PPF, and a 360-degree total defense complex, which prevent the early signs of aging and strengthen the skin's barrier against damage done by the sun and pollution.
Pros:
Contains SPF 15, RPF, PPF, 360-degree total defense complex
Suitable for dehydrated skin
Alcohol-free
Hypoallergenic
Cons:
Must not be used on acne-prone skin
If you are constantly dealing with shine and makeup meltdown, then you have to try out the best drugstore shine control primer in the market. This fragrance-free formula contains antioxidants and broad-spectrum SPF 34, which keeps your skin healthy and protected. The lightweight texture goes on super smooth, without feeling tacky or heavy. The primer ensures that your makeup stays in place the whole day, no matter what the occasion. So, go forth and try out a full glam look without having to worry that it will go off in an hour or two!
Pros:
Filled with antioxidants
Broad-spectrum SPF 34
Lightweight
Removes shine and excess oil
Long-lasting
Cons:
It contains a beige tint that may not work on deeper skin tones
Applying a good primer is a crucial step in anyone's makeup routine, especially if you want it to look fresh and stable the whole day. Of course, primers are so much more than a base for your foundation and concealer, they address various skin concerns like smoothing, blurring, and brightening. Many drugstore primers with SPF offer silky application, protection, and suit your skin type. Hopefully, our list of the 9 fantastic drugstore primers with SPF will help you select the product that makes your makeup stay in place throughout the day, giving you flawless skin and offering peak protection from the sun's harmful rays and UV damage. Happy shopping!