11 Best Drugstore Primers For Oily Skin
These top-grade primers won't let oily skin ruin your makeup ever again.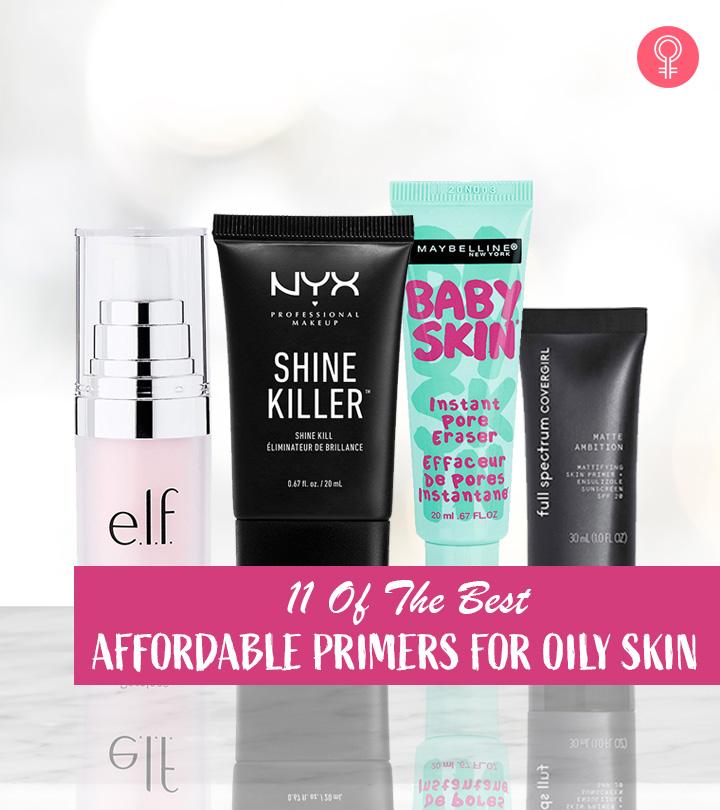 Working for hours to get a flawless makeup look, then allowing your oily skin to ruin it within 30 minutes – the world's best horror story in one line. But fret not because now you can easily avoid this situation with the best drugstore primers for oily skin. These formulas allow you to ace the base by blurring blemishes and aging signs and ensuring proper oil control. They help you create the perfect canvas for your foundation and ensure that the flawless look lasts long. Our list includes 11 easy-to-find drugstore primers that have garnered uncountable positive reviews on various forums. These are considered holy grails for oily skin and do not burn a hole in your pocket. So, swipe up to explore.
Top 11 Drugstore Primers For Oily Skin With Reviews
Review
Don't be fooled by this primer's price tag! Rimmel Stay Matte Primer is a primer for extended makeup wear that keeps shine at bay for up to eight hours. Its lightweight texture smoothens out your skin, minimizes the appearance of pores, and combats redness. Its clear formula complements all skin tones and imparts exceptional results.
Pros
Long-wearing
Lightweight
Does not clog pores
Versatile
Cons
None

Review
This cult-favorite primer from Maybelline is so popular for some very legit reasons. Its main ingredient is dimethicone, which is known for filling in pores and reducing the appearance of blemishes while absorbing excess oils from your skin. This product also works as a primer for reducing redness. You achieve smooth baby-like skin thanks to its powdery finish. It is one of the best drugstore primers for oily skin.
Pros
Lightweight
Non-greasy
Leaves skin feeling smooth and supple
Cons
None
Review
For the days you want your dull skin to look fresh and flawless, Boots No7 Airbrush Away Primer is a must-try. It's a great primer for mature skin as it helps minimize fine lines. Its hyaluronic acid moisture-locking spheres smoothen your skin by diminishing the appearance of wrinkles and pores. It is also an excellent primer for acne-prone skin. If your skin is on the sensitive side, you are in luck because this primer is also hypoallergenic.
Pros
Lightweight
Natural finish
Long-wearing
Non-comedogenic
Suitable primer for sensitive skin and oily skin
Cons
None
Review
Revlon claims that in selfies or IRL, lousy lighting does not stand a chance against its PhotoReady Perfecting Primer. This oil-free primer evens out your skin texture effortlessly, so your makeup goes on seamlessly and stays that way. It is also formulated with HD Filter technology that captures and transforms any light to mimic photo filters. It is a good photo-ready primer for combination skin and oily skin as its oil-free formula gives your skin a shine-free look all day.
Pros
Minimizes the appearance of pores
Easy to apply
Luminous finish
Lightweight
Photo-friendly
Cons
None

Review
If you are on the hunt for a pore-minimizing primer that improves your skin's texture, the Magic Perfecting Base by L'Oreal is one to look out for. This dermatologist-tested primer is a silky, lightweight formula. It glides onto your skin effortlessly and instantly minimizes the appearance of large pores and fine lines. This matte finish primer glides smoothly and gives you a unified finish. It gives you flawless skin throughout the day. It is the best mattifying formula for oily skin filled with large pores.
Pros
Dermatologist-tested
Blurs pores and blemishes
Long-wearing
Cons
None
Review
This long-lasting primer from NYX is your ultimate weapon in the war with shine. Apply it before your favorite foundation or BB cream for a fresh, flawless, marvelously matte look that lasts all day long. It is especially great for hot summer days when your skin tends to get excessively oily. As it has oil-fighting ingredients, it is the best drugstore makeup primer for oily skin.
Pros
Eliminates shine and oil
Does not clog pores
Reduces the appearance of enlarged pores and fine lines
Cons
None

Review
This affordable blur primer from e.l.f transforms your skin into a flawlessly smooth canvas. It is infused with tea tree and vitamins A and E for their restorative benefits. Its light, silky texture is excellent for oily skin, and it effectively holds your makeup in place throughout the day. This vegan primer is not tested on animals. It is also among the best face primers for oily skin.
Pros
Value for money
Non-comedogenic
Cruelty-free
Vegan
Cons
None
Review
Now you can put your best face forward with Covergirl's Full Spectrum Matte Ambition Primer. This silicone-free primer leaves your dull skin looking fresh with its neutral matte finish. It also comes with SPF 20, so you can get the benefits of added sun protection. It is the best drugstore makeup primer for oily skin. Many reviewers love this formulation for its sheer texture and they even like how it blends easily on the skin, delivering a flawless finish.
Pros
Lightweight
Easy to apply
Cruelty-free
Cons
None
Review
Make your makeup last all day with L.A. Girl's Pro Prep Smoothing Face Primer. This pore-filling primer creates a smooth base by evening out undulations and fine lines while providing the ideal surface for the foundation. This affordable primer is formulated with light-diffusing particles and skin-nourishing vitamin E to give you a radiant finish on or off-camera. It is the best drugstore oil control primer.
Pros
Softens skin and enhances makeup
Lightweight
Paraben- and fragrance-free
Cons
None
Review
The Wet n Wild Photo Focus Matte Face Primer fills in pores, blurs scars and blemishes, and effectively evens out your skin tone. Its lightweight consistency creates a smooth base and its visible matte finish keeps grease and shine away. This gel-based primer with a hydrating and moisturizing formula reduces creasing, cracking, or fading. This primer for flawless complexion contains white sapphire, as its key ingredient to let the product glide on effortlessly and offer a crystal complexion. The primer is enriched with aloe vera and vitamin E. The long-lasting formula rejuvenates your skin and smoothes out the skin's surface, readying you for other makeup products.
Pros
Lightweight
Long-lasting formula
Blurs scars
Reduces caking and cracking
Non-greasy
Reduces excess shine
Matte finish
Cruelty-free
Cons
The Skinperfect Primer by Dermalogica has a 3-in-1 benefit of sunscreen, an anti-aging treatment, and a primer that can help to smooth fine lines and wrinkles while giving you a flawless base for your makeup. This waterproof primer contains SPF 30 which can protect the skin against UVA/UVB rays, stimulate collagen production, and impart anti-aging benefits. This expertly crafted formula contains soy protein that gives a silky and velvety texture to your skin and makes your makeup last longer.
Pros
Contains SPF
Light coverage
Smooth application
Creates flawless base for makeup
Neutral tint
Cons
None
*The prices provided in this article are based on the latest available information. However, they may vary due to changes in pricing by the seller and/or promotional offers.
Price Range
Face primers can cost you anywhere between $6 to $60. If you are in search of a primer for smooth and even application which is also affordable, our list above contains budget-friendly makeup formulas that you can purchase for under $12. Mid-range primers include brands like Benefit and Tarte that will cost you around $25 to $35. High-end brands like Hourglass and Tatcha are priced a little above $50.
Why Trust StyleCraze?
If you have oily skin, you may find it challenging to buy makeup and other skincare products that suit your needs. To make your job easy, our product writer and makeup enthusiast, Esha Saxena, has compiled a list of the best drugstore shine-control primers for oily skin after surveying some of the finest products and their customer feedback on various forums. She has also included a detailed description along with pros and cons to assist you in buying the best.
Frequently Asked Questions
Do you need a primer for oily skin?
Yes. You can use a mattifying primer for oily skin types to reduce further oiliness and enjoy a shine-free and matte effect, creating the perfect base for makeup.
What are the best glowy finish drugstore primers for oily skin?
Lightweight and non-greasy primers such as the Maybelline New Master Primer can make oily skin look radiant and give a dewy finish. These also help in preventing your makeup from creasing. Mineral primers also work magically to make the skin look glowy and young.
Is drugstore primer a good moisturizer for people with oily skin?
Yes. A smudge-proof drugstore primer for controlling excess oil works well as a moisturizer for people with oily skin. Certain hydrating primers control excess oil and shine, making oily skin appear fresh and non-sticky.
What is the best way to apply drugstore primer for oily skin?
The best way to apply drugstore primer for oily skin is by following the steps of cleansing, toning, and moisturizing, followed by a primer. Keeping these steps in check will ensure you get the perfect base to apply makeup to oily skin.
Is using a foundation without primer bad for oily skin?
Yes. Always apply a primer to avoid your skin appearing oilier than usual. A primer ensures a mattifying and smooth base that provides a clean, fresh finish.
Recommended Articles