11 Best Bamboo Underwear For Women That Offer Ultimate Comfort
Give the lightweight and breathable bamboo underwear a shot for the ultimate comfort.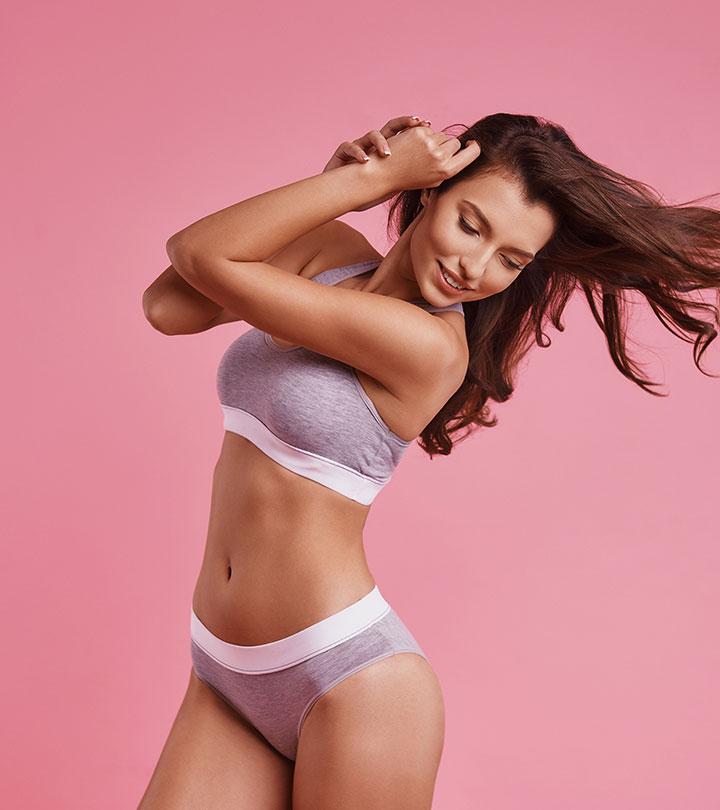 Undergarments are the most crucial part of our clothing items. That's why we have curated a list of the best bamboo underwear to narrow down your search. What is a bamboo underwear you ask? It is made with unique viscose underwear that are lightweight, antibacterial, and breathable. To put it simply, these panties are way more comfortable than your stuffy synthetic underwear. They have moisture-wicking abilities to ensure lasting wear. Swipe up and explore our list.
11 Best Bamboo Underwear For Women That You Must Own In 2023
These organic bamboo briefs are an excellent choice for daily wear. However, they are more popularly used as period panties because the material is water-proof, breathable, and soft so that you will be protected during the heavy flow days. The outer part of the underwear is made from spandex and bamboo viscose which is hypoallergenic, moisture-wicking, and stretchy. They are also high-waisted with an elastic waistband to keep you feeling snug and comfortable all day long. The inner lining is a combination of bamboo fiber and polyester, which does a great job of leakage protection, especially during busy days at work or school.
Pros
Highly breathable
Stretchy
Moisture-wicking
Leakage protection
Cons
It may make a swooshing sound when you move
Price at the time of publication: $30.39
This is a great option for women who love high-waist bottoms! The ultra-comfortable fabric is made from bamboo modal, making it breathable and skin-friendly. The panties offer full back coverage, and you won't experience any wedgie situations, bunching, or sagging like with cotton underwear. The waistband is also covered with fabric to help you go about your daily chores without any hesitation. It will sit right at the waist, leaving you with no worries about rolling or pinching when you move or sit down. Ideal for postpartum c-section recovery and hot yoga, you cannot miss out on this one!
Pros
Machine washable
Full back coverage
High waist
Lightweight
Cons
Some may find the underlining too short
Price at the time of publication: $19.99
These middle to high-rise panties are ideal for women who want generous coverage from their underwear. They are made from a superior bamboo viscose fiber and spandex blend, making the underwear breathable, stretchy, and gentle on the skin. They can also be hand washed or machine washed, and you can choose from a variety of designs ranging from small to XXXL. The brief design offers full frontal and back coverage. The stretchy material is meant to fit every body type naturally. The simple design and soft fabric ensure that it absorbs sweat, eliminates odor, and doesn't bunch.
Pros
Middle/high rise underwear
Breathable
Stretchy
Eliminates odour
Absorbs sweat
Cons
Some may find the waistband scratchy
Price at the time of publication: $27.99
These ladies' bamboo underwear sets are a favorite amongst teens and adults because they were designed for heavy period days and provide optimum leakage protection. The front and back of each panty are absorbent with moisture-wicking ability, making them your ideal companion for periods, postpartum recovery, and urine incontinence. Even though the fabric is breathable, it is also highly absorbent. The bamboo viscose fabric is super smooth and suitable for sensitive skin and can also be used alone or with other period products.
Pros
Machine washable
Front and back absorbent
Solid black lining
Breathable
Cons
Some may find the leg holes small
Price at the time of publication: $45.5
This b.WR Bamboo Underwear women's regular thong is manufactured with 100% cotton material, making it the silkiest, softest, and most breathable bamboo thong you will ever wear. It is an excellent eco-friendly option. The material is hypoallergenic, which means it does not cause allergies or irritation, even for sensitive skin. Its antibacterial and odor-resistant properties will keep you feeling fresh throughout the day. These thongs absorb 42% more moisture than other similar thongs on the market, keeping your skin dry and sweat-free. With a highly breathable fabric, it offers enhanced ventilation. Moreover, its thermoregulating properties provide your skin with a cooling effect and keep it warm during colder days.
Pros
Soft material
Sustainable
Moisture wicking
Light and breathable
Comfortable
Cons
Shrinks after the first wash
Price at the time of publication: $44.9
These stylish and soft bikini-style panties are made from rayon taken from bamboo blended with nylon and spandex to ensure a perfect fit and comfort. The fabric is stretchy and gentle enough to give you moderate coverage and leave you feeling great all through the day. In addition, they are seamless, so you can wear them under leggings and bodycon dresses without worrying about any visible panty lines. Also, the underwear has a flat-ribbed waistband that lays flat and won't roll down whenever you move.
Pros
Versatile
Machine washable
Ribbed waistband
Form-fitting
Cons
Price at the time of publication: $24.95
If you are looking for ethical bamboo underwear and eco-friendly shorts that are premium-quality, you must give these bamboo slip shorts a try. They are made from bamboo viscose and spandex, making them lightweight and soft while ideal for dresses and skirts. The slip underwear is also durable because no matter how many washes it goes through, it will still look and feel as good as new. Since they are thin and soft, you will almost forget that you are wearing them. The slip shorts have a long seam, which absorbs sweat and prevents chafing. Additionally, the waistband is relatively high, so it won't roll down when you walk or sit down.
Pros
Machine washable
Prevents chafing
Lightweight
Sweat absorbant
Cons
May not be suitable for short skirts or dresses
Price at the time of publication: $18.9
These incredibly soft, eco-friendly underwear were designed in Denmark to give you the most comfortable and stylish fit. They are made from premium-quality bamboo viscose, which makes them smooth and stretchable. The fabric is also breathable and that tag-free waistband does not dig into your skin and stays on without rolling down. You can choose sizes ranging from XS to XXL and are highly recommended for athletes because of the material endurance.
Pros
Excellent material endurance
Stretchable
Generous coverage
Tag-free waistband
Cons
Some may find the rear gusset seam itchy
Price at the time of publication: $21.95
The B2BODY Womens Bamboo Modal Boyshort Briefs Panties have sizes starting from XS and going up to 3X. They are a great option for everyday use for plus-size women. They are made with 89% modal and 11% spandex blend, making them ultra-soft and super comfortable. With no bunching and no binding, these underwear do not roll down. They are highly stretchable, moisture-wicking, provide full coverage, and are lightweight and breathable. They give you a snug fit without feeling compressed or tight and offer a smooth finish along the front and back.
Pros
Ultra-soft
Highly comfortable
Suitable for everyday use
Moisture wicking
Smooth fit
Breathable fabric
Easy to maintain
Suitable for machine wash
Cons
None
Price at the time of publication: $23.99
The Serisimple Bamboo Fiber Women Luxury Underwear Panties have the silkiest smooth and soft fabric, which makes them a must-have in your wardrobe! They are made of a highly stretchable, soft, and breathable sustainable bamboo viscose fiber and spandex blend. They are skin-friendly, lightweight, moisture-wicking, and designed for everyday use. They are comfortable throughout the day as they are tailored for full coverage with a smooth and seamless silhouette with a non slip design. The simple design and classic colors enable you to wear these under any outfit for versatile use.
Pros
Smooth seams and edges
Comfortable
Skin-friendly
Provides full coverage
Ideal for everyday use
Moisture wicking material
Breathable and lightweight
Cons
Price at the time of publication: $24.99
Are you on the verge of becoming a new mum and are hunting for the perfect fit? Well, look no further than these ultra-high waist shorts that are perfect for moms-to-be because of their soft and seamless fit. They are made from bamboo fiber, nylon, and spandex, making them gentle on the skin and providing optimum abdominal comfort. The underwear also provides 3-dimensional belly support, which won't restrict the uterus, and the waistband won't roll down. This maternity underwear is perfect for daily use, as well.
Pros
Breathable
3-dimensional belly support
360° wrap
Stretchable
Cons
May not offer full rear coverage
Price at the time of publication: $23.99
Now that you know about the 11 best bamboo underwear available online, you will want to know about the main features that make good bamboo underwear. Hence, we have created a buying guide to help you select the one that meets all your needs.
How To Buy The Best Bamboo Underwear For Women
When looking for bamboo underwear, you must look at the fabric combination. This will let you know if the material is soft, stretchy, and gentle on the skin. Look for materials that combine bamboo viscose and spandex or nylon and spandex as they are soft and lightweight. These materials also sit properly without rolling down or digging into your skin.
This factor determines whether the underwear stays on or rides up. You must consider this component when selecting slip shorts or brief boxer styles. These underwear styles tend to ride up or roll down when you move around or when you sit. So, you need to look for styles that stay put and don't move around or cause you any discomfort during the day.
When we talk about bamboo underwear's style, we mean the amount of coverage it provides. You have to choose underwear that provides you with maximum coverage and doesn't give you any wedgie situation. If you are looking for good coverage undies, then look for briefs and boxer shorts. If you are looking for medium coverage, then go for a bikini or French cut panties.
Benefits Of Wearing Bamboo Underwear
Suppose you are thinking about transitioning from synthetic and cotton underwear to bamboo ones. In that case, you need to know about some of its amazing health benefits:
They are naturally antibacterial and antifungal.
The fabric is suitable for sensitive skin as it is hypoallergenic
It is odorless and static-free
Doesn't wrinkle
Highly durable
How To Wash Bamboo Underwear?
There are a couple of rules you have to follow to keep your underwear in good condition for a long time. Like:
Wash on a gentle cycle, and use an eco-friendly detergent as they are mild on the bamboo fabric.
Don't use bleach, as it will ruin the fabric
Air-dry the undies, and if you want to iron, then do it on a low heat
Why Trust StyleCraze?
The author of this article, Priyam Gupta, is a fashion enthusiast. She read online reviews and checked user feedback and product reviews on trusted online forums and brand websites before curating this list of the best bamboo underwear for women. These underwear are way more comfortable than synthetic or regular underwear.
Frequently Asked Questions
Is bamboo underwear better than cotton?
Yes, they are. Bamboo is super durable, and it will last after many washes. They are also more absorbent than cotton and more effective at keeping moisture away from the skin.
Is bamboo underwear ideal for sweating?
Yes, bamboo is a naturally breathable fabric. It allows moisture and sweat to evaporate faster than cotton underwear.
Is bamboo underwear breathable?
Yes, bamboo is much more breathable than cotton or synthetic underwear. In addition, the fabric is soft and has antibacterial and antifungal properties.
Does bamboo underwear dry quickly?
Even though bamboo absorbs sweat and keeps moisture at bay, it does not dry quickly. The drying time depends on the thickness of the fabric too.
Is bamboo underwear really antibacterial?
The bamboo plant can resist the growth of bacteria. Still, there is no solid proof that rayon, which is used for clothing, is fully antibacterial.
How long do bamboo underwear last?
Bamboo underwear is cute and durable, and they will last you a long time, as long as they are washed in the right way.
Is bamboo underwear a solution for period poverty?
Bamboo underwear does potentially eliminate period poverty because it can eliminate the need for menstrual supplies. In addition, these panties are leak-proof, absorbent, and eliminate any odour. They are also available in the black inner lining to prevent any embarrassing stain incidents.

Recommended Articles