10 Best Footwear For Sweaty Feet To Buy In 2023
Give your feet that extra dose of TLC with these lightweight footwear for extreme comfort.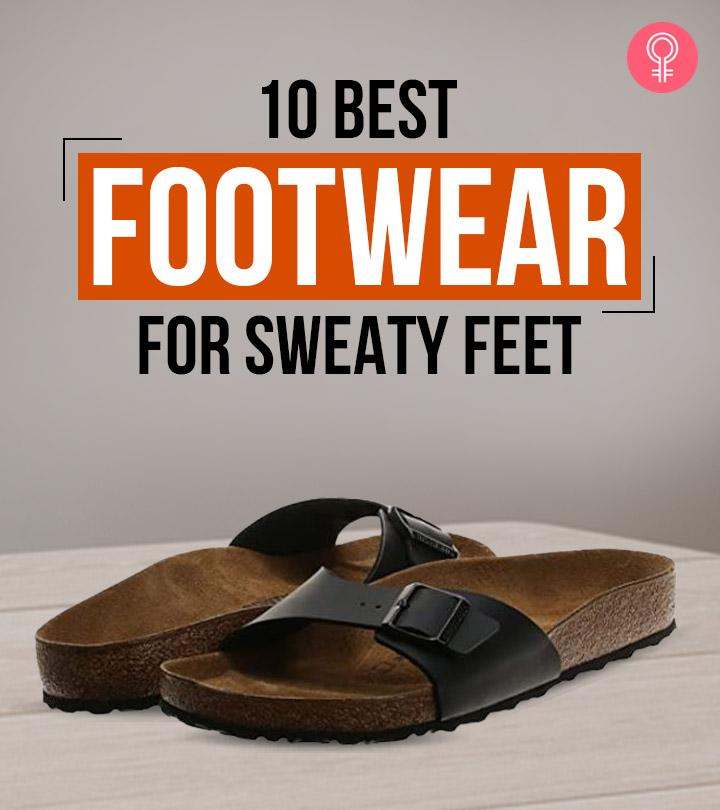 If sweaty, smelly feet get your confidence down, you definitely need the best footwear for sweaty feet. So, it's time to bid goodbye to the sweaty struggle feed. Sweat causes skin concerns and odor issues which can be embarrassing as well. However, we have already sorted this woe for you. Ahead you'll find top footwear that'll fix your sweaty feet concern. They are comfy, stunning, and worth every penny, so what are you waiting for? Keep scrolling and get yours now.
10 Best Footwear For Sweaty Feet
If you are looking for multipurpose sandals that you can wear everywhere from the beach or garden to the spa or the salon, the Birkenstock Arizona Essentials Slides fit the bill. The classic design features a raised toe bar that allows for a natural grip and stimulates circulation. The contoured footbeds allow for even weight distribution and perfect posture, while the deep heel cups provide good cushioning right under the heel bones. The slides are have ultra-flexible, skin-friendly, and shock absorbent EVA soles and allow more toe room for a comfortable wear.
Specifications
Sole: Rubber and EVA
Type: Slip-ons
Color Options: 29
Pros
True to size
Highly flexible
Shock absorbent
Waterproof
Lightweight
Washable
Cons
None
Price at the time of publication: $40.96
The quick-drying Adidas Adilette Aqua Slides feature the classic Adidas 3-stripe design across the single-bandage upper, making them a stylish addition to your footwear collection. These sliders have soft, cloud foam footbeds for rich cushioning support. They are designed for the ultimate comfort both in and out of water.
Specifications
Sole: Synthetic upper and EVA
Type: Slip-ons
Color Options: 20
Pros
Lightweight
Easy to clean
Durable
Optimum support
Waterproof
Cons
None
Price at the time of publication: $23.66
No more walking in your basic slippers because the stylish Ultraideas Women's Slippers are here to slay. These sliders bridge the gap between comfort and style with their high-density memory foam insoles and shock-absorbing EVA and foam support. They also feature adjustable striped bows that make them look elegant and cute.
The pair has skin-friendly and breathable plush terry insoles that keep sweat and odor away, keeping your feet cool, fresh, and comfortable. The multiple spot insole design offers a light massage while walking and reduces the overall foot stress. The solid rubber sole is ideal for both indoor and outdoor activities or even on wet tiles where the bottom grips onto the ground effectively to keep you from slipping.
Specifications
Sole: Rubber
Type: Slip-ons
Color Options: 5
Pros
True to size
Machine washable
Anti-skid
Stylish fit
Super comfortable
Soft cushioning
Value for money
Cons
None
Price at the time of publication: $25.99
Combine natural comfort and versatile footwear, and you get the Sanuk Donna Hemp Women's Sidewalk Surfers. These feature Happy U rubber sponge outsoles and premium and folded antimicrobial EVA footbeds to reduce odor-causing bacteria. This vegan footwear has frayed seams and breathable grommets that keep your feet sweat-free and fresh all day long.
Specifications
Sole: Poncho textile
Type: Surfer slip-ons
Color Options: 12
Pros
Comfortable
Vegan
Optimum arch support
Lightweight
Slip-resistant
Durable
Machine washable
Cons
Price at the time of publication: $43.12
If you are a runner on a budget, go for the Aleader Women's Lightweight Running Shoes. They have breathable mesh uppers with lightweight and cushioned dual-density EVA midsoles. These shoes boast of semi-rigid arch supports, heel cradles, and a 5-claw side design. They are made of high-quality fabric and feature hydro grip outsoles that offer effective stability and traction for different surface and terrains.
Specifications
Sole: Rubber
Type: Running shoes
Color Options: 4
Pros
Lightweight
Stylish
Flexible
Comfortable for long wear
Reduces foot pain
Superb arch support
Cons
None
Price at the time of publication: $26.59
The Shevalues Women's Open Toe Linen House Slippers are the top footwear to wear around your house during the summertime. Its cotton upper and linen-blend footbed allows maximum breathability to keep your feet dry and cool all day long. These also cradle your foot for extra comfort. The high-density memory foam maximizes the comfort, while the EVA midsole offers high resilience.
Specifications
Sole: Rubber
Type: Slippers
Color Options: 7
Pros
Ultra-lightweight
Comfortable fit
Good cushioning
Quick-drying
Offer good arch support
Sturdy
Anti-skid
Machine washable
Flexible
Cons
Price at the time of publication: $19.99
The Women's Dina Flat Sandal has a classic design by Steve Madden and is made using leather. It is highly versatile and goes with anything in your wardrobe. It features a two-piece leather styling band and an adjustable quarter ankle strap in a neutral hue, ideal for everyday wear.
Specifications
Sole: Synthetic
Type: Buckle sandals
Color Options: 4
Pros
Comfortable fit
Soft footbed
True to size
Enough toe room
Versatile
Cons
Price at the time of publication: $59.95
If you are looking for lightweight and breathable shoes with ample cushioning, try the Women's UA HOVR Sonic 3 Running Shoes by Under Armour. These flexible shoes are best for runners who prefer going the extra distance. They feature a responsive UA HOVR cushioning to reduce impact and return energy, pushing you forward with each step.
The micro thread upper dries fast and provides breathable yet compression fit for stability. The external TPU heel offers enhanced support, while the removable Ortholite sockliner is made to give you a customized fit and optimal cushioned comfort. Additionally, blown rubber is added under the forefoot and high-abrasion rubber under the heel to provide shock absorption and ground contact.
Specifications
Sole: Rubber
Type: Running shoes
Color Options: 12
Pros
Lightweight
Durable
Ample cushioning support
True to size
Snug fit
Sturdy
Abrasion-resistant
Shock-resistant
Cons
Price at the time of publication: $67.25
The Teva Women's Ankle-Strap Wedge Sandal has an easy hook and loop closure. It is lightweight, breathable, and ideal for a plethora of activities, including water sports, festival wear, or even a casual day out. The quick-dry webbing is designed using a blend of recycled plastic and verifiable Unifi REPREVE polyester yarn that offers optimal support, durability, and structure.
Specifications
Sole: Rubber
Type: Wedge sandals
Color Options: 6
Pros
Stylish
Comfortable fit
Soft cushioning support
True to size
Lightweight
Vegan
Value for money
Cons
None
Price at the time of publication: $30.25
The breathable indoor and outdoor Women's Thermal Waffle Knit Clog by EZ Feet is a must-have for everything from sitting around the house to running errands outside. It has a thick three-layer memory foam cushioned insole, breathable moisture-wicking mesh lining, and a perforated foot bed padding that provides shock absorption. The folded TRP rubber outsole provides skid and slip resistance and offers a secure fit.
Specifications
Sole: Rubber
Type: Clog
Color Options: 1
Pros
Versatile
Slip-resistant
Skid proof
Moisture-wicking
Shock-resistant
Cons
Price at the time of publication: $17.99
If your feet sweat all the time, you know the trouble of finding the right pair of shoes that not only keeps it dry and ventilated but does not get destroyed in the process. To help you get your hands on the best pair, we have collated a few factors that you can use as pointers before buying your next pair.
How To Choose The Best Footwear For Sweaty Feet
Material: Breathable fabrics like leather or canvas are great choices for footwear for sweaty feet. Avoid plastic shoes as they inhibit the airflow and trap the sweat inside your shoes.
Size: While it is important for you to choose a size that fits your feet, ensure that the shoes or sandals don't feel too tight either. Tight-fitted shoes will crowd your toes and contribute to sweaty feet.
Insoles: Check for features like deodorizing and moisture-wicking insoles that can keep your feet dry and odor-free.
In addition to bad odor, sweaty feet can lead to a number of issues, such as athlete's foot and toenail fungus. While the occasional sweating is easy to manage, people with excessive feet sweating or plantar hyperhidrosis can deal with it by wearing the right socks and using antifungal powders and antiperspirants for the feet. It is also important to invest in the right footwear to prevent this issue. So, go ahead and invest in the best footwear for your sweaty feet, and stay comfortable all day long!
Why Trust StyleCraze?
The author of this article, Baishali Bhattacharya, is a certified image consultant and a fashion expert who spends her time staying up to date on all the latest trends fashion has to offer. To help her readers save time and energy, she has combed through numerous user reviews on trusted online forums and researched the products in detail to create this list of the best footwear for sweaty feet. They are comfortable, stylish, and waterproof shoes that won't burn a hole in your pocket.
Frequently Asked Questions
How do I stop my feet from sweating in my shoes?
A few ways to stop your feet from sweating in your shoes include wearing cotton or antibacterial socks, washing your feet with antibacterial soap, washing your shoes every week, changing shoes often, and putting foot powder in the shoes.
Do sweaty feet ruin shoes?
Yes, sweaty feet may cause moisture retention inside your shoes that may cause them to slip off, feel damp, or ruin the inner sole material, thereby ruining the shoes completely.
Are leather shoes best for sweaty feet?
Yes. Well-fitted leather shoes that allow your feet to breathe can be a great option for people with sweaty feet.
How do you deal with sweaty shoes?
• Replace regular insoles with moisture-wicking insoles.
• Store your shoes in a dry place.
• Wash them weekly.
• Apply shoe disinfectant.
Do compression socks help with sweaty feet?
Yes, compression socks made of high-quality breathable fabric can help keep sweaty feet dry.
Do I need to throw away my shoes if I have an athlete's foot?
No, you do not need to discard your footwear if you still have an athlete's foot. Clean them thoroughly and use a shoe disinfectant before wearing them again.
Recommended Articles