15 Best Shampoos For Thinning Or Aging Hair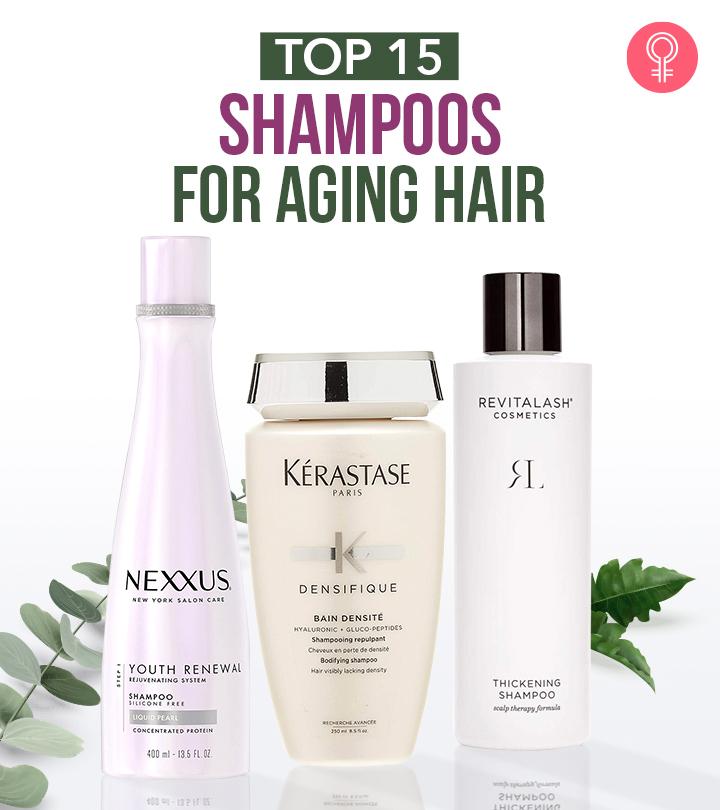 In this article, we have listed the 15 best shampoos for aging hair that will eliminate all your concerns about your gray hair. Just like aging creams reduce fine lines and wrinkles that you get as you age, these shampoos fight your aging hair signs. So, no more thinning, dullness, and falling hair. So, what are you waiting for? Go ahead and check our list and get ready to restore that volume, bounce, and shine of your hair that you have always wanted.
Top 15 Shampoos For Aging Hair
This shampoo from Pura D'or is enriched with a proprietary blend of 17 herbs, including nettle leaf extract, red Korean seaweed, argan oil, amla oil, and biotin. It promotes thick and strong hair with increased volume and less breakage. It has been tested and proven to reduce hair thinning. The fortifying formula hydrates the scalp nourishes brittle hair strands and leaves you with manageable hair. For an honest review of the shampoo, you can check out this video on YouTube.
Pros
Suitable for all hair types
Contains natural preservatives
No harmful chemicals
Hypoallergenic
Color-safe
Paraben-free
Gluten-free
SLS-free
Cruelty-free
Cons
None
Thinning hair creeps in with aging. This Thickening Shampoo from RevitaLash contains a scalp therapy formula that helps nourish and optimize scalp health. The specialized ingredients in this shampoo cleanse the hair effectively and protect it against environmental stressors. The therapeutic ingredients in this shampoo include flax protein, loquat leaf, willow bark, ginseng, and jojoba seed oil. This product improves the thickness and health of menopause hair and keeps it hydrated.
Pros
Suitable for all hair types
Keeps the hair hydrated
Hypoallergenic
Color-safe
Clinically-tested
Paraben-free
Sulfate-free
Phthalate-free
Cruelty-free
Cons
None
Enhance your white or grey hair with silver highlights with the Klorane Anti-Yellowing Shampoo. It is formulated with pigments from the centaury herb to enhance the hair's natural radiance by neutralizing yellow tones and reducing brassiness. This botanical pigment is an ideal alternative to chemical pigments that leave a stain. In addition, the shampoo effectively hydrates the hair, reduces the dullness of the hair, and makes your hair soft and supple,
Pros
Gentle
Colorant-free
Sulfate-free
Paraben-free
Silicone-free
Vegan
Cons
The Argan Oil Shampoo from ArtNaturals contains organic and natural ingredients that repair damaged hair and protect it against the damaging effects of excess styling and heat treatments. Argan oil is the key ingredient in this nourishing formula. Argan Oil promotes hair growth and revitalizes dull hair without drying it out. Argan oil is also a potent moisturizer that keeps your hair hydrated.
Pros
Suitable for all hair types
Keeps the hair hydrated
No greasy residue
Repairs damaged hair
Color-safe
Tames frizz
Reduces spilt-ends
Paraben-free
Sulfate-free
Vegan
Cons
The Argan Stem Cell Shampoo from Andalou Naturals is a part of their Age-Defying range. It is designed to strengthen and revitalize dull, brittle, and thinning hair. Argan oil nourishes and conditions the hair strands, making them strong. It leaves your hair smooth, shiny, and manageable by reducing breakage. With regular use, this shampoo amplifies the body and volume of your hair and makes it look thick.
Pros
Protects against UV radiation
Color-safe
Organic ingredients
Non-GMO
Paraben-free
Sulfate-free
Gluten-free
Cruelty-free
Cons
May not work for all hair types.
The Kerastase Densifique Bain Densite Bodifying Shampoo is specially formulated for hair that is visibly lacking in density. It adds body and thickness to fine or thinning hair without weighing it down. This shampoo cleanses your hair effectively without being too harsh. It leaves the hair strong and resilient with every use. The formula is enriched with hyaluronic acid, which plumps the hair and prevents future breakage.
Pros
Suitable for all hair types
Safe for color-treated hair
Non-greasy
Reduces hair fall
Makes the hair thick
Strengthens the hair
Adds shine
Adds volume
Keeps the hair hydrated
Pleasant fragrance
Cons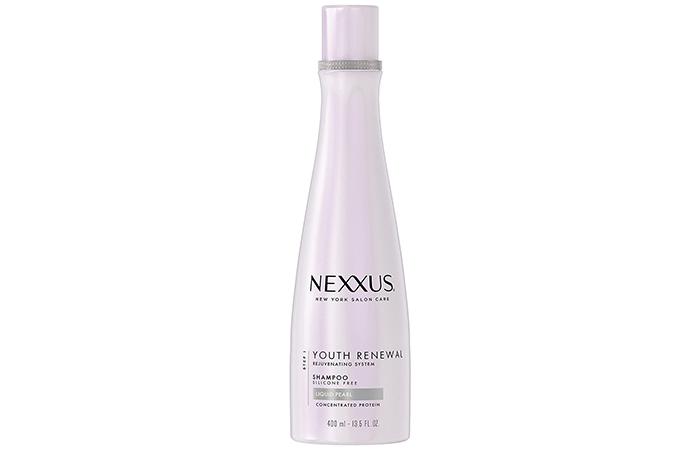 The Nexxus Youth Renewal Shampoo is ideal for aging hair that needs rejuvenation. The formula contains liquid pearl extracts, conditioning polymers, and a concentrated elastin protein. This salon-quality shampoo cleanses fine hair and reinvigorates it with a youthful radiance. The nourishing formula is infused with vitamin E, keratin, and wheat protein, which restore balance by replenishing the hair with nutrients and rebuilding broken bonds. You can also check this short YouTube review to receive more information about the video.
Pros
Lightweight
Makes the hair manageable
Strengthens the hair
Softens the hair
Adds shine
Pleasant fragrance
Silicone-free
Paraben-free
Cruelty-free
Cons
The Pantene Expert Pro-V Age Defy Shampoo is enriched with a triple blend complex that was formulated exclusively in consultation with Olay experts. The Age-Defy shampoo helps fight the 7 signs of aging hair. It reduces breakage, repairs split ends, adds volume to thinning hair, and keeps it hydrated. This gentle formula is safe for everyday use and makes menopause hair look healthy and shiny.
Pros
Gentle formula
Ideal for daily use
Safe for color-treated hair
Helps repair damaged hair
Lathers well
Calms frizz and flyaways
Mild fragrance
Paraben-free
Cons
The Dominican Magic Hair Follicle Anti-Aging Shampoo contains botanical extracts that stimulate hair growth and prevent premature hair loss. This shampoo for aging hair is a blend of arnica and rosemary extracts with intense restorative and protective properties. It conditions and strengthens the hair strands while boosting hydration and blood circulation. With regular use, this shampoo helps repair damaged and balding hair.
Pros
Helps reduce hair fall
Non-greasy
Moisturizes the hair
Pleasant fragrance
Paraben-free
Silicone-free
Cruelty-free
Cons
The Macvoil Anti-Aging Shampoo is enriched with argan, macadamia, avocado, cypress oils, along with nourishing peptides and antioxidants. The formula also contains amino acids, omega-3 fatty acids, vitamin E, and lavender and rosemary extracts. This shampoo intensely moisturizes the scalp and repairs the damage caused by environmental aggressors, chemicals, color treatments, or heat styling.
Pros
Provides UV protection
Color-safe
Cruelty-free
Sulfate-free
Paraben-free
Phthalate-free
Salt-free
Cons
None
Clean impurities, dirt, excess oil from your scalp and hair with the Catalase Extreme daily Shampoo. It is formulated with catalase, an enzyme, to promote thick hair. This shampoo works effectively even on color-treated hair and contains no dye or hair color. The gentle formula effectively hydrates the dry, frizzy, curly hair and makes the hair soft and manageable.
Pros
Unisex product
Suitable for all hair types
Cons
Contains synthetic ingredients
The Alterna Caviar Anti-Aging Smoothing Anti-Frizz Shampoo is a nourishing blend of caviar extracts and oils that improve hair condition, improve the visible signs of aging, and control humidity damage on hair. It also treats dryness and dullness of the hair, making it smooth, manageable, youthful, and healthy. Suitable for all types of hair, it works best on medium to thick hair.
Pros
Suitable for all types of hair
Treats dullness and dryness
Makes hair manageable
Reduces visible signs of aging
Controls humidity damage
Cons
The Therapy G Scalp BB Anti-Aging Shampoo removes excess sebum from the scalp. The formula contains a Tryptobond Guard that provides relief from dryness, itching, and flaking. This shampoo includes UV protection and keeps the hair protected from breakage and color fading. An Excellmat tripeptide complex in the formula boosts elastin and collagen production, which fights the signs of aging and gives you healthy hair.
Pros
Protects the hair from UV damage
Soothes itchy scalp
Provides intense hydration
Paraben-free
Sulfate-free
Cons
Expensive
May not work for all hair types.
The Martiderm Anti-Aging Anti Hair-Loss Shampoo is perfect for aging hair prone to hair loss. It fights the signs of aging and helps restore shine, density, bounce, and volume to the hair. This formula contains an exclusive MartiDerm complex, a nourishing blend of three hair growth factors that stimulate cell regeneration and repair damaged hair. It is also enriched with hyaluronic acid, which keeps hair hydrated and safe from damage.
Pros
Suitable for all hair types
Safe for daily use
Provides intense moisture
Dermatologically tested
Travel-friendly packaging
Cons
The Roux Anti-Aging Keratin Repair Shampoo competently fights the signs of aging on mature hair. It combats unruly grays, thinning, dullness, dryness, and breakage. The formula is enriched with keratin protein that repairs damage and replenishes your hair with moisture. This shampoo strengthens brittle hair and protects it from future damage. The shampoo is safe for color-treated, relaxed, and permed hair.
Pros
Pleasant fragrance
Color-safe
Paraben-free
Sulfate-free
Cons
Contains propylene glycol
That's all about the best shampoos for aging hair. It can be challenging to come in terms with the fact that your body is aging, and watching the signs of that creep up on your face and hair can be distressing. Get your hands on one of these shampoos and restore your hair to its youthful vitality.
Why Trust StyleCraze?
Sakshi Bahal, the author, is our in-house product writer who finds joy in testing out the effects and functionality of a variety of new products. She has a fair idea of what ingredients work best for your hair type! So when it comes to choosing the best shampoo for thinning hair, she has done a fair amount of research and carefully reviewed many customer testimonials before curating this list for you! These not only help add volume and strength to your aging hair but also help delay the onset of graying strands too.
Recommended Articles